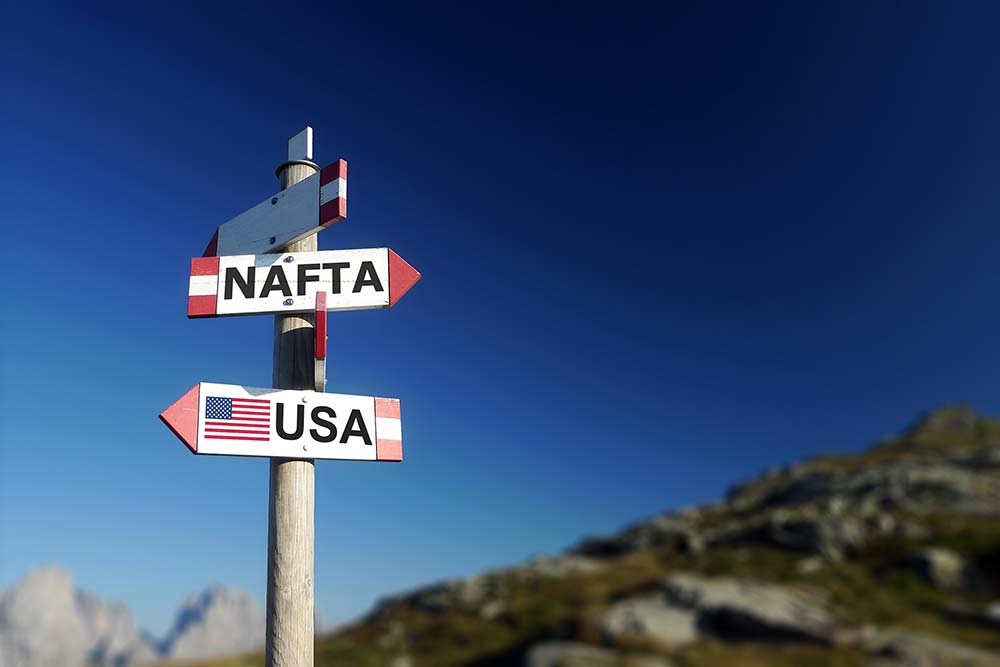 Speaking at an event in Ottawa in June, Canada's Ambassador to the United States David MacNaughton spoke at length about his outlook on Canada-U.S. trade relations and the upcoming NAFTA renegotiations. He reassured the audience that,
To significantly change the core of NAFTA would also hurt the U.S. It's just not in the U.S.' best interest.
From the very start of his campaign, President Trump has nevertheless consistently spoken about the "bad deal" that is NAFTA. But with trade between Canada, Mexico and the United states topping $1.1 trillion in 2016, there has been major concern over what would happen to these significant trading relationships should NAFTA be ripped up or re-negotiated.
After months of speculation, the U.S.  released their plans, contextualized by MacNaughton as a "position paper", last Monday. This was followed closely by the announcement that the first round of renegotiation talks will officially begin August 16 in Washington.
What does the U.S. want?
Though there are a few pointed items that will likely make negotiations challenging, MacNaughton said he saw no real surprises in the "laundry list" of negotiation objectives released by U.S. Trade Representative Robert Lighthizer.
Most of the items in the 18-page objectives summary match up with the priorities in Trade Promotion Authority (TPA) legislation established in 2015. Much of the document was also consistent with U.S.-Canada-Mexico negotiations from the Trans-Pacific Partnership trade deal that Trump pulled out of in January.
But the United States' objective of removing NAFTA chapter 19, a dispute resolution clause that allows countries to appeal anti-dumping duties, will be met by significant resistance from both Canada and Mexico. In the ongoing spat between Canada and the U.S. over Canadian softwood lumber, this clause has allowed Canada to avoid significant countervailing duties.
MacNaughton said Canada would be willing to discuss whether this chapter needed to be "improved or modernized. … But there needs to be some kind of a dispute resolution mechanism. It's part of the agreement."
Dairy farmers in Canada and the U.S. will also be fighting to be heard throughout the negotiations. U.S. farmers have argued that Canada has been hurting their industry by unfairly protecting its dairy market. A provision to remove these protections from Canada's dairy industry is included in the Lighthizer's list of objectives.
What does Canada want?
Months ago, Canada stated that it was ready for NAFTA negotiations. When discussing the biggest trade issues Canada faces with the U.S.  – a proposed Border Adjustment Tax, softwood lumber disagreements and NAFTA renegotiation – Ambassador MacNaughton stated that he expects discussions to go well for Canada, but added the caveat that there will be bumps in the road.
In preparing for NAFTA renegotiations, MacNaughton said "It was discussed in advance that with the 24 year old agreement – pre-existing Amazon and the ecommerce boom – there is a lot that can and should be updated."
In the U.S., the law requires full disclosure of negotiation objectives. However, this transparency is not required of the Canadian government. Last week MPs from both opposition parties requested a meeting be held to discuss Canada's approach to the negotiations.
Several groups have voiced their concerns regarding the renegotiations. The United Steelworkers Union have submitted their desire to remove the controversial investor-state dispute resolution clause in NAFTA's chapter 11. Modernized customs processes and increased labour mobility are among the Canadian Manufacturers & Exporters proposals.
A number of Canada's industries are also set to push back on U.S. objectives stating Canadian and Mexican companies should face increased restrictions from U.S. state and local governments when bidding on their contracts.
"Obviously if we could get a clarification on the trading relationship sooner rather than later it would be better, but having said that we're not going to rush in to a bad deal," MacNaughton said last week.
What does Mexico want?
The current terms of the NAFTA agreement protect Mexico and Canada from trade barriers imposed by the U.S. to protect their more vulnerable industries. Mexico's Economy Minister Ildefonso Guajardo spoke about his apprehension over the U.S. removing these protections from the agreement.  "This will all have to be subject to the three sides, being in agreement in the process," he stated last week.
Guajardo also raised concerns over removing NAFTA's chapter 19. "What I have said insistently in my conversations with my colleagues is that we're delighted to review trade balances provided that we focus on how to improve them by expanding commerce, not by reducing it," he said.
On the more encouraging side, Guajardo stated, "what is positive is that the U.S. themselves paraphrased that they won't reintroduce quotas or tariffs during this process (of renegotiation)."
Who will be involved in negotiations?
Ambassador MacNaughton will play a key role in the negotiations from the Canadian side. And we can expect involvement from all of Canada's premiers at every stage of the negotiations. Kirsten Hillman, the lead negotiator for the TPP talks and a senior official on softwood lumber issues, will act as MacNaughton's deputy in Washington and will also play a significant role. Canada's negotiating team will be led by Steve Verheul, the chief negotiator for CETA.
Representing the U.S. at the negotiating table is the Trump administration's chief negotiator John Melle, the assistant trade representative responsible for U.S. trade policy in the Western Hemisphere.
Economy Minister Guajardo will be integral to negotiations for Mexico, alongside Mexico's Foreign Minister, Luis Videgaray who is also expected to take a senior role at the table.
All parties involved seem to want a timely agreement, but rather than looking at months or weeks, legislators warn that this could be a long process. With upcoming Presidential elections in Mexico and mid-term elections in the U.S. coming in 2018, the shuffle in focus, policies, and players could have a major delaying effect on negotiations and ratification. However, all three parties have agreed to aim for a close to negotiations by the end of 2018.
Although renegotiations of this pivotal trade agreement throw a shade of uncertainty over the future of trade between the three nations, Canada's Ambassador remains positive in his outlook.
"The U.S. is realizing that Canada is a trusted partner – important for creating jobs all over the United States. As long as we can continue to demonstrate that, we will be successful in our trade relationship with the U.S.," Ambassador MacNaughton stated.