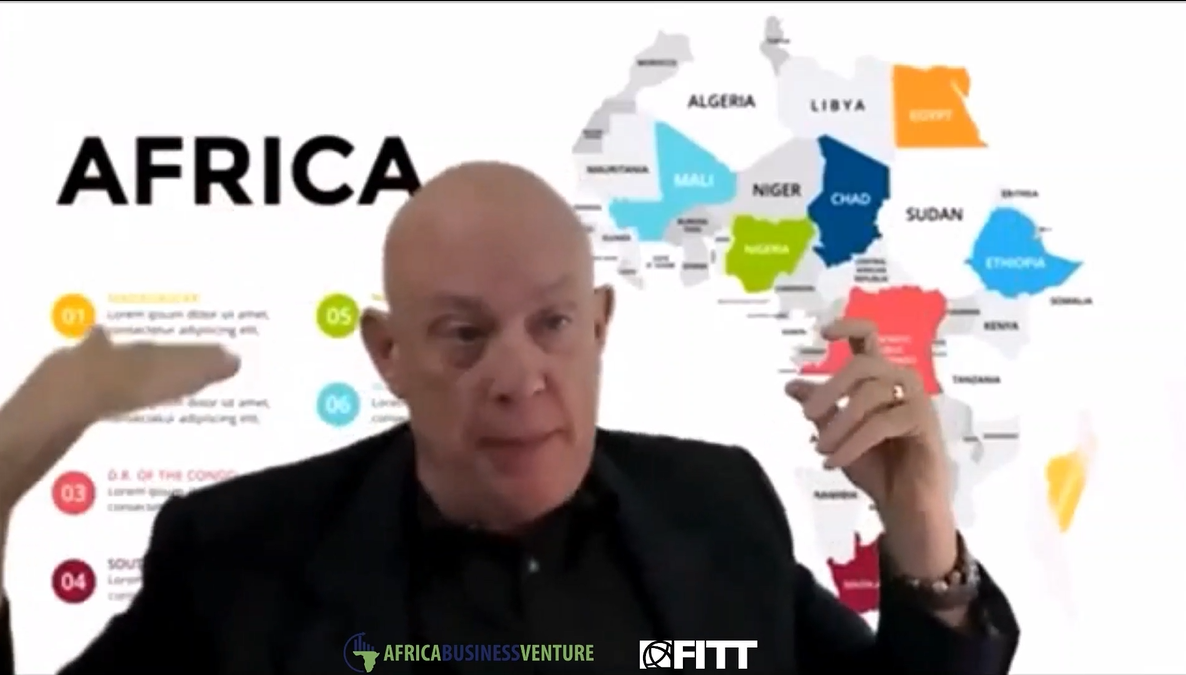 Officially enacted in 2000, the African Growth and Opportunity Act (AGOA) has shown promising results, with ITA (International Trade Administration) noting, "Since its implementation, AGOA has encouraged substantial new investments, trade, and job creation in Africa. It has helped to promote Sub-Saharan Africa's integration into the multilateral trading system and a more active role in global trade negotiations. It has also contributed to economic and commercial reforms which make African countries more attractive commercial partners for U.S. companies." 
For international business professionals looking into new markets, especially U.S. markets, this trade act is compelling in many ways. However, many details cannot be overlooked, and any international trade plans using AGOA require strict oversight, guidance, and strategy. That's why FITT and our partner Africa Business Venture held a joint event on AGOA on July 7, 2021.

This event, Understanding the African Growth and Opportunity Act (AGOA) and How It Can Benefit Your Business with U.S. Trade featured CITPs, International Trade Lawyers and African Business Experts—each of whom gave insights into some of the most common questions about Africa, AGOA and international laws pertaining to business between Africa and the United States.  
With fantastic questions from attendees and detailed answers from the panelists, the event provided a wealth of information for anyone interested in AGOA, international trade in Africa, and overall global trade practices, highlighted below: 
Event Panelists: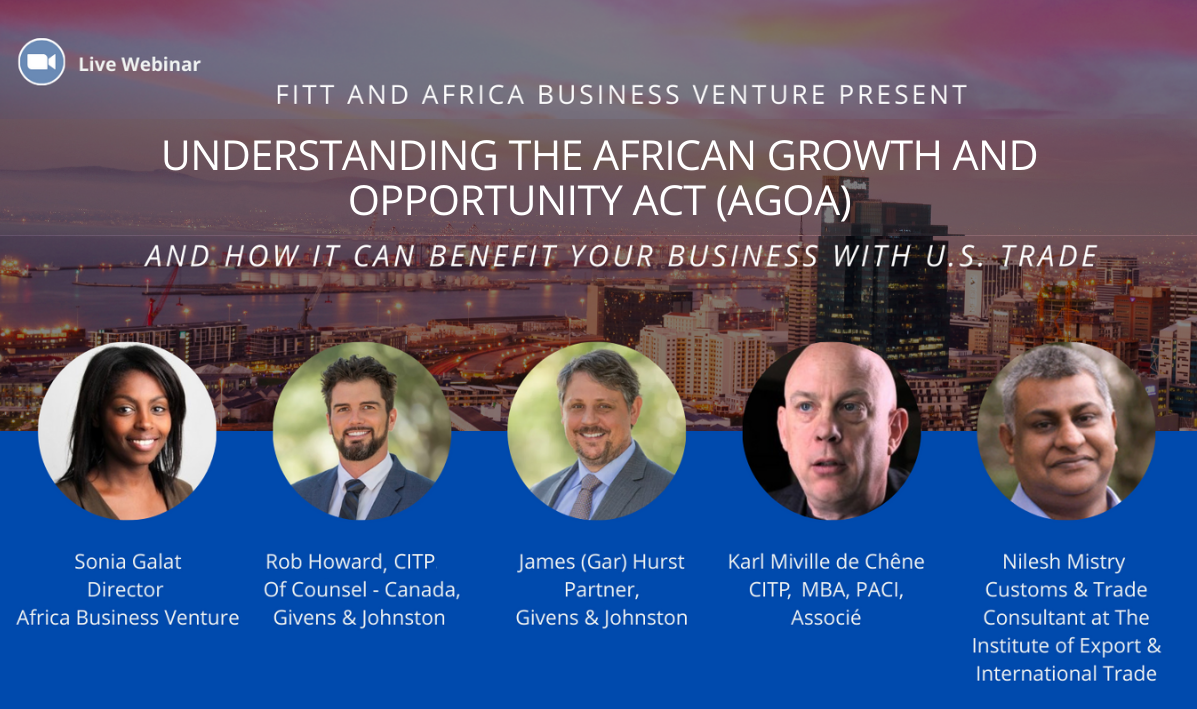 Why was AGOA created? 
Karl Miville de ChêneKarl Miville de Chêne: CITP, MBA, Partner at TFO Canada:  
AGOA has been put in place in order to favour less developed countries in the southern part of the continent of Africa. These countries produce all kinds of things: edible food, minerals, arts and crafts and, also, technical objects. Now they're producing cars and airplanes…you'd be surprised what they can offer. In regard to services, tourism, the IT and IP sectors in countries like Rwanda or Nigeria are humongous and can be used in many ways for American companies.
Now, one of the reasons AGOA was put in place was to be favorable to exporting African producers, but it also was put in place to build a commercial bridge between the United States and these parts of the African continent. There are all kinds of training and support trade missions in different African countries when they adapt to the AGOA requisite… [together] it helps create a better commercial environment.
What kind of services and products does Africa have to offer? 
Nilesh Mistry, Customs & Trade Consultant, Misca Advisors Ltd: 
In terms of products and services, Africa's got a diverse range of products and services to offer. You've got tourism opportunities, you've got IT opportunities… Africa is really a growing continent, especially the youngsters who are getting into a lot of technology products that are really quite world-class. But, again, understanding a market means having to spend time in that market, having to do due diligence to find out who you can talk to and who can give you what you need.
You've got to be very careful. Yes, international trade is a good business, but it's a very risky business and, as a business, you've got to ask, "How can I reduce and minimize my risks?" Don't go in thinking, "I can make a lot of money." Instead, go in asking "What are the risks involved and how can I avoid them?" Africa, like every other country, has its share of shocks, so  you can use distributors and agents, but make sure that you've vetted them thoroughly and know what they can offer you and what you can give them. 
What is required to be an AGOA-eligible country? 
 Rob Howard, CITP, Of Counsel, Canada, Givens & Johnston:
To be an AGOA-eligible country, a country has to prove that it's establishing and following market-based economies and the rule of law. Things like the elimination of barriers to U.S. trade, investment protection of intellectual property, efforts to combat corruption, policies to reduce poverty, increasing the availability of health care and education, protecting human rights, worker rights, and the elimination of childhood labor practices.
When I first heard about AGOA, I thought, why would it be in the country's best strategic interest to just lower all their tariff barriers and then not demand anything in return? The answer is, I think the U.S. is looking at this as a way to put forward their values and develop these relationships with countries. Kind of like Karl was saying, that's in their best interest as well. 
What's the difference between qualifying for AGOA and claiming the country of origin? 
James (Gar) Hurst, Partner, Givens & Johnston: 
There are actually two different things: there's qualifying for AGOA, which means that 35% of the costs have to be realized in the AGOA country. And then there's shifting the country of origin which is a slightly different concept. There's a number of rules and tests that have to be looked at but, essentially, the idea is this: if all you're doing is repackaging, cleaning, washing, or, in some cases, just merely assembling already manufactured parts, then that is not going to be sufficient work in the country to determine the origin.
What is transshipment and why is it such a concern for US customs? 
James (Gar) Hurst, Partner, Givens & Johnston: 
Transshipment means a couple of different things. Most of the world thinks of transshipment as "Hey, you know, we took the ship from Legos to Rotterdam, and we took the container off of that vessel and put another vessel and went from Rotterdam to the United States. A lot of people think of that.
Transshipment in customs means something different. It means that you're taking goods from one country, China, for example, and are trying to pass them off as products of another country. That's important because a lot of goods from China are subject to extremely high duties—in some cases, well over to 300%—in the United States. So, there's a real temptation there for those producers who now have lost their market to sell to anyone who will take it, then stamp Made in India or Made in Bangladesh, and then try to turn around and sell it to the United States. That is a crime. It's a crime if you're doing it fraudulently.
If you're doing it just sort of negligently the problem is that those goods are still subject to those duties which can be a really nasty surprise for your customer when they're importing these goods. And now, suddenly, the government comes to them and says, "Oh you owe us you know hundreds of hundreds of thousands or millions of dollars in duties that you weren't expecting to pay—that would be a problem for profit margin."
To discover more questions and answers about AGOA, watch the event recording. To learn more about FITT and Africa Business Venture's partnership, read Looking to diversify? Here's how and why you should consider entering African markets