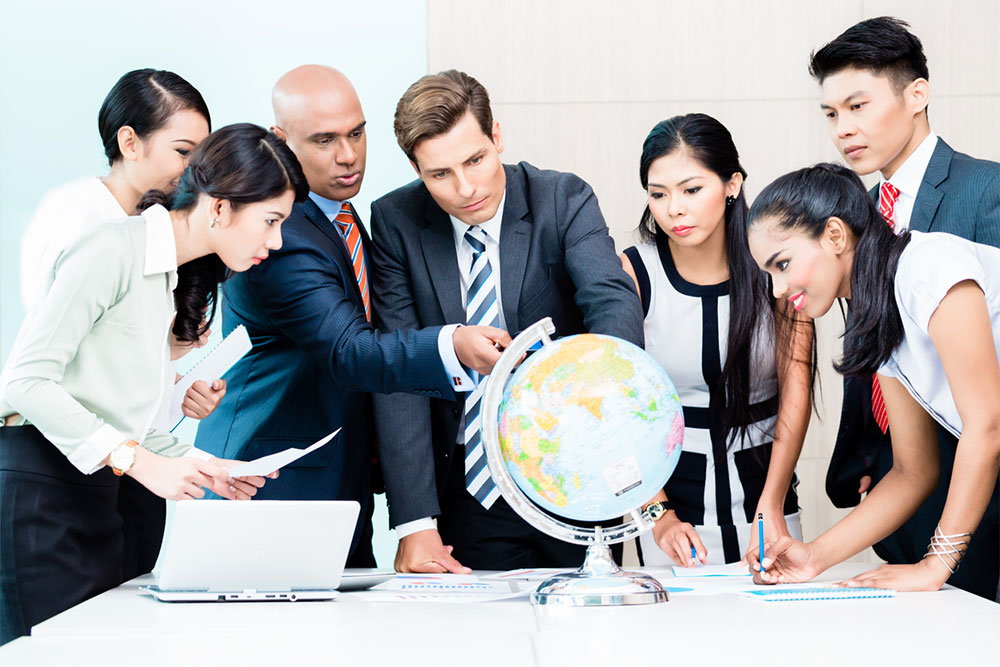 Outsourcing is one of the most difficult and complex decisions for any international trade professional to handle. Often a politically charged topic, it's been a massively successful strategy for many companies, while others have seen it backfire in spectacular fashion.
There are so many different aspects of international business that can be outsourced and so many locations and partners to choose from. So, it's important to do your research and think decisions through from a variety of angles.
To help you do that, here are 5 key pieces of advice to approach your research, weigh your options, and make the best outsourcing decisions for your business.
1. Do your analysis to see if outsourcing makes sense for you
In the FITT International Business Guide: Pros and Cons of Outsourcing Product Manufacturing and Services, you'll review outsourcing as a possible strategy to consider by any company facing the challenges of increasing costs, shortage of labour needed to expand, or competition from home or abroad.
The guide explains that "the key to successful outsourcing is efficient global supply chain management. The decision to outsource or not must be made after a complete analysis of the existing and proposed alternate supply chains.
This process will identify the net benefit to the company of various options, which may include dismissing outsourcing altogether (e.g. too expensive, too complex to establish, too demanding of financial and personnel resources), or choosing to outsource domestically (e.g. simpler to implement within a domestic legal and transportation system), or outsourcing offshore.
Offshoring is more complex but offers higher margins if successful, and as noted above, positions the company closer to existing or potential markets abroad.
Outsourcing allows a company to potentially:
Lower operational and labour costs;
Focus on core interests and free up assets while delegating secondary processes to third parties;
Access world class technologies; and,
Move the production processes closer to world markets.
2. Decided to outsource? Don't just assume it will be to China.
Amy Karam is a speaker, consultant, author and corporate instructor of Stanford University professional development courses, as well as her own workshops. She has diverse experience in Silicon Valley and over 50 countries worldwide. While many companies looking to outsource think of China first as a potential location, she argues that it's certainly not the easiest.
"The Chinese have been learning from the West and developing their own innovation capabilities by acquiring companies, technologies, talent and resources worldwide. And the Chinese government has been subsidizing the growth and global expansion of many of their homegrown companies on an ongoing basis for almost two decades.
China is not changing course, but this is a building block along their course. By opening themselves up, they became manufacturing giants. By being the manufacturing source for the West, they learned from these other companies.
China wants to compete further up the value-chain and this is a natural evolution in their economic development. They want to be known as more than an outsourcing destination for low-cost manufacturing.
They have been evolving into innovators, not just replicators. China is also preparing for their next generation of advanced workers.
It makes sense. And why wouldn't the Chinese want to maximize their profit share of their own highly sought-after domestic market?
What should foreign companies already in China do now? China is too big of a market opportunity for foreign companies to give up on entirely. However, the Chinese government makes it extremely difficult to do business in China, and it will likely only get worse. Currently, many foreign companies are required to establish joint ventures with domestic Chinese companies in order to have access to their market, and they are often required to give up majority ownership to the Chinese partner. This also leaves foreign companies feeling insecure about the protection of their intellectual property, among other concerns.
Foreign companies need to operate with their eyes wide open in China."
3. Outsourcing employment can make sense for small companies or testing new markets
As the former Global Solutions Advisor for SafeGuard World International, Cody Silverman worked with organizations facing challenges in managing their global workforce. He advised them on available solutions in the market while cautioning on risks and limitations, including outsourcing employment.
"If you're smaller and lack the resources to incorporate in a new country, or are less sure of your company's long term viability in that market, you may want to consider alternative options.
Employment outsourcing is most commonly used for engaging smaller headcounts, testing market viability, contingent labor, or as an interim solution when speed to market is required.
Outsourcing the employment to a third party company has become an increasingly popular option, not only for businesses, but for non-profits and universities as well.
Some of you may be familiar with PEOs (Professional Employment Organizations), which utilize a "shared employment" model. Outside of the U.S. and Canada, PEOs typically do not exist, and in many cases are in fact illegal.
There is a newer trend in the market to use Employers of Record (EORs) that mitigate the risks of global employment. This has the same overall function of a PEO, except instead of shared employment, it is full employer of record; think of it as an elaborated version of the staffing model."
4. Are the benefits of outsourcing distribution worth the distance from your customers?
Brent McNiven, CITP|FIBP is an international trade consultant with almost 25 years of experience, particularly in South America and Canada. He points out that outsourcing can separate you from your customers, costing you valuable data and opportunities to give the diversity of each market the attention it deserves.
"Exporters have long defaulted to outsourcing distribution of their goods through various types of partners. We argue that while distributors provide critical value-added services, the traditional approach in agent and distributor management isolates exporters from their end users, restricts flow of market intelligence, and fails to capture potential sales, making this approach ineffective in today's hyper-competitive landscape.
You don't "sell to China/India": at best you sell to one region/sector. With dozens of languages and cultures, and diverse regional sectors, no distributor can reach the entire country. USA, Mexico and Brazil also consist of diverse regions with distinct economies. Yet exporters still assign exclusive rights to one distributor, shutting out huge potential markets.
Outsourcing marketing, sales, and often support functions to a distributor or agent demands significant investment on their part. Few will invest unless they have exclusivity, which is usually awarded countrywide. In contrast, having a foreign affiliate allows surgical precision in assigning exclusivity to multiple agents and distributors for specific sectors, regions and products. We have observed examples where sales immediately increased by over 400% simply by assigning one sector to a new distributor."
5. There's no one answer for every company – so what's most important to you?
Regular TradeReady.ca contributor Bennett O'Brien concluded that there's no one right answer. Each company must make outsourcing decisions based on its own internal priorities, as much as external factors.
There are both pros and cons to outsourcing manufacturing. Ultimately, it is up to the individual company to decide whether or not using a third party to meet its manufacturing needs is the right decision.
"If a company can find a third party which can provide cheaper labour, less regulation and fewer taxes, but also treats its workers fairly and provides them with a safe working environment and better quality of life, as many do, it can be an excellent option.
However, negative brand implications for putting domestic workers out of the job, and the possibility of forcing foreign workers to work in what are sometimes harsh conditions, may lead other companies to continue their domestic manufacturing practices.
In an increasingly globalized world, opportunities for third party manufacturing will surely increase. The extent to which these opportunities will be taken advantage of is yet to be determined."
Which of these tips do you find most useful? Have any of your own to contribute? Let us know in the comments below.