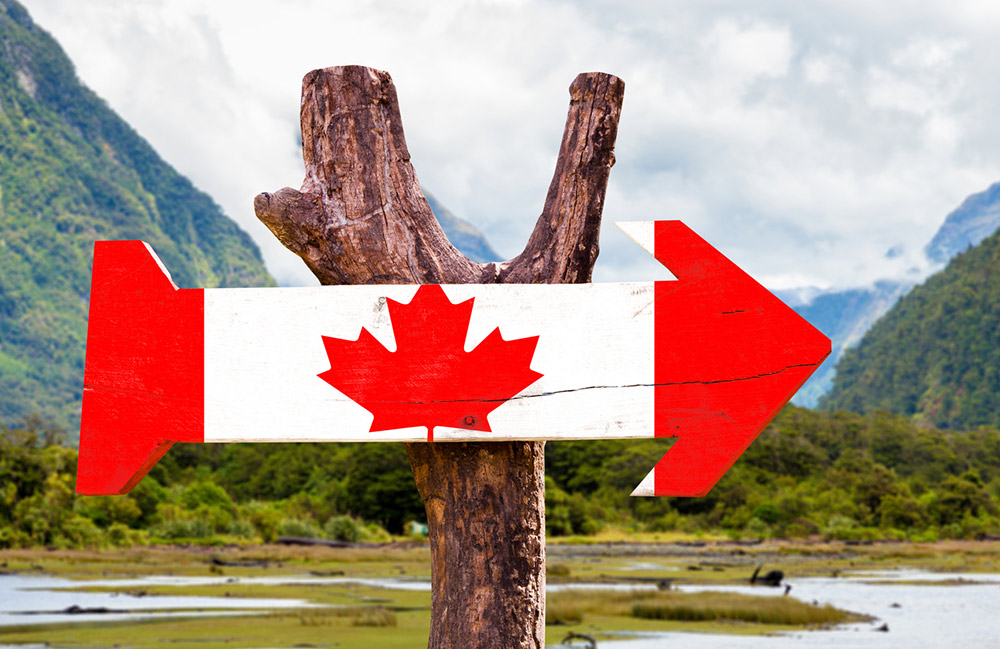 In today's somewhat volatile global trade environment, Canada is enjoying a period of increasingly open trade, as well as political and economic stability. Should you add Canada to your export strategy? Here are five factors to think about as you answer that for your business.
1. Customers have money to spend, and they're not going anywhere
Canada was ranked 10th for overall GDP in 2016, placing it amongst the world's wealthiest countries. Within this top ten, Canada has a higher GDP per capita than seven of them, meaning there is a higher likelihood the average Canadian will have disposable income to purchase new imported goods or services.
Canada also has the highest population growth of any of the G7 countries, so this population of consumers is only going to grow with time. Interestingly, two-thirds of the population growth from the past five years has come through immigration. Therefore Canada is gaining a more diverse population that can potentially support niche markets for international products.
While assessing new markets and export opportunities is never easy, Canada certainly shows promising signs for businesses considering it as their next target.
2. Fewer barriers to doing business
Overall, Canada ranks 22nd out of 190 in the World Bank's Ease of Doing Business rankings. It also ranks second worldwide in ease of starting a business, and among the top 10 in getting credit and protecting minority investors.
While ranking 46th in trading across borders might raise eyebrows, many of the top countries in this category are located in Europe, where several border agreements have been in place for years. Among non-European nations, Canada would rank 10th in this category.
While Canada doesn't receive high marks in every category – Canada is 108th for getting electricity and 112th for enforcing contracts – overall, entrepreneurs looking at exporting to Canada should have a relatively easy time.
3. New trade agreements mean fewer impediments
Canada has enjoyed free trade with the U.S. since the late 1980s, and been part of the NATFA agreement with the U.S. and Mexico for over 20 years. Recently, new agreements have opened similar opportunities with markets outside of North America.
Most notably, CETA will remove tariffs on 98% of goods and services from EU countries once provisionally implemented in late 2017. This will increase to 99% once the agreement is ratified by each European national government.
Canada also has free trade agreements (FTAs) in place with 12 other countries, including South Korea, Chile, and Israel, and is currently negotiating with several others, such as India and Japan.
Businesses operating in any country involved in an FTA with Canada should start looking into potential opportunities. Want to see if your country is on the list? You can view a full list of every country Canada is negotiating with, or has signed an agreement with, the status of their relationship, and the type of agreement through the Global Affairs Canada website.
With the signing of the recent Canadian Free Trade Agreement, businesses will also find the number of barriers within Canada reduced. While some obstacles remain, particularly regarding the sale of alcohol, exporters should find greater opportunity to expand across Canada once they've entered the market.


4. Beyond Canada-U.S. trade, Canada is a net importer
For better or for worse, Canada's international trade has been largely defined by its trading relationship with the United States. Canada shares one of the world's longest borders with the largest economy in the world, and has had a longtime free trade relationship with the U.S. This has resulted in a situation where 75% of Canada's product exports went to the U.S., and 65% of the products imported into Canada were from the U.S. in 2016.
If you live outside of the U.S., however, there are a few things that should give you hope. While Canada had a net positive trade balance in 2016, it becomes a trade deficit once Canada-U.S. trade is removed from the equation.
This means if you're a business outside of the United States, Canadian businesses are currently more likely to buy from you than sell to you.
In some industries, opportunities are already wide open for businesses outside the U.S. to export to Canada. According to Steve Tipman, Executive Director of Trade Facilitation Office (TFO) Canada, "two examples where this is especially noticeable are apparel and food. A lot of Canadian clothing is from outside Canada or the U.S., and if you walk into a grocery store, many of the fruits and vegetables are from Mexico, Latin America or elsewhere."
He also adds that Canadian importers and consumers are also interested in unique, price competitive products from around the world. "In the example of fruits or vegetables, with urbanization happening in many Canadian cities, anything that's sized a little differently or can be purchased individually by customers instead of in a carton is going to stand out and appeal to that segment of the population."
Canada-U.S. trade will continue to be important, but Canada's greater diversity in imports should demonstrate that opportunities are available for companies wanting to export to Canada.
5. Plenty of help available to find potential partners
One of the most important elements of entering any new market is building connections and forming partnerships, alliances, supplier agreements, and other business relationships.
One place companies can start is the Canadian Importers Database, put together by Industry Canada. You can search lists of companies importing goods into Canada by product type, country of origin and Canadian city, to see who's already importing what and from where.
The Canadian Trade Commissioner Service (TCS) is also a valuable resource for anyone looking to do business in Canada or with Canadian companies. With 161 international offices around the world, Trade Commissioners near you will be able to give you the information and advice you need. They can put you in contact with potential partners and leads and help you evaluate the ones you already have. Trade Commissioners may also know about trade shows or missions relevant to your needs.
As Varun Anthony, CITP|FIBP, a Trade Commissioner in Mumbai, India explains, "The Canadian Trade Commissioner Service is your one stop shop to doing business in Canada. Trade Commissioners across Canada's global network provide tailor-made services to suit your business requirements so that you can invest in one of the best economies to do business with in the G20 – Canada!"
TFO Canada is another organization to look at for those in emerging markets. "The first thing any SME in a developing country should do is register on our website, www.tfocanada.ca," Tipman explains. "It's important to fill out your entire profile, so we can share it with Canadian importers who might be interested in your products. From there, there's lots of data and resources you can find – sector-specific market information papers, a comprehensive guide on exporting to Canada, and regular webinars on a wide range of trade-related topics are just a few examples."
With many potential opportunities for businesses around the world, Canada could be an important addition to many businesses' market entry strategies. Canada offers stability, openness and a large number of potential consumers for your products or services, all important ingredients for any successful export strategy.