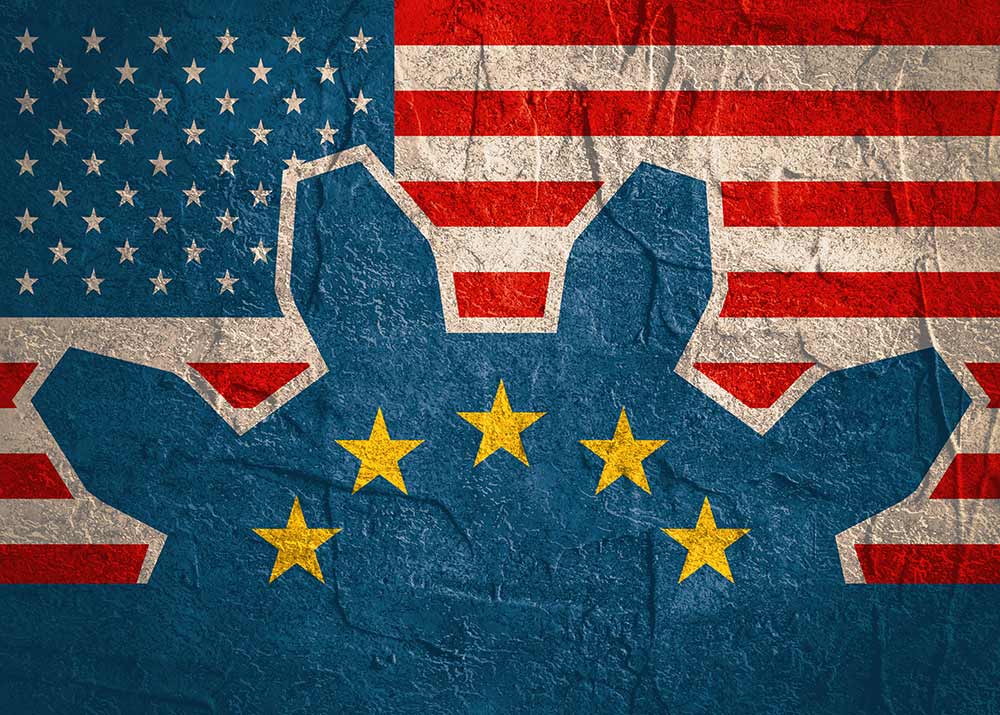 For most who work in international trade, a free-trade agreement between the United States and the European Union makes sense. The EU, after all is the United States' largest trading partner. In 2017, the United States imported $417 billion in goods from the EU, while exporting $270 billion in goods to the bloc.
The Transatlantic Trade and Investment Partnership (TTIP) has been seen as a way to further open trade between the United States and the EU. For the United States saw the partnership as a way to close the trade deficit, while European leaders hoped it would further bolster trade. On both sides of the Atlantic, TTIP proponents said the partnership could spur further economic growth and add trade and manufacturing jobs.
Amid the Brexit vote and contentious elections in Europe and the United States, TTIP negotiations came to a halt in October of last year after 10 negotiating sessions that spanned three years. With the election of Donald Trump and his outspoken, negative views on free trade, most assumed that the TTIP was a dead deal.
But suddenly, trade leaders in the United States and Europe are discussing resuming TTIP talks, and touting the benefits of a trade deal between the United States and the EU.
Trade leaders on reviving TTIP
On the U.S. side, the first indication that TTIP discussions could resume came in a Sunday morning news interview with U.S. Commerce Secretary Wilbur Ross in May.
It's no mistake that, while we withdrew from [the Trans-Pacific Parternship trade negotiations], we did not withdraw from TTIP,
Ross stated. "The EU is one of our largest trading partners, and any negotiations legally must be conducted at the EU level and not with individual nations.
"Thus, it makes sense to continue TTIP negotiations and to work towards a solution that increases overall trade while reducing our trade deficit."
U.S. Trade Rep. Robert Lighthizer more formally addressed resuming TTIP negotiations in June during a U.S. Senate Finance Committee hearing in June. During the hearing, Lighthizer told U.S. legislators that TTIP is currently being reviewed by members of his team, and so far, there is a positive view on moving forward with U.S.-EU trade negotiations.
Lighthizer said he had spoken with EU Trade Commissioner Cecelia Malmström about resuming talks on negotiating an EU-U.S. trade deal.
"On TTIP, we certainly agree that that's an important negotiation," Lighthizer said of his discussions with Malmström. "I've talked to her about bilateral issues and co-operative issues. I'm not here to make any announcement about it, but it is something that we certainly realize the importance of."
There's a lot of momentum behind [a trade deal]; there are a lot of reasons to do it. On the other hand, it wasn't accomplished, so there are obviously problems.
Lighthizer said any discussions on resuming TTIP would likely be put off until after Germany's elections in September.
Meanwhile, EU officials have been relatively quiet on TTIP since Trump's election, though they have cautioned the U.S. against protectionist trade policies and expressed an eagerness to resume U.S.-EU trade talks on several occasions. At the same time, the EU has been adopting similar free trade agreements with other countries, including Canada and Japan, and has expressed a desire to strike more agreements.
What TTIP could accomplish
TTIP aims to iron out a lot of details in European-U.S. trade. The agreement would make trade more transparent and easier for businesses in both countries, according to U.S. Trade Rep. Lighthizer's office. It also would better lay out environmental, health and safety protections. Previously, one of the sticking points of TTIP negotiations was language on Investor-State Dispute Settlement (ISDS). Detractors have said ISDS procedures were too secretive, but in other trade deals, the EU made steps to create a more transparent ISDS process.
Businesses trading between the EU and the United States could see a big drop in tariffs if TTIP were to pass. While the average tariff for all products traded between the two is 1.6%, there are still tariffs as high as 25%. One leaked TTIP document showed that the agreement would lower tariffs by 97.5%.
In the end, it seems that both sides realize that the strong EU-U.S. trade relationship calls for a new trade agreement. While TTIP talks look like they are likely to resume, it stands to be seen whether EU leaders can balance their desire for free trade with the current tone of U.S. trade politics.
Disclaimer: The opinions expressed in this article are those of the contributing author, and do not necessarily reflect those of the Forum for International Trade Training.