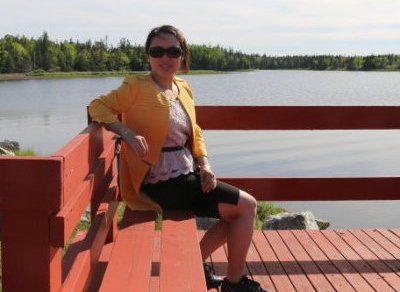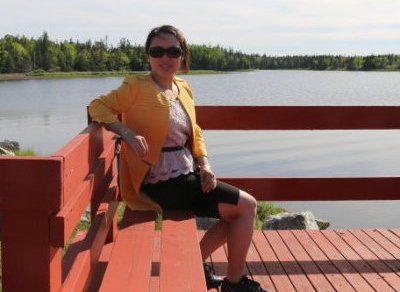 Earned her elite CITP®|FIBP® designation: Apr. 2017
Chengdu is one of China's largest cities, with a total population of close to 15 million people – that's more than the entire populations Sweden, Tunisia, Cuba or Bolivia.
Glace Bay, Nova Scotia, on the other hand, has a population of about 20,000 people, and is located over 11,000km away from Chengdu.
So how did Lan Zheng's career take her from such opposite locales of Chengdu to Glace Bay? It all comes down to opportunities for training, which have had a fascinating impact on her career.
Finding early success in China
After studying foreign trade at Chengdu University, Lan secured a position at China Chengdu International Techno-Economic Cooperation Co., Ltd, a massive company conducting international trade in a wide variety of industries. Since the company was engaged in business across the Asia-Pacific region, the Middle East, Europe and Canada, working there offered plentiful opportunities for career growth.
Lan's first role with the company was a logistics clerk position, where she prepared paperwork for shipping and coordinated the shipments of completed products to customers. After four years, she was promoted to purchasing officer, which included an entirely new set of responsibilities. This included negotiating prices, obtaining quotes, preparing purchase orders, facilitating the accreditation of new suppliers, and monitoring and addressing the performance of their suppliers.
Two years after that, in 2008, Lan moved on to the Hong Kong Economic Development Industrial Co. Ltd to start her new position as a sales representative, still working in Chengdu.
"In that role, I worked with clients in many parts of the world, including Asia and Europe.  Prior to coming to Cape Breton for my studies, my sales volume was $3 million in 2012."
Along with finding prospective clients and maintaining relationships with existing ones, she also arranged client visits to factories and trade shows, and selected sites for new development and expansion.
Goodbye Chengdu, hello Cape Breton
Interested in continuing her studies in an in-class environment, Lan eventually made the decision to move to the Cape Breton region of Nova Scotia to take the International Business program at Nova Scotia Community College.
"People are always curious to find out why I studied in Canada, and Sydney, Nova Scotia in particular. It's just because it was my dream when I was 18 years old to study abroad, but at that time, my parents didn't have enough money to support me to move abroad and study. I had to wait until I was 30 and could afford to live and study abroad."
I used a broker who introduced the school to me, so I did some research and it seemed like a good place to go. I bought ticket, got the visa, and off I went.
As the seafood and fisheries industry is one of the biggest in the region, it caught her attention during her studies and became a growing focus of her career goals.
"I specifically worked on a number of research projects in seafood. The projects ranged from identifying technical solutions to shipping challenges, or researching and finding new markets for seafood projects. I also worked on a large supply chain project which looked at shipping live seafood to Europe and Asia."
"I also participated in a travel opportunity for the international trade program with NSCC where we went to London to visit the Billingsgate Seafood Market and learned about potential opportunities for exporting seafood to the UK. We visited the Seafood Global Expo in Brussels, where I made a number of contacts with local companies."
An action-packed 2016
After graduating from the program, 2016 was a busy year. First, she registered her own consulting company, Abetter Worldwide Marketing Management, in January. Her consulting work focuses on offering market research, translation and interpretation services for businesses, particularly those interested in doing business between Canada and Asia. One of her biggest clients so far is the Sydney Ports Corporation in Nova Scotia.
That spring, she also participated in two exciting projects with NSCC, including paid consulting work.
"In March, 2016, Helen Graham from NSCC hired me as an interpreter and I joined in their "Doing business in China" program. We visited the Jingshen seafood market in Beijing and introduced the Nova Scotia lobster and snow crab to local companies. We also met the trade commissioner at the Canadian embassy in Shanghai, and learned more about the potential business opportunities for Canadian companies."
"In April, I had another chance to participate in an international trade program with NSCC. We went to Cuba and learned about the culture and potential market there."
The program wasn't her only accomplishment that April – she also started her current position as international sales manager with Victoria Co-operative Fisheries Ltd, located in the Cape Breton area. With her experience, she has been able to help the companies make major inroads into Asian markets, with a bright future for continued growth in the sale of snow crabs and lobsters.
We went to the most important tradeshows in China and Hong Kong and met the potential clients. My main job is to promote our products in Asia. We sold three containers to China and four containers to Hong Kong last year. We built good business relationships with Chinese companies.
In April 2017, Lan applied for and earned her CITP®|FIBP® (Certified International Trade Professional) designation, which she says will help her continue to take on new international business opportunities in Asia and around the world.
After such an exciting and productive past couple of years, Lan is ready to take on any new challenge that comes her way.
Learn more about the CITP®|FIBP® designation
INTERNATIONAL BUSINESS CERTIFICATION—CITP®|FIBP®
Advance your career and build your professional credibility in the field of global business by earning the Certified International Trade Professional (CITP) designation.
Why Earn the Certified International Trade Professional (CITP) Designation?
The Certified International Trade Professional (CITP) designation is the world's leading professional designation for the field of international business. So whether you're new to global trade or have over a decade of direct experience, you'll find the CITP designation can help advance your career and build your professional credibility.
The CITP designation sets you apart in the competitive international business industry because it's proof you possess the competencies global business experts have identified as being essential for a successful career in international trade. It also recognizes your dedication to ethical business practices and ongoing professional development—both of which are desirable traits for today's global business practitioners.