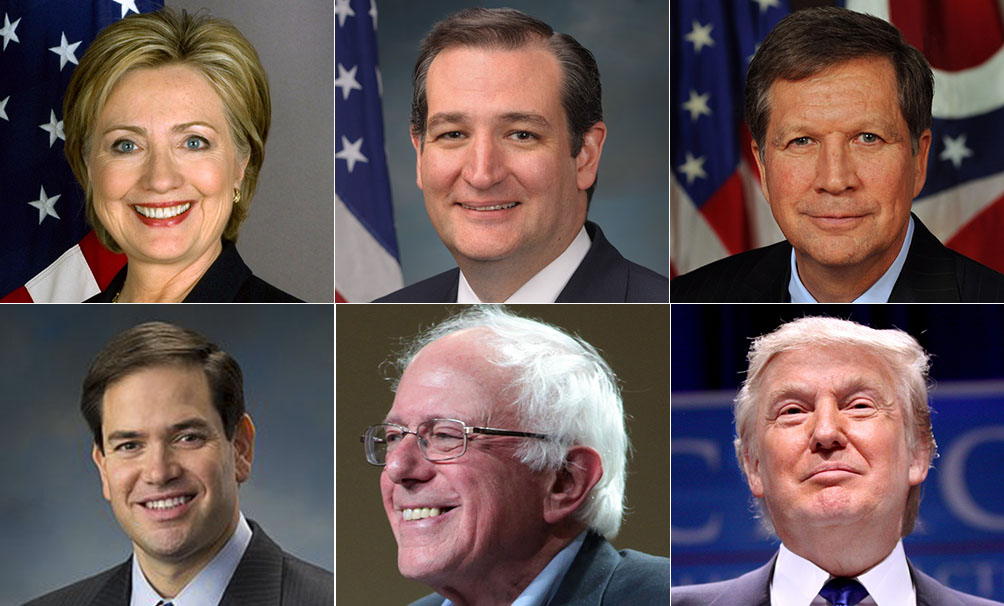 For the past several months, it's been hard to escape the cavalcade of coverage surrounding the upcoming U.S. presidential election.
There's the possibility of Hillary Clinton becoming the first female President of the United States, and the unexpected rise of Donald Trump and Bernie Sanders. We've seen the fall of candidates like Jeb Bush, Chris Christie and Ben Carson. So far, there has certainly been no shortage of storylines to follow and soundbites to hear.
In the midst of "Make America Great Again" sloganeering, discussions around email security, border walls, national healthcare, and more 24/7 punditry than you can shake a stick at, it's been hard to follow the policies and statements on every area of policy.
Whether you're an American voter able to engage in the democratic process via primaries and the November election, or merely a concerned and interested international citizen, we think it's important to know what each candidate has said about international trade to be fully informed in this critical issue.
No matter who you vote for, we hope you'll take these statements into account and continue to follow the debate on international trade as it remains an important topic in the election over the next few months.
In the interest of fairness, the candidates have been listed in alphabetical order by last name:
Hillary Clinton (D)
Between Clinton's years as First Lady, U.S. Senator, Secretary of State and presidential candidate, she has made a lot of comments both for and against various trade agreements and policies.
As First Lady, Clinton was not as supportive of NAFTA during its implementation as her husband, but spoke positively of the trade agreement as late as 1998, celebrating business leaders for "a very effective business effort in the U.S. on behalf of NAFTA."
By 2007, during her first presidential run, she had reversed her position and was speaking cautiously about NAFTA, focusing more on its issues and negative effects than its positives.
As a senator, she also voted against CAFTA in 2005, the Central American equivalent to NATFA, but supported freer trade with countries like Oman, Singapore, Vietnam and Burma.
During a 2005 debate, she stated that:
During my tenure as senator, I have voted for every trade agreement that has come before the Senate, and I believe that properly negotiated trade agreements can increase living standards and foster openness and economic development for all parties.
As Secretary of State, Clinton championed the Trans-Pacific Partnership a grand total of 45 times in public statements, calling it "the gold standard in trade agreements" during a speech in Australia in November 2012.
Since leaving office, however, she has done an about face in her position on the TPP, stating in October 2015 that "the bar here is very high and, based on what I have seen, I don't believe this agreement has met it."
Clinton also recently came out in favor of the U.S. Export-Import Bank in a debate in Flint, Michigan: "I favor that…I want to do everything I can for us to compete and win in the global economy…"
Ted Cruz (R)
Cruz states that he is a free trade supporter: "As a general matter, I agree (as did Ronald Reagan) that free trade is good for America; when we open up foreign markets, it helps American farmers, ranchers, and manufacturers."
His most notable contribution so far, however, was a significant shift in his view on renewing the Trade Promotion Authority (TPA) in 2015.
In April, Cruz co-wrote an article in the Wall Street Journal with Paul Ryan which concluded that "Promoting American trade will create more opportunity in the country, and so we strongly urge our colleagues in Congress to vote for trade-promotion authority."
After voting for a May 22 TPA bill in the Senate, he then reversed his position on June 23, stating that the bill now included too much back-dealing between Democratic and Republican leaders.
He also expressed concern that certain clauses could lead to re-authorization of the U.S. Export-Import Bank and immigration reform with which he strongly disagreed.
When the Senate finally approved the TPA, Cruz was one of just five Republicans to vote against the bill.
Cruz has been a long-standing opponent of the Export-Import Bank, arguing in 2014 that:
The Export-Import Bank is big businesses' big-government bank, backed by U.S. taxpayers. There's nothing inherently wrong with big businesses … but they don't need special handouts from government.
Finally, Cruz came out strongly in November 2015 against the TPP, and that he did not think the U.S. should vote on the trade agreement until after the upcoming election.
John Kasich (R)
Kasich, the current governor of Ohio,  former chairman of the House Budget Committee and managing director of Lehman Brother's investment banking division from 2001-2008, has largely been a proponent of free trade.
In a July 2015 episode of Meet the Press, he said that he supported NAFTA and other free trade agreements, but wanted to do a better job of protecting American workers against their effects.
By and large, open trade is good for us… I am for clamping down when the United States worker gets shafted because somebody is cheating on a trade agreement.
Kasich also supported the TPP in Republican debates in November 2015 and January 2016 because it offers a profitable Asian-Pacific economic alternative to the U.S. trading more with China. In the first debate he argued:
"The TPP, it's critical to us, not only for economic reasons and for jobs, because there are so many people who are connected to getting jobs because of trade. But it allows us to create not only economic alliances, but also potentially strategic alliances against the Chinese. They are not our enemy, but they are certainly not our friend."
In October 2015, Kasich revealed that part of his platform was to remove the International Trade Administration's power, as he feels the organization is too inefficient.
His plan is to give trade promotion efforts over to the State Department, and have the International Trade Commission handle trade enforcement and compliance issues.
Marco Rubio (R)
Rubio was one of the key Republican players in passing the TPA in June 2015, and has stated the agreement is one of the pillars of his foreign policy platform.
Though Cruz attacked him for continuing his support for the TPA and TPP, Rubio's position has remained consistent throughout his campaign.
He elaborated that one of the major reasons for his support is that the TPP serves as an opportunity to build an economic bloc without China, using the agreement as leverage to force changes in attitudes and policies from the Chinese government.
When pressed by opposing Republicans, he stated that he was pro-free trade and that "We voted on fast-track authority, which Ronald Reagan was for."
He has also argued that future American job growth is dependent on international trade, and criticized Clinton for not supporting the TPP in recent months.
In January, Rubio was quoted as stating that his continuing support would be dependent on a review of a report from the ITC on the agreement, which will not be published until May.
Rubio's one area of resistance to trade comes in the U.S.-Cuba trade relationship. Rubio, whose parents emigrated to the U.S. from Cuba in 1956, has been an opponent of increased trade with Cuba until the Cuban government makes major changes towards a more open and democratic political system.
Bernie Sanders (D)
Sanders has consistently opposed free trade agreements, for many years, as he feels they benefit major American corporations at the expense of American workers.
In fact, if elected President, Sanders vows to reverse NAFTA and CAFTA, as well as end the U.S.'s Permanent Normal Trade Relations (PNTR) with China, which would re-introduce several tariffs to goods imported from the U.S.'s largest trade partner.
Many of Sanders' views are best summarized in an April 2015 editorial he wrote for The Guardian:
Trade deals like the North American Free Trade Agreement (NAFTA), the Central American Free Trade Agreement (CAFTA) and the granting of Permanent Normal Trade Relations to China have been abysmal failures.
"They allowed corporations to shut down operations in the U.S. and move work to low-wage countries where people are forced to work for pennies an hour; and they are one of the reasons that we have lost almost 60,000 factories in our country and millions of good-paying jobs since 2001.
The TPP is simply the continuation of a failed approach to trade – an approach which benefits large multinational corporations and Wall Street, but which is a disaster for working families. The TPP must be defeated, but our overall trade policy must also change for corporations to start investing in America and creating jobs here again, and not just in China and other low wage countries."
Sanders has also consistently opposed the U.S. Export-Import Bank, arguing in a March 2016 debate that it primarily benefits large, already profitable corporations: "I don't think it's a great idea for the American taxpayer to have to subsidize, through corporate welfare, profitable corporations who downsize in the United States of America."
Donald Trump (R)
Trump frequently speaks of international trade as a contest with clear winners and losers, painting the U.S. as a loser in international trade because of the country's trade deficits:
We're losing all over the world with trade deals. Every country. No matter what country you talk about, you can just pick a name out of a hat, they're beating us in trade.
His attention frequently focuses on China, Japan and Mexico, as he perceives that these three countries are taking American jobs, flooding the U.S. market with cheap goods that American producers can't compete with, and using currency manipulation to further drive down their prices.
In his U.S.-China trade policy platform, Trump vows to formally declare China as a currency manipulator, and says he will force China to "uphold intellectual property laws and stop their unfair and unlawful practice of forcing U.S. companies to share proprietary technology with Chinese competitors as a condition of entry to China's market" and end what he considers to be illegal Chinese export subsidies.
He has also, at various points, claimed he would create a special 45% tariff on Chinese goods to balance the effects of currency manipulation, as well as a 20% tariff on all imported goods.
He further proposed a 35% tariff on goods produced by companies who move manufacturing from the U.S. to other countries, such as Ford for moving production to Mexico.
Trump is an outspoken opponent of the TPP, stating that it does not properly address currency manipulation and that it was designed so that China could eventually enter the agreement and take advantage of other countries.
He has also spoken against NAFTA, and would work towards repealing it or exiting the agreement.