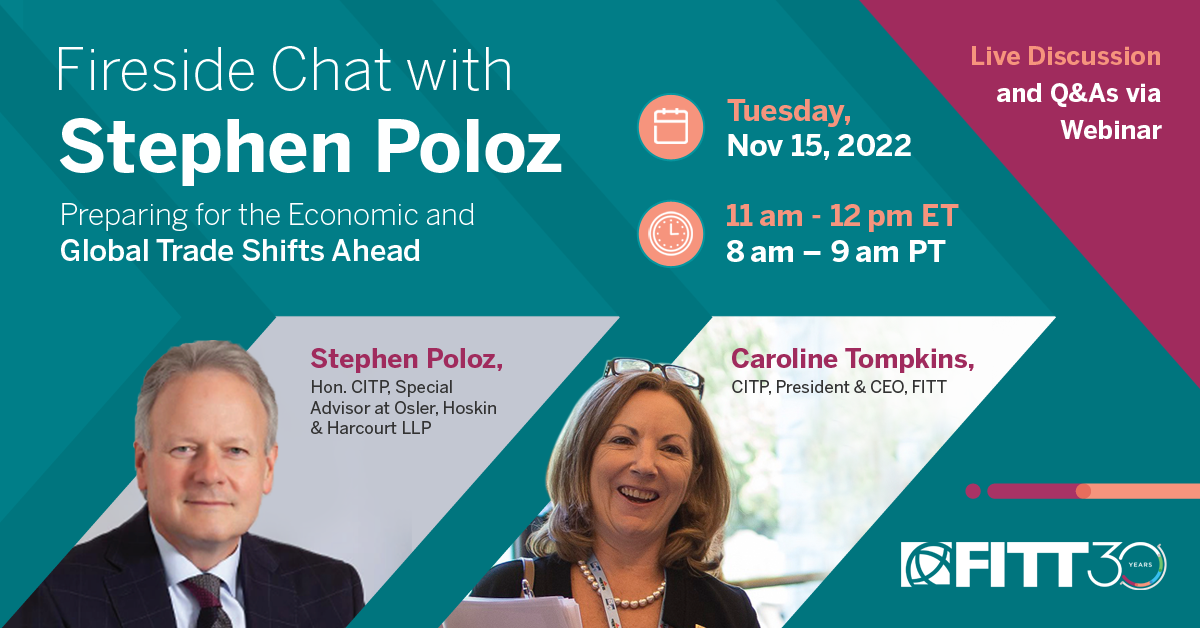 People still want to know what's keeping Stephen Poloz up at night. The ever-astute former Governor of the Bank of Canada and veteran economist now acts as a Special Advisor for Osler Law Firm, but still serves as a national authority on all things trade and economy. His recent book, The Next Age of Uncertainty: How the World Can Adapt to a Riskier Future, is proof of his keen ability to assess the current global landscape, taking readers on a journey through the major tectonic forces shaping the world's volatile financial and trade situations.  
Unsurprisingly, the book is a national bestseller, with many individuals seeking his word on what lies ahead—while others still want to know what's keeping him awake at night.
So, what's keeping him up at night?
This was a question Mr. Poloz was often asked during his tenure as the Governor of the Bank of Canada and was asked once more during FITT's most recent fireside chat with him, hosted by FITT President, CEO and CITP Caroline Tompkins. As usual, his answer was in-depth and well thought-out, mainly focusing on political polarization and the concern that "politics somehow are going to get to a place where things really can't get done."  
But it isn't just polarization that's keeping him awake at night, it's also the rising income inequality most countries are seeing, which, in his opinion, is fuelling the type of atmosphere where polarized political sides only seem to work together when crisis hits. This is a weakness that could lead to a trend of governments stumbling from one crisis to another to get things done, he thinks. If the past year's events, from the global pandemic to the war in Ukraine, are any evidence of Mr. Poloz's knack for nailing a prediction on the head, then he might have a second career as a clairvoyant (though he would disagree with this assessment). 
Despite the multiple looming risks discussed throughout the chat, Mr. Poloz also showed his famous sunny side, giving insightful solutions and strategies that businesses and everyday individuals can use to better prepare for uncertainty. These include things like empowering teams with values-based leadership and ensuring that companies have solid long-term forecasts. These forecasts should include strategies for managing tectonic changes like inflation, political polarization and an aging workforce. He also highlighted the openness of individuals in government to work together toward better solutions for the economy. 
Other interesting topics discussed during the chat include:
The exacerbation of inflation (which Mr. Poloz had predicted in his book over a year ago—but did not think would happen so quickly)

 

Canada's slow trade growth and contributing factors such as low productivity hampered by logistical and regulatory inconsistencies that prevent businesses from growing

 

Canada's strengths, which include a strong influx of immigrants who contribute to our workforce and productivity, our excellent education system and better handling of income inequality when compared to other countries.

 
A rich and insightful 60 minutes, we're grateful to have hosted Stephen Poloz for the second time and hope there will be many more opportunities in the future. 
Watch the event here: