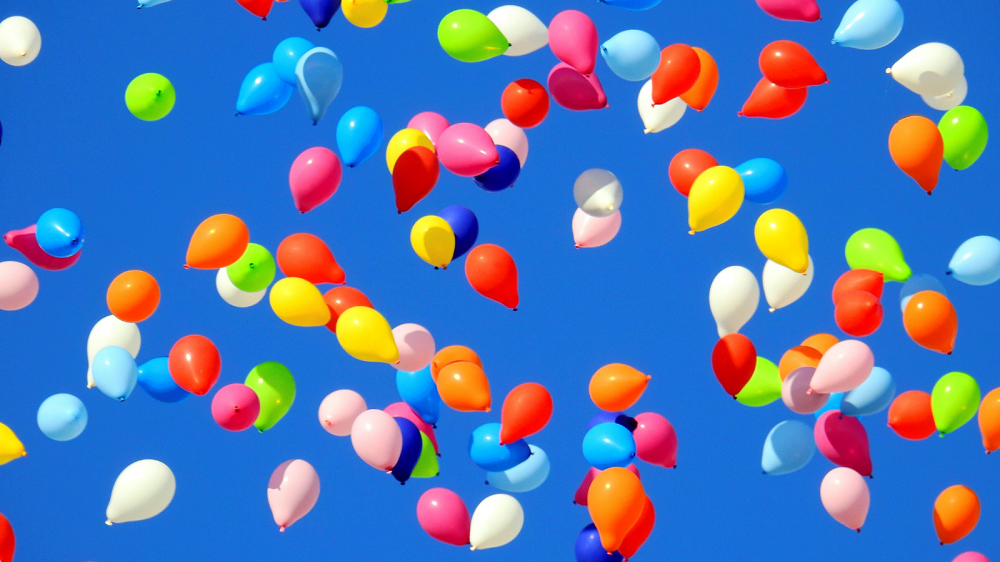 This year marks a historic milestone for FITT: It will be our 30th anniversary, marking an incredible journey for our organization. We began with a mission to improve the way international trade was done by filling in the many gaps of knowledge that individuals had when attempting to prepare, strategize, mitigate risk and succeed in global markets.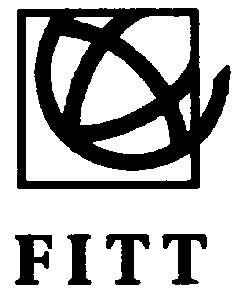 This was led by FITT's founding father, Dieter Hollweck, CITP, who recollected of the time: "One thing I knew, there was a huge lack of training opportunities and access to "hands-on" knowledge of international trade, especially how to do it well and profitably and protect yourself from the associated risks." With his guidance and the efforts of others, this mission was tackled with passion and dedication by a small and ambitious team who have grown and expanded to make FITT what it is today: the international standard for trade training and certification.
Moving with the times
It was a lofty goal, but we have pushed forward, adapted, and excelled with the many international changes along the way. For example, back when we started in 1992, the Russian Soviet Federative Socialist Republic had just been renamed the Russian Federation, succeeding the former Soviet Union. In the same year, European nations signed the EEA (European Economic Area Agreement) in Oporto, Portugal, and US President George Bush Senior, Mexican President Carlos Salinas de Gortari, and Canadian Prime Minister Brian Mulroney began negotiating what became NAFTA (the North American Free Trade Agreement) shortly after. Clearly, the world of trade was changing at an incredible pace, and FITT's endeavor to establish international trade as a body of knowledge and profession came at just the right time.
Since that time, international trade has skyrocketed through many global ups and downs, with the creation of the World Trade Organization occurring in 1995, and world trade volume and value expanding 4% and 5% respectively on average since 1995, according to a 2020 WTO report.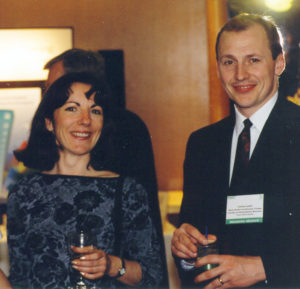 What 30 years in the industry means
"Celebrating FITT's 30th anniversary is an exceptional milestone in many ways," notes FITT President and CEO Caroline Tompkins, CITP. "First, it highlights the long and fruitful history FITT has had within the international trade ecosystem, not only setting the standard for international trade training but also international trade as a profession with the CITP (Certified International Trade Professional) designation. Second, it emphasizes our present and future. Currently, FITT training and the CITP designation are used in over 40 countries around the world. Soon, we look to ISO 17024 accreditation as further proof of our industry-leading reputation, pushing for a level of excellence that is independently assessed, upheld, and monitored by outside experts. This is a proud achievement for our organization, partners, CITPs, credential holders, and supporters."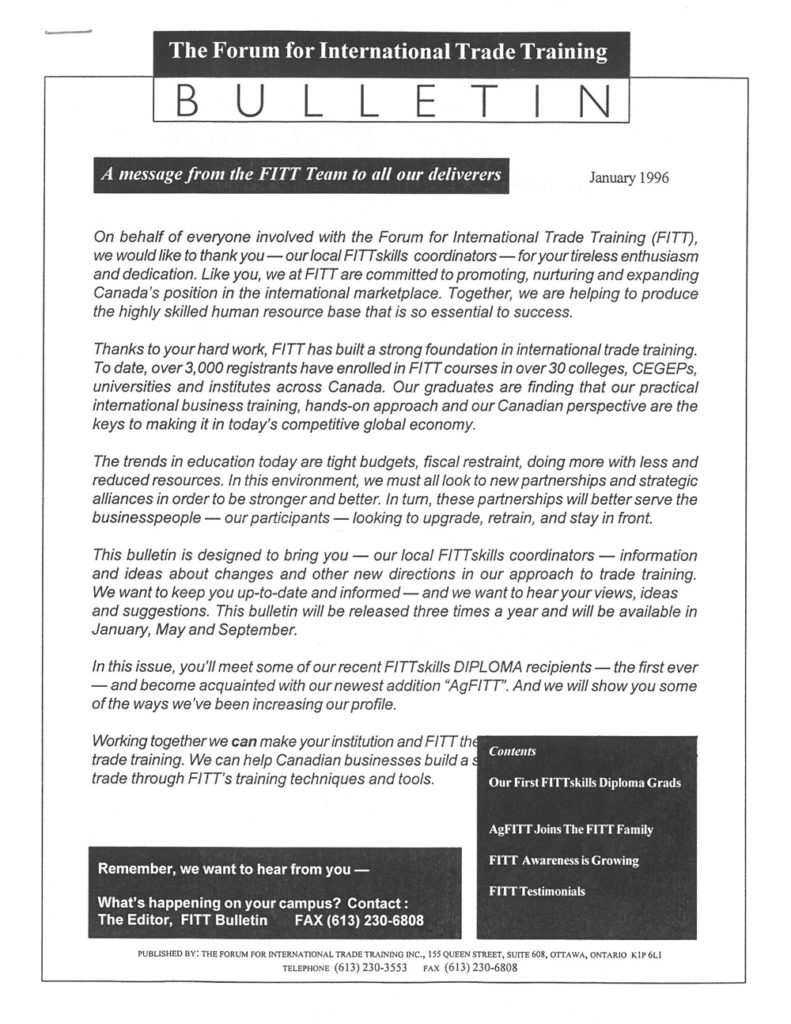 Milestones aplenty
There have been many accomplishments to get to this point, all of which have served to make FITT, FITT training, and the CITP®|FIBP® designation as successful as they are today. These include the following successes:
1992 – FITT is incorporated
1993 – The FITTskills Program is launched
1998 – FITT launches the world's first professional designation for international trade practitioners, the CITP (Certified International Trade Professional) designation.
1999 – The launch of FITTskills Online 
2001 – FITT begins accrediting international trade programs
2002 – The launch of the FITT Educational Awards
2007 – Recognition from the World Trade Centers Association
2013 – FITT completes its International Trade HR Sector Study
2016 – Competency Framework developed
2016 – CITP Competency Profile 3rd edition launched
2017– FITT's 25th anniversary and Your Future 2017 Conference
2017 – The launch of FITTskills 7th edition
2018 – Launch of EDC-FITT International Trade Learning Centre
Recognizing the occasion
It's only fitting that after so many years, we mark our 30th anniversary with big celebrations. We're gearing up for an anniversary party, giveaways, events, and surprises throughout the year—all in acknowledgment of those who have helped make FITT the success it is today, from students and CITPs to partners, peers, and colleagues. We are looking forward to marking the occasion with those who are part of international trade as an industry, body of knowledge, and profession, because, together, we have helped make global trade as strong and resilient as it is today.
Stay tuned for our celebration announcements on Facebook, Twitter, LinkedIn, and TradeReady.ca. See what's happening online with the hashtag #FITTis30.
*Certified International Trade Professional (CITP) is trademarked for use within Canada. FITT International Business Professional (FIBP) is trademarked for use internationally. Both reflect the same FITT-certified designation.