Every year, the Forum for International Trade Training (FITT) celebrates exceptional dedication, drive, and academic excellence in the field of international trade by honouring outstanding students. The students enrolled at any educational partner training organization offering the FITTskills program or FITT-accredited programs, are eligible for the prestigious FITT Educational Awards. Let's meet our winners for the 2022 calendar year and delve into their inspiring stories!
Student of the Year Award
Congratulations to Hector Chacon from CDI College for receiving this top honour. It celebrates the student with the highest overall grade point average after completing all FITTskills courses, the last of which would have been completed in the 2022 calendar year. In completing all courses successfully, Hector also earned the FITT Diploma in International Trade. Presented by FITT's strategic partner, Export Development Canada, this award is a testament to Hector's outstanding academic performance.
Sonica Grewal, B. A., Campus Director at CDI College, says this about Hector:
"He is an outstanding student with high grades, good attendance, and an excellent attitude."
Congratulations, Hector, we can't wait to see where your career takes you!
International Sales and Marketing Plan Award
The International Sales and Marketing Plan Award goes to Amier Shooman from Algonquin College! This is awarded to the student who has received the highest grade for their submission of a completed sales and marketing plan during the 2022 calendar year. 
Amier has chosen to study international trade due to his exposure to international politics and policies. He loves learning about new cultures, markets, and communities in the global economy.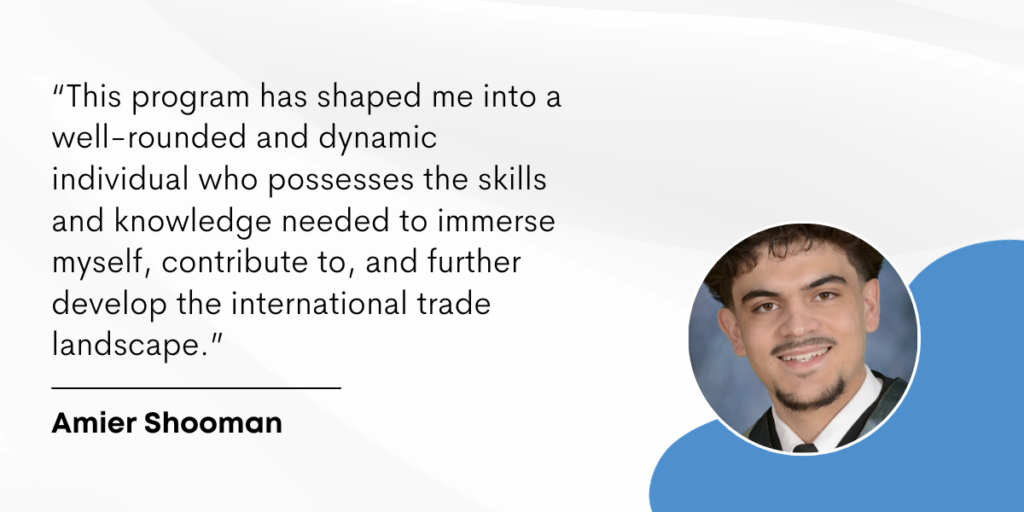 Amier is already looking at adding further accolades to his international trade résumé. His career goal is to work in a constantly evolving international trade environment.
"My dream is to one day become a top-level manager. To achieve this endeavor, within the next couple of years, I plan to earn the CITP|FIBP certification. I then plan to find an entry-level position in either a special or rotational role within the international trade field."
Amier's award-winning project involved exploring opportunities for DAVID's TEA to expand into a new market in England, underscoring the practicality of a sales and marketing plan in the target market. 
Adam Digor, CITP, Instructor at Algonquin College states this about Amier:
"Amier is one of those unique students with a great attitude, aptitude and concise communications skills. He has an inquisitive presence in the classroom, asking questions to help the instructor better articulate the subject to the students."
Congratulations, Amier, on this remarkable achievement! We are confident that your success will pave the way for a bright future, and we look forward to seeing you join the CITP community soon.
Connect with Amier Shooman on LinkedIn.
International Business Plan Award
The International Business Plan Award is presented to the students who achieves the highest grade for the submission of a completed international business plan during the 2022 calendar year. This category includes two outstanding winners – Makaniya Madhusoodanan Kavitha from Fanshawe College and Tinashe Stanley Mukono from Mount Royal University.
In addition to winning this award, these graduates from Fanshawe College and Mount Royal University have also fulfilled all requirements to earn the FITT Diploma in International Trade. 
Frank F. Cotae, PhD, MBA, Associate Professor of International Business at Mount Royal University, lauds Tinashe for his remarkable understanding of international trade and the quality of his International Market Entry Report (International Business Plan) for Rviita's expansion in Denmark. 
"Tinashe has shown extraordinary understanding of international trade clearly evidenced by his International Market Entry Report: Rviita Expansion in Denmark. The quality of the analysis and decision making ability have been showcased in Mr. Mukono's report, supervised by Dr. Abdul Chikhouni, and have culminated with him earning a Diploma in International Trade, an accomplishment for which he deserves congratulations. Having mastered FITT x EDC skills and competencies he has formed the basis for his current career as a Project Manager with RSM."
Connect with Tinashe Mukono on LinkedIn.
Makaniya's interest in multinational companies' success in international markets led her to choose international trade as a career. She aspires to become a trade policy analyst and has a career goal to become a director of international trade policy in a multinational corporation.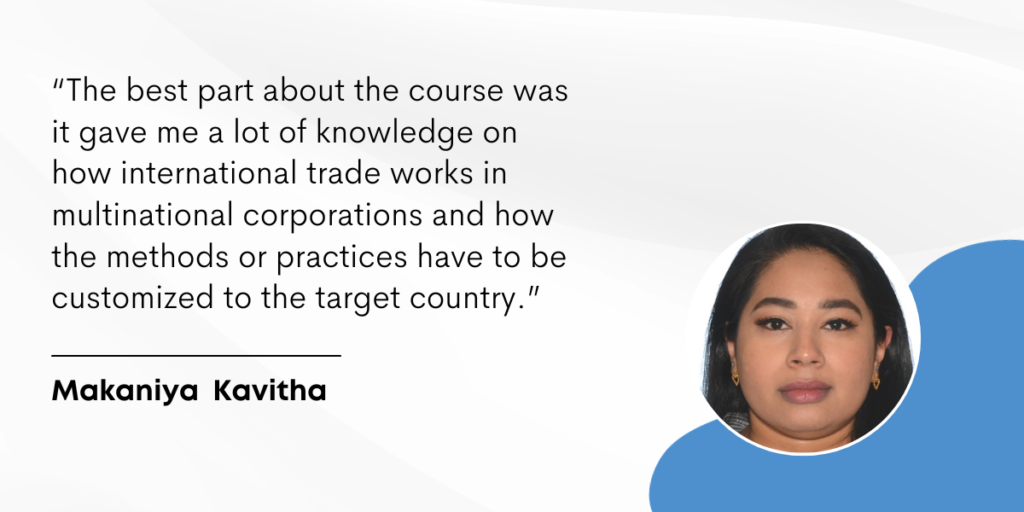 Makaniya's projects included analyzing the expansion of Railway City Brewery into the United States market and determining the most reliable methods for Mycionics to enter the European market.
"The course taught me how to conduct detailed and analytical market research from authentic sources and condense them to create an effective trade report. I have learned to read and understand business reports of companies on international trade."
Connect with Makaniya Kavitha on LinkedIn.
The 2022 FITT Educational Award winners exemplify the commitment, passion, and dedication that underpin excellence in international trade education. Their stories highlight the exceptional talent nurtured within FITT educational partner training organizations and the knowledgeable and dedicated coordinators and professors in these institutions. 
From everyone at FITT, we extend our congratulations to these remarkable students. The FITT Educational Awards stand as a symbol of their developing talent, and we look forward to witnessing the future accomplishments of these rising stars in the field of international trade.