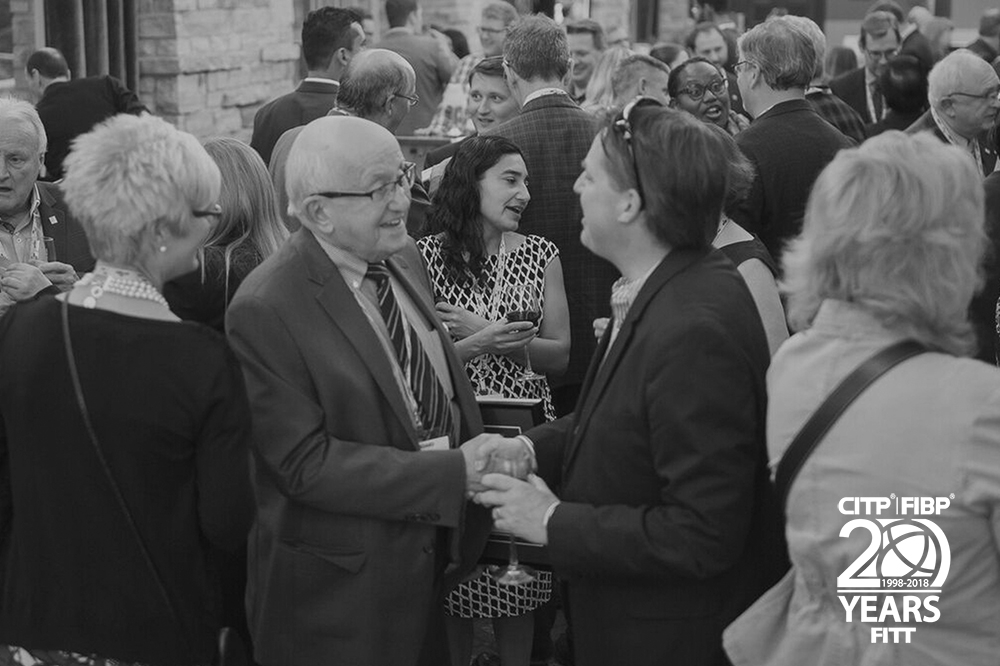 Today marks an exciting milestone for FITT. I'm thrilled to let you know that 2018 marks the 20th anniversary of Certified International Trade Professional (CITP®|FIBP®) designation, the world's first professional designation for international business practitioners!
International trade is one of the oldest professions in the world, and until the launch of the CITP designation in 1998, it was one of the least recognized professions in the world. In 1998, when the CITP was developed, it symbolized the first time that international trade professionals could be formally recognized for their expertise in this field. Two decades later, the CITP designation is a global standard of excellence for international trade practitioners worldwide.
While this a proud accomplishment for FITT, what this really celebrates is the level of achievement and leadership of the hundreds of dedicated professionals who represent the designation worldwide.
Throughout the month of June, we'll be recognizing and celebrating the careers and accomplishments of some of the smartest people involved in international business today. Whether you're a CITP or this is the first you're hearing of the designation, we want to get you involved in a month of activities that will bring international business people together, discussing the biggest challenges, issues and opportunities of the day.
You can view the full schedule of #CITP20 events here.
Why bother getting a professional designation for international trade?
If this is the first you've heard of the CITP designation, you may be wondering – what's the value in investing time, money and a lot of effort into adding a few capital letters to your resume and business cards? This question has been asked time and again by recent graduates entering the workforce, ambitious career-climbers looking for their next big promotion, and experienced executives looking to make their mark as a leader in their field, all seeking a way to stand out from their competition in the business world.
The answer depends on the designation those letters represent, and the qualities and credibility that it validates within an industry or a profession.
Despite headlines, and some major upheaval in policy, global trade grew 4.7 % last year, which was the largest increase in six years, and is predicted to grow of 4.4% this year and continue that growth into next year. In an increasingly connected world, there have never been more opportunities for businesses to go global. But as the world gets more connected, trade also gets more complex.
FITTskills graduates told us they recognized just how unique the knowledge and skills needed to be successful in international trade were. As such, they were looking for professional status for their field – just like accountants, architects, etc. The FITT Board looked at this and agreed that the obvious evolution in the creation of training standards, was to formalize the international trade profession by creating the designation.
Certified International Trade Professionals assume a variety of roles and functions within an organization. Ultimately, they are business professionals tasked with supporting companies that rely on international trade as a growth strategy. So why should a logistics manager, international marketing professional, global accountant, and procurement specialist all see themselves as international trade practitioners? And why should they all seek the same professional designation?
"International trade is a team sport. It takes dozens of people to complete transactions over international borders when you consider all the different points of contact involved."
"The CITP®|FIBP® designation provides empowering leverage for not only individuals but companies too. When staff members have the full picture of what needs to be done in international processes it adds value to everyone within the organization." Dieter Hollweck, CITP, FITT's Founder and past President.
Learn more about the CITP®|FIBP® designation
INTERNATIONAL BUSINESS CERTIFICATION—CITP®|FIBP®
Advance your career and build your professional credibility in the field of global business by earning the Certified International Trade Professional (CITP) designation.
Why Earn the Certified International Trade Professional (CITP) Designation?
The Certified International Trade Professional (CITP) designation is the world's leading professional designation for the field of international business. So whether you're new to global trade or have over a decade of direct experience, you'll find the CITP designation can help advance your career and build your professional credibility.
The CITP designation sets you apart in the competitive international business industry because it's proof you possess the competencies global business experts have identified as being essential for a successful career in international trade. It also recognizes your dedication to ethical business practices and ongoing professional development—both of which are desirable traits for today's global business practitioners.
The CITP designation is your USP
By associating yourself with the profession of international trade, and validating that association with a professional designation, you are demonstrating that you understand the full picture of international business and its processes. If your previous roles have focused mainly on domestic markets, this is a crucial element in proving your readiness to take on an international role.
This is accomplished by: demonstrating competence of the international business functions, upholding standards of ethical conduct, and committing to ongoing professional development in the field of international business. Professional designations are often considered proof of an individuals credibility and commitment to a field of practice. Those letters that stand beside your name represent acceptance and approval by a collective of experts in the field of international trade. Not only do you have the expertise – with the CITP you have the industry-backed credential to prove it.
The CITP designation is like a USP – a unique selling proposition. If somebody sees "CITP" beside your name on your business card or email signature and they know what it is you'll have immediate connection. If they don't know what it is, they'll be curious about it, and again you will have an immediate connection. Their curiosity allows you to explain the value of the CITP designation and therefore the value you will bring to them not only as an employee, but as an individual who has chosen international business as your profession. A profession which requires special education, training and skills.
"Risk mitigation provided by FITT and the CITP designation is the ability to thrive globally in order to preserve margins for businesses through knowledge more than price."
"The future in the global competitive environment lives with those who can be price and value makers. This is particularly true for small businesses. The designation helps them to do business effectively in these markets based on know how and competitiveness that does not rely on price alone." – John Treleaven, CITP, Member of FITT Board of Directors.
Throughout June there will be opportunities for you to ask the questions that matter to you, through interactive events on Twitter, Facebook and LinkedIn. We will be connecting expert CITPs with those who want to learn and grow in their international careers through a mentorship contest, and a networking ebook that will give you a direct connection with the industry's leaders.
Help inspire others! Post a 1-2 minute video or social post to share a memory, a congratulations or thoughts on what being a CITP means to you using the #CITP20 hashtag on Twitter, Facebook or LinkedIn.