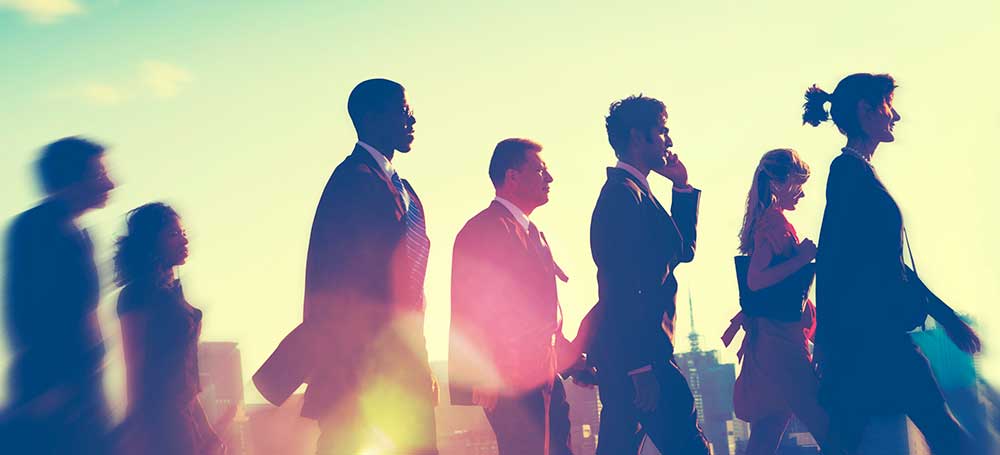 FITT was founded in 1992 on the key tenets that most global business professionals value: forming meaningful connections with people from around the world, improving the way international trade is done every day, and arming themselves with the right skills to succeed in global markets and to offer the best service possible to their clients.
It was these ideals that founder Dieter Hollweck brought to the table when he first conceived of an organization like FITT, and brought together the people and resources needed to get it off the ground.
"One thing I knew, there was a huge lack of training opportunities and access to "hands on" knowledge of international trade, especially how to do it well and profitably and protect yourself from the associated risks," Dieter explains.
"As a member of the Canadian Council of Trading Houses (CCTH), and Canadian Export Association, I had discussed this topic often with both groups. The lack of international business training available, designed and delivered by experienced professionals, was an obvious void in business education."
This realization inspired Dieter to speak passionately on the topic to some of his close connections in the international trade world at the time, not least of which were colleagues at the Canadian Chamber of Commerce, DFAIT (now Global Affairs Canada), Industry Canada, and Human Resources Development Canada (now Employment and Social Development Canada).
With the support of the Canadian government and the Canadian Chamber of Commerce, the project continued to evolve into what we now call the Forum for International Trade Training (FITT).
As Dieter said;
And thus the Project, now called FITT, had its inception and rather dramatic official beginning.
In the early days, FITT owed a lot to Elvis
In business, inspiration can come from anywhere and 'good vibes' can be a key ingredient in bringing people together, no matter how serious the task at hand. Dieter, the "father of FITT", was always a big fan of Elvis Presley.
"I knew he came to perform in Canada only once, in Toronto and Ottawa. He arrived at Union Station on April 3, 1957 and stayed at the Capital Hotel on Albert, and he brought his pink Cadillac."
"As this international business project needed all the right spirit and vibes, I managed to rent the room Elvis stayed in (room 700 if I recall). It was a very inexpensive and modest size room.  This was where our first meeting to plan out the operations. We all wanted to meet outside of the Canadian Chamber of Commerce offices, so I came up with this idea of a comfortable and 'magic' place to meet."
"Everyone loved the idea of injecting the amazing spirit of Elvis into all things operational for FITT."
After all, one of Elvis's early movies was called Follow your Dream! It wasn't lost on me that this is exactly what most international entrepreneurs do with total passion and commitment." 
Building the right training to fill the competence gaps
In the beginning, the FITT team knew that in order to build the kind of training program that would fill the much-needed competency gaps, they would have to find the most qualified experts to contribute to the learning material. But gathering all of the right information from the experts in the field was a vast undertaking, as Dieter recalls:
"Each section of the program went out to tender separately to ensure that every topic was created by the most qualified experts. All of the knowledge had to be researched, reviewed, referenced and compiled into a usable database of content. That collection of content needed to be functional and malleable to ensure instructors could provide the best possible training to produce competent international business professionals."
You can read more about the in-depth research that FITT did, in collaboration with several partners, in this article about the founding of FITT.
In 1993, FITT was ready to begin delivering its training program, and in the intervening 23 years, FITTskills continues to be updated to keep up with the ever-changing global trade environment. The program has undergone 6 revisions, and a brand new 7th edition will be released in 2017.
And the research never stops. As global trade evolves, training must evolve right along with it. Knowing this, FITT recently released the results of the International Trade Competency Framework, providing a practical, relevant framework that defines all of the international business skills needed to succeed globally.
FITT goes online and around the world
The late 90s and early 2000s was a transformative time for FITT. During this time, FITT increased its use of technology, expanded its training network through its educational partners in colleges and universities, and began a new tradition of honouring the hardest working full-time students with annual education awards.
It's hard to imagine, but FITT predates popular use of the World Wide Web! Today, the FITTskills program is available in its entirety as online courses to anyone who has an Internet connection.
People now study the FITTskills material at their own pace, wherever and whenever is convenient for them.
We also have over 40 educational partners – and counting – delivering our courses, or FITT-accredited programs; and we are conducting on-site training sessions in countries such as Indonesia, Iraq and Barbados.
FITT has been able to connect with global trade professionals in Canada and around the world, largely thanks to our strong partnerships with Export Development Canada and Global Affairs Canada. GAC officially adopted FITTskills training as part of the career path for all Trade Commissioners in 2015, and has even extended this to locally engaged staff.
One of FITT's mandates is to promote the recognition of global trade as a profession and celebrate its practitioners. In 1998, FITT launched the Certified International Trade Professional (CITP®|FIBP®) designation, the first of its kind in the world. Eighteen years later, the designation continues to gain recognition as the standard for international business practitioners worldwide!
Building a network like no other
In the last few years, we have been working on an ongoing passion project to bring the worldwide FITT community together to share ideas, experiences, and connect like never before.
This project has reached into almost everything we do at FITT, including creating the TradeReady.ca blog in 2012, a place where the mission is to inform, inspire and connect global trade professionals around the globe.
Launching FITTforTrade.com in 2015 allowed us to bring the website into the future with a dynamic new design, easier navigation and new resources, and we will continue to optimize our online hub – look for another new look coming soon! Another new development this past year was our updated online course platform, built with input from the FITT Community, which offers new features and learning resources to streamline the FITTskills online experience.
The best part about creating an online community of diverse, creative international trade professionals is hearing from you.
And that's something we get to do on a daily basis on social media through Facebook, LinkedIn, and Twitter. Join the conversation in our monthly #TradeElite Twitter chats, in our LinkedIn FITT and CITP groups, or post something on our Facebook page and tell us what's going on in your global trade world.
Celebrating a major milestone and looking to the future
Time really flies and it feels wonderful to look forward to 2017, which marks FITT's 25th year of operation. We will be celebrating all year, culminating in FITT's 25th anniversary conference in the fall of 2017.
At FITT, we know most import/export professionals are fascinated by what the future holds for global trade, and we join you enthusiastically in that curiosity. It's crucial to be forward-looking, not only from a business standpoint, but from a more general exploration of what future innovation holds for us all.
Trends, technology and politics are moving fast and having a major impact on international business. That's why we will be looking ahead in all aspects of international trade this year, culminating in next year's conference, which will centre on the theme of "Your future in trade". We hope you can join us.