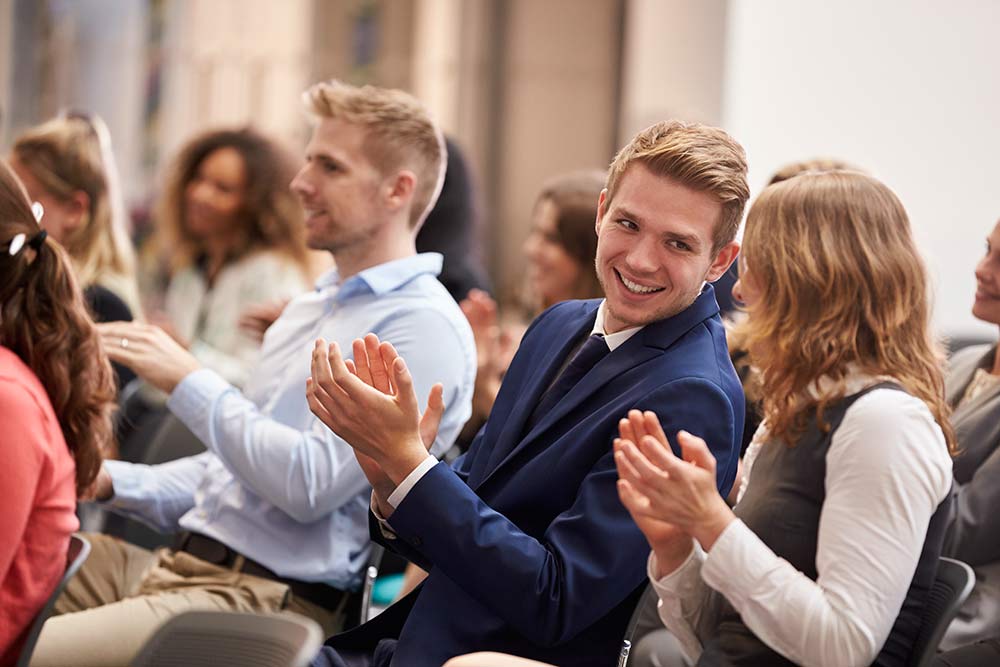 Business events can be a great place to network, learn, and enjoy an exciting few days with people who work in your industry. Because of this, it's always wise to stay informed about the best upcoming business events. Here are the top 5 events that global business professionals won't want to miss in the coming months.
September 17-19, 2017 | Long Beach, CA
 At the IANA (Intermodal Association of North America) Intermodal Expo, thousands of business professionals in the transport industry will be in attendance. The expo will include a networking breakfast, educational sessions, exhibitor product demonstrations, and keynote presentations. Educational sessions will cover topics such as "The Future of NAFTA and North America's Trade Lanes," "Supply Chain Partners: Serving the Customer," and "Cloud-Based Solutions to Intermodal Challenges."
The IANA Intermodal Expo also covers many other important industry topics including ocean carriers, railroads, shippers/BCO's, technology vendors, 3PL's, equipment manufacturers and leasing companies, motor carriers and drayage companies. This conference is therefore ideal for anyone who is looking to learn more about, or to make connections within, the intermodal industry.
May 30-31, 2018 | Sydney, Australia
With a focus on bringing together great business leaders to discuss global business ideas, technology, and insights, this event is a great opportunity for CEOs and executives.
The World Business Forum will feature a number of high profile speakers. This year's list included the likes of Ariana Huffington, Jimmy Wales, and Daniel Goleman, and next year's event already has Sir Ken Robinson, Cirque du Soleil CEO Daniel Lamarre and #1 Wall Street Journal bestselling author Chris McChesney on its list speakers. Sessions also offer Q&A opportunities for attendees to ask questions to these esteemed experts.
This event is also a premier networking opportunity, with over 2000 senior executives expected to be in attendance, and offers an exclusive learning experience for anyone able to attend.
September 12-14, 2017 | Barcelona, Spain
Billed as "the only global conference dedicated solely to the export finance community," this conference is an ideal event for anyone working in international business.
The conference's main attractions include global pavilions, roundtables hosted by various national export credit agencies (ECAs), a business lounge, and star speakers such as former BBC business correspondent Nils Blythe and Vicky Price, former joint head of the UK Government Economic Service. There will also be a conference networking app, and an under 30's workshop.
Other speakers at the conference include Tony Lindstrom, Director, Customer Finance & Risk, Volvo; Dorus Everwijn, Director, Project Finance, CB&I; Arun Sharma, Chief Investment Officer, IFC; Catrin Fransson, CEO, SEK; and many more.
4. Advanced Forum on Customs & Trade Enforcement
September 25-27, 2017 | Washington DC
A fantastic opportunity for those involved in compliance and export-import regulations, this event is being touted as "this year's must-attend event for global trade compliance professionals and their advisors."  
With the strong likelihood that the Trump administration will continue to shift U.S. trade policy, this event is crucial for those wishing to stay up to date on key customs and enforcement policy changes.
One of the primary benefits of this informative conference is that government officials will actually speak at this event. This means that you will be able to get information directly from some of the people who matter the most when it comes to trade regulations.
Agenda events for this conference include NAFTA Focus: U.S., Canadian, and Mexican Perspectives on Renegotiation, Networking Roundtables by industry, Interview with the Centers of Excellence and Expertise ("CEEs"), and a Featured Panel – "Valuation: Latest Shared Perspectives on Importers' Obligations and International Trends".
October 2-4, 2017 | National Capital Region, Canada 
The Your Future in Global Markets Conference is designed to be THE international business conference of 2017. Your Future in Global Markets will bring together leaders in their fields from around the world to share insights, successes and lessons learned when working in global markets. Join panel discussions and workshops on building global teams, increasing profit margins, mitigating risk and navigating the rapidly shifting sands in international trade.
If you are looking to reach a new level of international business success with a focus on the future, this is the conference for you.
The list of industry leaders who will be speaking at the conference include Richard Bistrong, CEO of Front-line Anti-Bribery LLC, Nicole Verkindt, Founder of OMX Dragon and Dragon on the Next Gen Dragon's Den, Ed Marsh, Founder and Principal of Consilium Global, Paul Parisi, President of Paypal Canada and many others.
If want to be a high performer, make new connections and learn key trade industry information, you can register here – early bird pricing ends August 31.
Start planning your event schedule to get in on top events
Business events are not only a lot of fun, but also highly beneficial for professionals who want to get ahead in their careers. Getting to a global trade conference may take a little bit of planning and effort, but the rewards for attending these events can be tremendous.
Are you looking to connect with a supplier, partner, or even a mentor? If so, then these conferences can be a great place to do so. Attending the presentations offered at these events can give you access to key insights that can help you grow in your area of work in a condensed period of time. Which events will you attend this year?