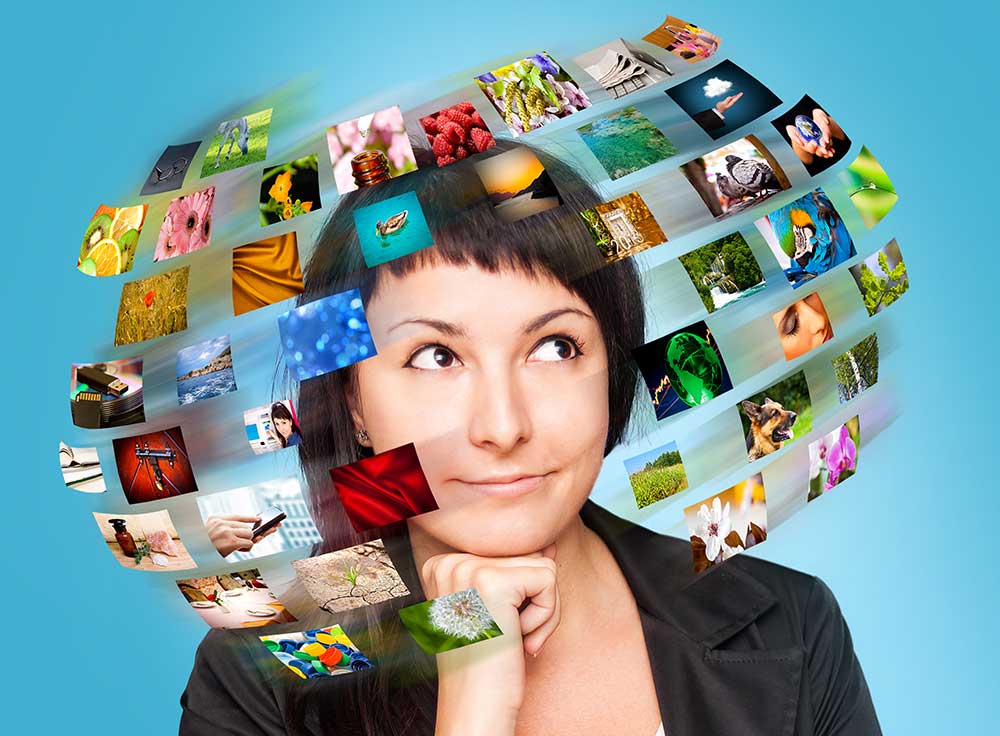 E is for Effortless
It's no secret that the relationship between brands and consumers is undergoing some dramatic transformations. A positive feedback loop between technological advances and consumer expectations is shaping the business world, and will continue to do so in 2017.
What do I mean by positive feedback loop? Well, consider the changing attitudes consumers have about shopping today, compared to 20 years ago; those attitudes didn't just appear out of the ether. Most of us got our first taste of online shopping in the late 1990s or early 2000s, in its precursory form. Early e-commerce retailers, like Amazon, that made strides to improve and expand that experience attracted more customers, who almost immediately began to take those improvements for granted and look for the next big thing.
After two decades of this tug and pull between e-commerce technology and consumer expectations, we have reached a point where, for the first time in history, mobile web traffic exceeds desktop traffic. Most consumers own multiple devices, most of which are mobile, and more than half of consumers in the U.S. prefer online shopping to traditional brick-and-mortar shopping. Among Millennials, those born roughly between 1984 and 2000, that number jumps to 67%.
So, what does this mean for e-commerce in the near-term? Although we are still early in the year, at least 10 clear trends have already emerged in this sector for 2017.
From personalized shopping experiences to drone delivery, e-commerce is radically changing the way we think about the shopping experience at a breakneck pace.
At the same time the competition is growing faster than the market. This means that you must consider the 10 emerging trends outlined in this 3 part article series, to remain competitive with your e-commerce business.
The following chart shows the growth of e-commerce sales worldwide since 2014, and projections up to 2020. According to Statista  in 2015, sales climbed to $US 1.55 trillion, with a growth projection in e-retail revenue of $3.4 trillion in 2019.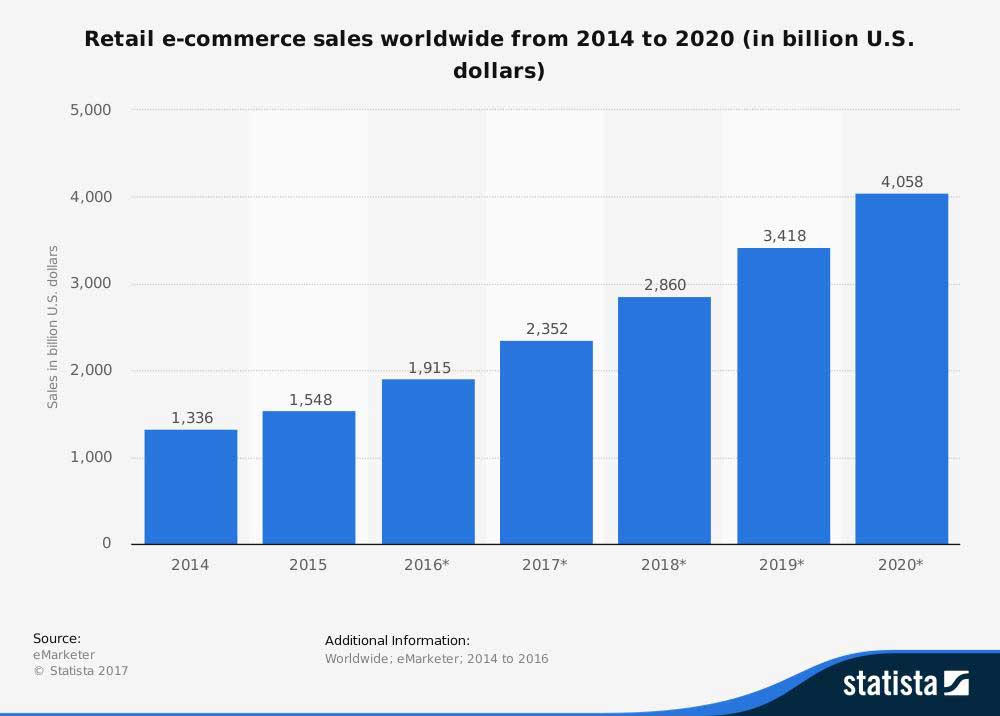 1. Amazon Dash Buttons
Amazon introduced two new e-commerce services for the first time early in 2016: Amazon Dash buttons and the Amazon Dash Replenishment service. Amazon Dash Buttons are Wi-Fi connected devices that connects directly to Amazon Prime members' accounts and can reorder favourite products activated by a single touch. Users can purchase a physical Dash button for their frequently ordered products or use virtual Dash Buttons on their mobile devices. .
Amazon Dash Replenishment is a service for all IoT connected home appliances. This application can automatically place a customer's order when it senses a product is nearing depletion. Charges will be automatically applied to the user's card and ship fast, and for free.
The Dash Replenishment button is a part of Amazon's great vision for forecasting their customers' and automating the buying process. Look for other e-commerce companies to follow Amazon's lead in this area.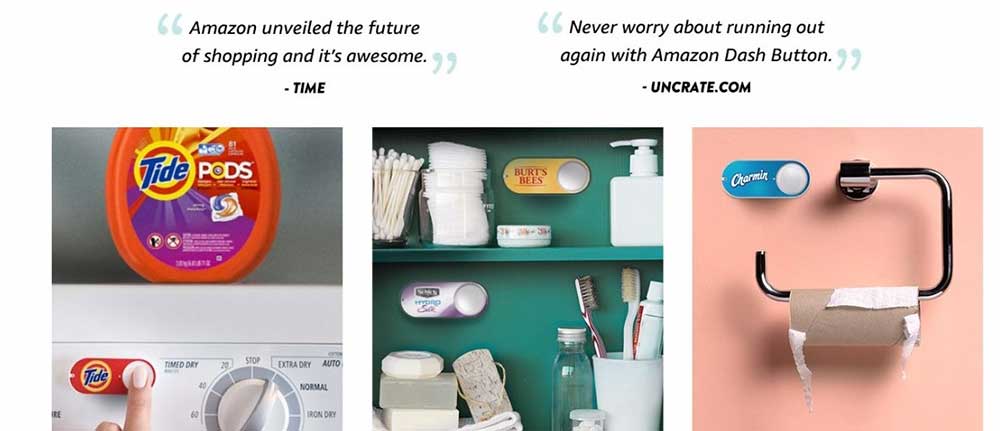 2. Expanding mobile payment methods
Just like debit card technology has all but made writing checks an anachronism, new advances in mobile payment technology will soon make wallets a thing of the past.
The magic of contactless payments using nothing but your smartphone is catching on in a big way, and mobile payments are on the rise.
Several businesses that were early adopters of this technology have already seen significant revenue increases as a result.
But these payments will no longer be limited to the world of smartphones. Rather than reaching into a pocket to pull out a phone and pay, more streamlined and wearable devices are ready to pick up the baton. Smart watches, smart rings and similar accessories will continue to gain popularity this year, making this method of payment even easier.
Being equipped to handle mobile payments will be a major advantage for brick-and-mortar businesses in 2017, as consumers opt to replace their traditional wallet with a mobile equivalent. Our lives are increasingly being shifted onto our mobile devices, and e-commerce as a whole is beginning to adopt a mantra of "mobile first" as opposed to "optimized for mobile".
The world's largest mobile phone companies have launched their electronic purses, including Google Wallet, Apple Pay, Android Pay, and Samsung Pay. Google Wallet and Apple Pay reported that the number of users is increasing by one million per week..
This chart shows mobile payment income in 2015 was $US 450 million and is forecast to double by the year 2019.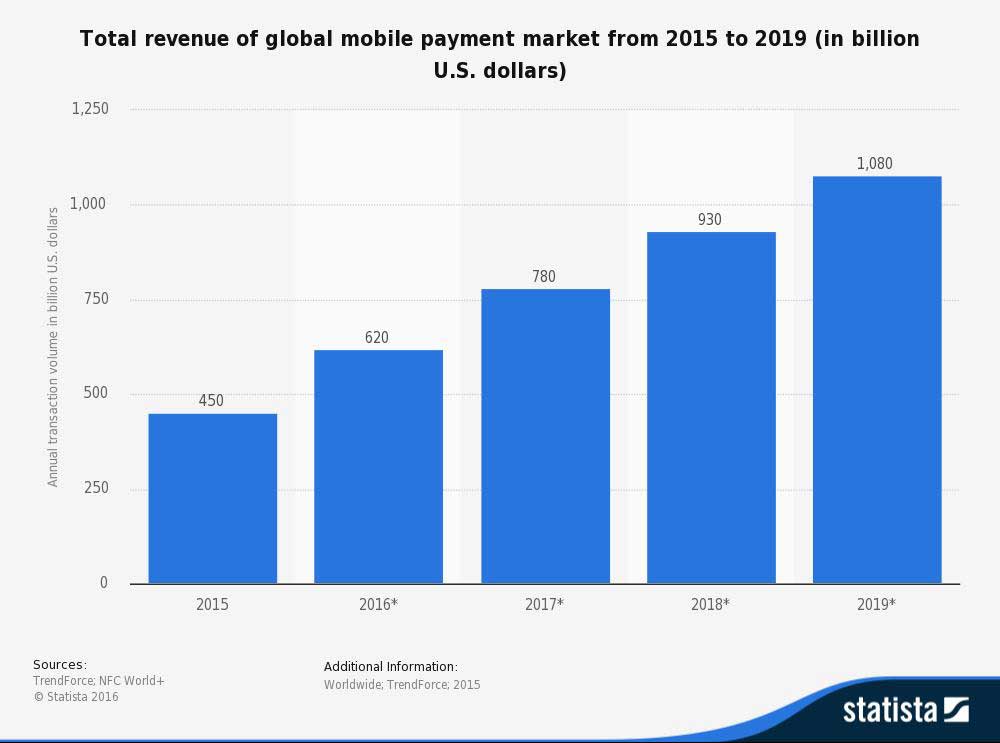 3. Chatbots: artificial intelligence at your service
People often complain about the frustrating experience of using an automated telephone customer service system. But what if the customer service experience could be both automated and positive? Major advances in artificial intelligence are leading to the development of chatbots so effective that some consumers actually prefer them to real human interactions.
The most obvious benefits of using chatbots and AI for an e-commerce business are that bots can be accessed by your customers 24/7, and they don't need to be paid a salary. But there are even more advantages that can be extrapolated from what we know about the effects of live chat services on websites. For example, customers who use the live chat on an e-commerce website spend 5-30% more on average than those who don't, and the likelihood of making a sales conversation after chat increases 5-10x.
E-commerce stores aren't limited to their own websites, either.
Increasingly, brands are meeting their younger customers where they are already spending most of their time: social media.
E-commerce chatbots can be integrated in chat apps like Kik and Facebook Messenger, creating what has been coined"conversational commerce".
This social media integration trend has already transformed the way business is done in China, where 65% of online shoppers report that they shop using their mobile device at least once per month. Some have gone so far as to rebrand e-commerce as "m-commerce", highlighting the critical role mobile technology plays in this evolving sector.
Microsoft, Facebook and Google, use ChatBot technology.   Companies are also taking advantage of the Facebook Messenger Bot, such as fast food chains Pizza Hut and Burger King. Other businesses are adopting similar systems such as the Slack platform, and Taco Bell for introduced their TacoBot to order food using this technology.
Microsoft believes that the bots could expand their functions beyond text bots, also interacting with users through video and holograms in the near future.
The digital revolution is changing every aspect of our lives, so it's no surprise that it has its fingers in the world of e-commerce.
Whatever the trends may be this year, or next year, there seems to be an inevitable destination: the merging of the digital and physical realms, giving consumers the best of both worlds.
Stay tuned for part 2 and part 3 to see what else is in store for e-commerce this year.
Disclaimer: The opinions expressed in this article are those of the contributing author, and do not necessarily reflect those of the Forum for International Trade Training.