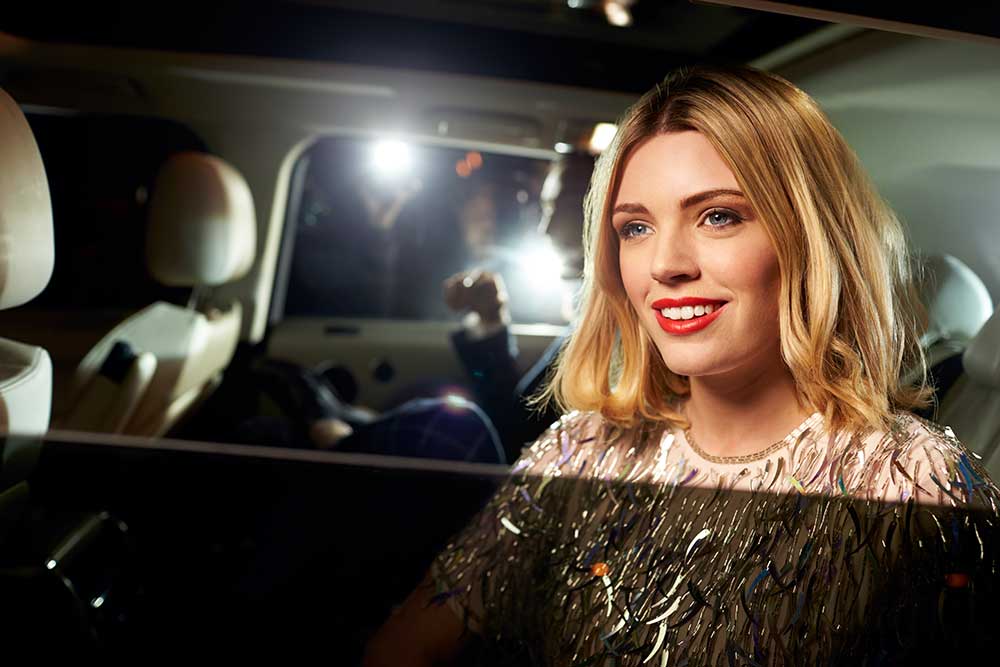 It's all about you
After two decades of data collection, analysis and trial and error, e-commerce has reached a point where, for the first time in history, mobile web traffic exceeds desktop traffic. Most consumers own multiple devices, most of which are mobile, and more than half of consumers in the U.S. prefer online shopping to traditional brick-and-mortar shopping. Among Millennials, those born roughly between 1984 and 2000, that number jumps to 67%.
So, what does this mean for e-commerce in the near-term? From personalized shopping experiences to drone delivery, e-commerce is radically changing the way we think about the shopping experience at a breakneck pace. Ten clear trends have already emerged for e-commerce in 2017. We covered the first three in part one of this three-part article series, and the next four are outlined here.
Gone are the days when Customer A and Customer B would go to an e-commerce website and have the same shopping experience. As a matter of fact, in 2017 we are already seeing situations where in February, Customer A won't even have the same experience that they had in January.
That's because industry leaders have realized that in order to compete with other retailers, both online and in-store, they have to offer their customers a unique experience that delivers on their own personal needs and expectations.
Retailers know that in the competitive online space, they need to make it all about you.
Real-time personalized shopping experience
This is the advent of real-time customization of the shopping experience, a form of context-based e-commerce. Every customer will, in theory, have an online shopping experience that is as unique as they are. Features such as product recommendations and extras tailored to the customer's preferences, demographic information, purchase history, and physical location will become the norm.
E-commerce businesses can use this strategy to offer special deals based on what they know (or can reasonably expect) a specific customer is interested in. Being able to promote the right product to the right person, in the right place and at the right time, will be vital for businesses to maintain a competitive advantage.
The idea here is that any targeted recommendations or promotions are so spot-on that they feel completely natural to the consumer. When executed correctly, this sort of customized experience shouldn't feel intrusive, but rather like going to your favorite local shop where the employees know you by name, and exactly what you like.
Featured Tools:
Real-time conversion Analytics
Personalized email
Feedback (always in touch with users)
Exit popups (personalize engagement)
Recommendation (product offers)
Personalized shopping cart
A/B tests (based on connected user data)
Social media (deep engagement)
Predictive analysis thanks to Big Data
The amount of consumer data that is collected, aggregated and analyzed has already changed our experience when surfing the web or browsing our social media sites. And now, it's changing e-commerce business' ability to predict what their customers' next purchases will be.
Data collected through the profiles customers create, their interactions with the brand, their purchasing habits, and the data aggregated from similar customer profiles can help target customers with exactly the right product.
This can be applied over the short-term and long-term. For example, by studying consumer purchasing habits over the course of a year, an e-commerce business could adjust its seasonal offerings more successfully thanks to predictive analysis. Simple ways to get access to a vast amount of information for this strategy include online customer profiles, loyalty cards, linking to social media accounts, etc.
Obviously, recommending or promoting the very product that your customer was already thinking about buying is an excellent way to improve conversion rates and reduce shopping cart abandonment online. But this can also be used in a business-to-business (B2B) environment with potentially lucrative results thanks to the larger orders and more complex sales cycles in B2B.
One of the priorities of 2017 will be to acquire data in real time. This technology will be necessary for the launch of a new product or to schedule the publication of new marketing or advertising content. Amazon is the largest e-commerce company in the world, the most outstanding activities, Amazon Web Services (Amazon Cloud), continue to dominate the market with a continuous growth of ideas.
According to Statista, Amazon had a 40% share in the cloud infrastructure market in 2016.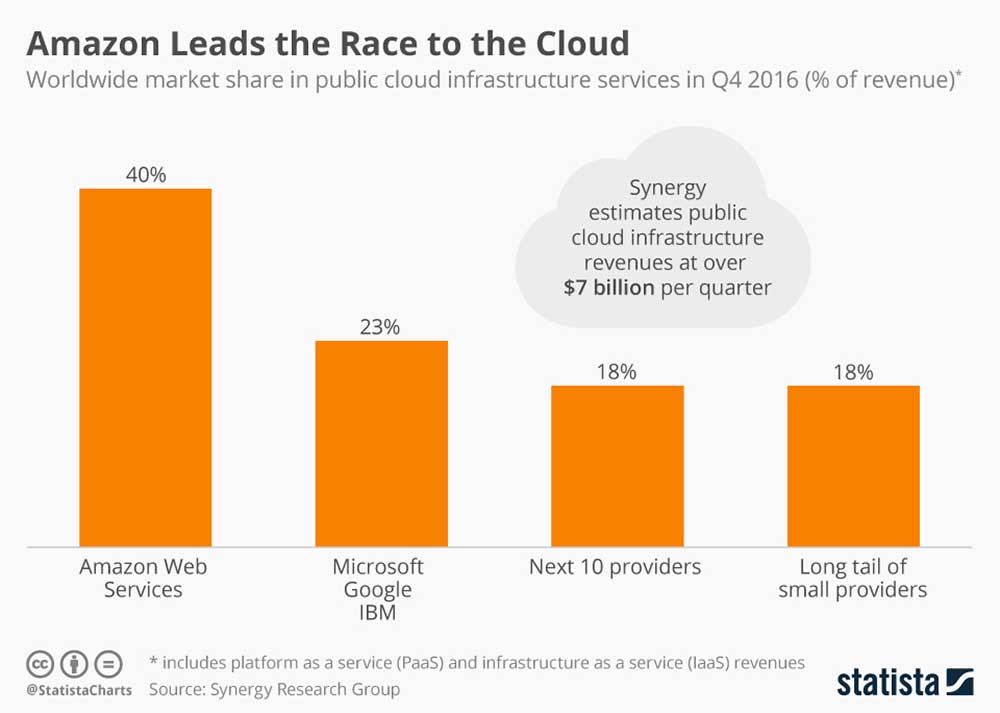 Unified commerce: the fusion of offline and online
Unified commerce is the natural evolution of an increasingly important digital presence in a traditional retail environment. It is the merging of commerce and e-commerce into one all-encompassing entity. Rather than businesses having their brick-and-mortar infrastructure and then adding a separate digital infrastructure to it, these two modalities will be integrated into a single unified experience.
Today's consumers increasingly value convenience. We want and expect to be able to get whatever we want, whenever and wherever we want it. A unified commerce mentality will allow businesses to give customers the freedom that they demand. And many businesses are aware of this; a recent survey indicated that about 85% of businesses consider unified commerce to be a high-priority goal.
Mentally, consumers don't treat a brick-and-mortar store, an online store, and the store's social media accounts as separate elements, but rather as appendages of a single, unified brand.
Brands must adopt this same mentality in 2017, and take advantage of today's reliable and affordable network technology to integrate the various channels of their business.
Having an integrated infrastructure also allows businesses to allocate their human resources more efficiently, for example, by making the knowledge of one expert employee accessible to other employees in other locations via a mobile device.
CMS "open source" e-commerce platforms such as Magento, Prestashop and Woocommerce are free, and allow you to simplify orders and be flexible, manage multiple stores, select different languages, and offer payments in different currencies.
Social eCommerce
Social media platforms have become the newest growing sales channels evolving to allow companies to collect information and increase brand awareness. In the near future a button for "Buy" and "Add to cart", as well as the issuance of individual search queries will be added.
According to Statista, here is the ranking of the most used platforms for the purchase of products among users of social networks in the U.S. in May 2016.
Pinterest 55%
Facebook 12%
Instagram 12%
Twitter 9%
LinkedIn 5%
Snapchat 3%
In the survey sited, 55% responded that they used the Pinterest network to purchase their products; 12% used Facebook to do the same.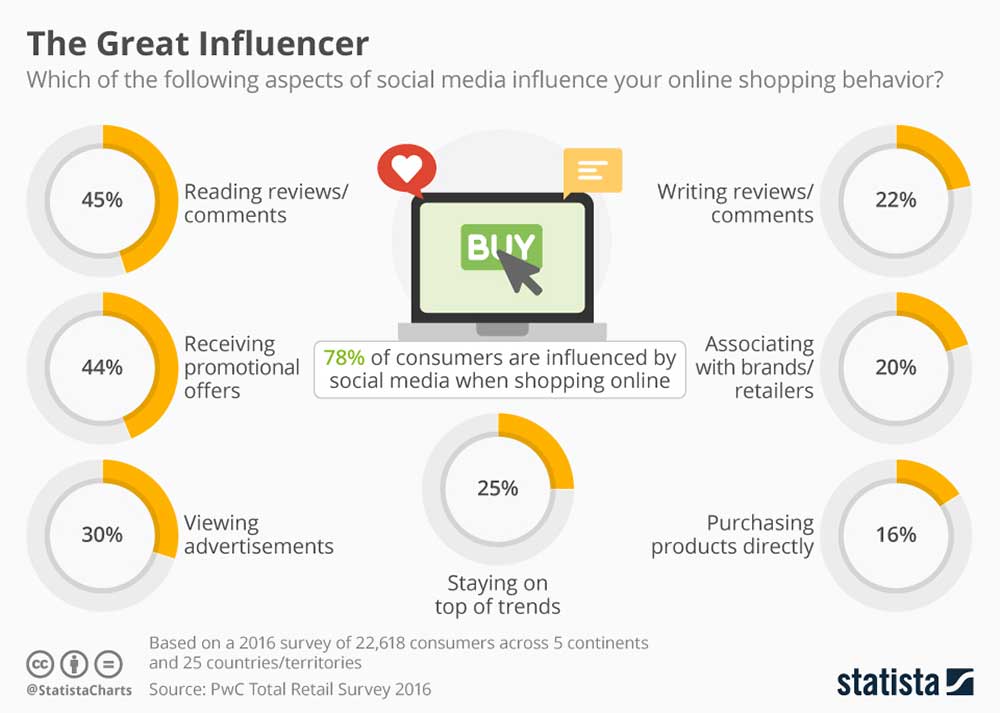 The graph shows the results of a global survey of 23,000 users, 78% of whom are influenced by social networks at the time of purchase, affecting the behavior of the purchase.
Stay tuned for the third and final article of this series to see what else is in store for e-commerce this year.
Disclaimer: The opinions expressed in this article are those of the contributing author, and do not necessarily reflect those of the Forum for International Trade Training.