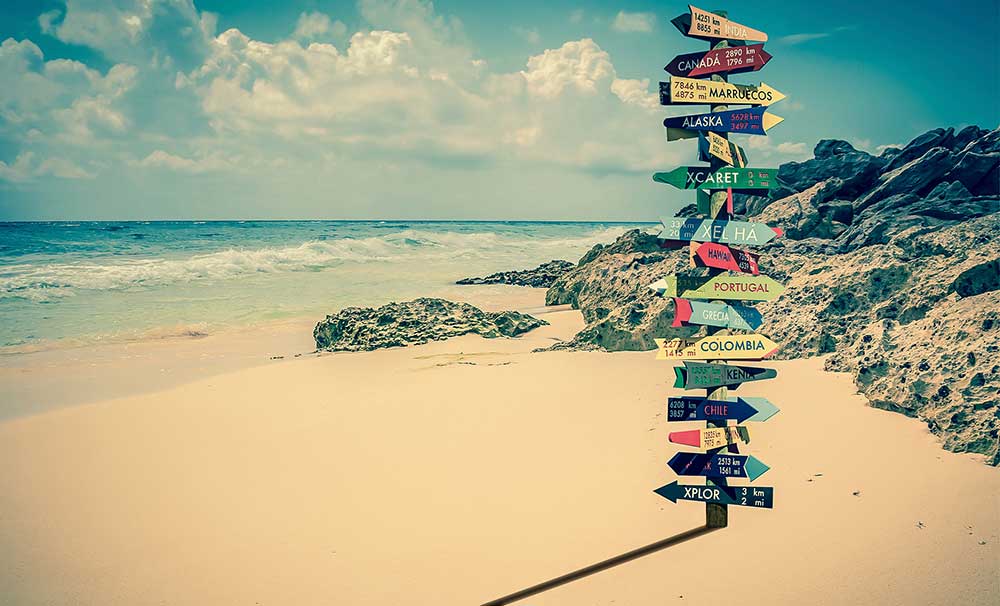 With the new administration in action, have you become a bit nervous about the U.S. as an export destination? I've recently spoken with many companies from around the world. Most of them said that since President Trump's inauguration, they are unsure of their future because the U.S. is their only or biggest export market, and they now consider themselves at risk.
The ironic thing is that, whether they realized it or not, they always were at risk.
It is essential to diversify your exports and not depend on one market, especially when that market is as big as the U.S.
Diversifying your export markets, and therefore spreading out the risks, should have been a priority right from the start; but now, the pressure is on.
The good news is, there are plenty of other interesting markets elsewhere, especially in Latin America, that offer the opportunity for growth. Like Canada and the U.S., Latin America is a continent of immigrants, and it offers the opportunity to create scale. This especially applies to Brazil, which has more than 200 million inhabitants. The continent has gone through some major changes in the past 15 years, politically, socially and economically.
For almost all of the LATAM countries, these changes have been for the better. This comes with the one exception of Venezuela, where things have gone from bad to worse to terrible. Unfortunately, that country should not be on your export destinations wish list.
Get involved in infrastructure in Brazil and Argentina
Let's look at the two biggest economies in South America: Brazil and Argentina. Both countries have new administrations and offer more export opportunities than ever before.
The previous administrations were very protectionist, whereas the new ones recognize the importance of international trade (and not just their own exports) as important means to further develop their domestic industries and quality level. Both countries have experienced major crises, but are now on their way to recovery. It will be a bumpy ride, but definitely one with a positive outlook.
Don't wait until these economies are fully back on track and growing fast – go there now.
Both Argentina and Brazil have indicated that developing their infrastructure is a top priority, and necessary to increase domestic economic activity and resume growth. This includes air and road transport, energy and cargo logistics. Agritech is another sector that offers plenty of opportunities for companies wanting to export there. In Brazil, luxury retail items and products related to health and cosmetics are also growing markets.
Both countries have a long way to go to improve food security, quality standards (especially for products meant for export), precision agriculture, and harvesting technologies with preference for sustainable techniques (i.e. Brazil's poultry sector needs to reduce water consumption). In Argentina, there are opportunities to provide solutions for the underperforming dairy industry as well.
Brazil and Argentina are part of the Mercosur, South America's biggest trade bloc. There is tariff-free trade between the member countries, but they currently do not have free trade agreements with any other nations. That can be considered a negative issue, and of course it poses a challenge, but the absence of a free trade agreement should not be a reason to overlook these two export markets. If anything, there may be more opportunities if you decide to seriously work in these markets. You will need to build strong export tactics and strategies, but will likely face less competition for your exports.
Time to say Hola to Mexico
Another country where your company can grow is Mexico, home to over 100 million people – the second largest economy in Latin America. Mexico is predicted to be the world's seventh-largest economy in 2050. Typical of most countries in Latin America, and unlike many Western countries, Mexico has a growing middle class (now almost 50% of the population). This middle class likes to spend money on health and beauty products, food (especially convenience foods), home and kitchen appliances, clothing and footwear.
The current quarrels between Mexico and the U.S. may actually prove to be beneficial to Canadian exports. Mexico offers opportunities in (but not limited to) electrical engineering, infrastructure, healthcare (equipment, generic and over the counter drugs), energy, and agriculture.
Mexico is also looking to further develop its floriculture sector. They are seeking active collaboration with the Dutch, but there are opportunities for companies worldwide with activities related to greenhouse development.
Be prepared to make a commitment to LATAM
I would love to discuss each country in Latin America individually, since so many of them offer great potential. Unfortunately, there is no room for that here, but let me state that in general Latin America offers excellent export opportunities in healthcare, energy, infrastructure, retail, agriculture and construction. These countries need to diversify their own industries (beyond commodities) and are in need of technology, innovation, urban development and improved productivity. The growing middle class is prepared to pay premium prices for better products and services.
Exporting to Latin America is not for companies who like an easy ride.
It's for the ones that are ready to take on the challenge and see the benefits of working with Latin American markets for a long period of time. The region offers many opportunities to companies willing to spend the time, effort and money. You may not find short-term ROI, but if you plan for ROI in two to three years and work the market as you are supposed to, you can profit from it immensely.
Preparation is essential if you want to have any chance of success. Market research and due diligence are your insurance against market entry failure, especially in Latin America.
But if you do it well, having a bit of salsa and samba in your exports can truly make a difference to your company. More diversification, more revenue, more global impact and more fun. Start now!
Disclaimer: The opinions expressed in this article are those of the contributing author, and do not necessarily reflect those of the Forum for International Trade Training.