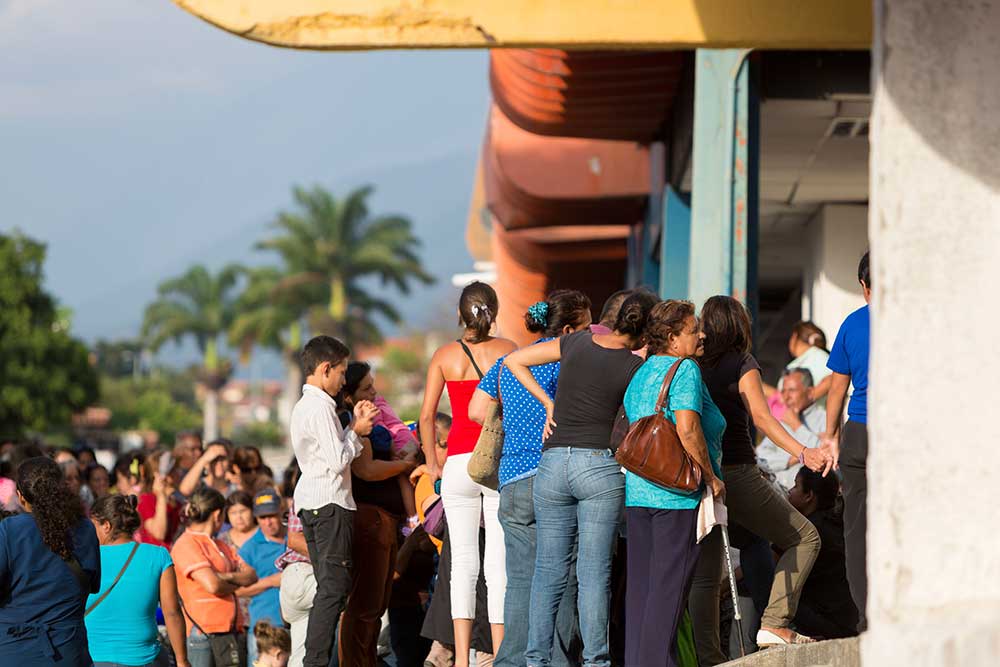 Venezuela's market has collapsed in a staggering and alarming way.
Inflation is at 700 percent, according the International Monetary Fund, though some analyses place the number over 1000 percent.
Ninety percent of the country's population report that food is too expensive and too hard to find.
Police guard grocery stores where people line up for hours for food that might not come.
There is rioting against the government and looting of grocery stores and food trucks.
Medicine and water are in short supply.
The country faces daily electrical blackouts.
As Venezuela deals with the daily political and economic turmoil, the economic collapse has also brought political discord to the region. Most notably, the remaining member countries of the Mercosur trading bloc — Brazil, Argentina, Paraguay and Uruguay — are in an open fight about Venezuela's position within the bloc.
Venezuela's economic upheaval
It could be said that Venezuela's current economic situation is a matter of bad trade policy. For years the country imported food and other consumable goods, which were heavily subsidized by the government, while it relied on oil exports to drive its economy.
The country was already on precarious economic footing two years ago when oil prices began to fall. In the last two years, the Brent price for a barrel of oil has fallen from $102 per barrel to $49 per barrel. This price drop has been catastrophic for Venezuela, as more than 95 percent of its export dollars come from oil.
In fact, since the downturn in oil prices began, Venezuela has seen its oil revenues drop by 50 percent.
The drop in oil prices and decrease in Venezuela's oil income has had a spiraling effect. As Venezuela's state-run oil company could no longer afford to pay service oil companies operating within the country, those service companies have slowed or halted their Venezuelan operations. In the first half of this year, Venezuela's oil production dropped by 250,000 barrels per day.
The economic crisis has led to political turmoil in Venezuela as well. The government has seized political prisoners. In early September, more than 1 million Venezuelans took to the streets to protest the government. There has been an energized movement to hold a recall election of Venezuelan President Nicolas Maduro.
Mercosur's power vacuum
For the Mercosur trading bloc, which Venezuela has been a member of since 2012, the unrest in Venezuela has brought unprecedented upheaval, primarily because Venezuela was meant to take over the bloc's presidency in July.
Under the bloc's laws, each of the member states serves rotating six-month terms in alphabetical order. With Venezuela in turmoil and Maduro facing a potential recall, Argentina, Brazil and Paraguay have blocked the transfer of power to Venezuela. They argue that Venezuela's political problems are in violation of Mercosur policies requiring democratic proceedings within its member countries.
A country that has political prisoners cannot be a democracy, and Venezuela will not take over Mercosur. – Brazilian Foreign Minister Jose Serra
Uruguay, meanwhile, has supported Venezuela's position within Mercosur.
There have been talks and summits for Mercosur to determine the best path for continuing its operations until January, when the bloc's presidency will pass to Argentina. A collective presidency including all member states except for Venezuela has been suggested, but an agreement has not yet been reached on how that would work.
Currently, Mercosur has established a light agenda for the remainder of 2016. While that could seem like a viable strategy for seeing the trading bloc through the end of the year to Argentina's presidency, that lack of leadership could prove detrimental to Mercosur's future. The bloc has been in talk with the European Union to establish a trade agreement, an initiative that Argentina and Brazil have been adamant about working toward in an effort to strengthen their own economies.
Mercosur faces an uncertain future
Analysts have said that Mercosur likely will weather Venezuela's economic storm. Similar blocs, such as the European Union, have been incredibly steady over the last 50 years, leading most to conclude that a Mercosur collapse would be highly unlikely.
However, analysts have said that the bloc needs to take bolder action in ensuring its future. There have been calls for stronger leadership, and some analysts have said that for Mercosur to endure, its member countries will have to find a stronger source of leadership to rally behind. Some analysts have even suggested that the only way to overcome Venezuela's political and economic crisis is to oust the country, which was brought into the bloc in 2012.
Ultimately, securing Mercosur's future could require more of the trade bloc than the proposed actions and leadership, analysts said.
In dealing with an economic crisis the size of Venezuela's, all of the member countries will need to work on an overarching strategy to address the crisis and its effects on the region.
In the meantime, Mercosur risks losing ground in furthering its mission to strengthen its member countries' economies by forging favorable trade deals.
Disclaimer: The opinions expressed in this article are those of the contributing author, and do not necessarily reflect those of the Forum for International Trade Training.