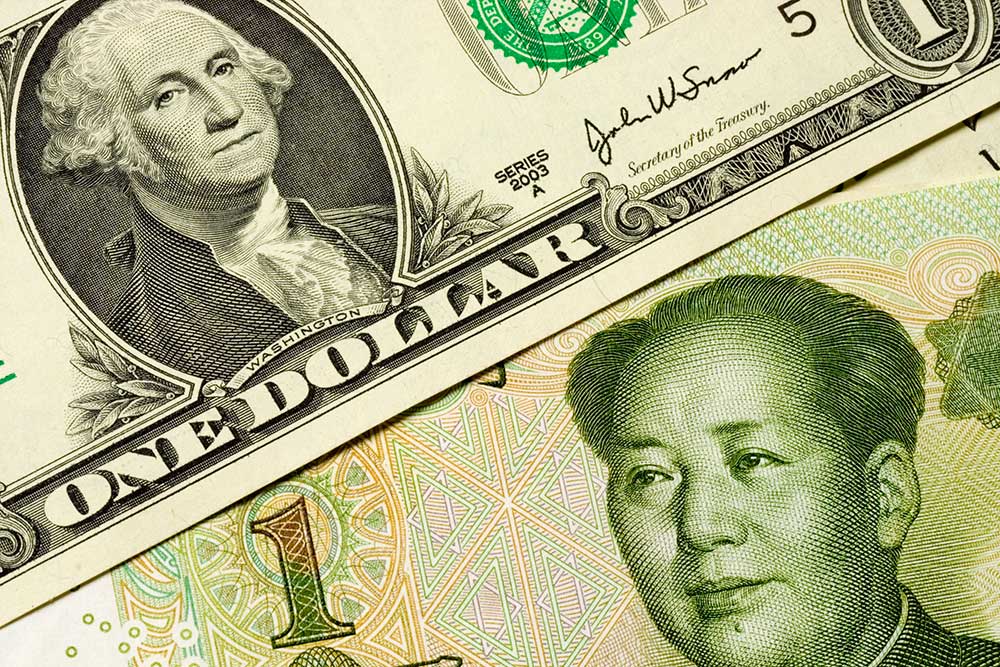 With his popular battle cry of "America First," U.S. Pres. Donald Trump has vowed to re-negotiate or bring an end to free trade agreements he sees as detrimental to U.S. jobs and manufacturing.
Along with deals like NAFTA and the TPP, China has also often found itself at the center of Trump's protectionist cross hairs. Trump's attacks on China's economic policies, and his threats against Chinese imports, have led to widespread speculation of a trade war between the world's two largest economies.
So what would a trade war between the United States and China look like? And what is the possibility that such an economic showdown will come to pass?
U.S. claims against China
At the heart of the U.S. complaint against China is the size of the trade deficit between the two countries.
In 2016, the United States had a $347-billion trade deficit with China. That makes it the largest trade deficit the United States holds with any country — it's five times the size of the country's next highest trade deficit, with Japan.
In total, it adds up to more than 40% of the United States' total trade deficit. However, it is worth noting that the United States' trade deficit with China shrank by $50 billion since 2015, and U.S. exports to China are growing faster than Chinese exports to the United States.
As president, Trump also has continued his campaign claims that China severely manipulates its currency to the detriment of the United States. In a February interview with Reuters, Trump dubbed China the "grand champions" of currency manipulation. However, Trump's claims don't seem to hold up to facts, according to trade experts.
Former U.S. Pres. Barack Obama had labeled China as a currency manipulator before the financial crisis began nearly a decade ago. Since that time, China has adjusted its economic policy to favor domestic consumption over exports, which has brought change in its international exchange policies. In fact, according to the last U.S. Treasury report, China meets only one of the three criteria of being a currency manipulator: having a trade surplus over $20 billion. Another U.S. Treasury report on the matter is due out in April.
What a trade war could look like
Trump, however, has threatened tariffs as high as 45% on Chinese goods entering the United States. Some analysts have speculated that tariffs could target certain Chinese imports from industries with large surpluses over the U.S., such as the steel and furniture industries, or those from state-owned corporations. Trump also said during his campaign that he would make a priority of officially declaring China a currency manipulator.
Economists have projected that a 45% tariff on Chinese exports to the United States would lead to an 87% decline in those exports. The decline of $420 billion in exports would contract China's GDP by 4.8%. Even minimal tariffs of 15% could lead to a 1.8% dip in China's GDP, economists reported.
The effects of such tariffs wouldn't only be felt by China, as they could retaliate against U.S. tariffs in a variety of ways.
Should China counter with its own set of tariffs against U.S. imports, the United States could see a major blow to its economy, as China is the 3rd largest importer of American goods, behind Canada and Mexico. U.S. industries that would be particularly hard hit — those that rely heavily on Chinese imports — include manufacturers of air plane parts, automobiles and electronics, as well as growers of soy beans and corn.
The impact of tariffs on Chinese exports could have major impacts on American companies and families. There are many American-owned companies who export goods from China into the U.S., and an estimated 1.8 million U.S. jobs rely on Chinese imports. On top of that, Chinese imports save American households up to $850 a year.
Experts have projected that the impact on the world's two largest economies would have a profound ripple effect on the global economy.
Will a trade war come to pass?
It's yet to be seen whether the United States will make a move against Chinese imports that could lead to a trade war. While Trump has continued his "America First" and anti-China rhetoric, he has not set forth any policy affecting trade. However, U.S. Treasury Secretary Mnuchin did make headlines earlier this month when he refused typical G20 language rejecting protectionism during a meeting in Germany.
Chinese leaders are reportedly consulting with advisers and think tanks to determine how they should react to any potential U.S. trade policies targeted at Chinese imports. At the same time, Chinese trade officials have maintained that they would like to continue an open working relationship with the United States that is based on the development of mutually beneficial trade agreements. In fact the Chinese Foreign Ministry just announced plans for President Xi Jinping's first meeting with President Trump at his Mar-a-Lago estate next week.
"Cooperation benefits both, while confrontation can only hurt." – Chinese Commerce Minister Gao Hucheng said during a news conference in February.
Disclaimer: The opinions expressed in this article are those of the contributing author, and do not necessarily reflect those of the Forum for International Trade Training.