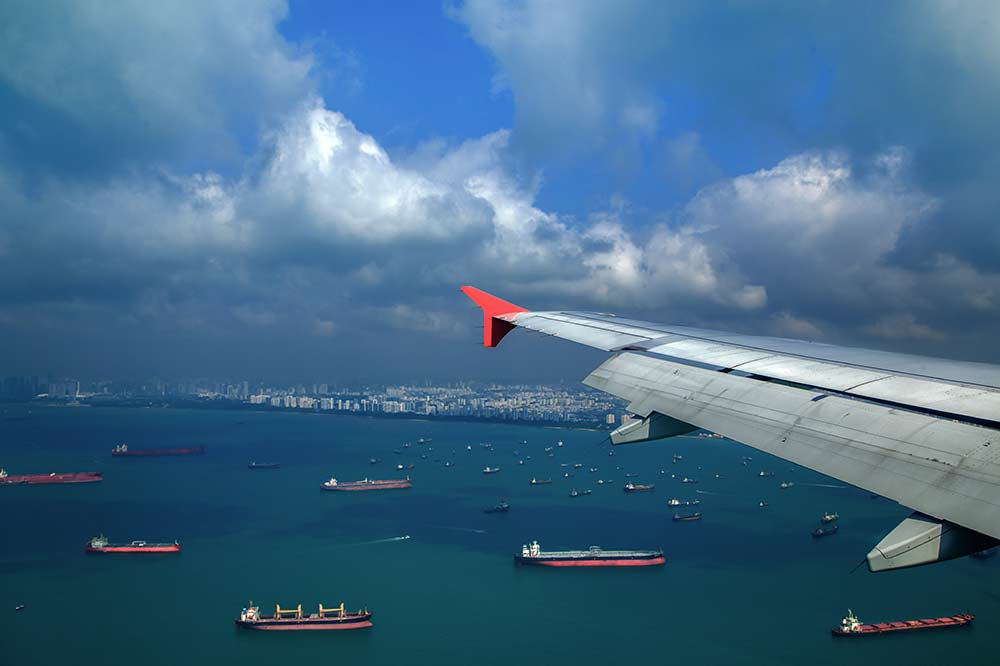 Innovation is everywhere, as we observed in my previous article about smart ships.
The efficiencies gained through recent technological advances in the transportation industry are undeniable, and now it seems the stagnant air freight market may finally have its turn.
Air freight has endured numerous issues, despite opportunities for growth and improvement in recent years.
For example, according to a recent International Air Cargo Association (IATA) survey, problems in the industry include a lack of transparency, no real-time information on tracking, inefficient processes, and the detrimentally complex nature of moving goods by air.
These issues have resulted in a reluctance in shippers to use air cargo for their freight.
Air freight's status quo is costing it business
Currently, cold chain transport and e-commerce deliveries are the two biggest markets for air freight services. However, industry experts have dinged the air freight market for its lack of standards, procedures and service handling.
Air freight's share of the cold chain market has steadily declined from 17% in 2000 to 11% in 2013. They lost the majority of this business to ocean freight, as those services were able to respond faster and more thoroughly to their clients' needs.
Meanwhile, e-commerce cross-border growth is expanding. In a recent Loadstar article, FedEx executive vice-president Raj Subramaniam stated that:
E-commerce is driving significant change in the air cargo status quo, from shipment sizes to customer profiles.
Furthermore, a spokesperson for Alibaba's logistics unit, Cainiao, issued a challenge for the air freight market. He stated that Alibaba marketplaces were experiencing bottlenecks from shipping with air freight due to restrictions on products with batteries, liquids and powders.
"So I don't know if you have any solutions on this, because the volumes are huge. And with these restrictions, a lot of the time we have to switch to sea freight," he said.
Despite the challenges, there are signs that things are changing for the industry.
Taking billing and booking into the 21
st

 century

Through a collaborative effort between IATA and key stakeholders, the e-air waybill (eAWB) was introduced in 2006.

The initiative aims to build and implement an end-to-end paperless transportation process for the air cargo industry, where paper documents are replaced with the exchange of electronic data.

The change has been implemented slowly but steadily.
Unfortunately, the lag has contributed to the air cargo industry falling short of its end of year target for market penetration in the transportation industry, achieving 36.4% out of its 45% target for 2015.
For 2016, IATA has set a new target of 56% penetration.
This year, IATA is also launching a new initiative called eAWB 360, in order to work with selected airports to implement the eAWB as standard operating procedure for all parties involved in shipping air cargo.
Montréal's Pierre Elliott Trudeau International Airport is set to become the first airport to implement the program on May 3, followed by Toronto Pearson International, Vancouver International, John F. Kennedy International, Dallas/Fort Worth International, O'Hare International, Los Angeles International, Miami International and Hartsfield-Jackson Atlanta International.
Additional service offerings are finally being introduced by various stakeholders. One such example is the Cargo Reservation, Operations, Accounting and Management Information System (CROAMIS), which was developed jointly between Wipro and Qatar Airways.
The system provides end-to-end views of cargo operations, and is compliant to IATA initiatives such as e-Freight, e-CSD, Cargo XML. CROAMIS will also facilitate adherence to Cargo 2000 quality standards.
Another solution comes from Alaska Air Cargo and simplifies billing for customers. Quite simply, Alaska Air Cargo rolled two current surcharges into its base rates.
This, in turn, will result in customers only being charged by freight weight and a single screening fee. According to Alaska Air Cargo, the changes will allow customers to easily estimate and manage shipping costs, thus allowing for more predictable pricing throughout the year.
Welcome to the web, air freight
Similar to ocean freight, start-up online platforms including Haven and Freightos, offer shippers the ability to book and track air freight shipments online, providing visibility and flexibility for the customer.
Lastly, Lufthansa Cargo is targeting new customers, cutting costs and revamping some of its products after a slump in profits and no signs of improving cargo markets.
This summer, it plans to introduce "myAirCargo", offering customers flying with its parent group the chance to ship personal belongings or purchases bought on their travels directly, without going through a third party.
In addition, Lufthansa Cargo teamed up with business incubator firm RocketSpace to take part in its "Logistics Tech Accelerator" program. Launched in 2011, the program helps foster innovative technology startups in the air freight logistics sector.
Has the air freight market emerged from its slumber, ready to modernize and innovate? Positive signs are starting to appear.
Let's hope the pace picks up so that together air freight and ocean freight can bring forth a renaissance in global trade for all shippers, big and small.
Would you consider switching to air freight if the industry can catch up to its competitors in ocean freight?