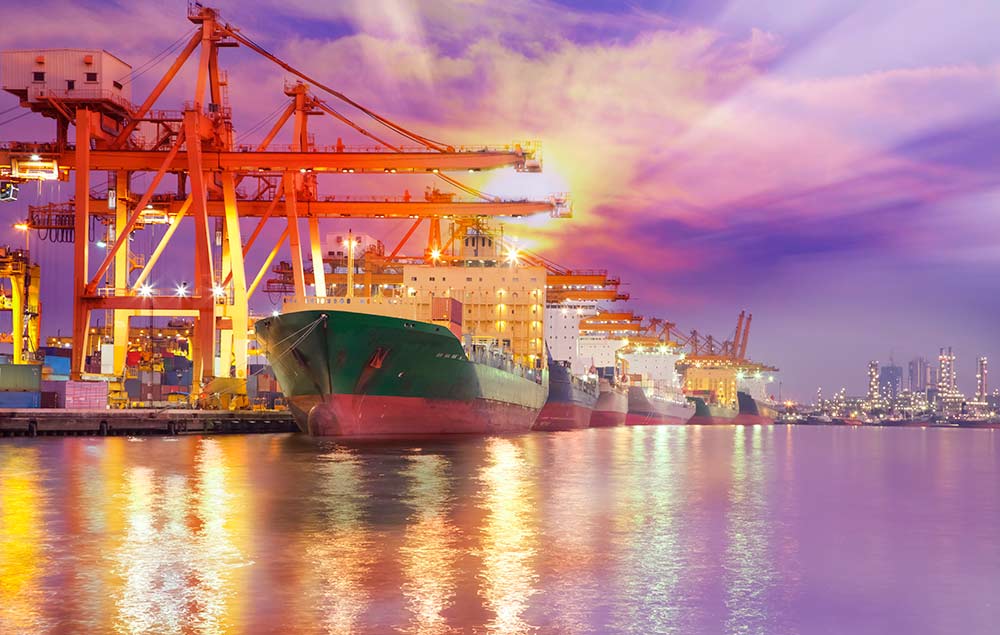 The spread of disruption and innovation in supply chain technology has now reached the ocean freight industry.
More than 90% of international trade commodities are transported via ocean freight, and the industry has seen its fair share of disruption over the years, including the creation of the container and more recently the mega-ship.
However, with global trade increasing over the years it has become increasingly difficult to maintain visibility and efficiency throughout ocean freight operations.
Indeed, the Port Technology periodical recently quoted Martin Stopford, Non-Executive President of Clarkson Research and Author of Maritime Economics as saying that "a fleet of ships should be run the same way BMW runs a car factory".
As a result, like every other segment within logistics, the ocean freight market is undergoing major advances.
Introducing the "Smart Ship"
Think of a smart ship as a giant smart phone. Smart ships are being built with the ability to communicate with other vessels, ports and partners.
In 2015, Hyundai and its partner Accenture announced plans to design a ship that will include a network of sensors and analytics software to improve port logistics and maintenance, as well as reduce running costs.
Also in 2015, CMA CGM equipped one of its 18,000-TEU vessels with Traxens technology, which allows containers to communicate with the vessel by using built-in relay antennas.
The system collects data on location, temperature, humidity level and vibrations, and can report impacts, attempted burglary, and customs clearance status in real-time.
Furthermore, it can remotely control and adjust the temperature of refrigerated containers and will allow resource optimization for routine inspections.
In addition, Xvela has created a cloud-based vessel stowage and collaboration platform for ocean carriers and terminal operators.
In March 2016 it announced a pilot program in which Hamburger Hafen und Logistik AG, PSA International, DP World, Modern Terminals Limited, and Port of Tanjung Pelepas, along with ocean carriers Maersk Line, MCC Transport, Orient Overseas Container Line, Nippon Yusen Kabushiki Kaisha and Hapag-Lloyd have agreed to participate.
The purpose of the pilot tests are to provide visibility of stowage planning-related information for both terminal operators and shipping lines, and better connectivity between carriers, terminals and partner organizations.
Terminals will be able to access departure stowage plans as ships leave prior terminals, allowing them to allocate resources and resolve potential issues while carriers will have transparency of terminal operations and the ability to share in real-time with partners.
Book, compare and track ocean freight from the comfort of your living room
For users of ocean freight, the ability to book and track ocean freight has greatly improved. Startups such as Haven, Freightos, i-Containers and Kontainers all provide online platforms for users to compare rates, pick carriers, book shipments and track from origin to destination.
The bonus is that this can all now be done from the comfort of a home, office, coffee shop – literally anywhere and at any time.
By utilizing such platforms, the playing field between large shippers versus small shippers is levelled, thus increasing competition among ocean transport companies.
Virtual reality, drones and self-driving ships: the future is here!
The outlook for the ocean freight market looks to be something out of a Jules Verne novel. Imagine an autonomous ship transporting goods from Singapore to the Port of Vancouver!
The marine division of Rolls-Royce Holdings is actually working on this, and is said to be about 10-15 years from achieving this goal.
The company has already developed a virtual reality command center, a first step towards autonomous ships whereby captains can remotely control multiple ships from onshore.
Humans would still need to conduct maintenance and repairs when a ship comes into port, but even this could eventually be handed over to robots.
Finally, drones are already being embraced by the market and will likely increase in use. According to a Wall Street Journal article, Maersk is looking to use drones to cut the cost of supplying ships at sea.
According to its studies, Maersk notes it could save up to US $9,000 per ship in annual operating costs by moving items such as mail, medicine and spare parts by drone. The company is also looking at stationing drones aboard ships for other tasks, like hull inspections.
Disruption and innovation in how we conduct business, regardless of industry, is occurring at a rapid pace.
How we once viewed supply chains, the underlying basis of how commodity-based business is conducted, is changing dramatically thanks to many technological advances.
The ocean freight market is no different. Perhaps this emphasis on innovation and disruption has come at the perfect time as the ocean market struggles with overcapacity, declining rates and aging ports in need of efficiency improvements.
The result will be a very different ocean freight market, but one that is much more responsive and efficient.