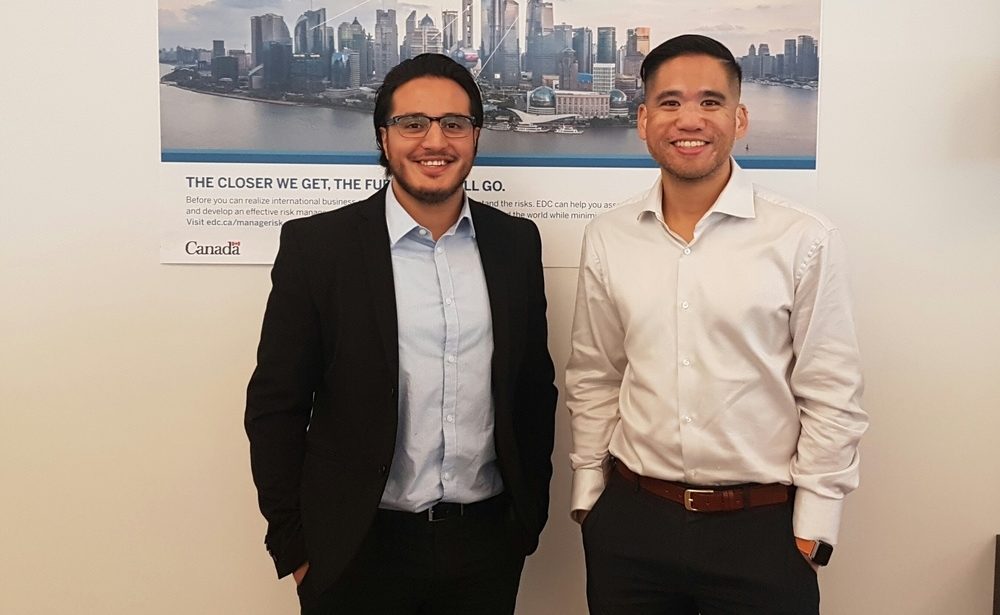 When Jose Recinos, CITP®|FIBP® (left in picture above), one of two recipients of the 2015 FITT Achievement Award, first heard about the EDC-FITT Internship, he couldn't wait to apply for the opportunity.
"I'd always wanted to work at EDC, even before I heard about the internship, so it was something I really wanted to pursue," he added.
Though he tried to temper his expectations, he was delighted to hear back from EDC that he was one of the final candidates selected to interview for the internship.
During the interview process, he talked to Joe Rios, Manager, Exporter Outreach at EDC and now Jose's supervisor (right in picture above). Joe was extremely impressed with Jose, and clearly left a very positive impression.
Jose stood out as extremely professional, and was the first person I talked to who asked if they could pull out a pen and paper to take notes during the interview. He was attentive to detail, and had the personality to excel in the role.
Soon after, Jose found out he'd been selected to be this year's EDC-FITT Intern to work as a Trade Advisor for EDC's Exporter Outreach team, in the Marketing group. He eagerly awaited his new position despite the final busy months of school still ahead of him.
"When I started in March, I was still completing classes, writing papers and preparing to take exams. EDC was very accommodating, and allowed me to work part-time for the first few weeks while I finished everything for school and got up to speed for my new role. It was a busy time, but I enjoyed starting at EDC and learning so much early on."
Hitting the ground running with a desire to learn
During his first few weeks, Jose learned everything he could about EDC's various products and services, receiving coaching from experienced EDC employees and mastering the basics of being a Trade Advisor.
"My coaches, Suzanne Marenger and Asif Wasti, offered great support early on, and really helped me out," Jose remembers. "Joe has also been fantastic, and has continually given me advice or tips to improve, as well as opportunities to develop my skills and continue to grow at EDC."
Jose's main responsibility is customer service, talking to potential EDC clients about how the organization's various products and services would best be able to help them and their business. Whether on the phone, EDC's online chat or otherwise, he is dedicated to helping his clients and improving his own knowledge and skills.
"Even now, one of my favourite things to do is go to the EDC website and read about everything we offer, or talk to people in other EDC departments to learn more about what they're doing," Jose adds.
In fact, it wasn't long before Jose was attracting attention, from potential clients and EDC management alike, due to his excellent results.
"He's a quick learner, and Jose understood all of the intricacies and audiences for each of EDC's products and services early on," Joe explains. "He received great feedback from his coaches, and many customers didn't even know he was new. He knew the distinct advantages of each product and wasn't afraid to discuss deeper details or think quickly during conversations."
He's a natural salesperson, and was even recognized by the VP of Commercial Markets and Small Business at EDC for his amazing customer service.
The joy of helping others excel in global business
One of Jose's favourite parts of the role is the positive feeling of immediately helping others and providing them with the service they need.
"When you can help someone and they're grateful for you doing that, it's one of the best things about the job. It's good to know I'm helping Canadian businesses who want to do business internationally with support from EDC."
By the summer, Jose's ability to work well with customers enabled him to take on his own portfolio as an important member of his team. Treated like any full-time employee with similar responsibilities, he consistently found ways to improve and gain confidence, with Joe's and coaches' help guidance and support.
"Jose takes feedback very well. I sometimes listen to his phone conversations, so that we're able to discuss them after and I can give him advice," Joe says. "He's become more efficient, and is now able to talk to more customers while still listening carefully to their particular needs, and providing the right support."
To continue in that effort, Jose has been able to learn from last year's EDC-FITT intern, Samantha Caldwell, CITP|FIBP.
"Being able to talk to her and ask her questions was very helpful. She'd already handled what I'm dealing with now, and has since been able to move up through EDC, so it was good to get her perspective."
Looking forward to what comes next
With just a few months left in the EDC-FITT internship, Jose has been able to look back at where he started ahead to future opportunities.
"When I went back to school to take the FITTskills courses at Algonquin, I was looking for something that would help me take the next step in my career."
I learned so much from the courses, and with the FITT Achievement Award and now the EDC-FITT internship, I can definitely say that decision has paid off for me.
"My role at EDC covers such a broad variety of global business topics, and through the courses I was able to learn about each one of them and feel prepared to handle the challenges of this job."
Joe agrees that the FITTskills courses and the EDC-FITT internship have been invaluable for Jose, and for his team and EDC as a whole.
"The FITTskills program teaches the right mix of skills for professionals to be ready to go very quickly, and we've had nothing but good experiences with Jose and the previous interns. Our team's gone through some transitions in the past year, and Jose has been a quick learner and contributed from early on. He's gained a lot of confidence in the past few months as well. There's a lot of positive affirmation around FITT and its courses within EDC, and it's clear they prepared Jose for this role."
Once his year-long internship ends, Jose hopes to follow in the footsteps of several previous EDC-FITT interns and remain with EDC full-time.
"Working at EDC was a goal of mine, and I've learned so much since I've been here," he explains. "There's so many opportunities for growth here, and I'm passionate about EDC's mission to help Canadian businesses. Everything I've learned about EDC since I started has just added to that, and I hope to continue doing this important work."
Jose also recently earned his CITP®|FIBP® designation in December 2016, a testament to his hard work, industry skills and dedication to furthering his career goals. As a true rising star, we at FITT wish Jose all the best with what comes next, and look forward to seeing what he accomplishes!