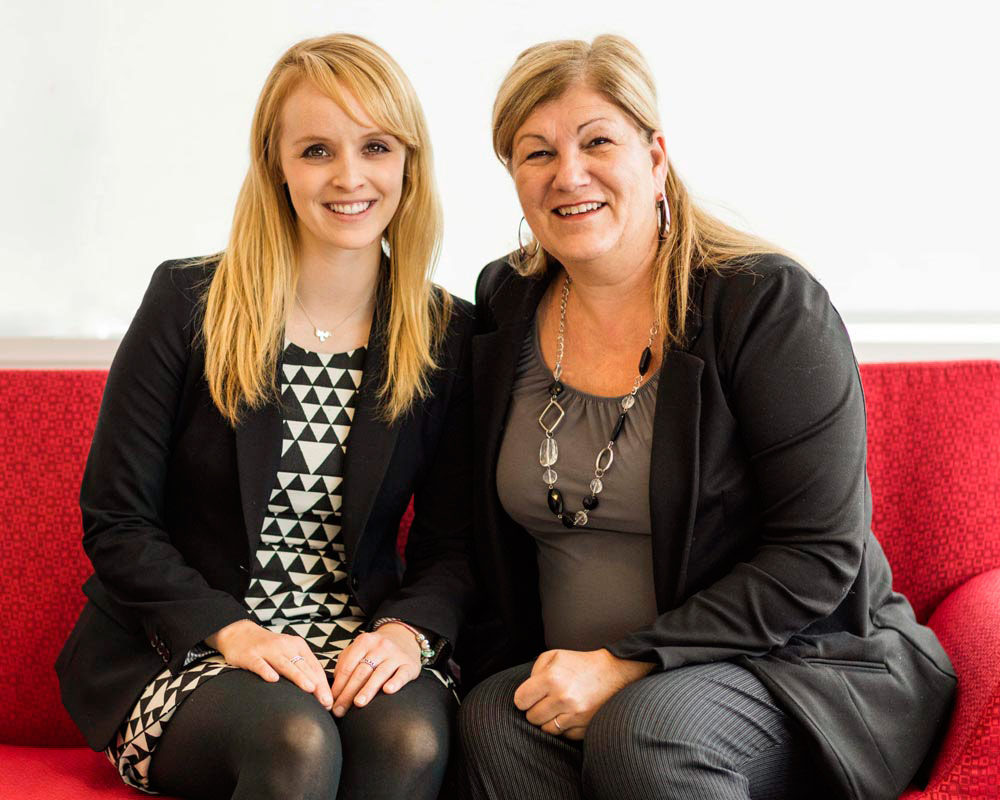 Ever since Samantha Caldwell spent a semester of her undergrad abroad in Hong Kong, she knew she wanted to pursue a career in international trade.
The city, with its characteristic vibrant cosmopolitan nature, sparked her immediate interest in wealth creation and building global trade relationships.
She soon discovered a student opportunity at Export Development Canada (EDC) and went for it, forming the beginning of a great learning experience, as well as a leap into her future career.
Connecting the dots between a dream and the tools to succeed
The experience inspired Samantha to study for a career in global trade prompting her to enrol in the International Business Management Program at Algonquin College. The program connected her with the right people to learn the industry from, and she was soon equipped with the practical skills and knowledge she needed to excel.
"Each of the professors came from a unique international business background. This was a huge asset because they each had their own experiences to draw from while teaching. They were also able to emphasize which aspects of the material they thought were the most useful in an international business context," Samantha explains.
I wanted to learn about international business in a practical setting, which is exactly what the FITTskills program promised and delivered.
"I also wanted to stay with EDC and grow in my career within the organization. I thought the FITTskills program would equip me with relevant skills."
An opportunity she couldn't pass up
As she completed the program, she learned about the EDC-FITT internship offered annually through the two organizations and a lightbulb went off. It was the perfect bridge for her between her current student position and a her long-term career goals: helping clients directly and doing the work she first dreamed about in Hong Kong.
"I knew I wanted to stay with EDC and hopefully move into a customer facing role. After completing the International Business Management program, the EDC-FITT internship seemed like the perfect fit."
After applying for the internship, she was selected as the successful candidate by EDC and was able to start her new role soon after.
Marc Beaulieu, Director of Sales Enablement at EDC, is Samantha's manager and has overseen her transition into the role and her progression throughout the internship.
Marc says,
We were looking for an intern who would be engaged, personable, had experience in a sales or customer service role and had a solid knowledge of international business practices and trade.
Samantha was thrilled to be awarded the internship opportunity and to take a big step forward in her international business career. She recalls her feelings upon finding out she had been chosen for the position;
"It definitely didn't sink in for a couple of hours. I was very happy and excited."
Wowing her colleagues from day one
Her passion and enthusiasm were evident to her colleagues from her first day on the job.
"Samantha leverages her learning from the FITTskills program to add value to business owners beyond EDC's solutions – sharing trade advice, knowledge and industry contacts," Marc explains.
"She is a definite asset to the team and EDC. As she gains experience, she will have the opportunity to help more Canadian SMEs achieve their international business goals."

EDC: A Foundation of Support from Home to Succeed Abroad
The global business environment remains fiercely competitive, akin to being in a boxing match where one cannot always be certain when and from where the next punch is going to come. Survival in the ring not only depends on the individual boxer's capabilities, but also on the partnerships with trainers and managers who help prepare them for each fight to ensure they outperform competitors on a sustainable basis.
Like boxers, exporters not only need to be strategic, but also tactical in every move, even before stepping out on the global stage. Exporting or investing directly in an emerging market can be hugely risky and as such, many erroneously see this as outside the reach of SMEs. This is especially true when SMEs take on lesser known competitors and opportunities in unfamiliar territories.
However, having strong and reliable partnerships with services and training entities such as Export Development Canada—Canada's export credit agency— the Canadian Trade Commissioner Service, and the Forum for International Trade Training can be a game-changer.
Working with EDC's core teams that are dedicated to delivering on the mandate of "helping Canadian companies respond to international business opportunities",
I have personally witnessed numerous breakthrough moments where the support provided at home, coupled with the innovative capabilities of Canadian small businesses, created unparalleled success stories.
SMEs have always been at the heart of EDC.
In 2013, 77 percent of EDC clients were SMEs, which accounted for $11.6 billion in export. Through EDC's Pull Financing Facilities, many SMEs are carving out their piece of global trade. The pull strategy works by EDC providing financing to large strategic foreign companies, with a strict condition for those foreign companies to buy from Canada – fulfilling their supply chain needs with Canadian capabilities and expertise.
Through this match-making strategy, EDC is actively creating supply chain opportunities in the infrastructure, energy, extraction, and aerospace industries around the world for Canadian businesses, particularly SMEs. For example, in 2013, EDC facilitated 30 pull facilities, totaling $4.6 billion – creating opportunities for 1,392 Canadian exporters. Out of the 1,392 companies, 91 percent were SMEs.
The global market place has big players with deep pockets, which can make it quite hard for small Canadian companies to gain the visibility they rightfully deserve.
But the foundation of support in through pull strategy, insurance and financing, is proving to be a key differentiator.
He also added that,
"From day one, Samantha has been very proactive and engaging with other team members and has shown a great interest and desire in contributing to the team's success. She integrated well with the team very quickly."
A partnership made in heaven
It is that passion, energy and enthusiasm, backed by a strong knowledge base in all aspects of international trade, that sets Samantha and FITTskills educated individuals, ahead of the crowd.
Participating in the EDC-FITT internship is great for EDC because of the targeted knowledge of the FITTskills Program. EDC gains a knowledgeable intern, well-versed in international business practices.
"We have had great successes with the FITT partnership," Marc says.
In turn, EDC provides those individuals with top-notch, ongoing training and countless opportunities to directly apply that knowledge on the job. It's these qualities makes the EDC-FITT partnership such a strong one.
"EDC's Youth Education Program fulfills our mandate to help build the capacity of the next generation of business leaders by awarding scholarships and internship positions to Canadian students with a demonstrated interest in international business."
And Samantha is certainly no exception, as Marc explains:
"She has a genuine passion for helping Canadian companies. Her strong customer service skills, and fresh innovative perspective are assets to the team. She never hesitates to challenge the status quo."
The learning never stops
Samantha's mornings at EDC begin with a team huddle to discuss daily priorities. Then she proceeds to training sessions, which involve onboarding and familiarization with all of EDC's products. During this training she will also get to shadow various teams across the organization to get to the heart of what EDC does for its clients.
"Samantha has always been fully engaged in her training program, always prepared for coaching and demonstrates a thorough understanding of the material covered. She is also able to quickly apply that knowledge as well as her FITTskills training when managing customer requests," Marc explains.
When it comes to training, Samantha is enjoying broadening her skill set and becoming more and more integrated in the EDC workforce.
"Every day is fast paced and full of learning, which I am loving," she says.
Samantha is also lucky enough to have a large pool of knowledgeable colleagues to inspire her every day. Samantha speaks highly of one particular colleague, her mentor Suzanne Marenger, Senior Trade Advisor at EDC.
"Suzanne has been such a great educator as I transitioned to Inside Sales. I feel privileged to be able to learn from her depth of knowledge and to see every day her passion for helping clients," Samantha says.
The feeling is mutual. Suzanne is impressed with Samantha's aptitude, enthusiasm and work ethic.
"Samantha is a joy to work with," Suzanne explains. "She has a professional maturity that exceeds my expectations. When she says that learning is important to her, she means it!"
When she's not in training, Samantha is involved in hands-on activities, speaking with potential clients and assessing their needs to match with suitable EDC products and services. She also acts as a resource during webinars to answer global trade-related questions.
When asked what Samantha enjoys most about working with EDC, she can't say enough about her positive work environment and the impact that she and her colleagues have on their clients, and even their country.
"I really like that the status quo can be questioned. EDC employees are encouraged to have a 'continuous improvement' mindset, to make processes more customer oriented and efficient."
I'm very proud to work at a company whose mandate is to grow the Canadian economy by supporting domestic companies in international trade.
Going forward in her career, Samantha wants to continue to learn and grow with EDC and continue her education.
"I really enjoy working at EDC so I hope I can continue to gain more experience in the Business Development group. A personal priority is to complete a Master's degree in 2-5 years."
We have no doubt that Samantha will continue to flourish in her career with EDC and look forward to following her on that journey of success.
Interested in being the next EDC-FITT intern? Keep your eyes out over the next few weeks for when we post the next EDC-FITT Internship!