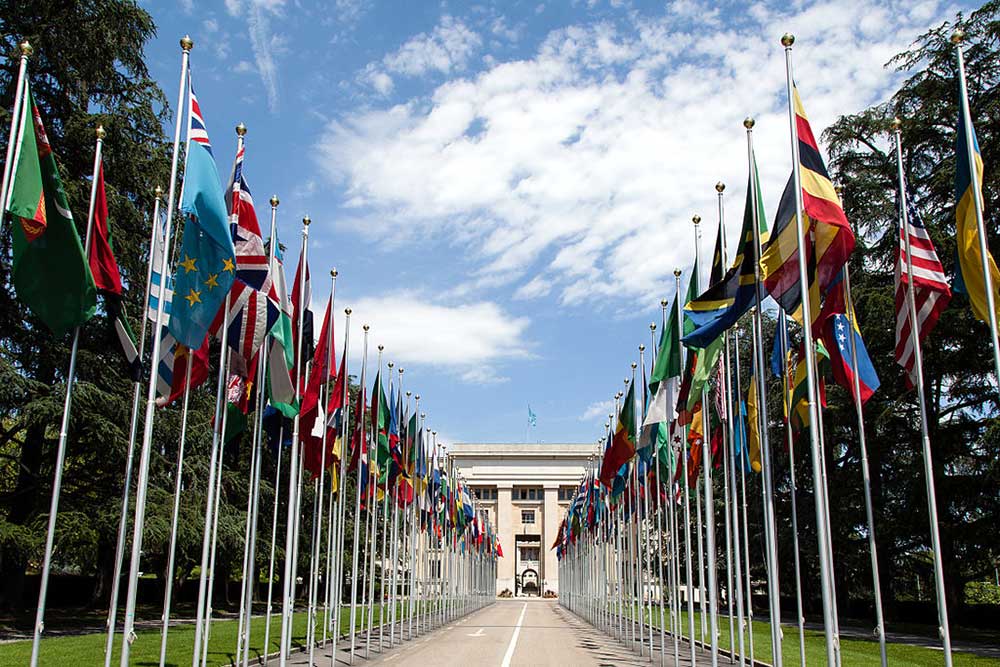 As international trade has grown, so has the evidence of its benefits to both states and enterprises, the most obvious of which is economic gain. Numerous guidelines, model laws, conventions, and treaties now exist to manage and govern international trade. Their goal is to open borders, modernize customary exchanges and reduce trade barriers around the world. To realize these goals, a number of international organizations (IOs) have been established.
The GATT and WTO
Barriers to trade, including tariffs and quotas, are challenging for international businesses, as they can adversely affect international trade and economic stability as a whole.
Before the end of the Second World War, several government delegates met at the Bretton Woods Conference in the U.S. to, among many goals, establish an International Trade Organization (ITO) in order to promote economic recovery and stabilize world trade after the war ended. But the U.S. Congress refused to approve participation and the attempt to formally establish an ITO subsequently failed.
The attempt to formalize an ITO was not without accomplishment. Its legacy document, the General Agreement on Tariffs and Trade (GATT), was a 1947 document agreed to by all parties, including the United States, which aimed to reduce trade barriers (especially tariffs).
The GATT provided both trade rules and a forum for members to discuss and address trade issues. It also established some basic rules to direct international trade, following several years of gathering members (rounds) for negotiations.
Three major rules were established:
Tariffs and the Binding Concessions rule: If a WTO member lowers a tariff, it is considered "bound" and the country is prohibited from subsequently raising the tariff. The bound tariff applies to all WTO members.
The Most-Favoured-Nation rule: The MFN principles prohibit discrimination among like products regardless of their origin and the rules relating to the importation or exportation of goods or payments on the basis of their origin or destination.
The National Treatment rule: "The requirement, set forth most prominently in GATT Article III, that members treat imported goods no less favourably than domestically-produced like products once the imports have passed customs". (See Raj Bhala, Dictionary of International Trade Law).
While the GATT made significant progress in the reduction of tariffs, other trade agreements (multi-lateral and bi-lateral) and national protectionism began to emerge as significant barriers to trade. In April of 1994 in Marrakesh, Morocco, more than 100 countries agreed to form a World Trade Organization (WTO) and the WTO came into effect in January, 1995.
According to its website, the WTO is:
A place where member governments go to try to sort out the trade problems they face with each other
A set of rules, contracts and agreements binding governments to keep their trade policies within agreed limits
A harmonious way to settle trade differences through neutral procedures based on an agreed legal foundation The WTO is the only international organization responsible for the rules pertaining to trade between nations for goods, services, intellectual property, dispute settlement, and monitoring members' trade policies.
Want to learn more about how to excel in new markets by establishing and managing strategic global business alliances? Check out the FITTskills International Market Entries Strategy online course!

Negative impact of trade barriers: the Great Depression
One of the most disastrous examples of the negative impact of trade barriers are the U.S. protectionist measures (quotas, high tariffs) taken in an attempt to mitigate the effects of the Great Depression.
The hope was to acquire revenue from tariffs and to increase the demand for goods produced domestically.
The response of industrialized nations to the crisis of the depression was to impose barriers on trade imports. This periodically paralysed international trade.
There are however, a number of additional organizations working to make international trade freer:
The International Institute for the Unification of Private Law (UNIDROIT) is an independent intergovernmental organization that studies "needs and methods for modernising and harmonising private and, in particular, commercial law as between States and groups of States". 
The United Nations Commission on International Trade Law (UNCITRAL) was established by the UN General Assembly in 1966 to play an active role to overcome the "disparities in national laws governing international trade created obstacles to the flow of trade".
The International Chamber of Commerce (ICC) is an organization that has worked to harmonize private international law. This Paris-based industry group is also playing a major role as an arbitration institution.
Although the ICC works in tandem with the UN, it is not a governmental organization. Rather, it is a group made up of specially appointed business executives that form a council. National committees of business industry executives volunteer their time to ensure their nations' business perspectives are heard. As well to help formulate ICC policies and agendas.
In addition, with regards to instruments that will help promote uniformity and transparency in international trade, the ICC creates and makes recommendations to industries and intergovernmental organizations. For example, by codifying the following, the ICC has been influential in harmonizing international contract terms as well as arbitration practices:
Incoterms: Universally accepted contract terms governing international transportation
Uniform Customs and Practice for Documentary Credit (UCP 600): Defines terms and credit rules for documentary credits on demands and guarantees predominately used by banks all over the world
The Hague Conference on Private International Law is a global intergovernmental organization. They are working towards the harmonization of private international laws states have adopted. This will address individuals and corporations connected to more than one state. Representing all continents, it is a melting pot of different legal traditions that develops and services multilateral legal instruments, which respond to global needs.
Established in 1993, the European Union (EU) is a political community with 28 member states comprising a single economic market. This reduces the barriers and obstacles when moving goods, services and investments within the community. Through a standardized system of laws and a single currency (Euro), EU citizens can freely live, work, study and do business throughout the EU. As well as enjoy a wide choice of competitively priced goods and services.
Established in 1993, the Organization for the Harmonization of Business Law in Africa, known by its French acronym OHADA, is working toward instituting more secure legal and judicial measures. As well as establishing a modern and uniform business law in order to attract investors to African states.
The World Intellectual Property Organization (WIPO) is a UN agency whose mandate is to develop an international intellectual property (IP) system to ensure creativity and innovation to foster economic development while safeguarding public interest. In September of 2007 it announced the establishment of the Committee on Development and Intellectual Property (CDIP).
The CDIP was established to "develop a work-program for implementation of recommendations adopted in relation to the WIPO Development Agenda. The CDIP is also mandated to monitor, assess, discuss and report on the implementation of all recommendations".
International law works to improve global business potential by enabling more open borders, modernized customary exchanges and reduced trade barriers around the world.
For entrepreneurs, this in turn can mean opportunities for market and labour growth and specialization, infrastructure research and development, jobs, and global, economic and social stature.
This article is an excerpt from the
FITTskills International Market Entry Strategies course
. Excel in new markets by establishing and managing strategic global business alliances.
Learn more!