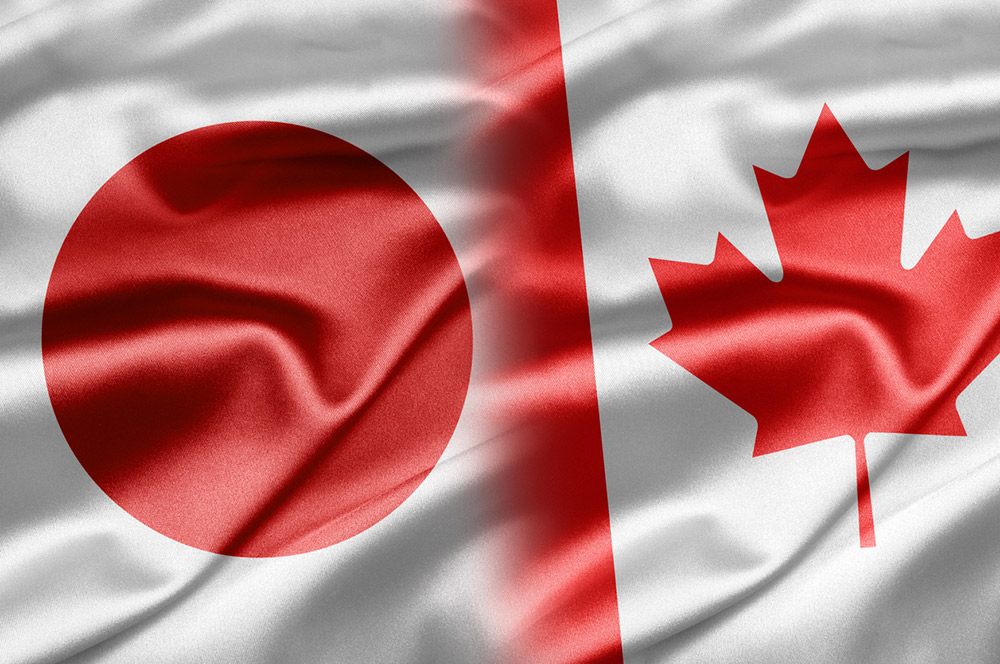 During the Trans-Pacific Partnership (TPP) negotiations, much of the attention fell on the U.S., as it was by far the largest economy in the Pacific trading bloc. Perhaps the most important aspect of the negotiations, were that they moved the Canada-Japan trade relationship closer to the forefront of the public consciousness.
Japan was the major market in the negotiations with which Canada did not already have a trade agreement—and thus was the real prize for Canadian businesses and workers. However, American withdrawal from the TPP has left the issue of Canada-Japan trade lingering.
Despite the apparent demise of the TPP, the Japanese market (the world's third-largest) is too rich an opportunity to let pass by. Canadian leaders should make a trade deal with Japan a priority.
The Canadian and Japanese markets are complementary in many ways—for example, Canadians buy Japanese consumer electronics, and Japan needs our natural resources and food products. This complementary nature can be conducive to win-win trade negotiations with significant long-term benefits.
TPP laid the groundwork for the future
Despite long and difficult negotiations, the TPP trade deal fell through at the last minute, with U.S. President Donald Trump scrapping the deal before it was ratified. Though there has been movement to keep the TPP without the U.S., the outcome of these talks is far from certain.
With the TPP process having just wrapped up, there is a prime window of opportunity for Canada to negotiate a bilateral free trade deal with Japan. Due to the detailed negotiations it took to finish the trade pact, Canadian officials will have the market knowledge and connections needed to begin bilateral talks soon.
Canadian officials are already up-to-date on the latest market information related to Japan's exports and trade agenda. Furthermore, trade officials in Canada have connections with the Japanese bureaucracy from the TPP negotiations. This knowledge, and the connections between our two bureaucracies, provide an opening to restart bilateral talks as soon as possible.
Natural resource-based industries would benefit most from a Canada-Japan FTA
Numerous Canadian industries and their workers will benefit from a Canada-Japan FTA. In 2016, Canada sold $10,575,158,000 worth of merchandise exports to Japan. The top three categories were oil seeds and miscellaneous fruits/grains (14.81% of exports); ores, slag and ash (14.56%); and meat/edible meat offal (11.40%). Together, these three, along with other natural resource and food exports, would benefit hugely from a free trade deal.
Is Canada in position to meet Japan's energy needs?
In 2011, following the crisis at the Fukushima Daiichi nuclear power plant, Japan shut down and reviewed its nuclear energy system. Prior to the disaster, which is still affecting communities in Japan today, nuclear plants provided about 30% of Japan's energy mix. While some reactors have come online since that review, most remain offline. As a result, Japan has faced, and will continue to face, a critical need for energy from abroad.
That includes liquefied natural gas (LNG) and oil, both of which Canada has the potential to export in large amounts. Canada's oil industry is well-established, though there are questions from environmentalists, Indigenous peoples and local communities to be answered regarding pipelines. British Columbia has enormous potential for LNG exports to Japan, though the recent change in government at the provincial level makes the future of this industry unclear. With these domestic political uncertainties, the energy industry's potential benefit from a Canada-Japan FTA is less clear.
Seafood will be another big winner
The Japanese diet is dominated by seafood, as one might expect from an island nation. Japan's love for seafood has led to incredible export success for several provinces already.
For example, Newfoundland and Labrador's herring roe is very popular in Japan. In 2016, the province sold $44 million worth to Japanese buyers. British Columbia has likewise seen seafood export success, selling millions of dollars' worth of sea urchins to the country. An FTA would only expand these opportunities, while also reducing costs for those already engaged in this avenue of trade.
The future is bright
The future of Canada-Japan trade is bright. The two countries have shared values—democracy, the rule of law, free markets—and have complementary economies. Many Canadian industries and their workers stand to benefit from a free trade agreement with Japan. With the TPP pact likely over, Canada can seize the moment and hastily restart bilateral trade talks with the world's third-largest economy.