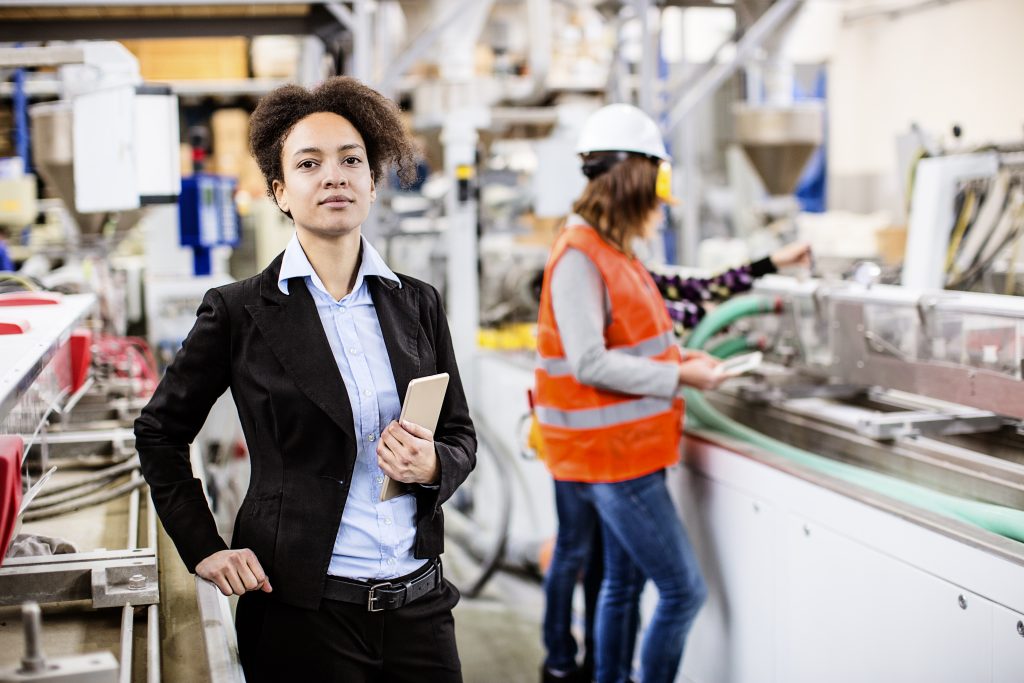 The procurement process can be complicated one. Strategic procurement is an organization-wide process. It requires input from all departments and functional areas for an organization. Organizations should set up a strategic procurement team. This team sets the overall direction for procurement, aligned with the business strategy. The team will then use the data from the strategic procurement process to develop and implement a strategic procurement plan.
Here are the 7 steps that lead to a successful procurement process.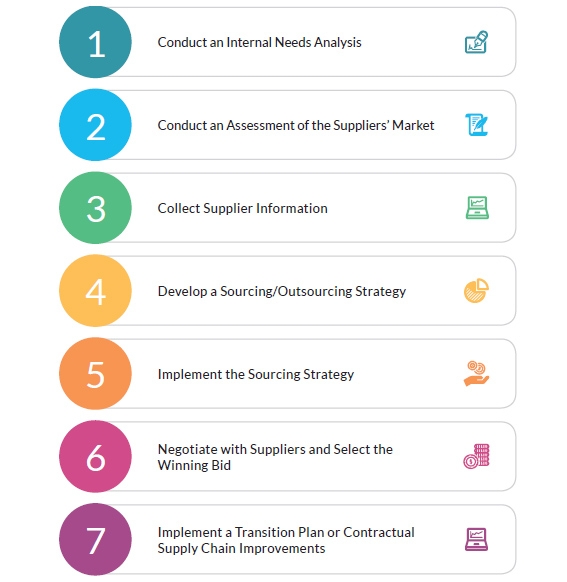 Step 1: Conduct an internal needs analysis
To begin, you'll need to benchmark current performance and then identify needs and targets before developing a procurement strategy. This involves the collection of several different types of data.
The purpose for collecting initial data is to benchmark current performance, resources used, costs for all the departments/functions in the organization, and current growth projections. 
Maximize cost savings, create a competitive advantage and minimize potential risks by finding the best possible suppliers or outsourcing opportunities

Step 2: Conduct an assessment of the supplier's market
In this step, the strategic procurement team identifies potential countries that are feasible sources of the required raw materials, components, finished goods or services. If there are specific requirements, it may limit the number of countries that are suitable. For instance, if one of the raw materials used by the organization can only be found in one country, then options are much narrower. For manufactured products, there will be a much wider range of potential countries from which to select. Services may be limited by the technological requirements of the organization.
Step 3: Collect supplier information
It is important for a company to select suppliers carefully. A supplier's inability to meet selection criteria can result in significant losses for the organization. The business reputation and performance of the supplier must be evaluated, and financial statements, credit reports, and references must be checked carefully. If possible, the organization should arrange to inspect the supplier's site and talk to other customers about their experiences with the supplier. The use of agents, who are familiar with the markets and stakeholders, can also be beneficial to this process.
Organizations may select more than one supplier to avoid potential supply disruptions as well as create a competitive environment. This strategy is also effective for large multinational organizations and allows for centralized control, but more regional delivery.
Want to learn more about managing your company's supply chain and logistics to mitigate risks? Chech out the FITTskills Global Value Chain online course!

Step 4: Develop a sourcing/outsourcing strategy
Based on the information gathered in the first three steps, an organization can develop a sourcing/outsourcing strategy. The following are examples of sourcing strategies:
Direct purchase: Sending a Request for Proposal (RFP) or a Request for Quote (RFQ) to select suppliers.
Acquisition: Purchasing from a desirable supplier.
Strategic partnership: Entering into an agreement with a selected supplier.
Determining the right strategy for you will depend on the competitiveness of the supplier marketplace and the sourcing/outsourcing organization's risk tolerance, overall business strategy and motivation for outsourcing.


Step 5: Implement the sourcing strategy
Sourcing strategies that involve acquisition or strategic partnerships are major undertakings. In these cases, suppliers are likely to have the following characteristics:
Involvement in activities core to the buyer, e.g. supply limited raw material for core product, access to highly confidential proprietary knowledge
One of a limited number of available suppliers with specific equipment/ technology and skilled labour pool
Part of the broader business strategy
For a direct purchase, organizations may begin with an Expression of Interest (EOI), prepare an RFP or RFQ, and solicit bids from identified potential suppliers as part of a competitive bidding process. The RFP should include:
detailed material
product or service specifications
delivery and service requirements
evaluation criteria
pricing structure;
and financial terms.
Step 6: Negotiate with suppliers and select the winning bid
The strategic procurement team must evaluate responses from suppliers and apply its evaluation criteria.
Bidding suppliers might request additional information in order to make the most realistic bid, and the organization should supply this information to all bidders and enable them to respond to the new information before making a final decision.
The strategic procurement team will then evaluate the received proposals, quotes, or bids, and use the selection criteria and a process to either shortlist bidders to provide more detailed proposals (if reviewing EOIs) or select a first and second successful bidder (if reviewing RFPs or RFQs).
After the evaluation process is complete, the strategic procurement team will enter contract negotiations with the first selected bidder.
Step 7: Implement a transition plan or contractual supply chain improvements
Winning suppliers should be invited to participate in implementing improvements.
A communication plan must be developed and a system for measuring and evaluating performance will need to be devised using measurable Key Performance Indicators (KPIs).
This is especially true in the early stages of using a new supplier. Transition plans are especially important when switching suppliers.
Contractual Supply Chain Improvements
When bringing on new suppliers, it is necessary to transfer information and establish linkages to logistics and communication systems, provide training and even specific physical assets, if required. The implementation of these transfers takes time and expertise to set and start up. Expectations during this time frame should be agreed upon during contract negotiations with time frames for full operations and deliveries.
Transition Plans
The transition from in-house provision of services to an outsourced service provider can be one of the riskier aspects of global outsourcing of services. How the transition to the outsourced service is handled and how it is perceived by staff and the public are very important. Transparency and preparation are key to this aspect of the sourcing strategy.
These simple steps will help you and your team develop and implement a strategic procurement plan.
This article is an excerpt from the
FITTskills Global Value Chain course
. Keep your customers, clients and suppliers happy by transporting goods in a timely manner and in compliance with all regulatory requirements.
Learn more!