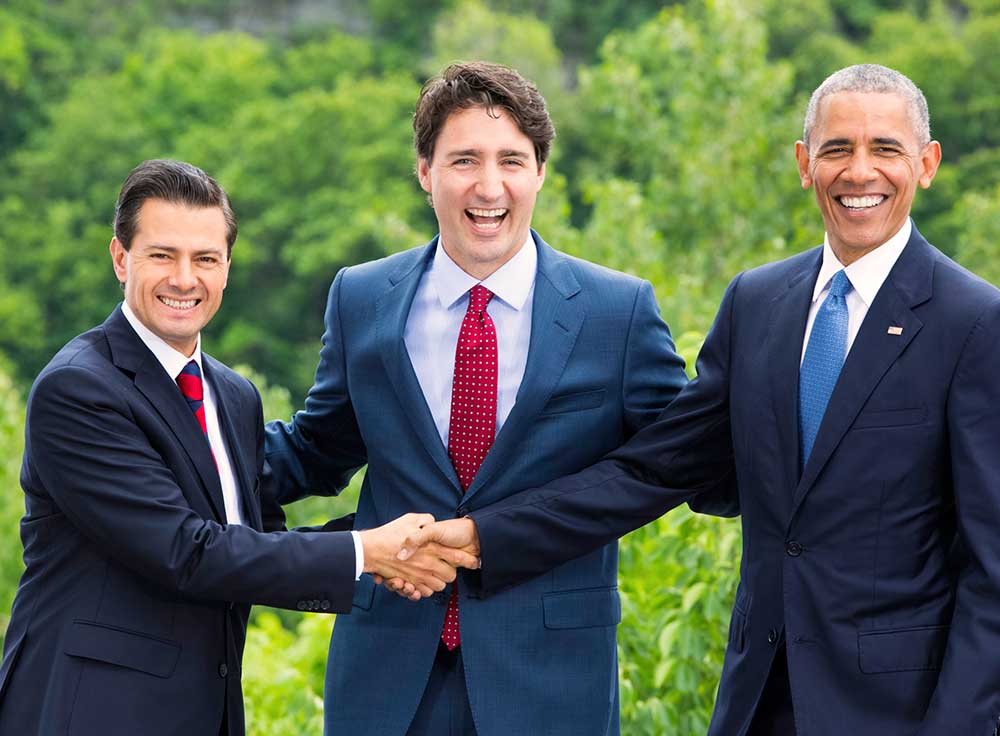 "[NAFTA] is…a disaster." – Donald Trump
"[NAFTA]…needs to be reassessed and adjusted." – Hillary Clinton
These quotes illustrate how the two U.S. presidential candidates currently view NAFTA. The twenty-two year old North American Free Trade Agreement has long been controversial and blamed for lost U.S. jobs, but quantifying its impact has been difficult.
Some analysts have blamed the trade deal for 700,000 to 800,000 lost American jobs, while the U.S. Chamber of Commerce has attributed the creation of 1.7 million U.S. jobs to NAFTA.
How has NAFTA changed trade for member countries?
The passage of NAFTA established a free-trade zone in North America between Canada, Mexico, and the U.S. As part of the agreement, the three countries phased out numerous tariffs with a particular focus on those related to agriculture, textiles and automobiles.
About one-fourth of U.S. imports come from Canada and Mexico, which are the United States' second and third largest suppliers of imported goods. In addition, about one-third of U.S. exports are destined for Canada and Mexico.
According to the U.S. Bureau of Transportation Statistics, total NAFTA trade in terms of value of goods has increased at a compounded annual growth rate of 3.75% since 2004.

By country, the Canada – U.S. relationship has the highest value of goods traded, compared to Mexican trade with either country. However, since 2004, the compounded annual growth of Canadian trade with the U.S. has increased only 2.16%.
This slow growth can be attributed to it gradually losing ground to Mexico over the years, primarily due to the growing Mexican automotive industry. As a result, Mexican trade with the U.S. has grown faster than Canada-U.S. trade, at a compounded annual growth rate of 5.91% since 2004.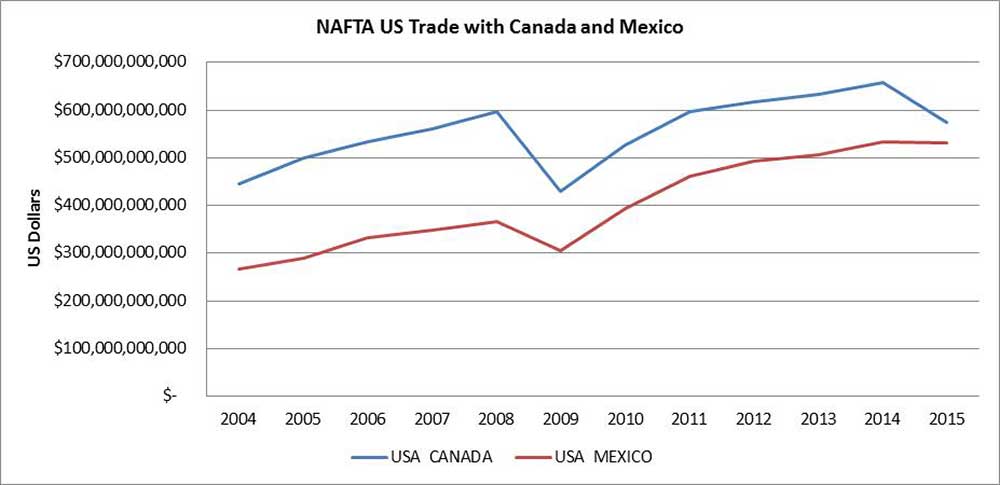 Canada is America's top customer
According to the Canadian government, Canada is the U.S.'s largest customer, purchasing US$338 billion in goods and services in 2015. Nearly nine million U.S. jobs depend on trade and investment with Canada.
In addition, Canada is the top export destination for 35 U.S. states. While Mexico grabs headlines with its auto industry, Canada also has a sizable auto industry which continues to hum along and innovate. Still, it's a more expensive location to assemble automobiles due to union activity and higher wages, and the concern of Canadian jobs heading south is real.
Despite this, GM announced in June that it would increase its engineering and research and development team in Ontario by 700 workers over the next three to four years, focusing on electric, connected and autonomous vehicles.
Cross-border trucking industry crowding the border since NAFTA
All modes of transport have benefited in terms of volumes and finance thanks to NAFTA, but perhaps the two transport modes to see the greatest gains have been trucking and rail.
Trucking is the largest mode of transport for trade between Canada and the U.S.
For the first quarter of 2016, truck crossings were up 3.2% and in Detroit, the focal point for the automotive industry, the number of crossings increased 8%.
Despite the strong growth, it has raised concerns of growing congestion at the border between Canada and the  U.S. Detroit-Windsor is a particular area of concern as one of the busiest border crossing points between the two countries.
To alleviate the congestion, the six-lane Gordie Howe International Bridge, linking Detroit and Windsor, is expected to begin construction in 2017 with a completion date anticipated for 2020.
Meanwhile, the U.S. Federal Highway Administration has awarded $256,470 to deploy technology to provide information on wait times and give truckers advance notice of crossing conditions. The program began earlier in 2016 with a handful of trucking firms and limited border points, and the number of truck border crossings using it may continue to increase if the new pilot program is successful.
Rail continues to grow between Canada-U.S. since trade deal
U.S. and Canadian Class I railroads have also greatly benefited thanks to commodities exports, such as agriculture and petroleum. In addition, the growth of intermodal transport has spurred innovative solutions linking the two countries. For example, in 2015, Canadian National (CN) signed a memorandum of understanding with the Alabama State Port Authority and APM Terminals for the Mobile port's intermodal gateway project.
A similar agreement was made at the New Orleans port a few months later. Described by the Journal of Commerce publication as a "third coast", these agreements have given CN a new region in which to operate from.
The benefits for CN include the ability to take advantage of the Panama Canal widening by moving goods through the New Orleans and Mobile ports, and transporting them through Memphis, Chicago and into Canada.
Another benefit for U.S. shippers who prefer to move goods via Canadian ports is the ability to import goods via the Prince Rupert port and then transport the goods into the heartland of the U.S. without transferring to another railroad, truck or other means of transport.
Likewise, U.S.-based Class I railroad CSX opened an intermodal terminal in Montreal, which gave it access to the Eastern Canada market. Trains serving this terminal connect to its Northwest Ohio intermodal hub.
NAFTA shouldn't be scrapped – it should be expanded
Can NAFTA really be described as a "disaster"? Hardly.
Trade between the member countries is strong and should continue to flow with little, if any disruption. Should the agreement be "reassessed" or "reexamined"?  Perhaps – in terms of opening the borders even further.
Creative logistics solutions have resulted in more efficient flows of goods, and in turn reduced time to markets for the final customer.