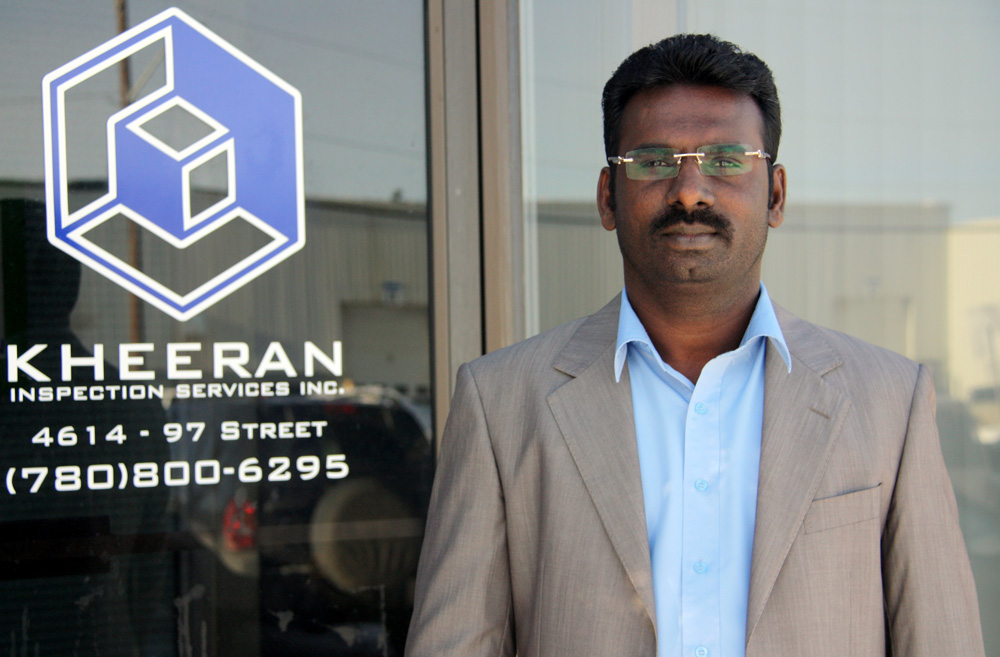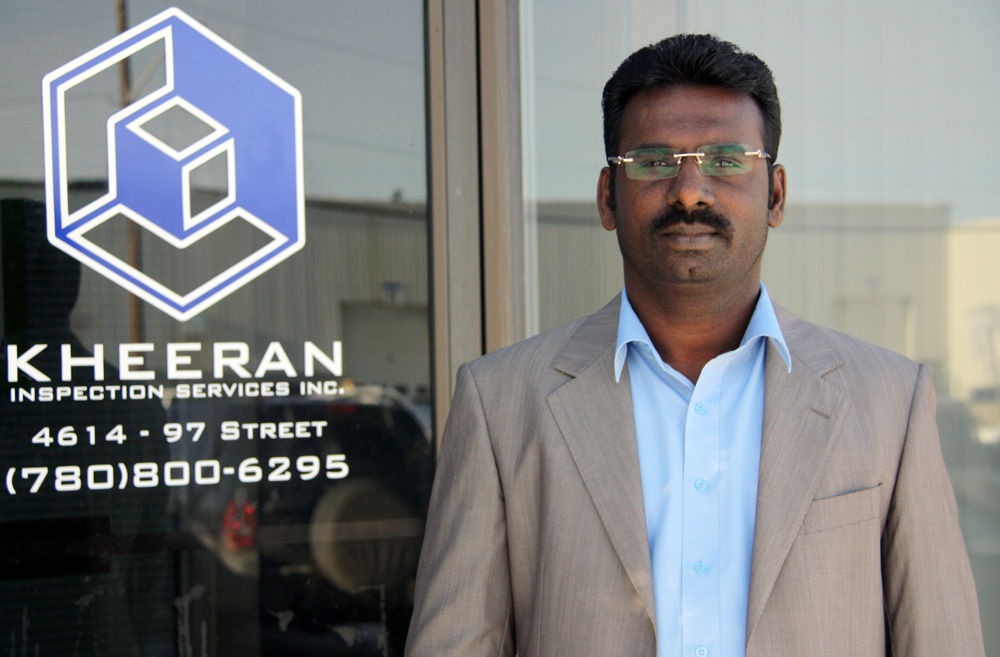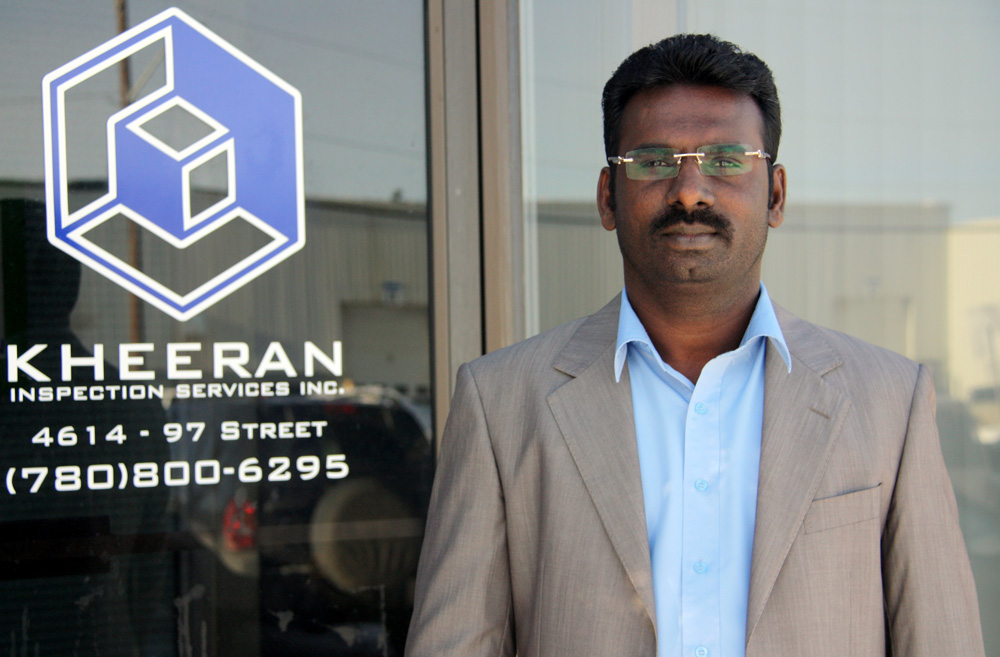 Earned his elite CITP®|FIBP® designation: Dec. 2014
Dr. Kannan Vanumamalai, CITP®|FIBP®, is the Marketing Manager at Kheeran Inspection Services Inc. in Edmonton, Alberta.
With twenty years of international trade experience and an exceptional academic background in trade, Kannan's skills and knowledge are equaled only by his passion for his work.
Kannan's career started when, after completing both his Bachelor's and his Master's degrees in commerce, he became a management trainee with Varadhalakshmi Mills Ltd in Madurai, India.
At the end of his trainee period, the company decided to give him the opportunity to select the area of business in which he wanted to specialize.
"I chose international trade," he explains.
I realized that, for an international trade professional, each work day will be a lively day composed of lots of challenges, problems, solutions, decision making situations, rules, regulations and so on.
Kannan spent a total of just over five years at the company, under the title of Executive (Purchase and Imports).
With the sole responsibility for all man-made fiber imports, he monitored inventory, made purchases when needed, ensured all documents and licenses were in place and guided it through all customs clearances to get materials to the mills when needed.
After a brief stint taking care of exports for another mill, Kannan returned to the import side of trade as an Assistant General Manager (Imports) for Machado Sons P Ltd—a leading Custom House Agents company at the port in Tuticorin, India.
In the role, he was able to expand on his previous import experience by combining responsibilities for customs clearance and import documentation with a broader-scale marketing role.
His new duties included bringing in new customers, providing them guidance, updating customers with any changes in the import policies/rules, ensuring customer satisfaction and retention, and promoting the company's import clearance services.
Kannan also expanded his educational credentials during the thirteen years he spent in the role. Since it required a greater focus on marketing than his previous positions, he earned his MBA with a focus in marketing, as well as his M.Phil in international business.
He then followed those up by earning his Ph.D in Management in 2011 from the Birla Institute of Technology in Mesra, India, with a focus on international logistics and marketing.
In 2011, Kannan also received two international awards. First, he won 'The Emerging Economies Doctoral Student Award (EEDSA)' from the Production and Operations Management Society (POMS), USA for his contributions to the subject 'operations management'.
He then also received the 'Highly Commented Award for Excellence 2011' from the Emerald Literati Network in the UK, for a research article he had published in 'Benchmarking: An International Journal' the previous year.
On top of these awards, he has published several articles in reputed management journals, and is a regular presenter at Indian as well as international conferences on topics related to international logistics, shipping, export/import, services marketing, etc.
In 2013, Kannan transitioned to his current role, which allows him to focus on international marketing full-time.
Balancing everything from market research studies to product development to client satisfaction, budgeting, accounts management, and training, he has found the opportunity to excel in a role where he can draw from all of his education and experience.
When Kannan learned about FITT and the CITP®|FIBP® designation, he immediately recognized the benefits it could have for his career and decided to apply.
I understand that the CITP®|FIBP® designation will bring international recognition to my knowledge and experience in international trade. I also realize that it will help me to develop networking with other international trade experts.
Kannan described his reaction to earning the designation as "elated." He says he hopes it will help him toward his goal of gaining a top-level management position in a global corporation in the shipping, freight forwarding or international logistics industry.
Learn more about the CITP®|FIBP® designation
INTERNATIONAL BUSINESS CERTIFICATION—CITP®|FIBP®
Advance your career and build your professional credibility in the field of global business by earning the Certified International Trade Professional (CITP) designation.
Why Earn the Certified International Trade Professional (CITP) Designation?
The Certified International Trade Professional (CITP) designation is the world's leading professional designation for the field of international business. So whether you're new to global trade or have over a decade of direct experience, you'll find the CITP designation can help advance your career and build your professional credibility.
The CITP designation sets you apart in the competitive international business industry because it's proof you possess the competencies global business experts have identified as being essential for a successful career in international trade. It also recognizes your dedication to ethical business practices and ongoing professional development—both of which are desirable traits for today's global business practitioners.