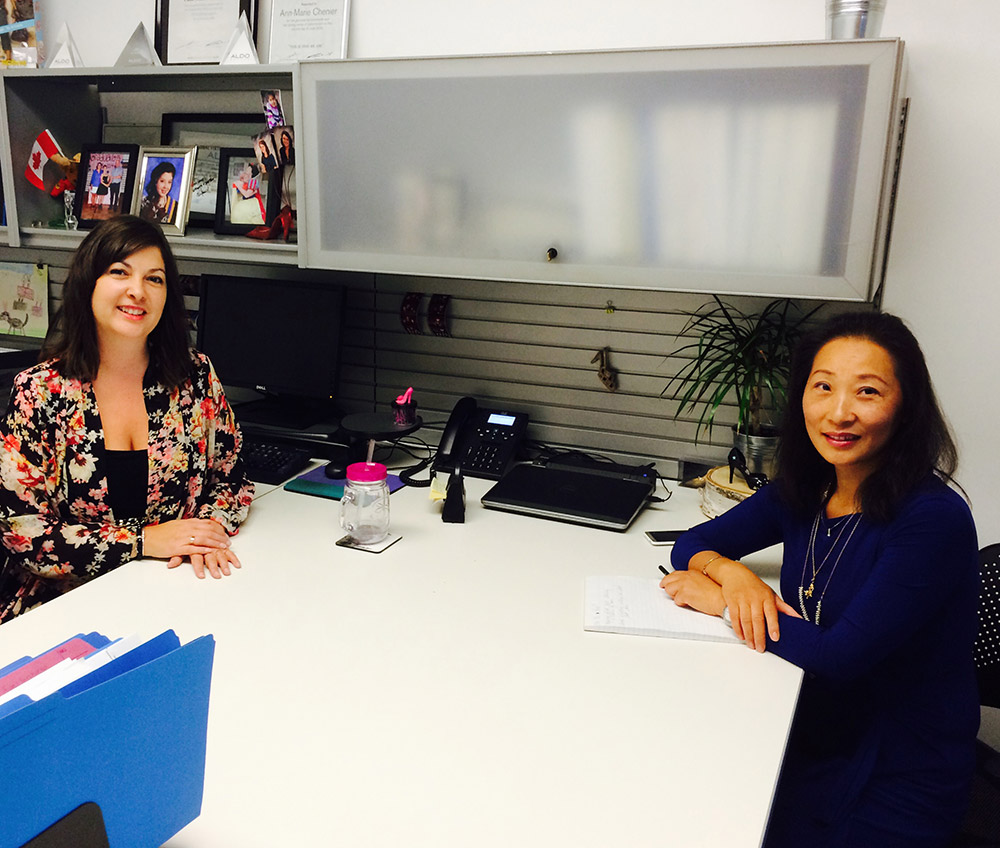 "In every class there are always a couple of students who bring energy, imagination and an entrepreneurial spirit to the group. When an amazing opportunity such as an internship appears, they are quick to recognize the challenge and rise to it."
Ennio Vita-Finzi, Professor of the International Commerce Import/Export program at LaSalle College in Montreal, is talking about this year's FITT-ALDO intern, Caroline Zhang.
Caroline was a confident, motivated student with a strong work ethic and a genuine interest in international trade, particularly in building on the import/export trade relationship between Canada and China, the two nations that have been her home.
Building a bridge between Canada and China
Before coming to Canada, Caroline worked in Shanghai as a buyer in the vibrant, fast-paced fashion industry, something she credits with sparking her interest in international trade.
Caroline says,
I am naturally excited about business and dealing with people from all over the world. I am passionate about life and one of the main reasons why I moved to Canada from China was because I embrace open-mindedness and change, and love to learn from people of various cultures.
Caroline then made the move to Canada with her son in November 2013 from the city of Xi'an in the North-West region of China.
Canada represented an opportunity for her to continue to excel in her career and further her education in the industry she loves.
The transition to a new country, culture, language and way of life was naturally a challenge. Luckily, Caroline found lots of support upon her arrival in Canada, including language training and help with job searching from the local government.
Seizing her opportunity with confidence
Not long after she arrived in Canada, Caroline found the International Commerce Import/Export program at Lasalle College in Montreal, Quebec. There she took FITTskills courses to improve her knowledge in North American trade, and the industry as a whole.
I decided to enroll in this program because I had experience in trade between China and the U.S. I wanted to learn and expand my knowledge of international trade agreements including NAFTA.
"I knew that I needed to do that in order to become more marketable for future employment in Canada."
When she saw the FITT-ALDO internship opportunity, she knew she was the perfect candidate for the position, and also recognized the benefits of joining such a prominent, successful company such as ALDO.
"When I received an email from FITT and saw the opportunity to work with the ALDO Group I was so excited. I saw a perfect fit for me to further my career based on my background, and 15 years of experience in China as an import/export coordinator for the fashion industry."
Building the right skills for the job
"The FITT program helped me gain, improve and update my knowledge of the latest supply chain management systems. My professor, Mr. Ennio Vita-Finzi, gave us many opportunities throughout the course to improve our presentation, business writing and negotiating skills."
"This helped me in many ways to develop more confidence when applying to jobs, such as the internship provided by the ALDO Group. Mr. Vita-Finzi always encouraged us to believe in ourselves, and to never, ever give up."
Caroline was thrilled when she was offered the internship position with ALDO Group and knew she was up for the task.
I was excited to be offered the FITT-ALDO internship, of course, but I also believed that I was the best candidate for the job.
Caroline was undoubtedly right about her aptitude for the internship. Her supervisor, Ann Marie Chenier, Customs Compliance Manager, says,
"We were presented with this initiative and could not turn down a chance to work with a knowledgeable individual in the ever changing Global Import-Export industry."
"We were looking for a candidate with a global understanding of the Import-Export /Supply Chain operational process with a keen eye for details and analytical skills. Caroline had the knowledge and past employment experience required for the intern position."
Mr. Vita-Finzi had kind words to say about her performance as a student as well.
"Caroline Zhang was able to use all the advice and suggestions made to apply, then interview and finally win the job. I am very proud of her."
Finding the perfect fit for a great team
As an intern, Caroline took on the role of Import/Export Administrator, working on the customs process.
She is particularly happy to be working with such a great team.
"I enjoy working with the team I was assigned to. I would like to make special mention of my manager, Ann Marie Chenier. She trusts and empowers me with new tasks daily, and provides me with opportunities to learn new skills. She also accentuates and tries to find ways to help ALDO benefit from my past knowledge, skills experience."
As for the ALDO Group, Caroline fits in perfectly, just like her favourite pair of shoes.
"ALDO is the leading shoe company in Canada's fashion industry. The first shoes I ever bought in Canada were from ALDO, and that says a lot already."
I take pride in working for a fast growing company, and I want to grow with them.
Her colleagues are just as happy to have here there.
"In the short time that Caroline has been with ALDO she has shown much initiative and an overall understanding of the import/export process," says Ann Marie.
The realization of a dream come true
In fact, Caroline has so excelled in her internship role that ALDO didn't hesitate to offer her a full-time position when it became available.
"As an opportunity developed and Caroline had the qualifications, we thought that she would be a good candidate for this position."
And Caroline's reaction to the news?
"I was so surprised, but also very happy. My dreams were fulfilled sooner than I thought."
When asked about where she sees her career heading in the future, she shows a great loyalty and enthusiasm for the company that gave her that first big break in Canada.
"I am open to discovering new and different opportunities as my education and experience grows at ALDO. I truly enjoy working at ALDO because they provide equal opportunities to work with all cultures, and an environment to learn and gain many new skills.
What I noticed most at ALDO was how happy the employees are, and how much they enjoy doing their job. I feel like I landed in the right place at the right time.
Caroline also enjoys getting outside and taking advantage of the many activities Canada has to offer, like biking along the Lachine Canal, playing tennis and watching her son snowboard in the winter.
"I have become a Canadian and I am proud that I did. We are very much enjoying living in Canada, and look forward to getting to know more about the culture and meet new friends."
As for the ALDO Group, they are very happy with the mentoring experience they have had with Caroline. In the future the company will be looking for individuals who are knowledgeable in the import/export business and are independent problem solvers who take initiative and work well with a team.
Most importantly, any candidate must share their core message to "Love, respect and have integrity".
With such a great start at ALDO, we're sure Caroline has a long, successful career ahead of her.