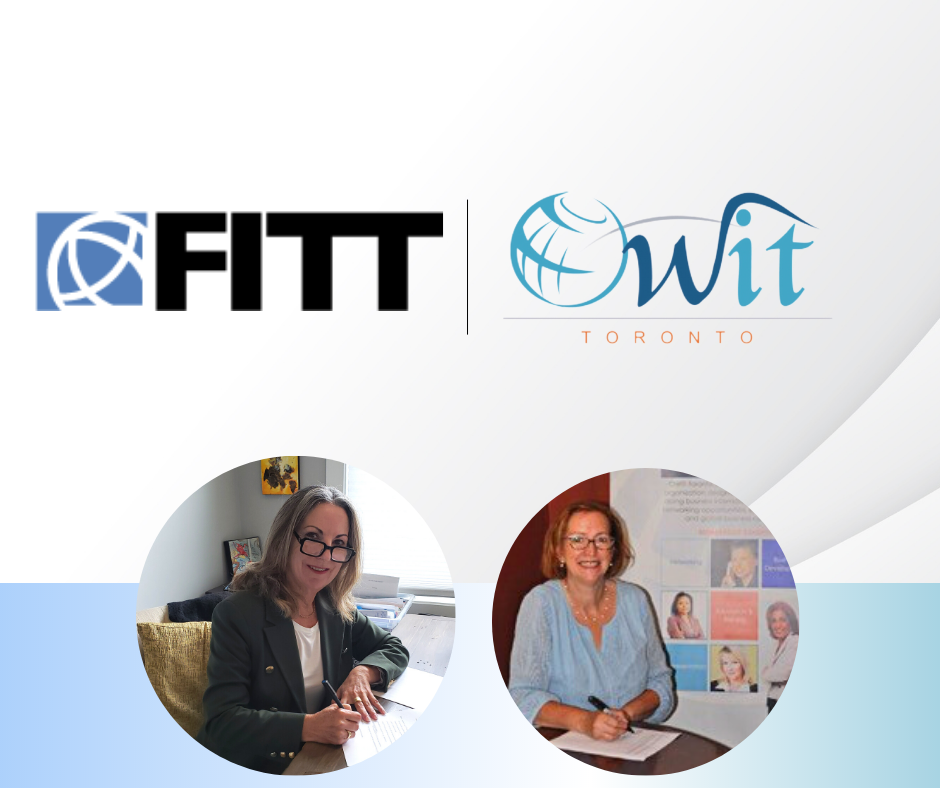 The Forum for International Trade Training (FITT) is partnering with OWIT-Toronto to build and enhance women's global business skills, expertise and knowledge. The partnership seeks to leverage existing  resources, expertise and capabilities to empower women in global markets with key information, knowledge and up-to-date international issues on accessing global markets and advancing profitable competition.
FITT is a not-for-profit organization dedicated to providing international business training, resources and professional certification to individuals and businesses. FITT's international business training solutions have become the standard of excellence for global trade professionals across Canada and around the world.
Established in 1992 through a joint initiative of the Canadian government and private sector, FITT is now an authoritative standards body for international trade certification, accreditation and training. FITT's Certified International Trade Professional – CITP® | FIBP® designation is the standard of excellence for global business practitioners worldwide. As part of the partnership with OWIT-Toronto, FITT is currently offering a 40% discount for OWIT members on all online courses and workshops.

"Cross-border business is complicated, even more-so following the onset of the pandemic and the related supply chain disruption and great resignation. For businesses making the leap into global markets, know-how is survival. Through this partnership, connecting women to the right training to properly address the risks, plan strategically, and avoid costly errors will empower them to become high-performers for their organizations and improve retention. And this is crucial for building export-capable businesses and people worldwide," said Caroline Tompkins, CITP, President & CEO of FITT
Helen Hemmingsen, Board Director and past President of OWIT-Toronto Chapter, warmly welcomed this collaboration.
"OWIT-Toronto is very pleased to partner with FITT to upskill and advance women's abilities in global trade. Recognizing that skills development is key to more inclusive international trade, this partnership advancing global business knowledge will support our members to more effectively integrate into global markets," Hemmingsen said.
"With the dynamism of global trade, upskilled women exporters and service providers will have the ability to reap more benefits from global trade."
The OWIT-Toronto and FITT partnership will further support women in acquiring practical skills and know-how on the complexities of doing business in respective international markets. Equally to building proficiency and skills in international trade, it provides the opportunity to tap into OWIT-Toronto's global networks, resources and export education to support businesses going global.
OWIT-Toronto and OWIT members can register to access the 40% off FITTskills online courses and workshops or contact info@owit-toronto.ca for more information. Non-members can sign up to be part of a dynamic world-wide organization advancing women in international trade and take advantage of the robust training offers.