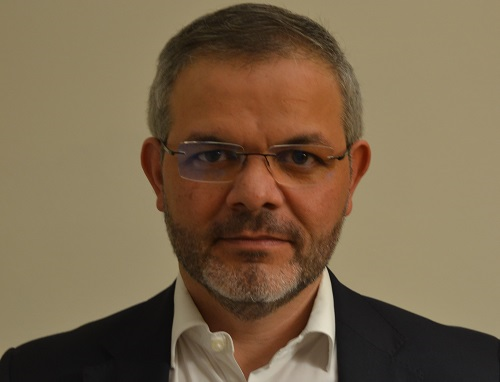 Earned his elite CITP®|FIBP® designation: Sept. 2020
His 20 plus years of experience in Fast Moving Consumer Goods (FCMG) has seen Luis Marques take on various roles within the beverage industry. He began his career working in marketing and sales for the domestic market in Portugal and was then invited to head the Export Market Business at SUMOL + COMPAL, a Portuguese company which is a market leader for non-alcoholic beverages in Portugal. The company's branches span over 60 countries across all five continents, with their own manufacturing plants or with local partners working either in a franchising or export model. 
Over the last eight years in this role, Luis has made more than 120 business trips and visited 40 countries. 
What I love most about my work is the opportunities I get to meet different people and experience cultures, to try new foods and to learn new customs.
G
astronomical "taste
 drives
"
 that help 
bond
 with clients
Working in the food & beverage industry, it doesn't come as a surprise to find distributors and clients that are fond of food, and all great stories invariably start around a dining table. 
When you meet a new partner for the first time and you demonstrate genuine interest about their culture and customs, normally they feel proud to take you for a 'taste drive' of their gastronomy.
From the delicious curry-like stews served on a large circular injera (bread) in Addis Ababa, Ethiopia, and the pure flavour steak-tartar in Paris, France and the juicy soup dumplings in Shanghai, China to the succulent and smoky barbecue spareribs in New Jersey, U.S., Luis has been on many amazing culinary journeys. 
From those experiences, you get to know a little more about consumer habits and the relationship with food and drink in a country, and first and foremost, you get to know the real people that you are going to do business with and seize the opportunity together.
Developing 
new markets from scratch
Luis is proud to represent the two most iconic non-alcoholic beverage brands in Portugal in the international markets. As Portugal is a country of emigrants, a third of the population lives abroad. Therefore, their natural consumers are the Portuguese speaking countries and others with a strong Portuguese presence. Targeting these "homesick" markets is relatively easier as it's almost like an extension of their home market. 
The big challenge though is when they need to develop new markets from scratch. During the last three years, Luis has been involved in franchising projects in markets where there was no existing brand equity, requiring them to introduce their product for the first time. 
In these projects, the best strategy to promote our brands was through tastings. When the consumer had the chance to taste our brands, they understood the quality and naturalness of our products.
Precious 
advice
 for those starting their career in international trade
Luis has 3 valuable tips that might prove useful to all those beginning their journey in global business. 
Focus on the markets

 where you have a competitive advantage and invest your human and 

fi

nancial resources in it. In the other markets, you either sell without any customization or you should avoid them. Opportunistic sales are usually one-o

ff

 sales where the setup costs don't cover 

either the margin 

or the time spent. 

 
Optimize your natural markets. Usually, there are opportunities for improvement in any market. Look for 

efficiency

 in 

d

istribution and 

p

romotion

. You need to visit the markets and work together with your partners. 

 
Focus on scale and 

price structure

 when evaluating a new market. You will need scale to customize your value proposition and

 you will need a price structure that creates value for the consumer, for the retailer, for your partner

,

 and for your company. The opportunity for new business will not be viable 

i

f your retail price is not competitive

.

 
International trade training 
that enhanced 
his
 professional competence
Luis signed up for FITTskills training and found the experience rewarding. The courses allowed him to upscale his international trade-related knowledge and imparted fresh insights that proved invaluable to him on the work front.  
When you work in the food & beverages industry, value chain management is critical to be able to trade in any market. The Global Value Chain course gave me a better understanding of where I can optimize some of the activities for my products to become more competitive within the international markets.
After successfully completing his FITTskills Diploma in International Trade, Luis applied for the CITP®|FIBP® designation to be able to connect with a broader network of international trade practitioners. He also believed it would be a great way to be in touch with the latest trends and to continue with his professional development. 
Luis is proud to receive this elite designation. After two years of study, earning the  CITP®|FIBP® was, for him, a recognition of all his hard work and dedication to his profession over the last eight years. 
With the acquisition of the FITT Diploma in International Trade and earning the  CITP®|FIBP® designation I will be able to improve my performance as an international trade practitioner and to develop my team better.
We wish Luis many more professional milestones and are sure that his knowledge, strategy, and acumen will help his brand successfully "conquer" newer markets in the years to come. 
Learn more about the CITP®|FIBP® designation
INTERNATIONAL BUSINESS CERTIFICATION—CITP®|FIBP®
Advance your career and build your professional credibility in the field of global business by earning the Certified International Trade Professional (CITP) designation.
Why Earn the Certified International Trade Professional (CITP) Designation?
The Certified International Trade Professional (CITP) designation is the world's leading professional designation for the field of international business. So whether you're new to global trade or have over a decade of direct experience, you'll find the CITP designation can help advance your career and build your professional credibility.
The CITP designation sets you apart in the competitive international business industry because it's proof you possess the competencies global business experts have identified as being essential for a successful career in international trade. It also recognizes your dedication to ethical business practices and ongoing professional development—both of which are desirable traits for today's global business practitioners.