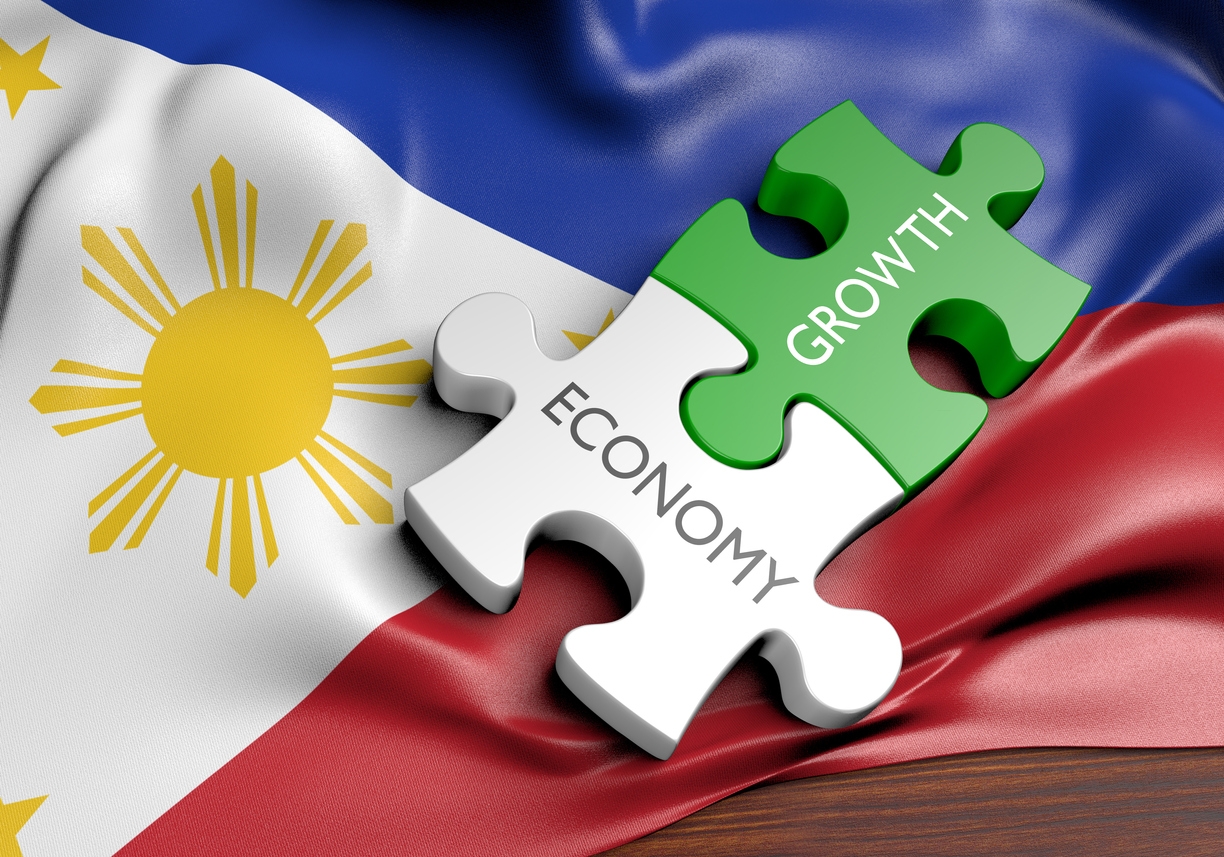 Once considered the "Sick man of Asia" in the later stages of the 20th century, the Philippines has undergone a rapid economic transformation in recent years. With high growth rates, an expanding middle-class, and ambitious public policy initiatives geared toward national economic development, it appears this dynamic, newly-industrialized market is finally on a path toward sustainable growth and stability as it emerges into one of the Asia-Pacific's most attractive trade and investment destinations.
The economic climate
Currently the world's 34th largest economy, the Philippines is among the world's fastest growing markets. GDP growth rates averaged 6.3 percent between 2010 and 2018, and are projected to grow faster than other neighbouring South-East Asian countries over the next 15 years. In fact, an HSBC forecast predicts the country could enter the world's top 20 economies in the next quarter century if demographic trends and sound governance remain in place. Consequently, the high growth environment has also been largely responsible for greater investor confidence. Foreign direct investment inflows hit a record-high USD $9.5 billion in 2017, exceeding the Central Bank's target of USD $8 billion.
In addition to an upward economic transformation, the Philippines offers a number of competitive advantages for prospective business ventures in Asia, including:
A large, growing population of 106 million people
An emerging middle-class consumer market
A highly-skilled, low-cost, English-speaking labour force
A strategic proximity to neighbouring markets.
The importance of service sectors
While the Philippines remains a large agricultural economy, service sectors have been a major factor in domestic growth and rising income levels. More than half of the country's labour force is now employed in the service industry – accounting for nearly 60 percent of the overall GDP.  Three industries are particularly noteworthy:
Business process outsourcing (BPO) has flourished throughout the country's urban centres and is poised to directly employ up to 1.5 million Filipinos by 2020 with a total income revenue of over USD $50 billion.
Overseas Filipino Workers (OFWs) continue to be a major contributor to economic well-being. Official figures show 2.3 million Filipinos employed abroad – almost all of whom repatriate income earned overseas to loved ones back home. Inward remittances from OFWs hit a record high USD $32 billion in 2018, giving a boost to domestic consumer spending.
Tourism accounted for a 12.7 percent share of the overall GDP in 2018. Increasing domestic travel and a record-high 110 million visitors from abroad has helped create a USD $40 billion industry, employing 5.4 million Filipinos.
The environment for Canadian exporters
As Canada's 28th largest trade partner, the Philippines presents significant growth opportunities throughout a broad range of sectors. Trends have shown encouraging signs for Canadian exporters with total merchandise exports increasing from USD $511 million in 2014 to USD $753 million in 2018  – most notably in the following products:
Aircraft and Parts ($129 million USD)
Lumber and Wood ($122 million USD)
Frozen Meat ($102 million USD)
Copper Ores ($70 million USD)
Wheat ($56 million USD)
Canadian companies of all sizes that specialize in renewable/clean energies, infrastructure, and ICT sectors may also take advantage of upward trends and policy initiatives – particularly outside of the National Capital Region of Manila, as economic activity becomes increasingly redistributed through the country.
Exploratory talks toward a Canada-Philippines free trade agreement have since evolved to rein the remaining six non-CPTPP ASEAN member states into a multilateral Canada-ASEAN FTA. Per Canada's current trade diversification policy, this option appears to be the inevitable path. In the meantime, Canadian firms doing business in the Philippines can take advantage of an existing reciprocal tax treaty and a foreign investment protection agreement (FIPA).
The Canada-Philippines relationship
Despite the 2019 diplomatic dispute over the repatriation of waste-filled containers from Manila to Canada, the two countries enjoy a strong and resilient bilateral relationship. The Philippines became Canada's largest source of immigration throughout the latter half of the last decade, with Tagalog becoming Canada's fastest growing language. As of 2019, 900,000 residents of Canada – comprising 2.6 percent of the population, are of Filipino descent. Conversely, a record-high 250,000 Canadian tourists are projected to visit the Philippines by the end of 2019.
Filipinos view Canada and Canadians very positively. Businesspeople can expect nothing less than VIP treatment, friendly smiles, and genuine hospitality, for which Filipinos are world-renowned. As with many non-Western business cultures, establishing trust and personal relationships is important. Visitors will likely encounter questions about their relationship status, good-natured comments about personal appearance, or if you are friends with their cousin living in Edmonton!
Overcoming challenges and the way forward
Although the Philippines is emerging as a rising star in the global economy, the country continues to rank low on ease of doing business. As such, companies will inevitably have to surmount considerable challenges to achieve success, including:
Poor quality and lack of infrastructure
Corruption among public officials at all administrative levels
A complex, inefficient bureaucracy
Recent reforms and initiatives launched by the current administration under President Rodrigo Duterte have made inroads into reducing burdensome red-tape and eradicating institutional corruption, particularly within the Bureau of Customs and Bureau of Internal Revenue. However, significant work remains.
The Duterte administration has also committed USD $153 billion toward an ambitious national infrastructure plan that would increase investment from 6 percent of GDP in 2018 to 7.4 percent by 2022. More than 70 priority projects have been earmarked, including airports, railways, public transit networks, bridges, highways, and energy-producing facilities.
Of note, foreign companies and individuals are constitutionally prohibited from purchasing land anywhere in the Philippines. They may, however, seek a 50-year land-lease agreement that can be renewed for an additional 25 years.
Getting support for entering the Philippines market
As with any prospective venture into a new market, companies and investors must conduct intensive research, perform due diligence with any potential partners, and be acutely aware of local laws and regulations that may pose barriers to doing business.
The Canadian Trade Commissioner Service is an invaluable resource to assist companies with finding opportunities throughout many sectors. The TCS provides matchmaking services through an extensive list of reliable agents, distributors, local partners, etc., while their practical market knowledge is second to none. Trade Commissioners based in both Ottawa and at the Embassy in Manila should be every Canadian company's first point of contact.
Exporters can mitigate several risks by obtaining the service of Export Development Canada, bearing in mind the distance and geographic trajectory when shipping products from Canada to the Philippines, and the risk of non-payment if using open terms. EDC provides exporters with a suite of insurance products that should be strongly considered to safeguard against the risks involved.
Membership in business organizations are also highly beneficial for networking opportunities, acquiring market knowledge, and participating in trade shows. Companies and individuals across all sectors can join organizations such as the Canada-Philippines Business Council and the Canadian Chamber of Commerce in Manila to seek advantageous insider knowledge and to make valuable connections.
High risk, high reward
Sadly, the Philippines continues to be characterized by negatives – a country plagued by rampant corruption, extreme poverty, and severe overpopulation. Add in extrajudicial killings, skirmishes with the Chinese naval patrol in the South China Sea, and kidnappings by insurgents to the news cycle, and suddenly a proposed business venture may appear too risky.
Between the lines, however, is a dynamic, forward-moving, emerging market with an abundance of opportunity that awaits. The Philippines is currently experiencing an unprecedented transition and is on its way to becoming an influential and powerful Asian economy in the 21st century. Canadian companies ought to act on this opportunity, bearing in mind that even without an existing free trade agreement, a coherent business strategy in a complex and unfamiliar market is the golden ticket toward success.