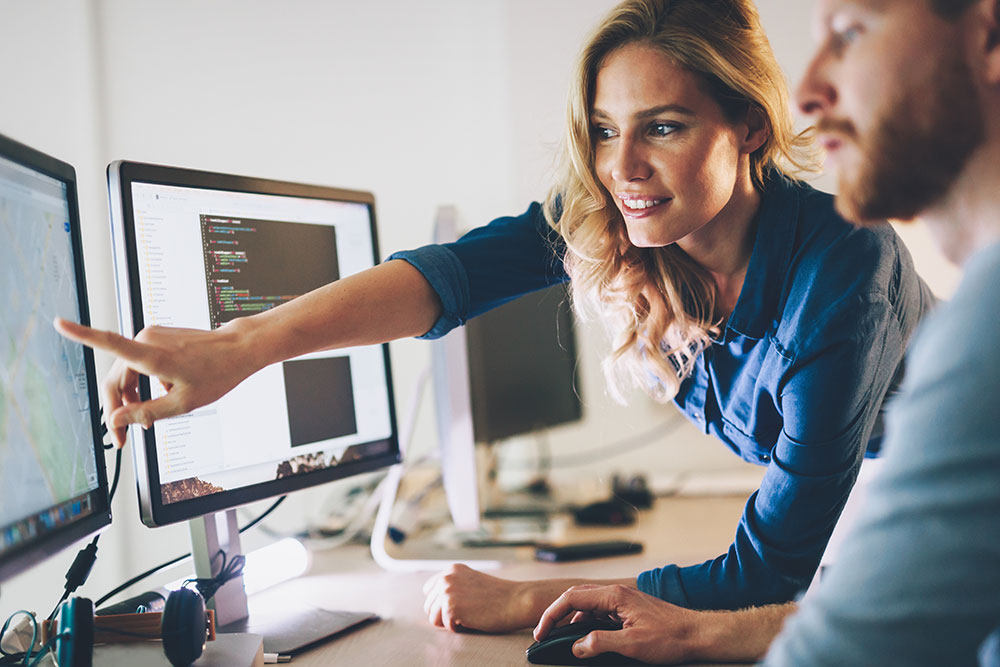 How efficient is your business? Chances are we could all improve the way we operate to do more for less – especially so if you're in international business, spanning several countries and continents.
But, how do you do it? In this technology-driven age, the answer lies in the smart deployment of the right software. Pick the right program for your organization and you can free up time and resources and unlock your money-making potential.
So, what should you look for – and how will it help you?
Accounting software saves you a mountain of paperwork
To misquote the Bill Clinton campaign team slightly – 'it's all about money, stupid'. Your first priority should be to look for software that can help you to manage your money effectively, because you won't get far without a sound system for your finances.
The right package can help you to manage payroll, calculate and pay taxes on time, and have a clear understanding of your financial performance at every twist and turn. Companies such as QuickBooks allow you to integrate a number of functions, including cheques, tax forms and supply paperwork.
The ability to be able to have an at-a-glance look at your accounts on the go is especially handy. That's especially true when you're first starting your business, like ex-police officer Deidre Peak who quit law enforcement to launch her own Etsy bakery store and juggled e-commerce, retail and three young daughters without needing to wade through cumbersome paperwork.
In this case, accounting software is not just a time saver, it also helps people with little or no financial training to keep on top of their paperwork.
It's great for bigger firms too, allowing executives to make informed financial decisions while travelling the globe to attend meetings.
2. Project management software boosts your teams' efficiency and integration
Managing your money is one thing, but managing your workforce is just as important when it comes to getting maximum output for your efforts. Project management software allows you to keep on top of the work you do – breaking big pieces of work into smaller tasks and allocating them to the right individual in your organization. From there, you can set deadlines and carefully monitor progress.
That's how Carl Hendy Consultancy has used Teamwork, an example of a piece of project management software. The company, with headquarters in London and Sydney, needed software that could help to manage a marketing operation that spans a variety of clients across a number of different time zones.  Teamwork allowed him to allocate tasks to individual employees, break larger projects into sub-tasks and smaller sections, and have a clear understanding of the progress of work so that clients could be kept up to speed.
It's also proved useful to be able to manage the increasing number of employees working from home, ensuring that they are kept in the picture and effectively managed.
3. Supply chain management software cuts down your logistics costs
Keeping on top of the complex list of companies and items in your supply chain can be tricky. Tracking and monitoring shipments (and as a result, pinpointing areas to reduce these overheads) can help you to reduce your logistics costs and avoid eating away at your profit margin.
A great example of this is Aptean Warehouse Management Systems (WMS). This program is available both in the cloud or on-premise and is specifically built to cater to businesses of all shapes and sizes, from single-site to multi-national operations.
The performance dashboards provide a real-time look at all people, processes and products as they are moving throughout the warehouse floor, and can integrate with your accounting software.
For a slightly cheaper option consider ShippersEdge, which is a web-based system that is scalable and flexible and purports to be able to reduce freight costs by 20% – a significant saving for any business.
4. Slash customer service costs and convert customers faster with an integrated CRM
Keeping customers happy – and persuading them to part with their hard-earned dollars – should be the priority for any business. Customer relationship management (CRM) software helps you to store customer information, collate details of customer interactions, and prioritize leads.  Using this data, your CRM can inform marketing and sales by analyzing and reporting on what does and doesn't work.
By understanding your customers better you can personalize their experience, with offers tailored to their buying behavior.
How does this work in practice? Check out American video game giant Activision, for example. By using SalesForce's Marketing Cloud software it monitors social media conversations that are relevant to its products and, with the company's Service Cloud, it can then follow up on these conversations to keep customers satisfied and prevent issues from escalating.
By doing so, it was able to slash its annual customer service expenses by 25% – a great example of software enabling a leaner and more effective operation.
5. Security software is a crucial weapon in your arsenal against cyber crime
Finally, it's vital that modern day businesses protect themselves against the dangers posed by cyber criminals. Cyber crime is set to cost the world $6 trillion by 2021, and while software alone cannot eliminate all risk, it can at least function as an important line of defense. Review the security software package you currently use and look at whether it's doing enough to protect you from malware and viruses. Don't be tempted to cut corners on this – the data you hold on your company and your customers is valuable and will be a target.
As Entrepreneur highlights, there should be seven key elements to every business' security package. These are:
Password tools. Security tools such as 1Password can offer you a safe central location through which to store and update your passwords, closing up a common security weakness.
Virtual private networks can encrypt your operation and make it safer for users in different countries to access your system from different devices.
Antivirus software. The likes of McAfee and AVG are essential to ward off threats such as malware.
This can filter out many of the threats you face and block access to some dangerous websites.
Up-to-date hardware. Upgrading this is important so that you benefit from the latest – and safest – new technology.
Up-to-date software. The same logic applies for software. New patches are always being released to fix any security flaws that are found. You need to be able to run regular updates throughout your software.
Entrepreneurs final point is an important one – without training you leave yourself open to 'human error'. Training is necessary to ensure everyone understands your system.
Protecting your data, keeping your customers happy, monitoring your supply chain, project management and accounting are all crucial for international businesses' bottom line. And all can be optimized through investing in the right software. By putting applications to use in these areas, you can boost the efficiency of your business and move closer to maximum output.
Disclaimer: The opinions expressed in this article are those of the contributing author, and do not necessarily reflect those of the Forum for International Trade Training.