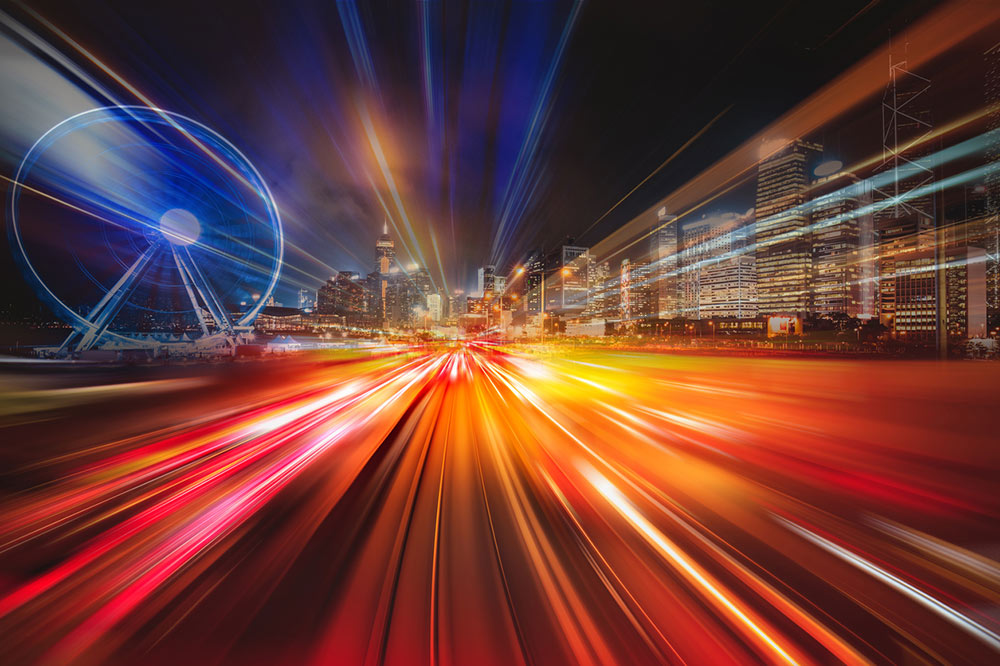 As you may have seen in my previous articles, I'm a frequent business traveler and no stranger to being on the road for work. As the Sales Director for Baker Ruskinn, a medical and scientific device manufacturer, I attend many scientific events, and work with scientists and universities on a regular basis.
This past March stretched even a seasoned traveler like me me out of my comfort zone, as I undertook my most arduous journey yet. First, I visited the most important scientific meeting of the year on hypoxia (not getting enough oxygen supply to the tissue of a body part, or your whole body) in Whistler, BC from March 3-8. From there, I continued to travel west across the Pacific, visiting Seoul, Korea and Taipei, Taiwan from March 10-17.
The logistics of traveling around China in 10 jam-packed days
While that alone would have been considered a lengthy and busy trip by most standards, I was still building up to the busiest section of my travel schedule. On March 18, I continued by flying into Beijing, China to start an epic "10 City tour" (10 lectures in 10 cities in 10 days), to promote Ruskinn's Life Sciences products to select universities in China. If you can believe it, this lecture series was originally supposed to be 3 weeks long, and we had to "shorten" it down to this length!
The lectures were set up by our Chinese partner, Beijing Longfujia.
The travel schedule from March 20-31 had to be intense to save money, but this meant traveling to a new city each day for 10 days, as follows: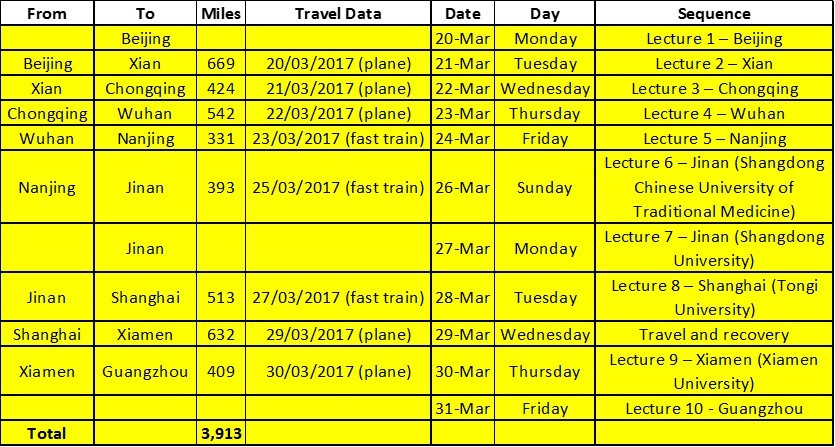 Over 21,000 miles by plane, train and automobile
In total, from when I left Ottawa March 3 to go to Whistler to when I arrived back there from China in the beginning of April, I travelled a total of 21,270 miles. While it wasn't quite enough to equal the 24,901 miles it would take to circumnavigate the entire planet, I came awfully close!
In China alone, I travelled 3,913 miles, took 5 plane journeys and 3 high-speed train journeys, gave 10 lectures, and visited 261 total customers. What a trip!
Travelling in China was often stressful, as reaching an airport or train station by car required anywhere from 1- 2 hours each night. The journey itself by air or train would come next, with varying transit times. Finally, traveling from the destination airport or station to the next hotel required yet another 1-2 hours of driving. Traffic is so dense in most Chinese cities that a commute that would normally be a 30 minute car journey in Canada or the U.S. can take 2-4 times as long in the cities mentioned above.
It's key to find your "zen" and get some massages when enduring this type of travel
I was fortunate to not have a single major snafu during the entire trip, just a handful of travel delays. When I ran into those, I found the best way to deal with it was to internalize, and not let myself get outwardly annoyed. Once or twice we also didn't have the proper AV equipment for our lectures, but our distributor was miraculous at sourcing whatever items we needed from "down the street" in those instances.
I also had many positives to focus on. One of the things that stood out the most throughout this whirlwind tour was the level of interest shown by the students at the universities. My Sunday seminar had more people than a regular seminar in Canada or the U.S., and it was exciting to see their willingness to learn.
To combat the exhaustion of so much travel for business, we also tried to go for massages whenever there were facilities near our hotel. It was very relaxing and allowed me to share some friendly banter with my traveling companions.
Final assessment – should you embark on such a trip?
If you're considering a similarly ambitious trip, I should note that, because the experience was so exhausting, I would not take on a trip in China like this again – I'll plan to stick with seven days next time.
In assessing whether the trip was successful, we certainly got "the nod" from several professors and other researchers indicating they are going to start the buying process with us in mind. While we have a buying cycle of several months, once these clients agreed I knew it was a matter of when, not if they would purchase.
The first orders from that lecture series should start to come out of tender in the next few weeks, and we are confident in gaining somewhere between $100-150,000 in sales from this lecture series alone. All in all, it was a very successful trip.
If you're interested in seeing more of my time in China, please take a look at the slideshow video that I've put together, which you can view by clicking this link.
Please also take a look at the following infographic on some of the most interesting numbers from my trip: