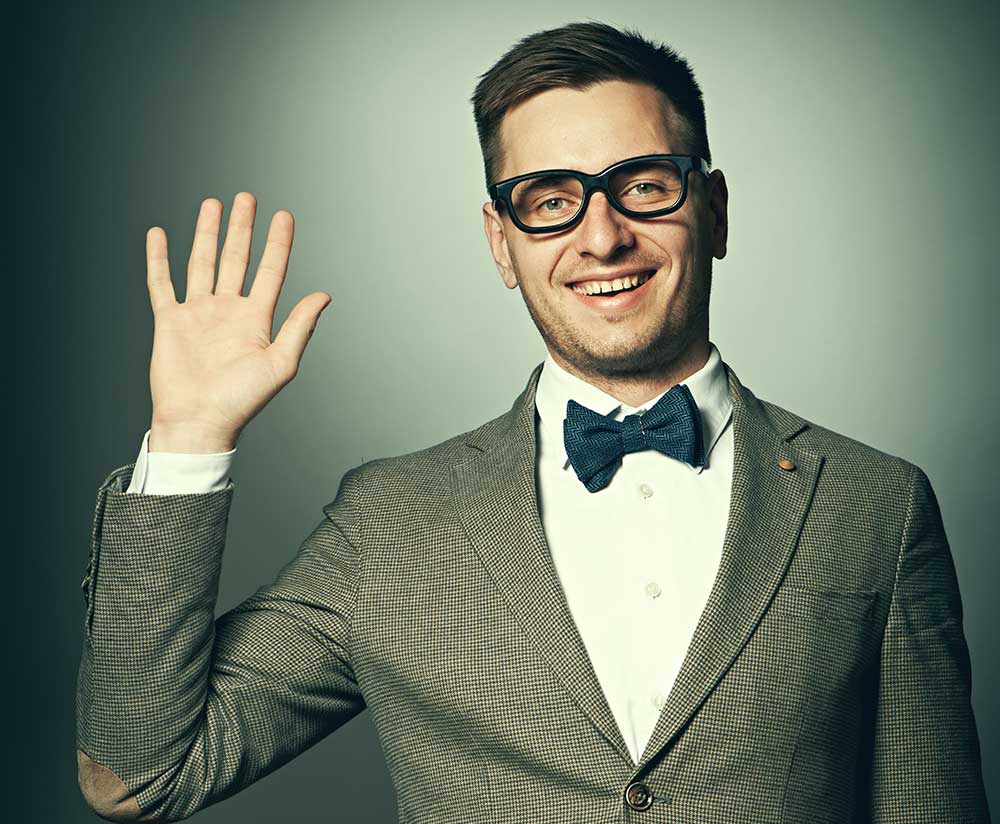 It's true what they say – you only have one chance at a first impression. Like any initial face-to-face meeting, certain things will either spike your client's interest or, unfortunately, cause an immediate distaste. Our first impressions, whether with people or companies, often stand out as the most memorable moments. This is especially true when the first meeting elicited strong emotions, positive or negative.
The good news is that first impressions can be steered, to a certain extent.
Here's why it's so crucial to create the best first impression possible.
First impressions – a converter or killer
First impressions go beyond a single moment and memory – they can live on to define whether or not your client will purchase. That first meeting with a client can influence what words they associate with your business and choose to pass on to others. This is largely due to the much-researched cognitive bias called the Halo effect, first described by Edward Throndike.
The Halo effect occurs when a person has immediately associated a positive attribute A to another person, or in this case a business, and as a result automatically assumes the business will also have the positive attributes B, C and D. Unfortunately, this effect works both ways, enabling a negative association to multiply in the same way. In the worst cases, it can severely harm your business. Use this to your advantage – provide the optimal first impression and create a chain effect that will exponentially improve your image.
Visuals – your brand, the design of your website, the design of your brochure and even your email structure – will affect much of your potential clients' first impressions. The Missouri University of Science and Technology conducted a study on the extent a website influences first impressions, and the result was that after only  2.6 seconds, the visitor had already created an opinion.
Once you have created a beautiful, fast website and your emails are short and typo-free, what more can you do to win them over?
Know what your clients pay attention to
Market research allows you to gain a deeper understanding of what your clients place value on during their purchasing decision. The current "buy local" trend of favouring local products and services is creating some competitive issues for SMEs attempting to enter international markets.
Fortunately, there are affordable, practical ways to be – or present yourself as – a local.
Of course, the same tactics can be applied in the opposite direction if your research shows it may be more favourable to appear as global as possible. With the trend favouring local businesses, how can a company appeal to local clients with a limited budget? How can you convey a firm handshake to a client if you cannot afford to be physically present in the foreign market?
The Missouri S&T study also found that visitors spend up to 5.25 seconds being engaged only with the bottom of your web page, meaning they are checking your imprint! They want the security that you are local and legit. For SME's with limited budgets who cannot yet afford to open offices in their new international market, let alone a centrally located one, there are several both temporary and longer-term solutions to convey credibility.
1.   Get a prestigious business address
Madison Avenue in New York City or Friedrichstraße in Berlin are globally known streets. Returning to the Halo Effect theory, a prestigious business address will make your local clients view you as more successful, trustworthy and an established company. If you're not ready to set up shop in one of these recognizable, often unaffordable locations, you can secure yourself a centrally located business address either by:
Asking your co-working space if you can use their address
Hire a local employee and rent them a desk at a co-working space and using the existing office address. Check with the co-working space to see if this is possible – many allow it for a small fee.
Using the address of your local business partner
If your local business partner is located in a good area, see if it's feasible to list it as your business's address. Discuss with them beforehand how you will handle any incoming mail.
Renting a virtual office address
Many virtual offices offer real street addresses instead of obvious P.O. boxes. While providers can be expensive, there are affordable solutions out there for companies that can't be locally present, or have an address that is far from the central business district. Check that the virtual office provider also offers mail management, and for added flexibility, offers monthly or quarterly contracts. Of course, you run the risk of your client turning up at your virtual office address unexpectedly, so make sure there are real people at the address.
Preferably, pick a location that has a shared office/co-working space as well. This gives you the added benefit of being able to rent a meeting room or desk should you want to meet your client in person.
While you may work at another location, this locally rented address should be clearly visible on your website, letterhead, business cards and any other official business correspondence.
In some cases, being local is not the main priority or can even act against your company during your client's purchasing decision. Here, several international addresses on your website will immediately convey your business as being an established global player. Find a provider that can offer several international business addresses. Having too many providers in different countries can cause you to lose oversight and make this trick more expensive than it should be.
2.   Get a local phone number
If you are not yet present in your foreign market, this can be the biggest converter or killer. Nothing can be more off-putting to a client than wanting to get in contact with you, only to be presented with an international phone number. The expensive phone call, and even an impersonal 1-800 number, can act like a barrier to clients. The solution is simple – don't make your client go out of their way to buy your product or services. Several affordable services exist that can give you a phone number in your desired country which, when called, will be rerouted to your "real" phone number.
3.   Translate your website into the local language
This may seem obvious but often businesses think English is such a widely-spoken language that they decide not to translate their website into the local language.
A client who notices their native language on your website will naturally feel more comfortable, and associate your company with the credibility of a local business or global enterprise.
Make sure that your content is professionally translated. It's worth the investment.You should also either hire someone who speaks the local language, or mention up front that you currently only provide English-speaking service. Depending on the product and service you offer, some clients find it enough to get all relevant information from your website and little pre-sale contact is required. Either way it's best to manage your clients' expectations accordingly.
While it can seem unfair that only a few seconds hold enough power to determine whether your clients will accept or refute your business, there are easy, affordable tactics you can employ to improve your crucial first impression. These tactics can help build that competitive advantage, especially for businesses that provide online services, but they can also work for businesses offering tangible products. At the end of the day it comes down to understanding your clients and accommodating to their needs.
If they expect a suit – wear the best suit you have.
Disclaimer: The opinions expressed in this article are those of the contributing author, and do not necessarily reflect those of the Forum for International Trade Training.