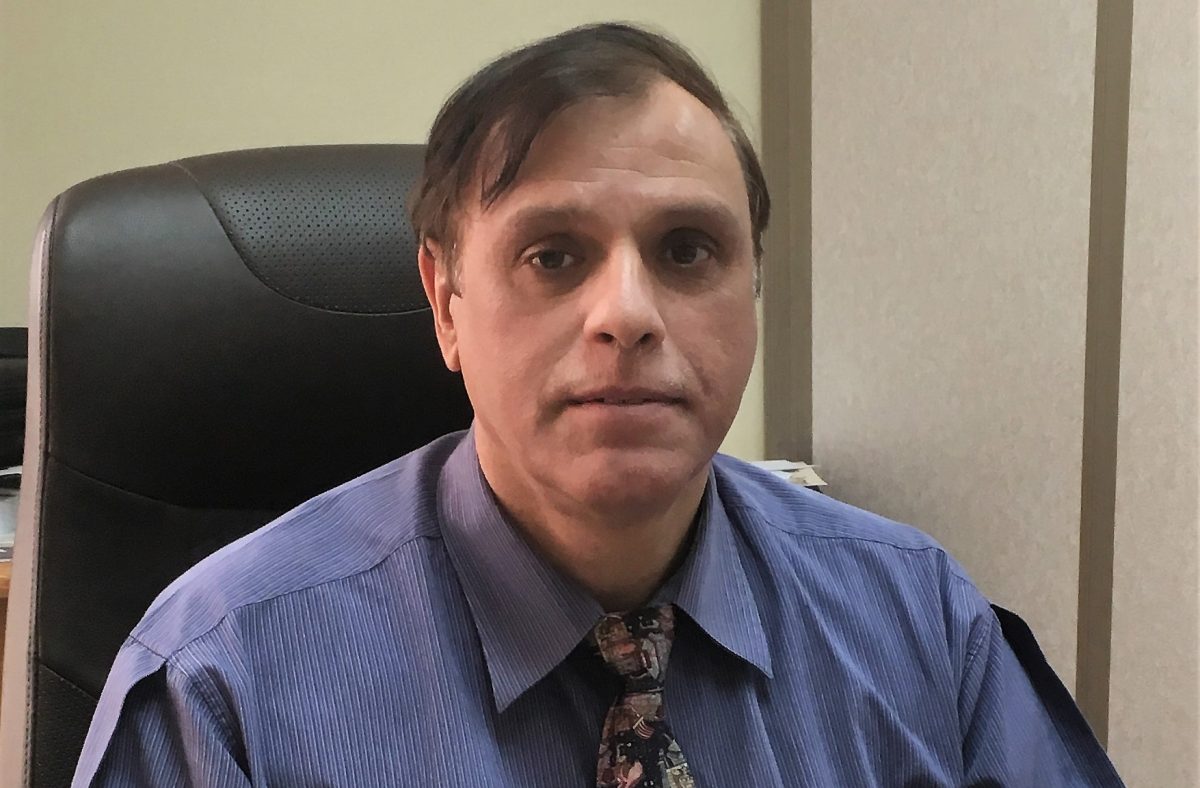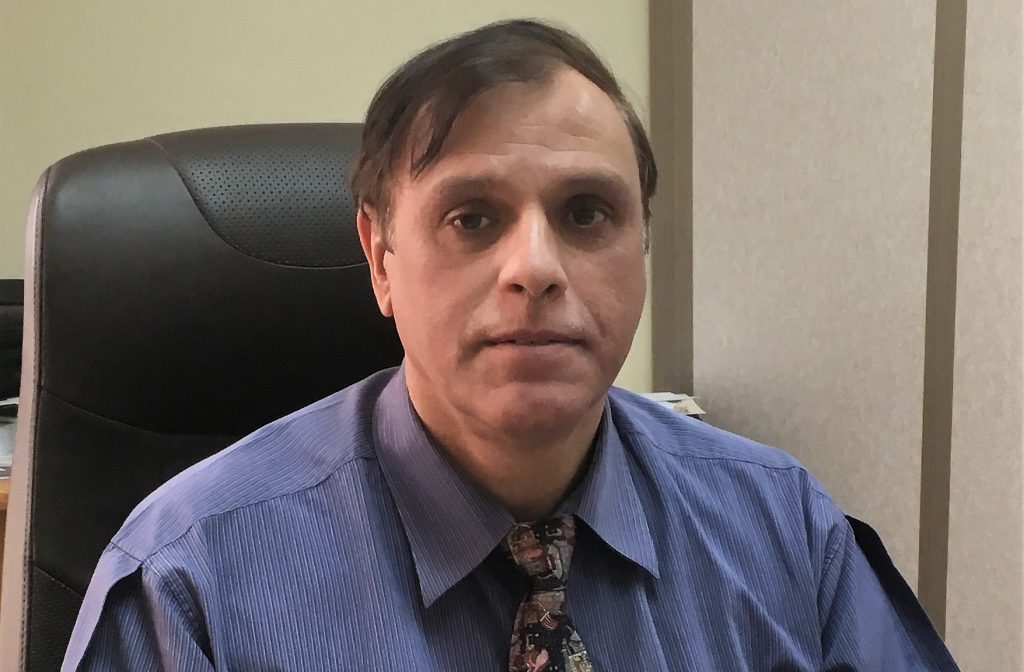 Earned his elite CITP®|FIBP® designation: Jan. 2012
Today, Tahir Khurshid is undeniably an expert in his field, with over thirty years of experience working all over the world and for some of the biggest companies, including Proctor and Gamble, Unilever, Mars and PepsiCo.
Like everyone else though, he had to start as a new employee and work his way up to where he is today.
International trade had always been an interest of his throughout his high school and post-secondary education. After Tahir completed his MBA from Rice University's prestigious Jones Graduate School of Business in Houston, Texas, frequently ranked as one of the best MBA programs in the world, he looked for his first professional position in global business.  Once he started his first job with Proctor and Gamble in Geneva, ensuring a continuous supply of the company's products to Bahrain from around the world, he knew it would become his lifelong career.
His job soon took him to Jeddah, Saudi Arabia, where he encountered a most unusual situation that has made him laugh ever since.
"Perhaps the funniest situation there was when I was handling a small fabric softener brand called Lenor, imported from France. With a small budget and little awareness, volumes and usage were not worth writing home about. Yet one area in the east, Qatif, was using Lenor at a rate of 30 times the average national consumption."
"Arriving there, I discovered just one wholesaler accounting for 95% of the volume. The answer was evident the moment he said, 'Mr. Tahir, your Lenor SHAMPOO is excellent, we all have soft hair and everyone is using it. Even the farmers are using it to clean their animals!' Oops!"
Travelling for PepsiCo: A tale of two countries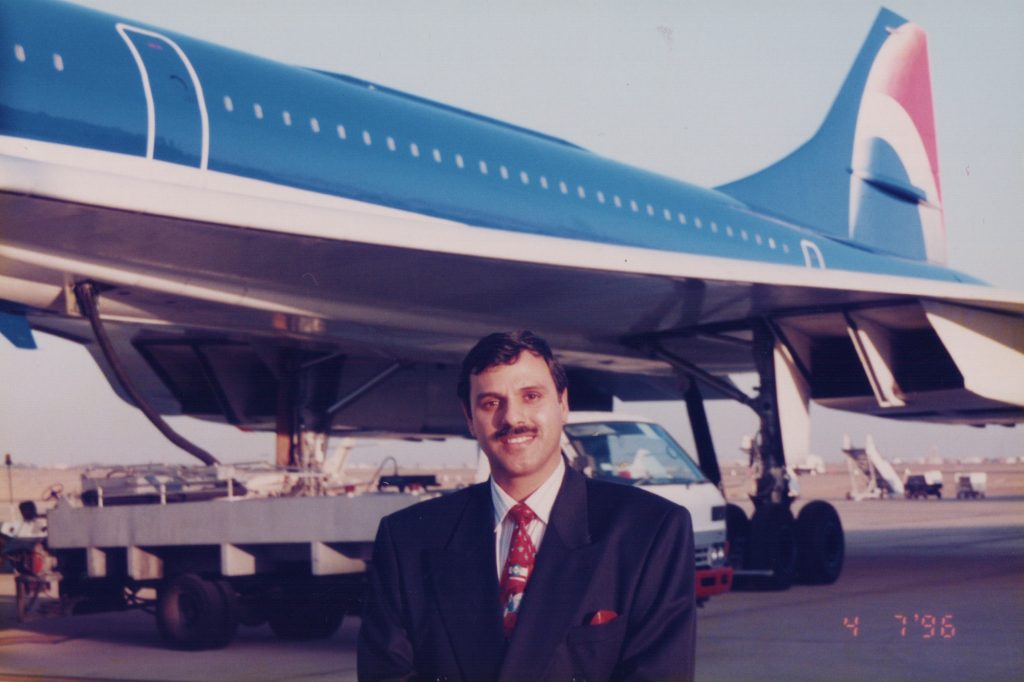 Above: Tahir standing outside of the Pepsi Concorde jet in Saudi Arabia, 1996.
Tahir later moved on to an opportunity with PepsiCo, where he stayed for over seven years in various positions across the Middle East and Africa. For two of those years, he was head of sales and marketing in Sudan, which led to a memorable travel story that instilled fond memories of the place he still looks back on today.
"While travelling from Khartoum to Port Sudan on the famous highway built by Osama bin Laden, our Toyota Land Cruiser suffered two concurrent tire blowouts in the early afternoon. One was fixed with the spare. For the other, we waited for an hour until another Land Cruiser stopped and the man simply unhitched his spare and handed it over. Five minutes later, he headed off, without any sort of payment or collateral."
"Two days later, with our tires fixed and trip done, we headed back. Seeing a similar stalled vehicle on the side of the road, my driver handed over our spare. I just had to ask about this. 'We are all from the same nation and the tire will come back to me, for now I have been a good person and helped a man in need!'"
"This was in a poor country that was under international sanctions. I later learned that there was a shortage of tires in the country due to lack of foreign exchange, and the informal help system was keeping trade moving."
Sudan remains one of my best liked countries and I often sing praises of the people there.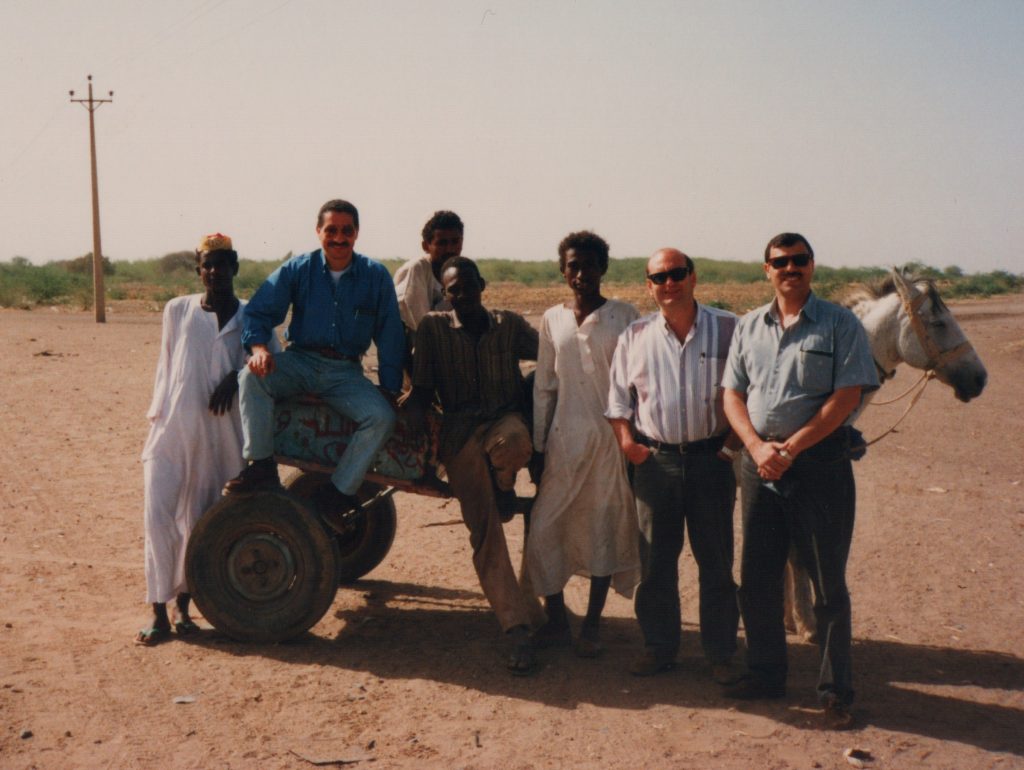 Above: Tahir (right) with some of the locals in Sudan during his visit there in 1997.
By 2006, Tahir had set up his own consulting company, TK Associates,  in Mississauga Ontario. One of his earliest projects was another chance to work with PepsiCo, this time to set up a bottling plant in Erbil, located in the Kurdistan region of Iraq.
"Kurdistan is very near the current ISIS zone in Iraq and Syria. Not only was the region trying to break away from Iraq, there were different laws for every conceivable thing, including imports. Since virtually every bit of the plant was imported, the transportation of heavy equipment across Turkey, Jordan or Syria and into a ready-for-war zone had its challenging moments. We dealt with corrupt politicians, regional and racial divides, religious animosities, disregard for human rights and shortages of essentials like fuel and water. The plant did start in 2008 and remains operational, but I will never go to Iraq again."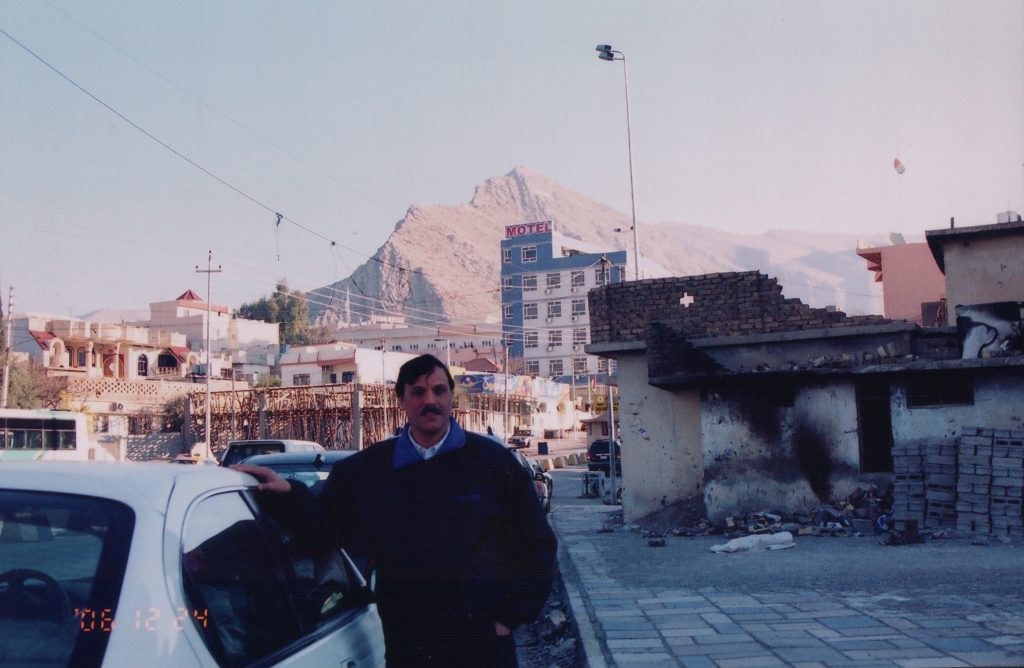 Above: Tahir in Erbil in Iraq's Kurdistan region in 2006.
Avoiding pitfalls by tuning in to cultural differences
In the years between leaving Pepsi in 2000 and starting his own consulting company in 2006, Tahir held a handful of different positions including a Commercial Director role for Bata, a major shoe company in Pakistan. As he managed all exports, retail, sales, marketing and logistics efforts there, he also saw firsthand the perils of what happened when one of his competitors failed to do his due diligence while purchasing a shipment.
"Visiting the main shoe market in Peshawar, Pakistan, with my Managing Director, the major wholesaler gave us an earful about exorbitant prices and lack of concern for traders. He proudly displayed two containers of newly imported shoes from China, which were soft, supple and cost 60% less than our product."
"As I took the brunt of the abuse from the man, who had by then gathered a crowd of perhaps fifty from the other businesses in the market, the MD turned to me and said, "Tahir, is it okay to be wearing pigskin when you go to the mosque?" The entire consignment was made of pig leather, a completely taboo (haram) item in a 95% Muslim country! Since none of the very religious traders had ever dealt with pig leather, they had assumed it to be normal cowhide."
"The bonfire in the bazaar lasted for more than eight hours and perhaps thirty containers of shoes were consigned to the flames, clearing out every market within a 100 kilometer radius. The seller was lucky to escape by hopping across the Afghan border and was never seen in Peshawar again."
"The man had been on a shoe buying trip to China and had been given a too-good-to-be-true deal by his Chinese agent. He had not confirmed the origin or construction, while the agent had not mentioned it. And paperwork for import had the items listed as polyvinyl footwear."
He also spent 18 months as an Executive VP for the Pakistan Telecommunications Company with impressive results.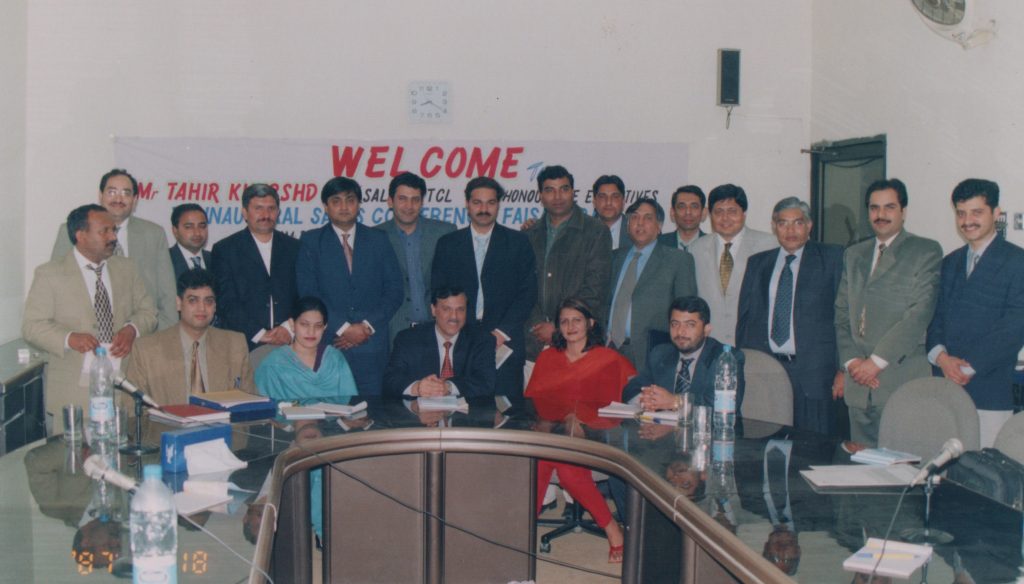 Above: Tahir (front row, center) with other members of his new sales team at Pakistan Telecom.
"My proudest accomplishment overseas was to establish a national franchise and distribution sales system for Pakistan Telecom's Wireless Services in less than one year. Prior to my taking over the responsibility, the parent organization was rife with political influences, unionized staff with no intent to work, difficult economic and social conditions, corruption, nepotism, and so on."
"Within one year, I had established a 400 franchise network, with fewer than 50 political appointees, hired and trained an entirely new sales team, and established import relationships with Korean and European companies in addition to Chinese ones, which lowered prices to customers for telecom equipment.
Within one year we had achieved more than a million new subscribers, something the main GSM companies had not done in about ten!
"The trick was to understand local sensibilities and resist undue pressure. It is possible to build revenues and resist corrupt practices in developing countries if you put your mind to it. The company reaped more than $150 million in added sales during the year."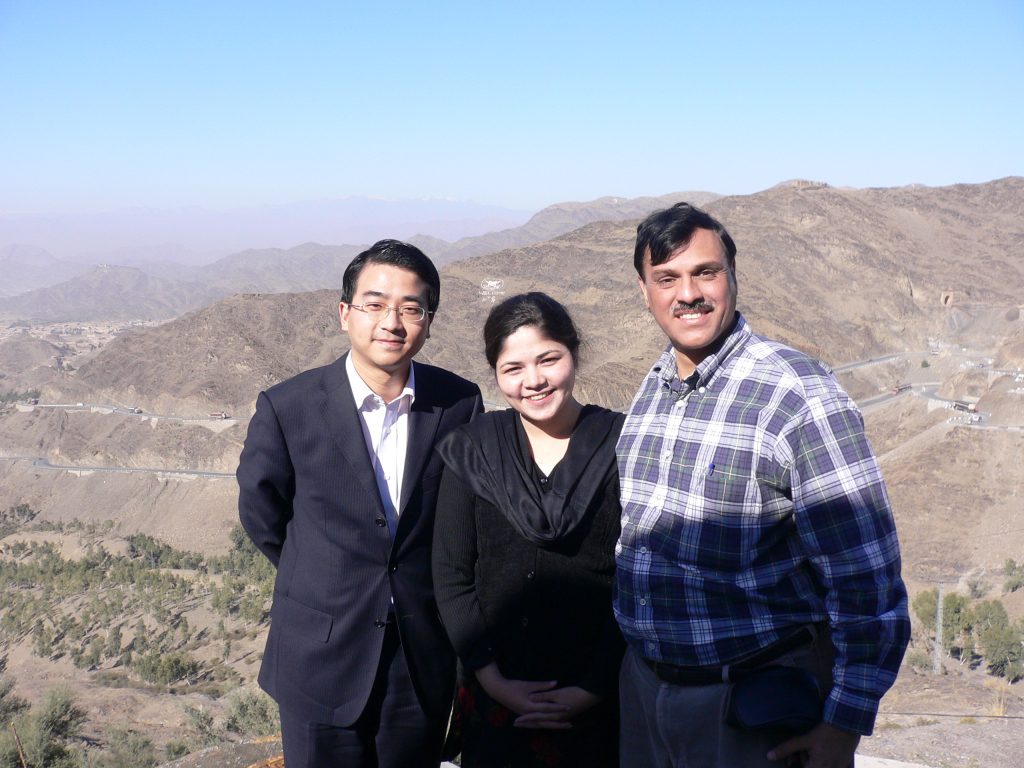 Above: Tahir (right) with two other members of his team at the Khyber Pass in Pakistan.
Adding a professional designation to his expertise and local knowledge
Along with his project for PepsiCo, Tahir has helped many companies as a consultant, completing projects in Canada, the Middle East, Africa, and South Asia. One story in particular proved the importance of knowing as much as possible about local customs, attitudes, and culture, as well as thinking on your feet.
"I was trying to get a shipment released at Port Qasim, near Karachi in Pakistan. The customs officer had handed over an assessment that would make the import unprofitable. This was due to an error in policy application on his part, but the man did not budge. My recourse was to see his supervisor."
"As I waited, the peon (an actual designation in government organizations in many ex-colonies) advised that the person had been a World Cup-winning Pakistan field hockey team member. Being an avid field hockey fan myself, I then recalled that he had actually scored the championship-winning goal."
"My opening statement was to ask for an autograph, and three hours later, my shipment was cleared against which a $100 customs duty was paid. The original assessment was over $25,000! Had I not paid attention to the peon (most people would not) or known the national sport of Pakistan, I would have left the shipment to rot on the docks!"
Tahir is also willing to put in a great deal of research, which led him to discover FITT for the first time. As he was doing research on NAFTA and Canadian trade policy for a client, he found mention of FITT and wanted to learn more.
"As I read through, I figured it was worth looking into. I was encouraged that I did not have to attend physical classes for the designation, and I figured that it would be of value for an international consultant like me."
He officially earned his CITP®|FIBP® designation in 2012, and has found it helpful as an independent consultant, as well as in his current role.
The designation is a definite talking point. A number of people have asked me about it during consulting assessments and even in job interviews.
I am currently on an extended assignment with the Saudi Industrial Development Fund in Riyadh, which helps finance local industrial initiatives. One of the focus areas is to understand high import sectors and to see if import substitution is possible."
"Having my CITP®|FIBP® designation has given me better understanding of the trading environment for this region and insights into numerous product, category and business sectors. I imagine the competencies will continue to be of value as in my consultancy career."
Learn more about the CITP®|FIBP® designation
INTERNATIONAL BUSINESS CERTIFICATION—CITP®|FIBP®
Advance your career and build your professional credibility in the field of global business by earning the Certified International Trade Professional (CITP) designation.
Why Earn the Certified International Trade Professional (CITP) Designation?
The Certified International Trade Professional (CITP) designation is the world's leading professional designation for the field of international business. So whether you're new to global trade or have over a decade of direct experience, you'll find the CITP designation can help advance your career and build your professional credibility.
The CITP designation sets you apart in the competitive international business industry because it's proof you possess the competencies global business experts have identified as being essential for a successful career in international trade. It also recognizes your dedication to ethical business practices and ongoing professional development—both of which are desirable traits for today's global business practitioners.