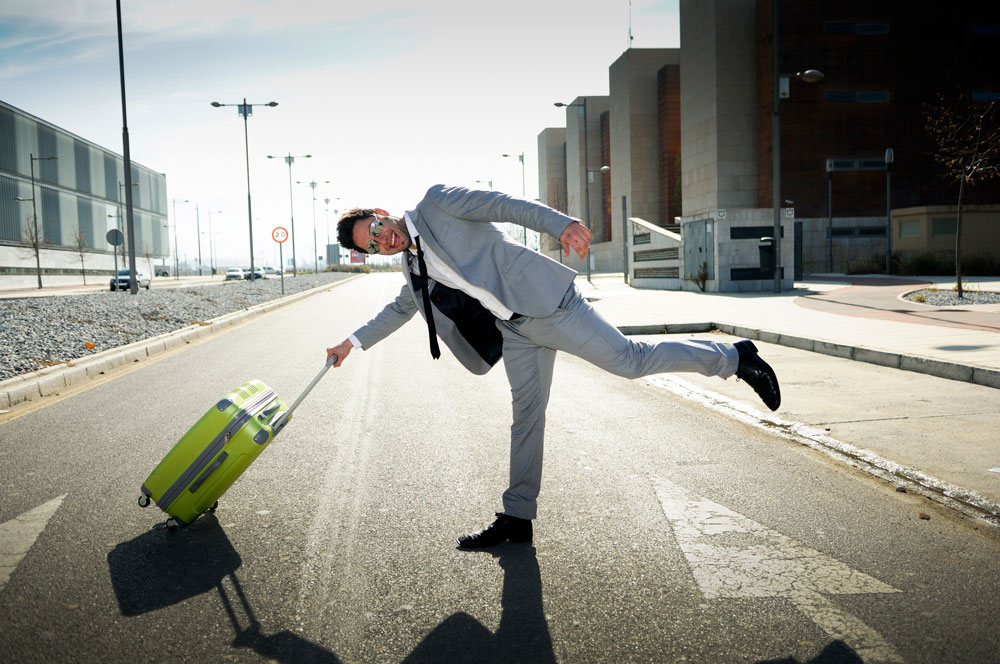 For many international trade professionals, the desire to travel the world is one of the main reasons they've pursued a career in their field.
Even as communication and information technology steadily advance, travelling to other countries and meeting potential clients face to face has remained an important part of international business.
While the thrill eventually wears off for some, many others never lose the excitement of stepping foot somewhere new for the first time. No matter how much research you do, or how many pictures you see, the experience of seeing a major landmark in person or being immersed in a totally different culture is something that is impossible to replicate.
If this sounds familiar, then an international trade career could be an excellent fit for you. Within international trade, however, there are many different options you can choose from, some of which offer more travel opportunities than others.
Here are 5 in-demand international trade occupations to choose from if travel is a major priority in your future career.
1. Be the face of your company as an International Business Development Professional
Professionals working in business development are at the forefront of their company's growth strategy. Their main responsibilities are to develop new clients and customers, while also maintaining or improving their relationships with existing ones.
Since these clients and customers are often located all over the world, business development professionals get to travel to meet them face to face. Early steps are usually done by email, video chats, phone and other technology, but at least one in-person visit is an often crucial step in the relationship process.
Even after initial agreements are made, further travel is needed to regularly meet with clients and customers to make sure things are going smoothly, address any issues and find ways to deepen the relationship.
It's therefore vital for these professionals to have strong intercultural competence and the ability to build relationships across cultures, increasing these skills within their own organization.
Olivier Canolle, CITP|PACI, Business Development Manager for SBB International, says that the travel involved in his job is key to his company's success.
We rely a lot on direct contact—we attend three trade shows and take over 15 business trips every year, which is huge for a company of our size. We feel that this allows the company to understand its customers' needs and show them we care. That's how bonds are formed and trust is built.
For those ready to do so, the opportunity to travel frequently and meet many new people around the world awaits.
2. Oversee A to B as a Supply Chain Manager
When you consider the amount of steps that any product needs to go through to get from raw materials to a packaged product sitting on a shelf, it's truly staggering.
A supply chain manager needs to keep track of each step in the process, making sure it's proceeding efficiently, quickly and in a cost-effective manner.
From inspecting manufacturing facilities to meeting new vendors, checking on port and warehousing facilities and gathering the goods needed to create a product, there are a vast number of places a supply chain manager may need to travel.
They must be able to navigate the laws of each country through which the supply chain links, and understand the cultures of employees in each part of the supply chain. They also need to be able to constantly analyze and find ways of improving overall efficiency and mitigating risk.
If you like to combine your travel with problem solving, and are looking for a field that will be in high demand in the future, working in the supply chain industry could be your ideal vocation.
3. Close big deals face to face as a Sales Manager
Ultimately, the sales manager's responsibility is to sell products and services by developing new client relationships and maintaining existing ones. This requires not only knowing their products and services inside and out, but also the needs, wants and cultural considerations of their clients and customers.
Whether selling to businesses or directly to customers, sales managers need to know where their customers are from, how they think, and what will make them want to complete a sale.
To best gain  this information, travel is often necessary to complete negotiations and sign the final contract. Even as technology progresses to make e-commerce easier and video chats more effective than ever, face to face interactions  remain integral parts of the sales cycle.
Not every company will require travel for sales, so make sure to check any job posting or inquire to see whether it is an expected part of the position. For the many sales managers who fly around the world, there are few things more exciting or important than completing a sale with a new international client.
4. Evaluate the source of goods as a Procurement Specialist
Want to purchase materials or business services for companies? You'll need to find reliable suppliers, negotiate costs, and secure suppliers with contracts. Once the relationship is official, you must determine delivery details, ensure documentation is completed properly and maintain supplier relationships.
Procurement specialists typically travel once a potential supplier is selected. Face to face meetings are a key part of the negotiations, and in-person inspections of the goods to ensure their quality are also important.
Kevin Duncan, CITP|FIBP, Senior Buyer, Technical Procurement for NOVA Chemicals, also emphasizes this point.
Travel is important in my work, in order to meet with vendors face to face and build relationships and trust. These are the building blocks of a good vendor/buyer relationship, but also an opportunity to see your vendor on their turf. It is important to understand their challenges and issues in order for them to supply you with the goods and services you need.
"One needs to understand the entire supply chain from a cost, risk and security basis. So travelling to meet up with vendors is extremely important in any import/export relationship."
Even after agreements are made, periodic returns to renew or change contracts, make further inspections, and continue strong personal relationships should be made.
"I always say it's important to sit with them and look them in the eye when negotiating, but also to get to know them as a person. The human element is the best tool we have to build trust and long lasting relationships with vendors," Kevin adds.
Regular travel and interaction with professionals in other cultures is therefore a common job feature for procurement specialists, making it an enticing option for those with itchy feet.
5. Be an international leader as a Global Senior Manager
While they may not be available to entry-level professionals, management positions in companies engaged in global business often include frequent travel.
The purposes also vary, as they can include many important tasks such as meeting with management of a potential major client, on-site oversight of a new facility, training a new local team in an international market, and attending relevant events and conferences. If the variety appeals to you and you're willing to put in the preparation to handle the myriad of travel responsibilities, you could be an ideal fit.
In addition, senior positions often lead to opportunities to network with new international clientele in similar roles, which could lead to new business or partnerships. Depending on how it progresses, this may be handled personally or delegated to someone who specializes in a sales or business development role.
Public speaking is also an increasingly important part of the job for many in management, so travel can be involved in order to represent the company or organization in that capacity.
For those willing to put in the work to move up the corporate ladder, a senior management position could be the key to the jet-setting career you've always wanted.
Want to learn more about which competencies you need to have to succeed in each of these positions, and others? Head to FITT's International Business Resources page to read occupational profiles for 20 international trade occupations, including the ones listed here!
The opinions and interpretations in this publication are those of the author and do not necessarily reflect those of the Government of Canada. This project is funded in part by the Government of Canada's Sector Initiatives Program (SIP).