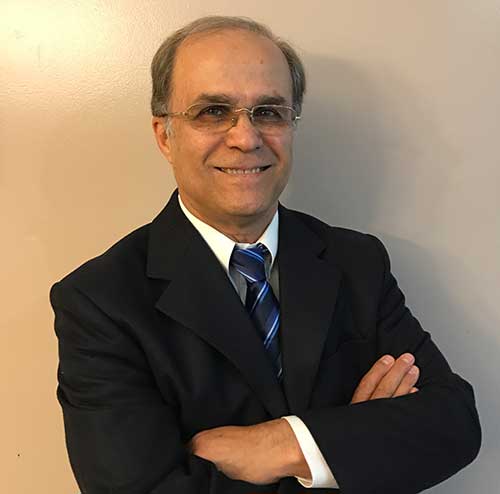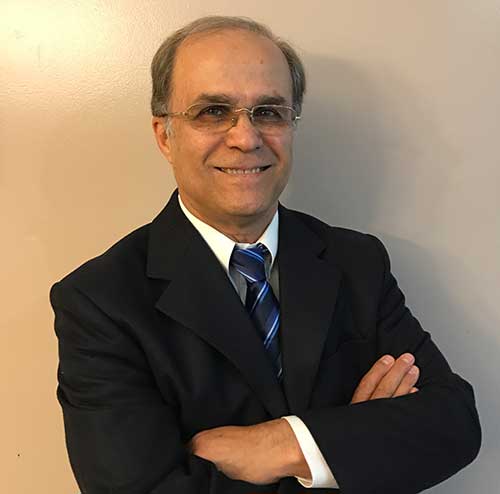 Earned his elite CITP®|FIBP® designation: Nov. 2016
Hossein Mashatan, MBA, CITP|FIBP, has been living and breathing international trade, in one form or another, for over 35 years.
After earning his BBA degree from Tehran Business College in 1973, he went on to receive a full scholarship from the Central Bank of Iran to attend the MBA program at the American University in Washington D.C. He earned his MBA degree in 1975.
Reflecting on his time in academia, Hossein states, "My academic background and passion for researching and analyzing international trade's contribution to the economic development of nations provided me with a solid platform to pursue my professional career in this field."
His first professional foray into international trade came a few years later when he had the opportunity to join a center for bulk importation of steel products in Iran as an executive. He was charged with negotiating with major steel mills around the world, unique experience he would carry with him to future endeavors.
Over the next twenty years Hossein oversaw international trade activities in several sectors, including energy, automotive, and textiles. He also managed multinational companies involved in manufacturing auto parts, heavy machinery, and water treatment. One of the most enjoyable aspects of his work during these two decades involved immersing himself in his target markets.
"The last enriching flavour to the above period was my management of solo trade exhibitions in the selected target markets, such as Canada, Mexico, Italy, and Dubai, in the mid-nineties."
Tackling complex projects in a complex environment
Also in this period, up until the early 2000s, Hossein faced challenging international business conditions. These included volatile economies, unforeseen changes in regulations and political instability in his region of the Middle East.
I was personally was under constant pressure for timely delivery of items needed by the production lines, setting up the supply chain systems for automotive manufacturers with diversified bill of materials, inquiries with already set quality standards, and expected quantities and arrival times, during a time of economic upheaval.
But Hossein persevered and met with success in his business, in no small part due to his skills with international diplomacy and intercultural competencies.
"Interactions with international suppliers with different cultural and business values have always been critical, and an inspiring part of my professional life. Procurement plans and scheduled purchasing orders necessitated visiting suppliers' facilities in various origins, and receiving them reciprocally to discuss pending issues. This sometimes involved lengthy technical negotiations, working towards mutually satisfactory terms of contracts."
"In particular, I have been fortunate to have visits and negotiate trade deals with major auto manufacturers such as Mercedes Benz, Volkswagen, and Toyota. I've also visited steel mills in Japan, South Korea, and Europe, and textile raw material producers in Europe, China, and India. For all these trade deals, I had face-to-face negotiations with their top executives, through which I honed my skills in providing amicable solutions for complexities arising in international trade practices."
Building a procurement network stretching across the globe
Hossein put his learned skills and considerable experience to work starting his own firm in 2002, Mashimex Inc, offering industrial procurement and engineering solutions.
He says that every single procurement and export business had its own unique attributes in terms of financial engineering, payment methodologies, logistics, multi-modal transportation, risks, after sales services, inspections, guaranties, and laws and regulation considerations on both sides. To facilitate the above functions, Hossein founded and managed several trading arms in major business hubs around the world.
"In particular, our companies in Dusseldorf-Germany, Dubai-UAE, and Toronto-Canada have facilitated market entry strategies and provided direct access to the local vendors, chambers of commerce, banks, tenderers, trade associations, specialized fairs and exhibitions, research facilities, and information centers."
For the past 15 years, Hossein has lived and managed international trade activities in Canada, which he has found to be a positive opportunity and he has been able to find great success working from this new home base.
"I have been able to effectively identify Canada's competitive advantages to introduce to my associates, contacts and affiliates as well as end-users in the Middle Eastern market."
Leadership is built on a foundation of proven knowledge
Throughout Hossein's professional career, teaching and executive training have been his passion and consistent side-activity.
I believe that in the ever-changing international trade environment bursting with new innovations such as e-commerce, practitioners and professionals need to attend professional development training courses and seminars.
Not long after setting up in Canada, Hossein discovered the Forum for International Trade Training and wanted to get involved.
"On a daily basis, I go through the inquiries I receive and manage proper sourcing.  My job necessitates that I follow the news and events in international trade topics and try to bridge the gap between the players in Canada and other markets I deal with. This includes checking WTO, EDC, and of course FITT's (FITTforTrade.com and TradeReady.ca) websites every day."
"After approaching Seneca College in pursuing my passion for teaching, I learned about the elite CITP®|FIBP® designation. Considering my level of experience, I applied via the executive path with confidence, and was honoured that my application was accepted by the committee. This designation means a lot to me and opened an exceptional window to the world of international trade professionalism."
Hossein recognized the value in the FITTskills training and certification, and has been a strong advocate for the program ever since.
"As a practitioner and instructor in international trade, I found FITT to be a unique organization with a perfect assortment of courses needed by individuals pursuing international trade related services."
I would strongly recommend all recruiters and employers to either require FITTskills courses as a prerequisite, or to invest in their staff by sending their employees to take FITTskills courses as professional development.
"I have always advocated for FITT among my friends and colleagues here. At the moment two of my family members are taking the courses based on my recommendation, and have found them extremely helpful."
Seeing a wealth of opportunities for Canadian exporters in largely untapped markets keeps Hossein motivated and confident in the work he does with businesses of all sizes.
"I believe for Canadian exporters there are still markets, such as in the Middle East, that have the potential to be explored further with efficient market entry strategies. I can assist institutions such and individual exporting companies as a consultant to enhance these trade activities."
The depth of Hossein's experience in international trade from more than three decades of extensive engagement as a top executive in large manufacturing and trading companies will no doubt continue to benefit international businesses in Canada and beyond.
Want to connect with Hossein?

LinkedIn: Hossein Mashatan
Learn more about the CITP®|FIBP® designation
International Business Certification—CITP®|FIBP®
Advance your career and build your professional credibility in the field of global business by earning the Certified International Trade Professional (CITP) designation.
Why Earn the Certified International Trade Professional (CITP) Designation?
The Certified International Trade Professional (CITP) designation is the world's leading professional designation for the field of international business. So whether you're new to global trade or have over a decade of direct experience, you'll find the CITP designation can help advance your career and build your professional credibility.
The CITP designation sets you apart in the competitive international business industry because it's proof you possess the competencies global business experts have identified as being essential for a successful career in international trade. It also recognizes your dedication to ethical business practices and ongoing professional development—both of which are desirable traits for today's global business practitioners.