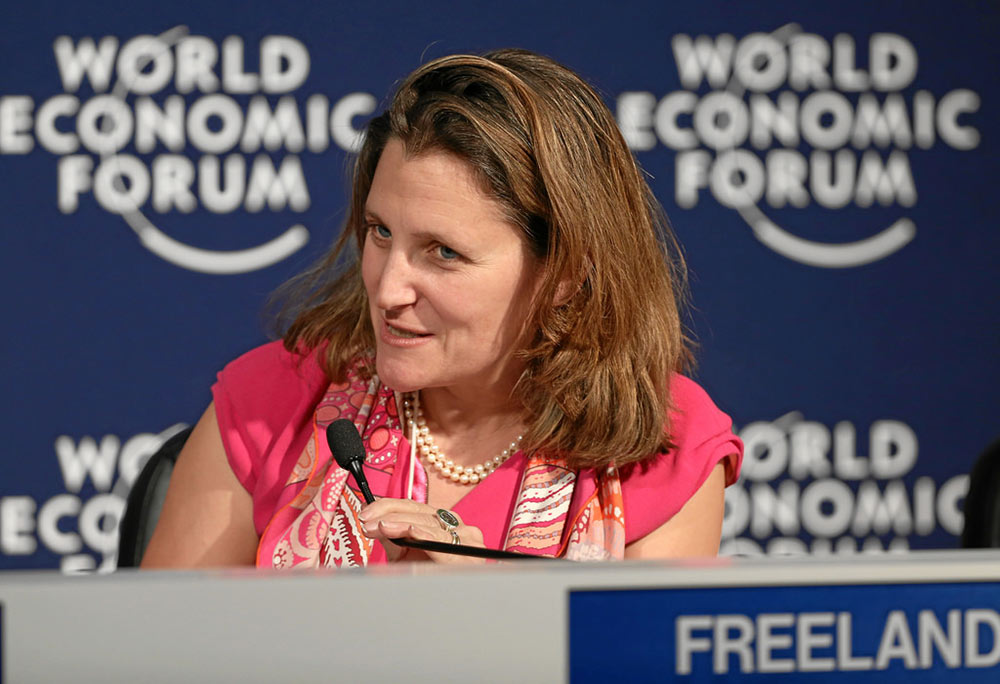 CETA, or the Comprehensive Economic and Trade Agreement, is a free trade deal between Canada and the European Union. Negotiations began in 2009 and were concluded in August 2014.
The agreement has come back into headline news since the World Economic Forum in Davos in January, and the release of major updates to the agreement's controversial ISDS section in February, 2016.
The deal is now in the ratification process and must be approved by the Council of the European Union and the European Parliament before going into effect. There is some debate over whether each of the EU's 28 member states must also approve CETA to enact the agreement.
If the agreement comes into effect, as early as 2016, it will eliminate 98% of the tariffs between the EU and Canada.
1. CETA is a "Gold Standard Deal"
The Canadian government is touting CETA as a top-notch agreement that will have profound positive effects on the Canadian economy and trade industry, calling it the country's biggest trade initiative to date.
Prime Minister Justin Trudeau reiterated this sentiment to the CBC during his appearance at the World Economic Forum in Davos, Switzerland on January 22, 2016.
This is an important opportunity both for Canada and Europe and I'm looking forward to getting it signed.
Canadian Minister of International Trade Chrystia Freeland also recently promoted the agreement, stating "This is really a gold-plated trade deal," and adding that CETA's ratification will give Canada access to a market of 500 million people.
Virtually eliminating trade barriers between Canada and the EU will make Canadian products and services more competitive in the remunerative EU market, benefitting the nation's businesses and their workers.
A joint study conducted by Canada and the EU prior to launching negotiations found that CETA could boost bilateral trade by 20% and increase Canada's GDP by $12 billion per year.
2. Copyright provisions match Canadian laws
Copyright extension and ISP liability are controversial issues in Canada, and there has been extensive criticism of the way that other agreements, most notably the TPP, have established stricter standards than established Canadian law.
Though there were concerns both in the EU and Canada that CETA would also enact stricter policies, including criminal liability measures similar to the much protested ACTA agreement, the negotiations ultimately yielded provisions that more closely match Canada's existing laws and the WIPO treaties.
In the end, CETA is reflective of Canadian standards in the protection of technology, rights management information, and internet service providers
3. ISDS modified to reflect governments' right to regulate
Like most modern international trade agreements, CETA includes provisions for Investor State Dispute Settlement (ISDS).
These are also often controversial sections as they allow corporations to sue states, with no reciprocity on the part of the states.
The CETA text states,
Section 4 of the agreement (pages 158 – 161) provides Investment Protection to foreign investors, and guarantees a 'fair and equitable treatment and full protection and security.'
Under CETA's ISDS, foreign corporations have the right to sue nation states if they have suffered financial losses due to a violation of the Non Discriminatory Treatment provision, or a violation of guaranteed investment protection.
On February 29, 2016, Cecilia Malmstrom, European Commissioner for Trade, and Chrystia Freeland released a joint statement announcing that an agreement was reached to replace the "ad hoc" arbitral tribunals outlined in CETA, with a permanent tribunal whose members will be appointed in advance and will bound by strict ethics regulations.
Stronger language was added to emphasize governments' right to regulate. An appeals system will also be put into place to ensure the proper rules of law were followed in the case of awards.
4. CETA is a big deal for agriculture
The EU is the world's biggest importer of agricultural products, importing around $114 billion of agri-food products in 2014.
With the enactment of CETA, approximately 94% of EU agricultural tariffs will be eliminated for Canadian exporters, giving them an advantage over competitors in countries that do not have a free trade agreement with the EU. After seven years, the rate of duty-free agricultural imports will rise to 95%. Canadian agricultural exports will have preferential access to the EU market..
This will undoubtedly increase trade in agricultural items, creating new Canadian jobs and higher wages for producers, exporters, and companies in the industry.
For example, EU tariffs will be eliminated on:
Wheat
Fresh, frozen and processed fruits and vegetables
Canola oil
Oats, barley and rye
Maple syrup
Processed pulses
Beef, pork and bison
5. The deal is a boon for investors
The agreement will be good news for those interested in FDI,as it will make it easier for Canadians to invest in the EU and vice-versa.
The agreement will open the gates to EU government procurement projects for Canadian suppliers, which, at $3.3 trillion annually, is the largest procurement market in the world.
This market presents unprecedented opportunities for Canadian exporters in products and services.
Increased investment creates jobs, supports innovation in technology development, and gives Canada a vital part in global value chains.
CETA is expected to complete the ratification process and become enacted by 2017.
Will you be taking advantage of new export opportunities made available when CETA is enacted? Do you think the FTA is a "gold standard" deal for Canada?