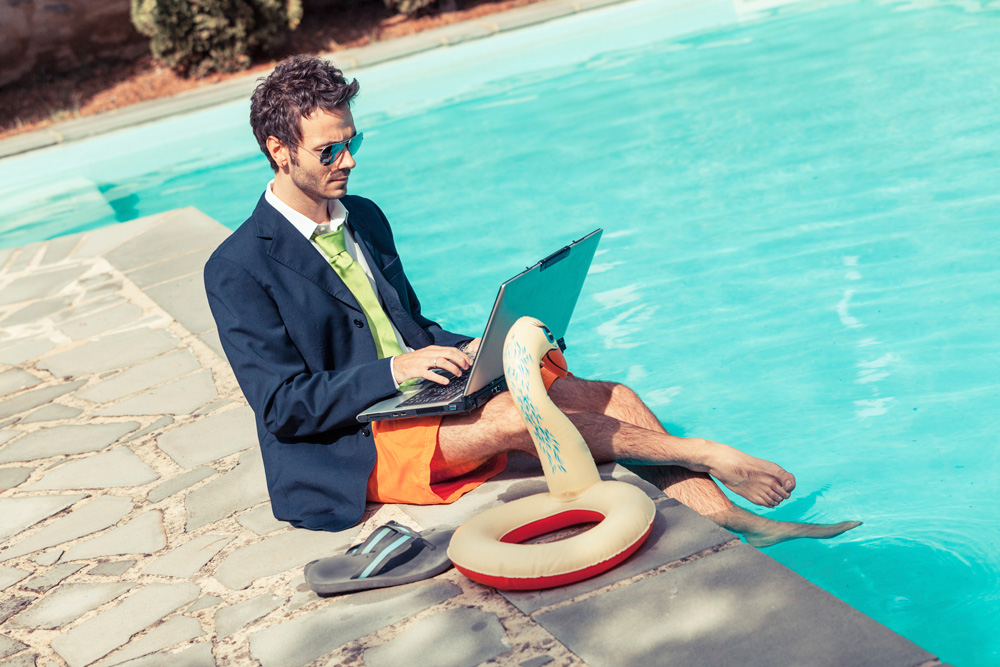 Whether you are taking an in-market visit to Hong Kong, or attending a business conference in London, staying connected is a must for business travelers.
The ability to communicate effectively can have a huge impact on the success of your trip. Here are some great options you can use to help you stay connected with your network while you travel the world!
1. Cellphone Roaming
If you've done a lot of business traveling, odds are you have paid for roaming on your phone before.
Paying your phone company for the ability to access another network and continue your regular phone, text and data plan internationally can be very useful, but also expensive, depending on where you live and which phone carrier you use.
Before traveling, make sure you research to discover what your roaming charges would be and think about how you want and need to stay in communication, to decide whether paying for roaming charges is the best option for your situation.
2. Wi-Fi Finder
Wi-Fi Finder is an incredibly handy app that uses GPS to help you locate Wi-Fi, both free and priced, in your area. Think of how beneficial this could be if you are in a foreign city and you desperately need to find a place to use your laptop.
In addition to finding the locations, Wi-Fi Finder also lets you know what the building is. For example, it will tell you if the Wi-Fi spot is a coffee shop, a hotel, an Internet café, etc. This app can really help you out of a jam.
3. Delta Wi-Fi Passes
In an effort to keep up with the times, Delta has enabled its customers to purchase Wi-Fi passes that can be used on flights.
Once the plane reaches 10,000 feet in altitude, passengers who purchase these Wi-Fi passes can surf the web, check emails, and otherwise stay connected.
This is a great development for air travel because it means that passengers can be much more productive during the hours on a flight.
A Wi-Fi mobile pass only costs $1.95, and is therefore extremely affordable. There are also $16 24-hour passes applicable to all devices, and monthly and yearly passes can also be purchased for frequent flyers
4. WhatsApp
The WhatsApp app allows people using different phones and service providers to communicate with each other via SMS texting for free, using the phone's Internet connection or data plan.
[quote type=center]It's essentially a way to bypass all of the hassle of messaging between Android phones, iPhones, Blackberries, etc.[/sws_blockquote_endquote]
This eliminates the need for fees, and allows for enhanced communication. This can be a life saver if you have an iPhone and your boss has a Blackberry!
WhatsApp is also expanding – since being purchased in February 2014 by Facebook, it has begun to roll out free voice calling to other WhatsApp users for some mobile devices, and WhatsApp Web, which is compatible with select Internet browsers.
5. Skype
While many people are aware of Skype, few people are aware of its full value.
Skype is completely free internationally to any other Skype user anywhere in the world, via either a computer or the Skype mobile app. Voice calls, video chats and instant messaging to other Skype users are all completely free as well, requiring only a Skype account and an Internet connection or mobile data.
Finally, Skype allows you to call landlines and cell phone numbers if need be, for a small fee. Skype is incredibly useful for staying connected wherever your business may take you.
6. Whistle Phone App
Whistle Phone is a handy app that allows you to make calls over Wi-Fi to any U.S. number, for free, from anywhere in the world.
The catch is that you only get twenty minutes of free calling. After that there is a small fee. However, you can still call other Whistle Phone users for free.
Primarily, it's just another great way to have a phone connection if you are in a jam. For example, say you are doing business in Uruguay and your phone dies while you are in transit. If you have your iPad, you can still make calls, and even have the first twenty minutes free. That can be quite helpful!
7. Evernote
The Evernote app comes with multiple functions that can be of help to the business traveler. In terms of staying connected, it enables you to turn business cards into complete contact profiles by just taking a picture of the card.
[quote type=center]You can even sync your LinkedIn account with Evernote and the app will cross-reference what it finds on the business card with that person's info on LinkedIn.[/sws_blockquote_endquote]
The end result is that you can build a digital Rolodex for your contacts that is incredibly convenient and easy to use.
Evernote also helps you organize notes that you may take while you are on the go and then gives you the option to share them with other users, making it a great app to have while traveling for business.
Today the tools are there to keep you more connected than ever, eliminating the stress and interruptions of business travel. With internet connections at our fingertips, even when cruising at 20,000 feet, being on the go doesn't have to mean a loss in productivity.
What technology do you use to stay connected on the go?