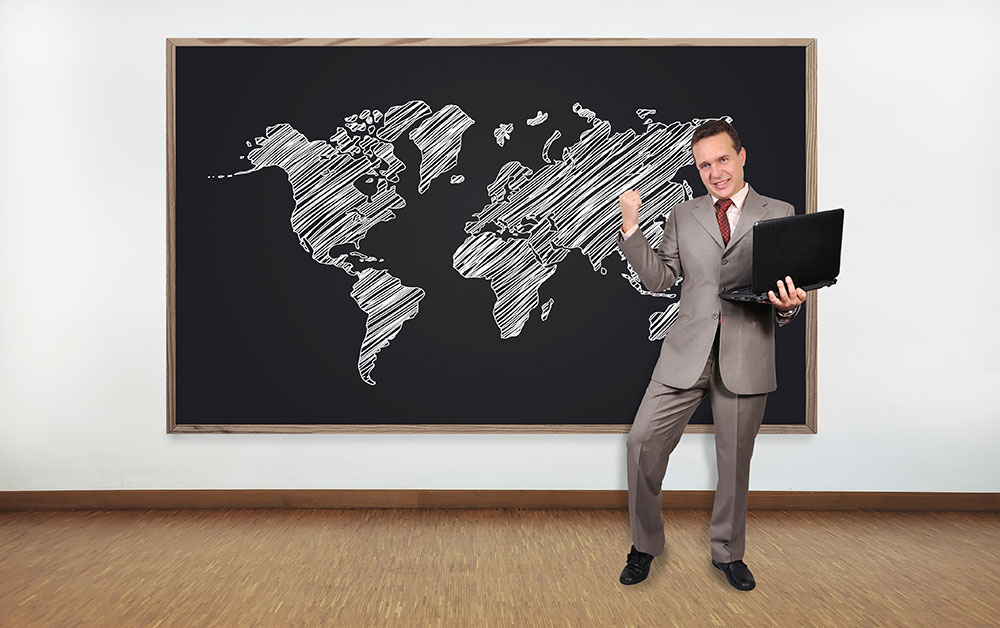 In today's fast-changing world, prompt market entry can provide companies with a strong competitive edge.
More often than not though, small and medium-sized enterprises don't have extra funding to spend on costly foreign market research, which significantly limits their expansion opportunities and makes growth more risky.
However, delayed decision-making can force businesses out of the market entirely, and there are effective cost-efficient ways to do the market research you'll need to make good business growth decisions.
1. Do your research before you start your market research
Before you even start gathering information, it's necessary to understand how the market works, where products come from, and how customers are buying them.
In many countries such as Canada, businesses that consider establishing their presence in certain areas can benefit from various government incentives, such as free target market research.
Together with Marilia Brasil, my peer from Fanshawe College's FITT-accredited International Business Management program, I was offered the opportunity to assist the London Economic Development Corporation (LEDC) with such research back in 2014. We were invited to conduct a market feasibility study for a European manufacturer of medical disposables seeking expansion opportunities abroad.
The European medical device market is highly saturated; the competition is fierce and companies have to look for new opportunities globally. For this reason, LEDC's client was assessing their chances to reach North America.
For the European client, quality of information and thoroughness of research were supposed to determine the viability of their investments into the new venture. The reliability of data and precision in estimates were crucial for the company's economic well-being and global reputation.
As a newcomer to Canada who has been lucky enough not to need any medical help in the past, I was not familiar with the specifics of the Canadian health care system, not to mention the system in the U.S. For this reason, I had to do the research for my personal understanding before I could start discussing the project with stakeholders.
2. Know the product, know the company and know the industry
First, it was important to understand the current state of the industry and the main factors that could influence the business. Second, advisors who're educated on a subject matter convey confidence to the client and are able to deliver sound consultation advice. Finally, the first stage of research teaches you how to ask the right questions in order to discover vital information and focus on the most relevant business problems.
Ask your client for as many details about their business as you can.
[Tweet "No one understands your client's industry better than your client does."]
This will help you identify solutions to your client's pain-points.
At the initial meeting with LEDC, my partner and I tried to learn as much as possible about the company and objectives of both parties. The main goal of the company was to validate the potential of the North American market, and to identify which of the two countries—Canada or the U.S.—is more suitable for their new venture in terms of risks and benefits.
Predictably, there were many questions at the early stage, and the European enterprise was very responsive to all inquiries. But because the client was still in Europe, all of our communication was virtual. Luckily, once you adjust to the time difference, there are now technologies which allow you to exchange information almost instantly.
Once we had everything clarified, it was time to plan the project.
3. Just as you segment a market, segment your market research into manageable pieces
Marilia and I developed a detailed project scope to cover all aspects important to the client's business and to inform both LEDC and the company about anticipated milestones of the research.
We broke down the project into several general sections grouped by country, product category and specific area of study. In that way, it was easy to divide responsibilities, organize the data, and present it in a logical way that would be convenient for the client to read.
After receiving the client's approval, we started gathering data.
4. Most of the time, you need several sources of information to confirm the reliability of your data
Due to time and money constraints, we collected information from publicly available secondary sources. We were very sensitive about the reliability and relevance of the data, and we tried to verify everything we collected through several sources.
In today's information economy, most industry data can be easily accessed by the general public via the Internet, printed media, periodic publications, yearbooks, etc. Because the main goal of European manufacturer at that point was to test the viability of new market entry, it was acceptable to rely on secondary sources.
Nevertheless, existing data is often outdated, generic or not able to answer all questions that interest organizations. When companies need to make complex business decisions, develop a detailed action plan or launch innovative products in new markets, the cost and time needed to conduct quality primary research is justified, and moreover, required for the success of a venture.
5. Choose visuals over text to present your foreign market research
It's much easier for the majority of readers to understand charts, diagrams, infographics and tables rather than countless paragraphs.
Therefore, our final report was well-structured and supported by various visuals to represent the data. It contained relevant information about political, economic, social and technological environments, as well as market size, customer segments, distribution channels and the competition in both Canada and the U.S.
The client was particularly impressed with recent market trend lines and promising projections presented in coloured bar charts. Without visual demonstration, the significance of this information would have been lost among words.
6. There is no single approach to international market research that fits all
Research for each industry is different; each company within the same industry is different; and each project for the same company is different.
Based on our research, we concluded that the Canadian market seemed to be a more suitable option for the company's medical device products.
While the Canadian market is about ten times smaller, the business environment in the U.S. is characterized with extremely high levels of competition coming from large multinational corporations that have a broad range of products and established control over existing distribution channels. Additionally, imperfect health care, complicated reimbursement systems and slower market-growth in the U.S. create significant barriers for new market participants to enter.
Canada, on the other hand, has one of the most developed heath care systems among peer countries. Competition here isn't as intense, and there are many distributors open to cooperation with new manufacturers. Sadly, the number of ill people in Canada is growing very quickly, resulting in a growing demand for medical products.
Furthermore, geographic and cultural proximity permits businesses to operate in the U.S. market from Canadian business locations.
7. Follow up your market research with actionable plans
After the client was given time to review our research, we connected for a video conference call and delivered a short summary of our findings with some practical recommendations and a list of potential business contacts.
Our presentation was well received and was followed by an active discussion. Subsequently, a representative from the European firm expressed their intention to discuss possible cooperation with LEDC.
The outcomes of our joint work were beneficial to everyone:
The European client received access to inside information necessary for making important business decisions;
LEDC was able to show and grow London's economic potential, and to connect qualified graduates with a foreign business;
My colleague and I received a unique opportunity to get our feet wet and to add some Canadian work to our set of achievements.
Finally, it's important to remember that market research is not a one-time event—it's an ongoing process. Companies that adopt such mindset are able to anticipate future industry trends and satisfy their customers' needs before they can even realize they have those needs.
Continuing market research also helps to identify potential business problems and new opportunities, set achievable goals, and generally make well-informed decisions that align with market demand and provide competitive advantage.
As a result, these organizations become the most innovative and successful in their field.
Businesses should decide whether to have an internal department dedicated to market monitoring, to outsource such services to reputable consulting firms, or to have a combination of both. This decision is usually affected by an industry type, company size, existing needs, and resources available.
How do you approach market research in your organization?