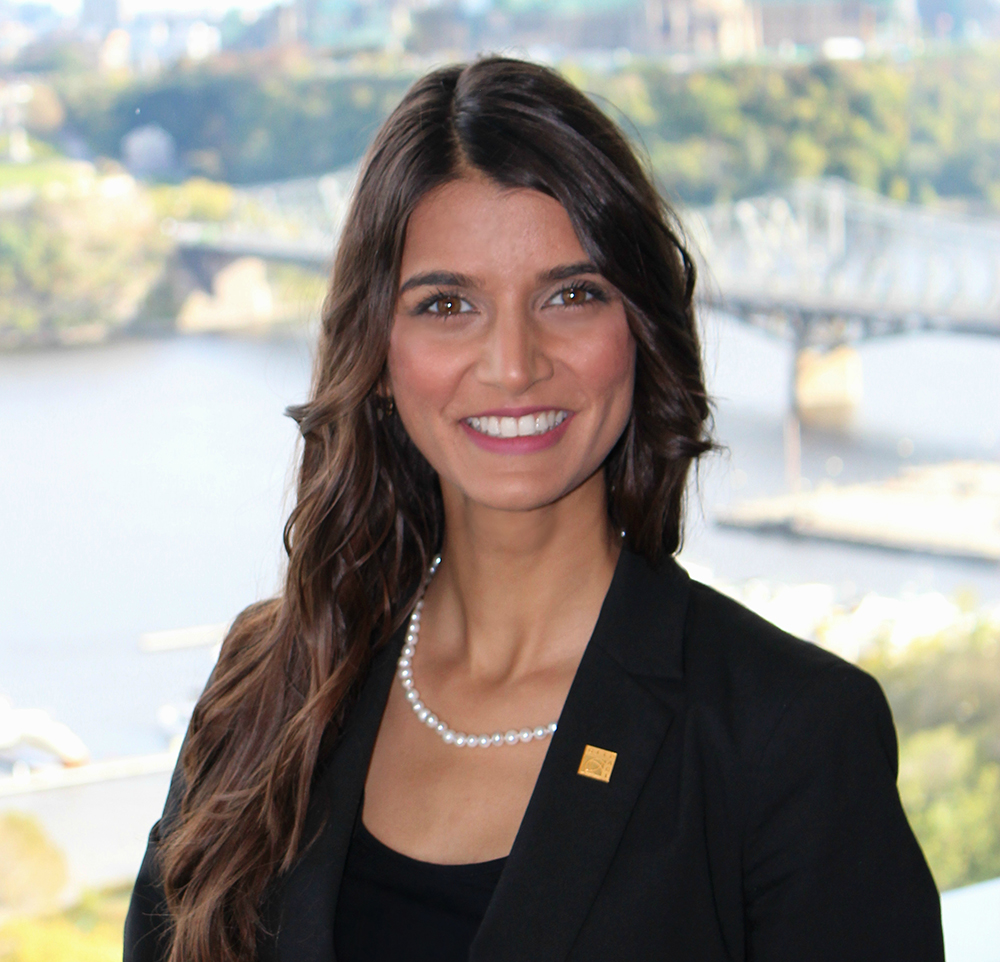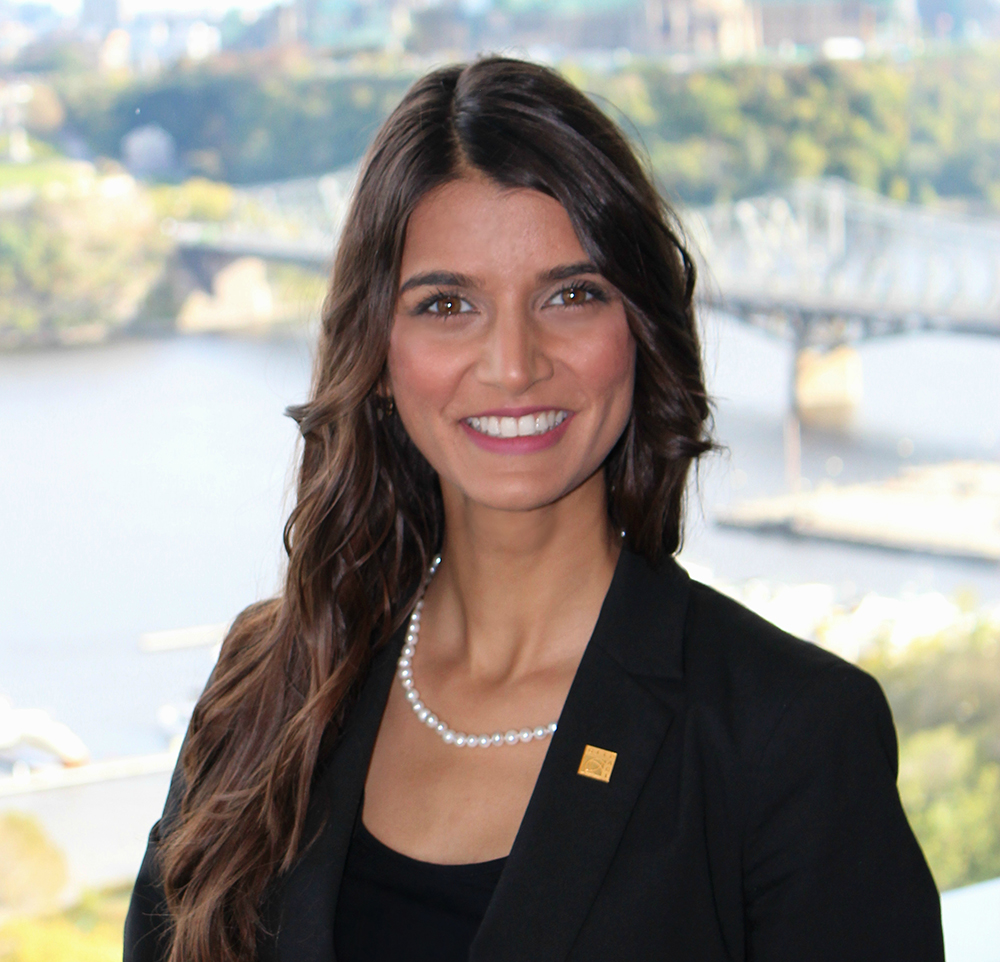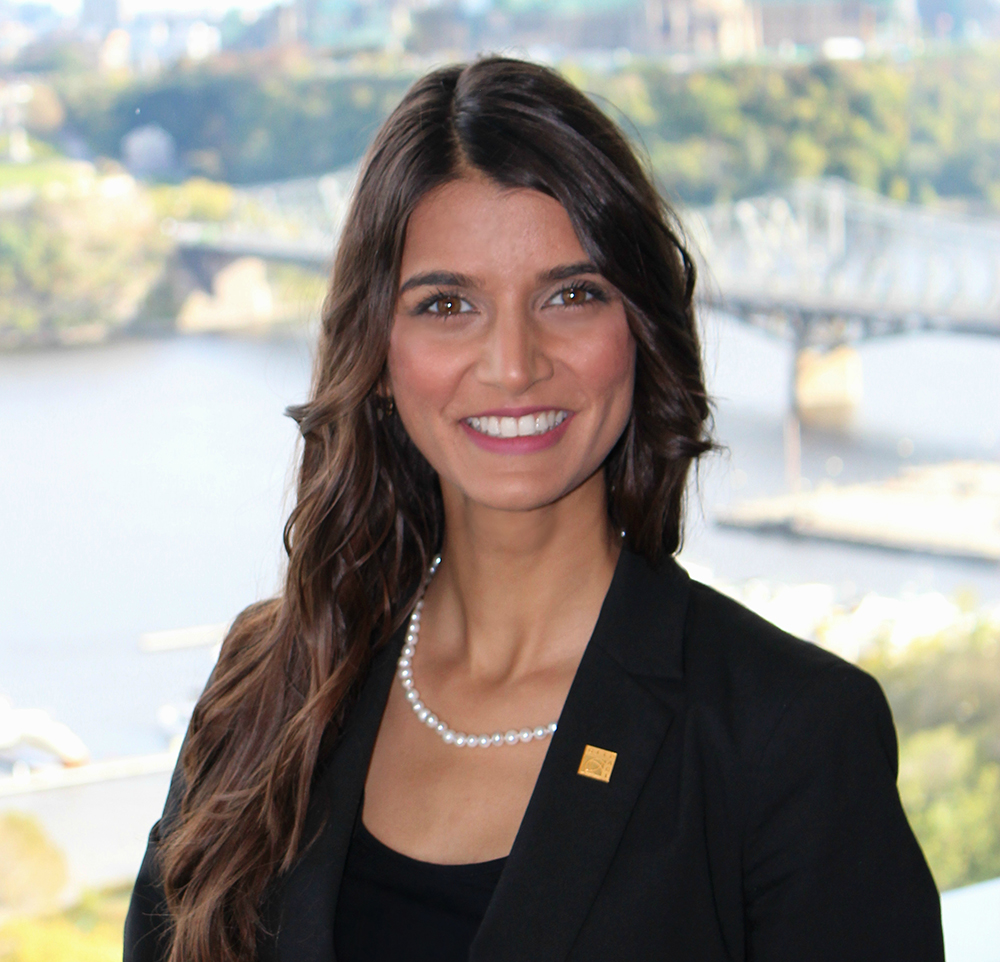 Earned her elite CITP®|FIBP® designation: 2013
Esha Abrol, CITP|FIBP, is an ambitious international marketing professional and entrepreneur whose passion for marketing and international trade have taken her in many different directions, continually developing her skills to help businesses grow globally.
"I started my first company while I was a university student. That resulted in my involvement with many more startups. It didn't take me too long to realize that the world should be my client, which is why I decided to follow the education path of international trade."
 The right training + ambition = confidence
Esha's career in international trade began after she graduated from the Business program at Ottawa University in 2009, when she began working for the Canadian Export Credit Agency (ECA), Export Development Canada (EDC)'s marketing team. In Esha's words,
"EDC is an organization known to provide Canadian exporters with financial services; however, they also support exporters through matchmaking endeavors and economic and market research. It's a fantastic organization."
Esha took the FITTskills courses through the International Business program at Algonquin College.
"I found the content to be very practical and hands-on."
My FITTskills education provided me with the tacit knowledge I needed to be able to interact with Canadian exporters and to be able to use the same language as them.
"Once I started my own international company, I was able to mitigate risks, such as currency risks, among others through the knowledge I gained."
Esha also said that the program provided her with the background and much-needed tenacity to excel in the industry.
"FITT provides professionals with the confidence to pursue international opportunities. With the complexities that global trade can involve – it's not easy, and it can feel overwhelming when you're just starting up."
Entering the brave new world of international startups
Esha was soon ready to step out on her own, as her entrepreneurial spirit re-emerged. She left her position at EDC in 2012 to start her own tech start-up, a brave move that showcased her determination to continue to grow professionally.
"After three years at EDC, I was inspired to start my own international business. So I did just that. I left and co-founded a software company called i-landhost Inc, a CRM SaaS startup."
i-landhost Inc was successful, turning a profit in its first year of business. Esha sold her shares 2014 to focus on her new business – another startup she named BrandsRole.
BrandsRole is a marketing company that helps companies grow their sales through realizing marketing opportunities around the globe, in everything from initial market research to a market entry strategy.
"BrandsRole came about after my role as Business Development Executive at a software company, which we sold to international markets. Often, when other tech companies would get to know of our presence in international markets, they would ask us how we did it."
I realized more Canadian companies need to be aware of the opportunities that lie in international markets.
She spends a typical day at her company reviewing international news and policies and attending business events to remain plugged in with all that happens in the business space. The events also give her the opportunity to get to know companies in Ottawa, from startups to established companies.
"While my focus has been on the technology sector, I've had the opportunity to work with many sectors and enjoy working with different types of clients."
Wasting no time in giving back to the global trade community
Esha worked with FITT to help develop material for the CITP®|FIBP® assessment as part of the Item Writers team. Daniela Diaconu, CITP, her fellow Item Writer for the assessments had this to say about Esha's contributions:
"Esha's strong experience in sales strategies and international trade marketing were instrumental in developing the test not only as formulating pertinent questions but sustaining them by eloquent answers as well. Also, a special contribution brought by Esha's expertize was related to cultural sensitivities in doing business abroad."
She is proud to be a CITP®|FIBP®, stating that the designation is more relevant than ever since all business sectors are becoming international as trade barriers disappear and technology brings us together.
"I wear my CITP®|FIBP® pin proudly. With the growth of online shopping, especially thanks to Canadian ecommerce company Shopify, selling internationally is becoming even more prevalent. And, as supply chains continue to develop, international borders will fade in business, resulting in a requirement of more expertise in international trade."
I see the FITT program as a significant resource in the development of international trade. It not only creates confidence to pursue international business, but to pursue it and do it right the first time – saving business owners, thousands of dollars.
Throughout her career, Esha has also been involved in international charity work, volunteering her time as Director of Marketing for the Humanitarian Mobility International organization from 2011 – 2014.
HMI's mission is to provide mobility access and specialized high quality equipment to victims of war and natural disasters around the world.
Esha has truly had a remarkable career.
She has co-founded two non-tech companies and three different tech start-up companies, she enjoys speaking at events, organized events featuring influential keynotes speakers with Startup Canada and NetIP Ottawa Chapter, started her own international marketing business, become a licensed real estate agent, and even trained as an actor and Argentine tango dancer.
We can't wait to see what she does next.

Want to connect with Esha?

LinkedIn: Esha Abrol

Twitter: @EshaAbrol
Learn more about the CITP®|FIBP® designation
INTERNATIONAL BUSINESS CERTIFICATION—CITP®|FIBP®
Advance your career and build your professional credibility in the field of global business by earning the Certified International Trade Professional (CITP) designation.
Why Earn the Certified International Trade Professional (CITP) Designation?
The Certified International Trade Professional (CITP) designation is the world's leading professional designation for the field of international business. So whether you're new to global trade or have over a decade of direct experience, you'll find the CITP designation can help advance your career and build your professional credibility.
The CITP designation sets you apart in the competitive international business industry because it's proof you possess the competencies global business experts have identified as being essential for a successful career in international trade. It also recognizes your dedication to ethical business practices and ongoing professional development—both of which are desirable traits for today's global business practitioners.