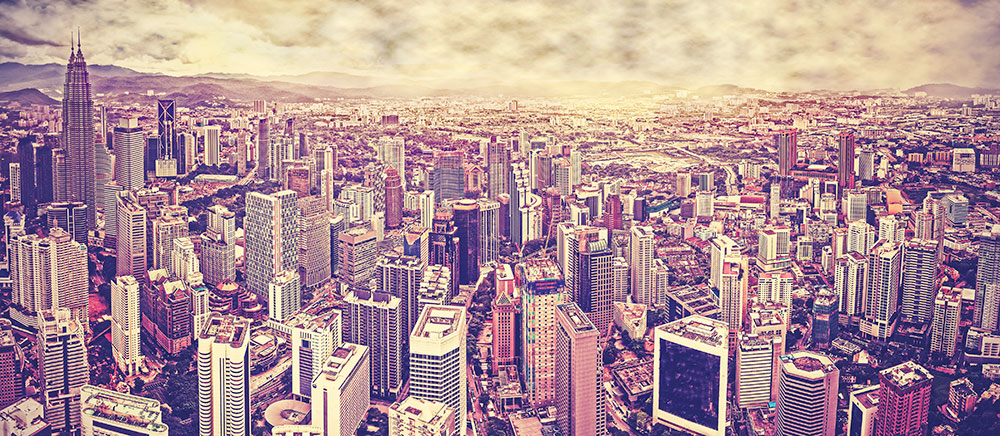 "Malaysia's economy is dependent upon international trade," says Dr. Kabur Ibrahim.
Although the country has a relatively large population of more than 30 million people, no one looks to the local market because it's so small, he says.
Our main income comes from trade, and practically every company and manufacturer dreams of exporting. But the problem is, no one is teaching the business of exporting.
Export and market development grants have been readily available from the Malaysian government for years, but the problem for would-be exporters isn't necessarily the money. They are participating in exhibitions and attending tradeshows, but there's a lack of understanding of how to take advantage of and engage in global trade opportunities once they're identified.
"That's the reason I retired from the government and started coaching Malaysians to go into international markets," he says.
From international trade expert to international trade trainer
Dr. Ibrahim served as a diplomat for over 15 years. He was also the Malaysian Trade Commissioner in Belgium for nearly a decade, and in Johannesburg, South Africa for eight years after that. He now serves as the Chairman of the Malaysian Training Providers Association.
In 2007, he took his professional experience, his knowledge of the need for export training in his country, and his general flare and passion for international trade, and created the Malaysian Export Academy—the first and only of its kind in the country and the region.
The Academy offers 100-percent government-funded international trade courses and seminars for business professionals in the region, and is attended by 200-300 individuals each month. This year, Dr. Ibrahim also wanted to offer more comprehensive international trade training, as well as diplomas and the opportunity for global certification to his trainees, as opposed to just certificates of completion. To do so, he made the move to become a delivery partner of the Forum for International Trade Training (FITT).
I was looking for a very reliable well-known international body to support the Academy, and I saw that FITT has a good network.
The Academy is pleased to start offering training toward both the FITT Certificate and the FITT Diploma in International Trade. So far no one is offering this in Malaysia, and the Academy will be the first, says Dr. Ibrahim.
"We are delighted to welcome the Malaysian Export Academy as a FITTskills Delivery Partner," says Silvia Baptista, FITT's Manager of Product and Service Delivery. "We really look forward to working with Dr. Ibrahim and his colleagues at the Malaysian Export Academy."
Malaysia's export environment
In Malaysia, about 30 percent of exports are commodities, including products such as palm oil, petrol, cocoa and rubber.
As far as manufacturing goes, a lot of American technology companies are building their high-tech products in Malaysia. The country also manufactures a lot of products from palm oil and rubber.
"We are the biggest exporter of rubber gloves in the world," says Dr. Ibrahim.
The international export of services is another area of growth in Malaysia, including engineering services, architecture and education, he says.
There's a lot of competition from Asia, especially countries like Indonesia and Thailand, because they produce similar products to us, yet they have cheaper labour.
"This is why we're moving toward high-tech products and services."
The competition, coupled with the fact that many nearby countries can still depend on their own markets for growth while Malaysian companies have to look to foreign sales means there is certainly a niche for international trade training, says Dr. Ibrahim.
Developing export skills in SMEs and the future Malaysian workforce
Many of the program instructors at the Academy are local trade experts from within Malaysia, including Dr. Ibrahim himself. Others, however, come to teach from as far as the UK. The trainees also aren't just travelling from within Malaysia: they're coming from nearby Indonesia, Laos, Vietnam and Cambodia as well.
Dr. Ibrahim is targeting two main audiences with the program: business executives from SMEs who want to boost their skills in exporting, and individuals who have graduated but want skills like those offered in this program to make them more employable and export ready.
"Our main aim is to teach Malaysian SMEs to go to international markets using your program," he says.