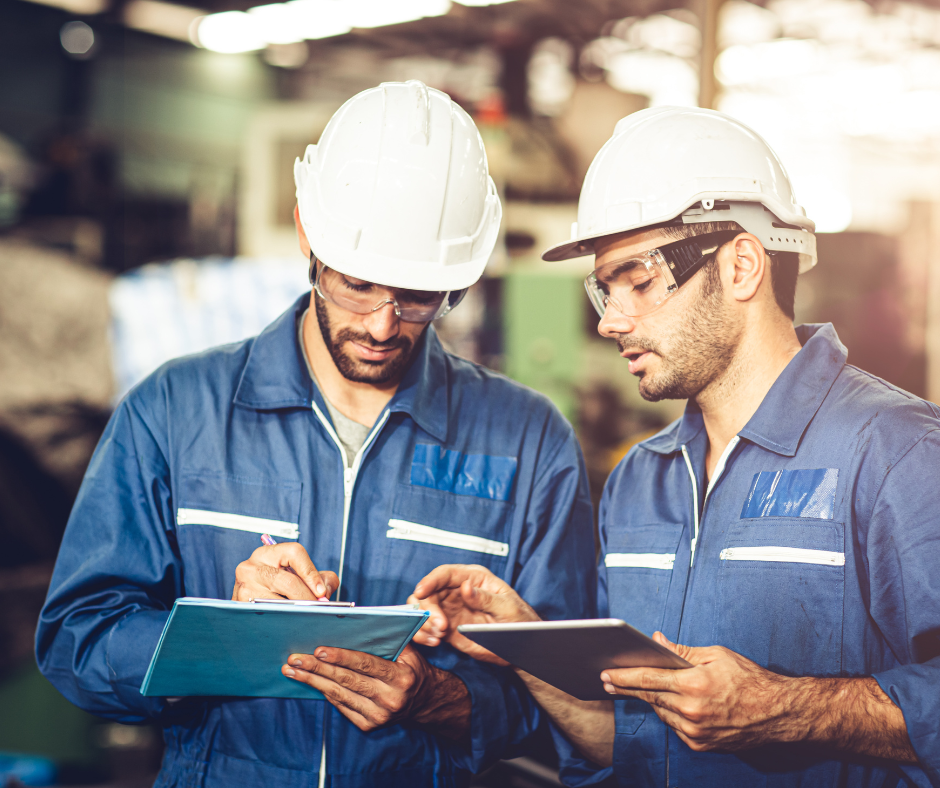 For our first article in our 4-part regulatory compliance series, we will be looking at product safety compliance.
Product compliance is a constantly evolving process. Because laws and regulation continuously change, manufacturers, retailers and suppliers are pressed to innovate quickly in order to create compliant products. Whether an organization manufactures the product or resells it, the responsibility to comply makes the manufacturer and the reseller legally accountable.
The role of product compliance increases in scenarios of product proliferation, complex supply chains and multiple markets. With a recent increase in compliance-related penalties, fines and recalls, there is no room for non-compliance. The challenge lies not only in producing a compliant product, but also in declaring it as compliant by placing it on store shelves.
Legal risks—particularly product liability—are increased by production activities in multiple foreign markets, off-shore manufacturing and off-shore contracts. Some of these legal risks can be mitigated through regulatory compliance.
Regulatory Compliance
Manufacturing compliance is comprised of technical, legal and corporate requirements, and regulations and practices manufacturers must comply with in order to produce and market products.
The risk of non-compliance has become an increasingly major concern in recent years, particularly for manufacturers with operations in multiple countries and jurisdictions.
This development has been further heightened by the increasing role of governmental regulatory bodies in certain industry sectors, along with the emergence of global standards to address the increasingly global nature of manufacturing.
Compliance generally centres around 9 aspects:
Product safety
Health, safety and the environment
Data protection
Employment law
Export controls
Fair competition
IT safety and security
Anti-corruption
The complexity of compliance with respect to these eight aspects is a result of the variation of these regulations and policies among foreign markets and global agreements and guidelines. The manufacture and sale of products in most countries is subject to regulatory frameworks designed to promote orderly trade, collect data, protect consumers from fraud or danger, and pursue various objectives determined by public policy.
Although compliance with all nine aspects is required for operational and business activities, compliance for product safety, health, safety and the environment, and shipping are most directly related to the product and production processes.
Product Safety Compliance
Product safety compliance requires products to conform to regulations that ensure the product does not harm consumers, property or the environment throughout the product life cycle from inception to disposal. Regulations govern product concept/design, manufacturing, labelling, packaging, use and disposal (see Figure 2 1)
Safety regulations can cover the characteristics of a product, as well as its technical specifications, safety features, functionality, quality and durability. Product safety regulations may also apply to production processes, such as the way in which a product is manufactured. These regulations can also apply to the product life cycle, including how returns and disposals are managed, illustrated below.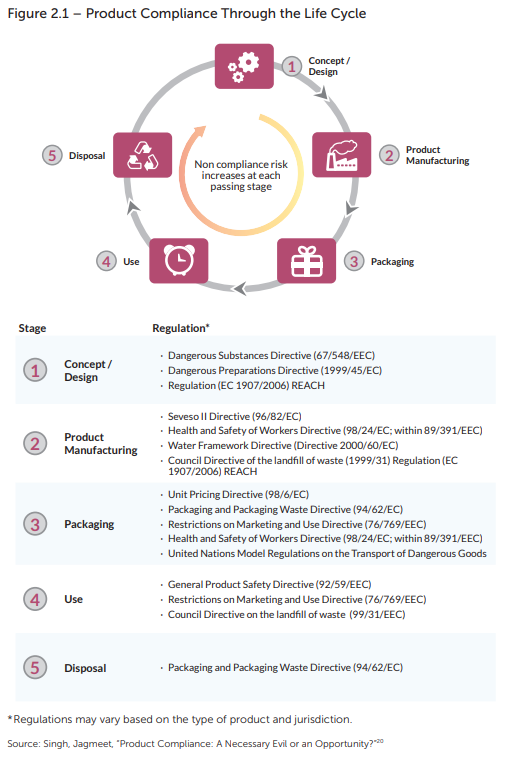 Labelling Regulations
Many countries also have labelling requirements covering the use of their official language(s) and the types of information that should be included on a label. The labelling of goods refers to information that must be provided on the product itself or the package in which it is sold.
Labels provide two kinds of information about the product: that required by law and that provided by the manufacturer. The latter is also subject to the law, in that regulations in all countries state what must appear on products of various types and what cannot appear.
For example, a manufacturer cannot make false claims about the product or its uses on the packaging.
The type of information required by law varies from country to country, and often from one local jurisdiction to another within countries. This information can change and is usually the responsibility of several government departments.
Depending on the country and the type of product, manufacturers must comply with labelling regulations concerning the provision of basic information about the product and its manufacturer or importer, as well as safety, health, protection of the environment or protection of consumers against misrepresentation and fraud.
For example, companies that produce food, beverages and/or health supplements generally face strict regulations for any health-related claims. In some countries, a company may be able to say a particular supplement is "immune boosting', while in other countries the company may only be able to say that it "supports immune health", or it might be restricted completely from making any health claims at all.
Normally, importers must provide the exporter with all of the relevant compliance information. This might mean that an exporting manufacturer will be provided with different labels to affix to its product, or it might be provided with samples to use as printing templates.
Labelling requirements might also include product tracing information, such as barcodes or Radio Frequency Identification (RFID) tags, and other supplier tracking information depending on the type of product, distribution channels and jurisdiction.
To learn more about regulatory compliance and getting your products ready for global markets, check out the FITTskills course on Products and Services for a Global Market

Packaging Regulations
Most countries have rules governing how goods are to be packaged in order to preserve, protect, display, store or transport them. Packaging refers to the material (wrappers, cartons and boxes) that cover or contain the individual product.
In terms of packaging, manufacturers must ensure products are presented attractively and that the packaging meets the regulatory requirements of the country where the goods will be marketed. This is important for products that could present a risk, such as over-the-counter medications, where tamper-proof and child-resistant packaging signifies the integrity of the product and concern for the health and safety of the consumer.
Pre-packaged consumer products must usually meet the following packaging requirements:
Fill level: Packages must be filled so that a consumer can reasonably determine the quantity of product they contain.
Package design and display: Packages must be manufactured, constructed or displayed in a way that a consumer can reasonably determine the quality or quantity of product they contain.
Standard package size:  Certain  food  and  non-food  pre-packaged  products must be packaged in standard-size containers.
Environmental sustainability and disposal: Companies are under pressure by consumers demanding environmentally responsible packaging that is recyclable, reusable and meets requirements for safe disposal.

Key information sources on foreign packaging requirements include a country's department of foreign affairs, foreign diplomatic representatives, industry associations and foreign manufacturers' agents.
It is essential to ensure product compliance with regulations. Failure to do so could result in confiscation of goods, fines, criminal prosecution or legal liability for damage and injury. However, no single set of regulatory guidelines covers all products and all countries.
Each company must research the regulations that apply to its products within its target markets, and ensure that its products, production processes and packaging comply with those requirements.
Many industries also  have  voluntary  industry  standards  and  best  practices  for packaging that often exceed regulatory expectations to reassure consumers and the general public with respect to the safety and integrity of that industry.
Stay tuned for part 2 of our compliance series where we look at shipping and health & safety compliance.