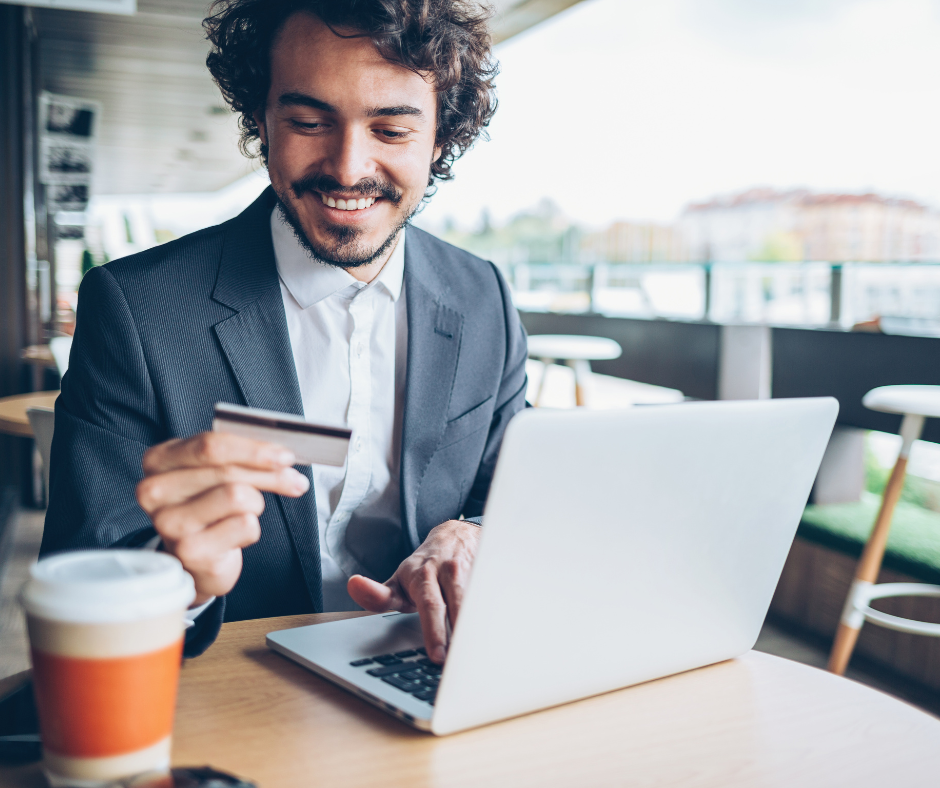 Technology, especially the Internet, has transformed how business is conducted in both domestic and international markets. In 2011, the number of digital buyers worldwide reached 792.6 million. A year later, the number had risen to 903.6 million—a 14% increase. As of 2015, online purchases accounted for about 8% of total retail sales around the world and that amount increases every year.
Global business to business (B2B) e-commerce sales are forecasted to reach USD 6.7 trillion by 2020, more than twice the value of business to consumer (B2C) e-commerce (USD 3.2 trillion).
While online growth is to be expected, it is projected that 27% of all global B2B sales will have an online component within the next five years.

China is expected to lead the growth with the largest online market in the world and generate approximately USD 2.1 trillion in online sales.
Statistics from 2016 indicate that 40% of worldwide Internet users have purchased products online via desktop, mobile, tablet or other online devices, which amounts to more than 1 billion online buyers. With the projected digital buyer penetration expected to reach close to 50% of Internet users worldwide in 2018, the e-commerce industry will continue to evolve and expand.
What Is E-Commerce?
Electronic commerce or e-commerce is the buying and selling of goods or services on the Internet or through other electronic means. The goods and services can be physical or intangible, the latter permitting digital delivery as well as sales.
E-commerce is a type of market entry strategy and can be completed directly by selling through an organization's own website or indirectly by listing products or services on another organization's website. E-commerce may be the sole mode of market entry, but most often it is used in combination with other market entry strategies.
E-commerce encompasses all elements of commerce including providing
product and service information, processing orders, accepting payment, fulfilling orders, providing storage and delivery, and customer support. An e-commerce transaction can be business to consumer (B2C), business to business (B2B),business to government, and consumer to consumer. This module focuses on B2C and B2B e-commerce. E-commerce includes purchases and sales conducted over computer networks using multiple formats including the web and electronic data interchange, and multiple devices such as personal computers, laptops, tablets and smartphones.
It draws on other technologies such as digital marketing, email, electronic funds transfer, supply chain management, online transaction processing, inventory management systems and automated data collection systems.
Want to learn more about how to Increase your reach, decrease costs and enhance the customer experience by developing an easy-to-use e-commerce operation? Check out the FITTskills International Sales & Marketing online course.

When first learning about e-commerce, people may be confused by the
plethora of unfamiliar terms and phrases such as "e-commerce platform",
"convergent commerce", "e-commerce control panel", "full service shopping cart", "e-tailing", "m-commerce" and "creative digital strategy enthusiast".
The language is a reflection of the ever evolving state of e-commerce technology and applications. New terms used in this module are defined in the glossary.
The benefits of E-Commerce for your business
E-Commerce has provided new opportunities to organizations around the
world. These opportunities take the form of global market access to customers, business partners and suppliers. Additional benefits associated with e-commerce include:
• Low risk, low cost market testing
• Ability to track customer preferences and purchasing actions
• Targeted online advertising and other marketing
• Reduced communication and transaction costs
• Increased productivity and efficiency
• Lower cost exit strategy, especially in e-commerce only scenarios
• Decreased costs associated with establishing international trading relationships
• More efficient information sharing and transactions with business partners
• Enhanced participation in international value chains
The E-Commerce Environment
E-commerce occurs in a complex environment of human and machine abilities and interactions. The nature of the environment is constantly evolving as demonstrated in this section.
B2B and Global E-Commerce Sales Global B2B e-commerce sales are forecasted to reach USD 6.7 trillion by 2020, more than twice the value of B2C e-commerce (USD 3.2 trillion).6 Organizations are wise to consider migrating to online platforms for these reasons:
• The expectation among a growing number of companies to conduct
buying and selling online
• A shift from some companies to conduct procurement transactions
through the Internet instead of through Electronic Data Interchange (EDI)
• Growing interest of companies in placing orders through mobile
commerce devices
• The increasing popularity of e-market places such as Alibaba.com and
AmazonSupply.com
A B2B e-commerce implementation is more complex than B2C. In a B2B setting, prices are typically highly variable. Volumes are much higher than B2C and consist of a wider range of products that require flexible shipping and logistics solutions.
Taxes and regulatory matters are also more complex, as is marketing because clients have a greater need for information about how products and services work and they will interact with systems clients already have in place.
In addition, a B2B e-commerce platform is more difficult and costly to design, implement and maintain.
Your current and potential customers are online
According to the International Telecommunication Union (ITU), the United
Nations agency for information and communications technology, there were 3.5 billion Internet users in the world in 2016. That number reflects a seven fold increase that brought Internet penetration up to 47% of the global population. The fact that only one percent of the population was connected to the Internet in 1995 highlights the rapid changes in information and communication technology (ICT) in the last 20 years.10 Figure 1.1 shows the percentage of individuals using the Internet by region and development status.
Note that Europe is the most connected region in the world, followed by the Americas. Of course, these are generalizations and within the Americas and other regions there is great diversity in connectivity. It is important to consider the actual number of users as well. Even though the percentage of people who are Internet users in developing countries is only 40 percent, this translates into 2.5 billion users compared to a total of 1 billion Internet users in developed countries.
Figure 1.1 – Percentage of Individuals Using the Internet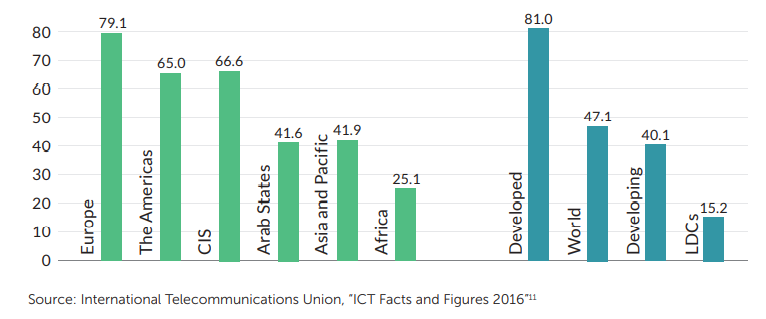 The value of digital commerce
The total value of global digital commerce in 2016 was estimated at approximately USD 2.1 trillion. As illustrated in Figure 1.2, the United States forecasted total transaction value for 2016 was just over USD 605.3 billion, the highest amount among all countries. China followed with the second highest forecasted value of digital transactions, before the United Kingdom, Japan and Germany.
5G Networks
The demand for more stable and faster wireless Internet access continues with increased use of bandwidth for personal computers, smartphones, watches, home appliances, security cameras, wearable technology and the many other devices that connect to the Internet. Gartner, Inc. forecasted 6.4 billion connected devices in the world in 2016, reaching 20 million by 2020. To meet this ever-growing demand, a new form of wireless signal is needed. 5G is being developed to replace 4G technology and is targeted for unveiling at the 2020 Olympics in Tokyo. Test locations are currently operating in the United States.
Wireless telephone technology started with first generation (or 1G). When it
expanded to 2G in the early 1990s, people could send text messages between
two mobile devices for the first time. With 3G came the ability to make telephone calls, send text messages and browse the Internet. These capabilities were enhanced with 4G, especially when companies added Long-Term Evolution (LTE), a standard for high speed wireless communication, to 4G connectivity. The 5G technology builds upon the  foundation created by 4G LTE. The difference between 4G and 5G has been compared to going from a garden hose to a fire hose. 5G will allow easier downloads and uploads of Ultra HD and 3D video and thousands more Internet-connected devices.
Online shoppers are on mobile
The use of mobile devices for e-commerce is growing rapidly. Since 2014, the number of global mobile users has been greater than the number of desktop users (see Figure 1.2). It is no longer a question of whether the mobile market is important to e-commerce but rather a question of how consumers behave when using different types of mobile devices and what their preferences are.
Figure 1.2 – Global Mobile Users Surpass Desktop Users
For B2B transactions, research shows that 43% of small business owners primarily use mobile devices to run their operations.16 Mobile, or m-commerce, is increasingly important to developing economies where cellular networks have enabled access to services not previously available. For example, the estimated number of Internet users in Kenya is 26.1 million, making it the 21st most connected population in the world. Of those, 99.9% access Internet through mobile telephones. While feature telephones still dominate, smartphones are catching up fast.
This article is an excerpt from the
FITTskills International Sales & Marketing course
. Market and sell your goods or services effectively, anywhere in the world.
Learn more!