For many, turning 30 is an excuse to dress their best and gather their closest friends to celebrate. While FITT will be celebrating our 30th anniversary with a myriad of events, content, and initiatives all year long, we could think of no better way to start than by throwing a virtual gala—the CITP Anniversary Gala—in honour of our CITP community.
As FITT's President and CEO of 25 years, Caroline Tompkins pointed out last night, "A lot has changed in the world since 1992 when FITT was first created. And we've come a long way since then. But what hasn't changed is the continued need for competent and trustworthy international business practitioners to help companies navigate the changing dynamics of trade."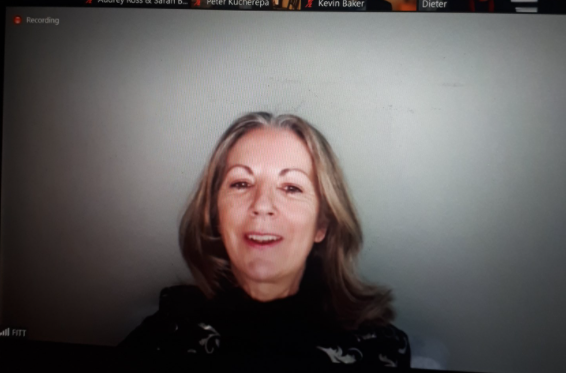 And that is the role CITPs fill every day.
Creating a designation that recognizes international trade expertise
This occasion, our 30th anniversary, is also remarkable for the CITP designation—which was created six years after FITT in 1998. Since that time, it has become the most unique and distinguished designation for trade practitioners around the world. CITPs are recognized for their international trade management expertise—and have been a critical part of FITT's success.
When we first envisioned the CITP designation, international trade was one of the oldest professions in the world—and the least recognized. We knew that creating a professional designation for trade practitioners would be ground-breaking, and an opportunity for individuals from around the world to be formally recognized for their global business expertise.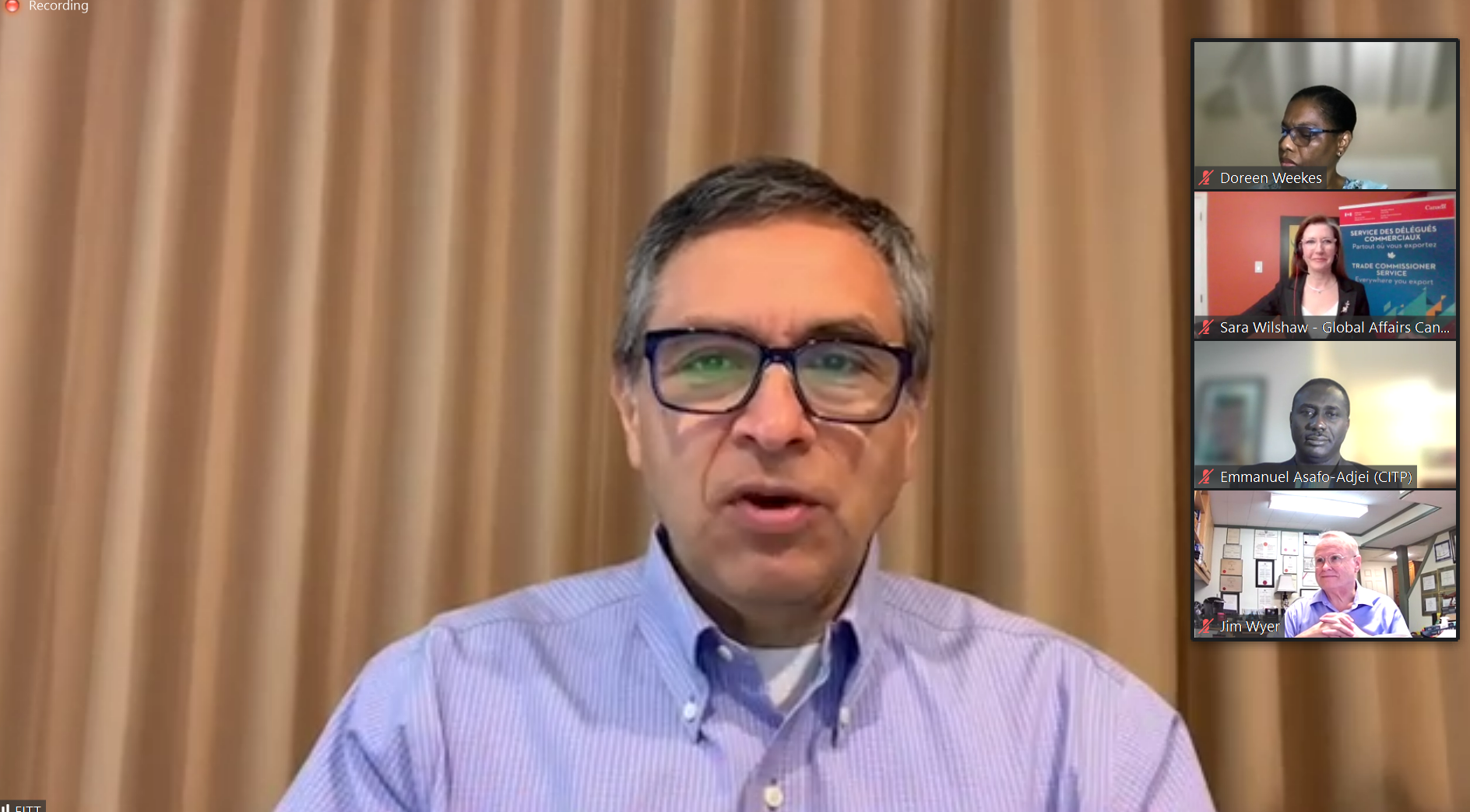 Through FITT, Canada was the first country in the world to create a professional designation for trade practitioners. Now, 24 years later, the CITP designation is the global standard of excellence for trade professionals. And to illustrate that, we have 30 individuals celebrating 20 or more years as a CITP, 17 individuals celebrating 15 years, 29 who are celebrating 10-years, and 58 CITPs who have just reached their 5 year anniversary.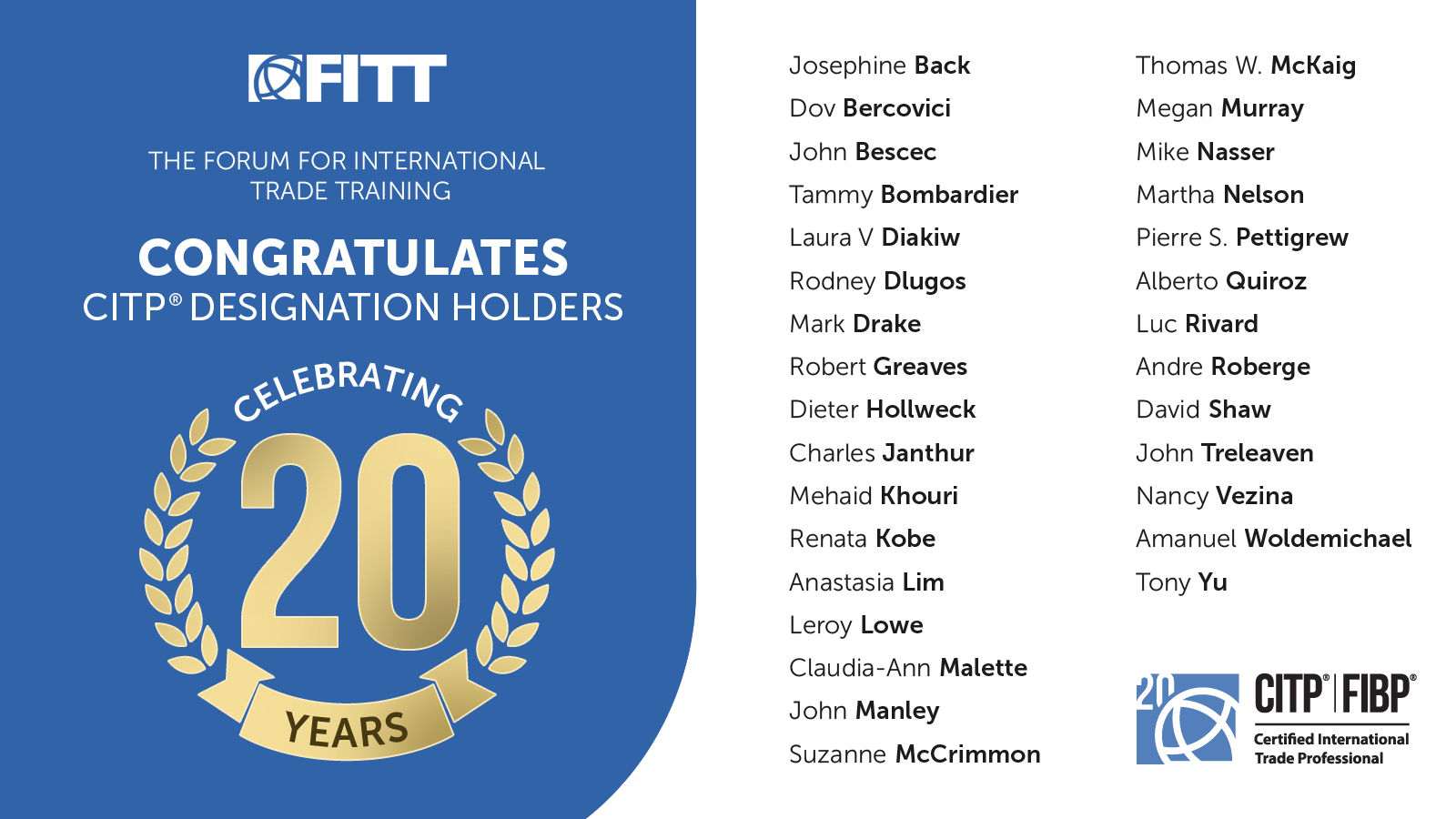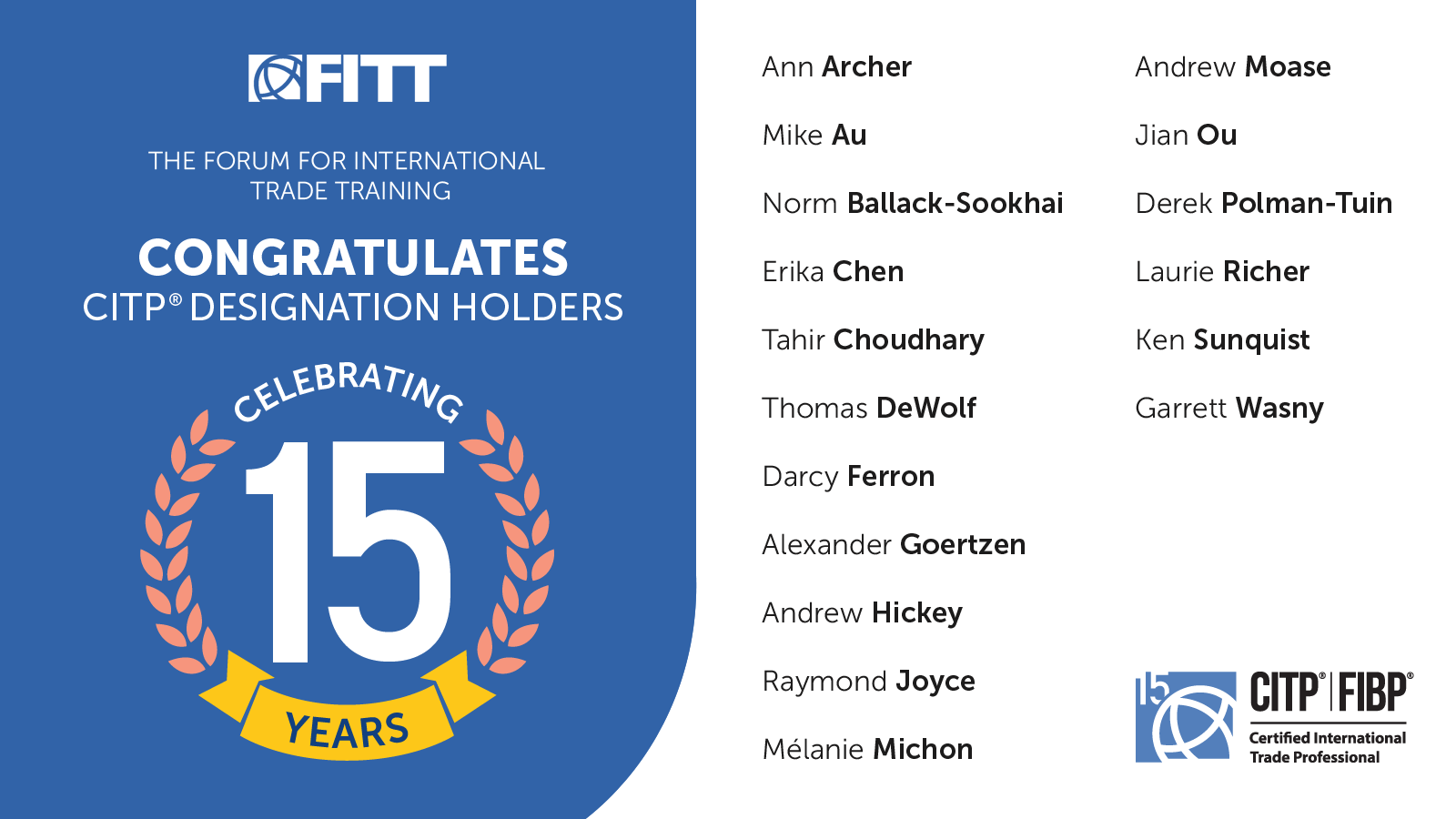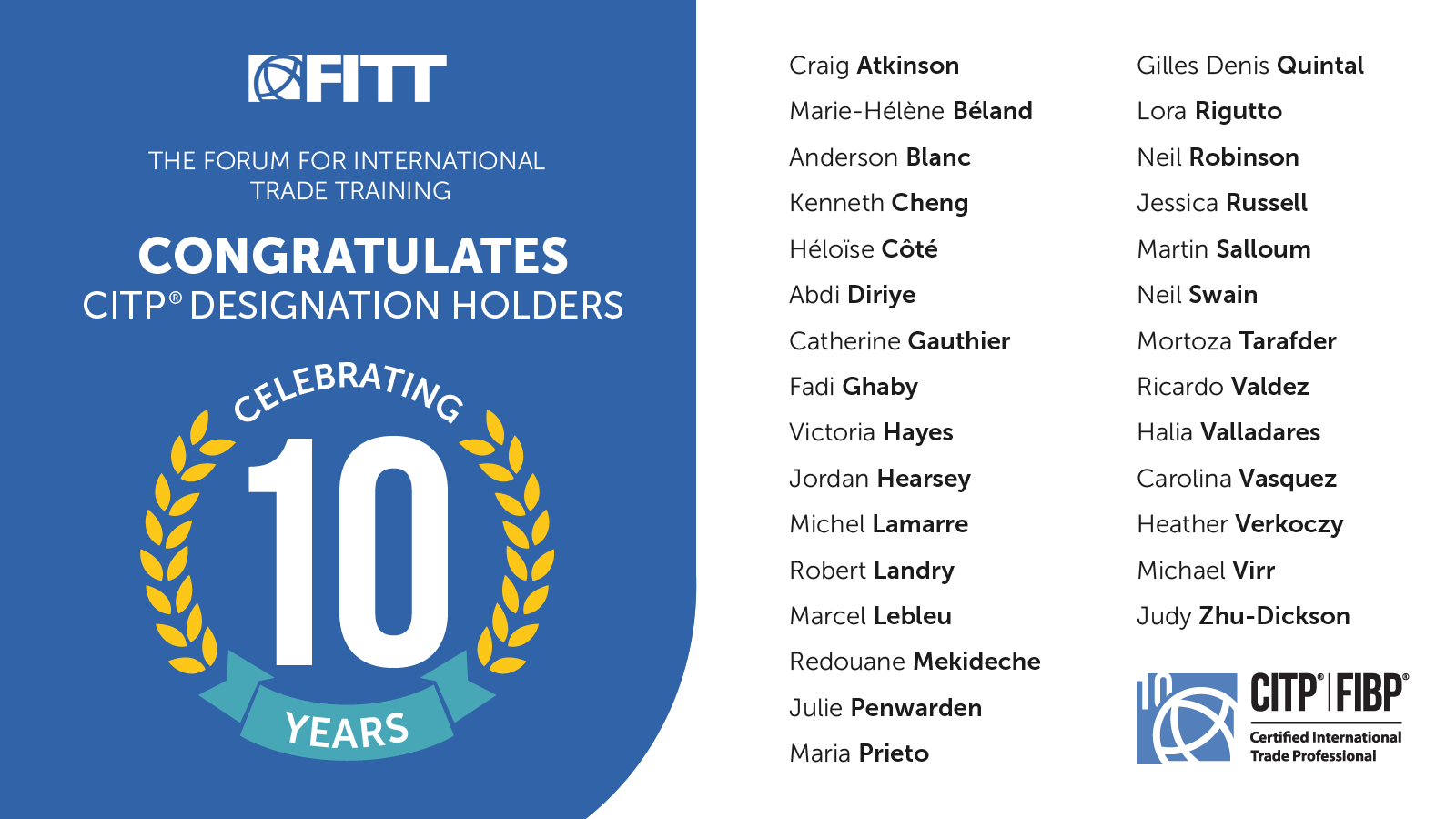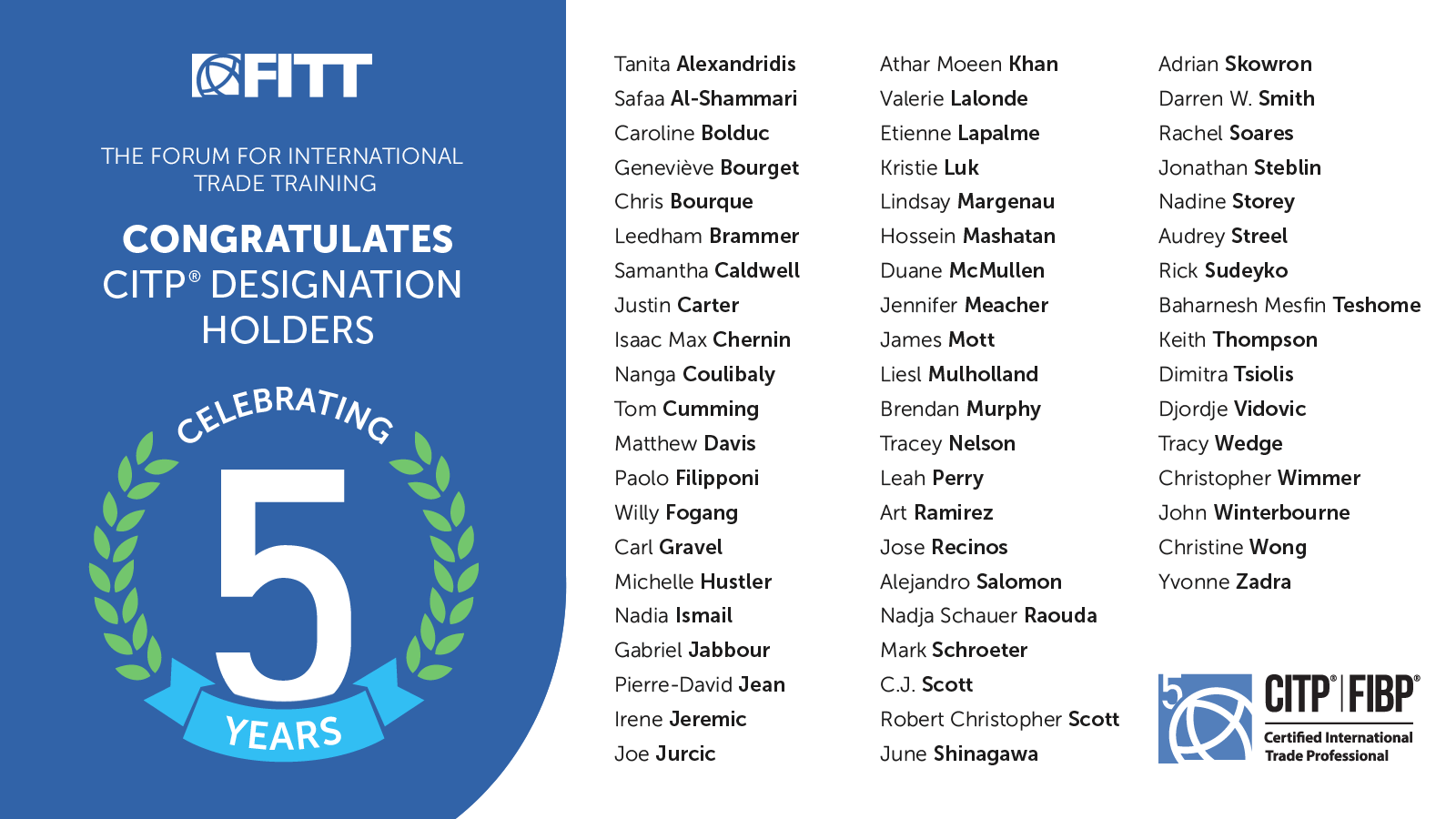 2 inspirational leaders receive honorary CITP designations
In endeavoring to recognize and fete the people who are making real impacts on the success of international trade and the companies engaged in cross-border business, we are also honouring two accomplished women. Women who have dedicated their careers to helping trade progress, and who are now leaders at organizations integral to accomplishing goals that we have in common: To support and inspire Canadian businesses as they expand into new global markets.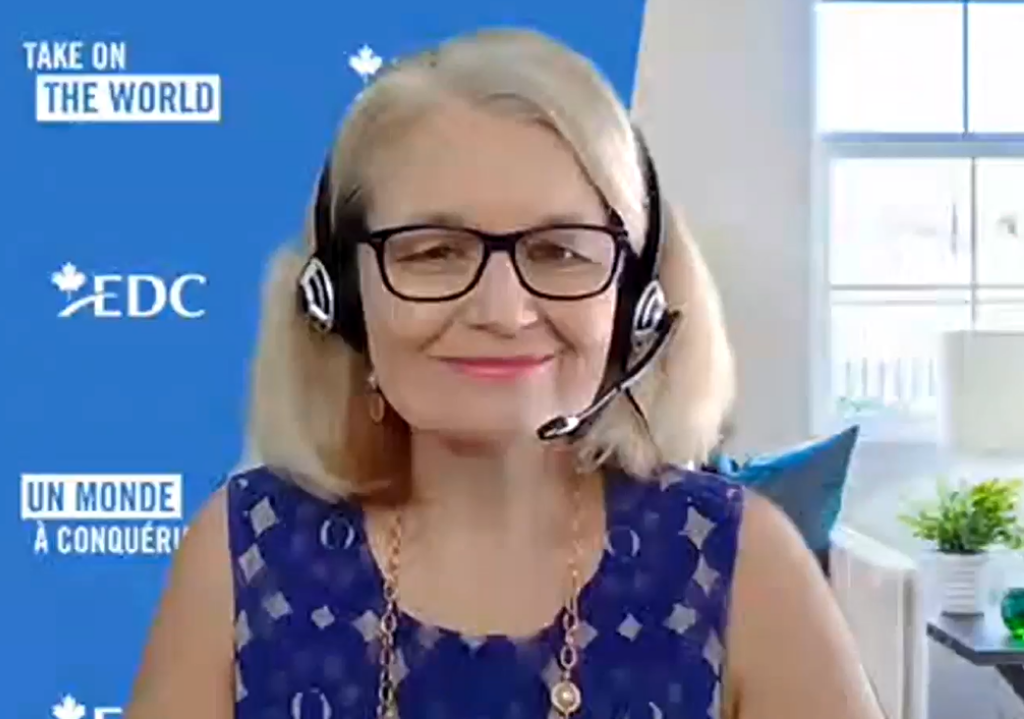 Mairead Lavery is the first woman to occupy Export Development Canada's chief executive role in its 75-plus year history. She was appointed President & CEO of EDC in 2019 and, under her direction, Canada's export credit agency has pursued ambitious objectives, achieved strong growth, and helped more Canadian companies do business in 200 markets around the world. Before taking on her current role at EDC, Mairead understood that to support the growth of global economies building international trade knowledge was—and remains—a critical element of ensuring the trade success of Canadian companies. With that understanding, she spearheaded the strategic alliance which brought to us the EDC-FITT Learning Centre.
It's a great honour to be included among this growing, yet still exclusive community of dedicated and highly trained professionals, including the 40 CITPS within EDC and counting.
"Congratulations to my fellow CITPs! You are helping to build a bigger and better world of international trade and I look forward to continuing this work with you as part of your community. By earning the CITP designation, you've signaled your dedication to delivering the very best of advice, support, and service to the businesses that compete in the remarkable arena that is global trade. You make those businesses better and that is good for us all," Mairead Lavery, President & CEO, EDC.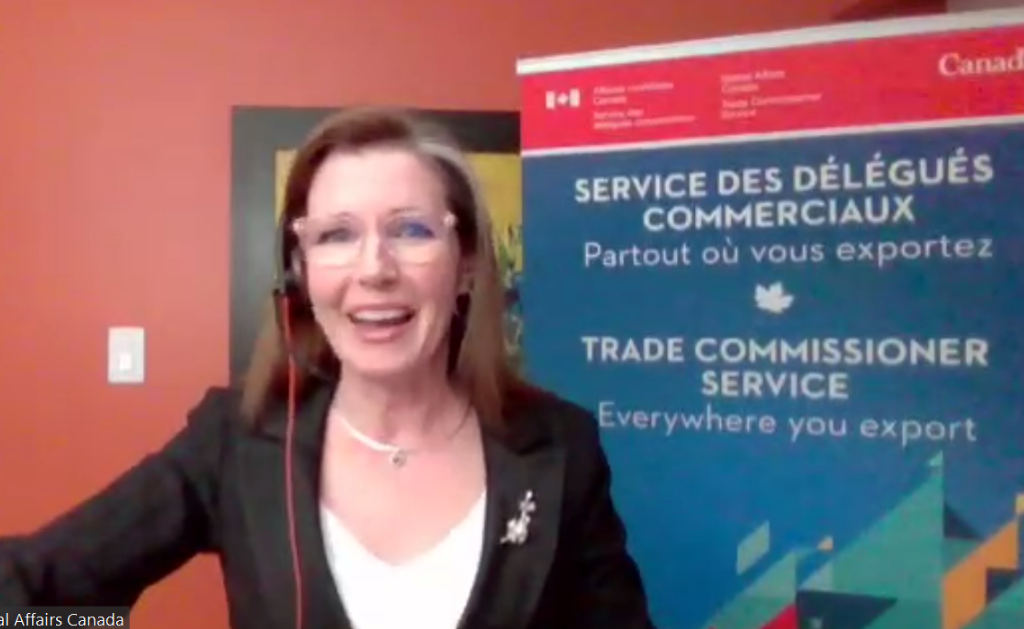 And from one of our most critical founding partners—the Trade Commissioner Service—we are pleased to present Sara Wilshaw, Canada's Chief Trade Commissioner, and Assistant Deputy Minister at Global Affairs Canada with an honorary CITP designation. Sara leads a team of over 1,400 business advisors in 160 offices around the world, and her wealth of experience and excellent leadership inspires us and helps businesses succeed abroad.
She has more than 26 years of experience in the federal government, including serving abroad as Consul General of Canada to the South-Central United States, as Trade Program Manager in New Delhi, as Counsellor at Canada's Permanent Mission to the World Trade Organization in Geneva, and as First Secretary at the Embassy of Canada in Japan. She has also held various roles at Global Affairs Canada headquarters, most recently as Director General for Canada's diplomatic and trade mission network in North America.
"It's such a pleasure to join your ranks as an honorary certified international trade professional."
More than 180 of our trade commissioners have gone through FITT training. And 237 CITPs support our efforts to help Canadian businesses abroad.
"As Canada's chief trade commissioner, I know that we couldn't help so many businesses reach new heights and new international markets without the work all CITPs do every single day," Sara Wilshaw, Canada's Chief Trade Commissioner, and Assistant Deputy Minister at Global Affairs Canada.
We are honoured that these two remarkable and accomplished women have accepted and joined our CITP community.
This was a night to celebrate hard-earned milestones and professional accolades, a night to be together (virtually) after years of stress, disruption, and uncertainty. And a night to remember those that have helped pave the way for people and businesses all over the world to get together and trade, increasing the prosperity of all parties. During a time of ongoing hardship and challenges for many, celebrating these individuals was certainly worthy of a good party.