Warren Buffet famously said: "Risk comes from not knowing what you're doing." For businesses who have been operating over the tumultuous past year and a half, there have been many times where they've felt confused and unsure of what to do. In those moments, applying risk-mitigation strategies to effectively "weather-proof" their businesses has been critical for ensuring their livelihood through all the highs and lows.
That's why, last week, Startup Canada hosted a Twitter Chat with FITT and an all-CITP®|FIBP® (Certified International Trade Professional) panel of business experts. These seasoned professionals gave practical advice on "How to weather-proof your business." With varied markets, supply chain disruptions and so many other hurdles in the international business landscape right now, they offered up international market entry strategies, risk-mitigation techniques, and personal stories on how to best navigate these waters.
The Twitter Chat featured:
Daniel Lewis, Author, and International Speaker, CITP
Lora Rigutto, Loyalty and Engagement Manager, FITT, CITP
Craig Atkinson, Founder and Director, Lexmerca International Trade, CITP
Question 1: Staying agile and adaptable
The chat started off with this question: "Business is always changing, but some changes, we never see coming. How do you stay agile and adaptable?"
CITP Lora Rigutto had sage advice about upskilling and updating your knowledge in different areas of business.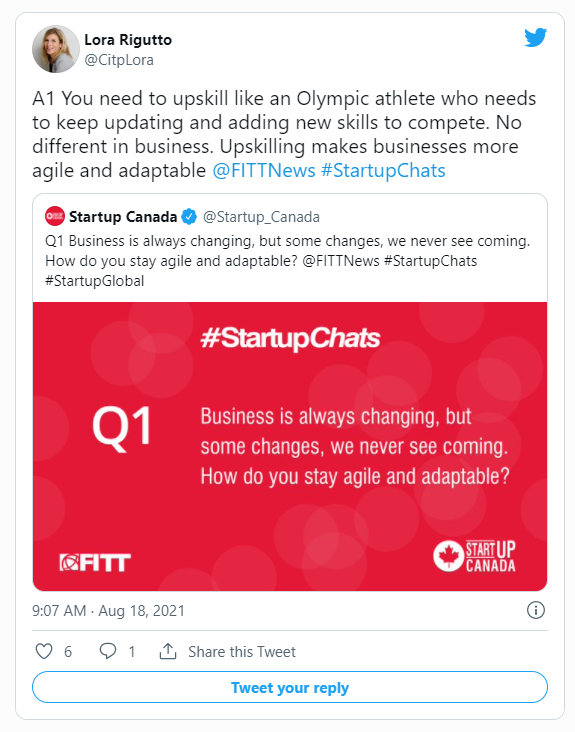 While CITP Daniel Lewis answered with the following:
"To stay agile and adaptable I suggest diversifying and developing your skills. Become more knowledgeable about your products, industry, or new industries to gain a competitive edge. Consider becoming an educator, expert, or content creator in your field."
While I was building my tea business over the past 10 years, I also found opportunities to put myself out there as a Public Speaker and Brand Strategist. When the pandemic hit and rattled my supply chain, I switched on my virtual keynotes and brand strategist superpowers. As a result, I have been able to weather the storm and still generate good business. #StrategicPivot—Daniel Lewis, Author, and International Speaker, CITP
Meanwhile, CITP Craig Atkinson talked about remaining on top of your sector specifics: "I think the best way to stay agile and adaptable is to stay abreast of what is going on in your sector and the potential impact of disruption. Adaptability depends on having a business structure that is flexible.

The second question prompted some excellent advice as well:
Question 2: Planning for global growth
Daniel Lewis chimed in first, suggesting that businesses need to start by asking the questions "why?":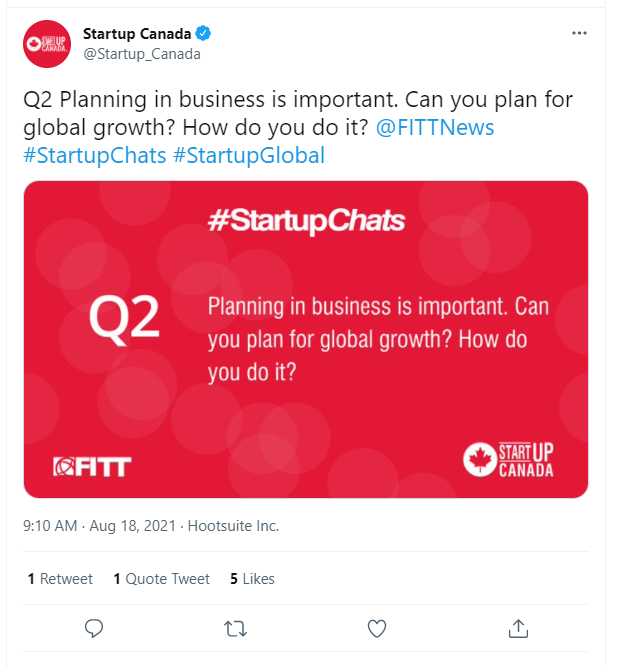 " I always suggest starting with 'WHY?' Whether starting or expanding your business internationally, asking WHY first can provide you with all the reasons (or lack thereof) for a specific course of action. WHY are you expanding?  WHY now?  WHY this market?"
"At the same time, I decided to polish my professional image and sharpen my international business knowledge by becoming a #CITP. With these tools on my belt as a foundation, I was ready to rock n roll!"
"If your WHY is compelling enough, then you can get to the HOW? Approached my global growth plans by first going through international business training where I developed an export plan to better materialize my goals and ambitions."
Meanwhile, Lora Rigutto gave this nugget of wisdom:
If you fail to plan, you plan to fail. You need to determine how to move goods or deliver services to a target market, overcome regulatory or cultural hurdles, and use market entry and international sales and marketing strategy with clear and measurable sales and marketing objectives.—Lora Rigutto, Loyalty and Engagement Manager, FITT, CITP
Question 3: Weather-proofing and risk mitigation
Question three, "How do you weather-proof your business your own business as you grow globally?" got down to the details and surfaced some great insights, including notes on addressing knowledge gaps from Lora Rigutto.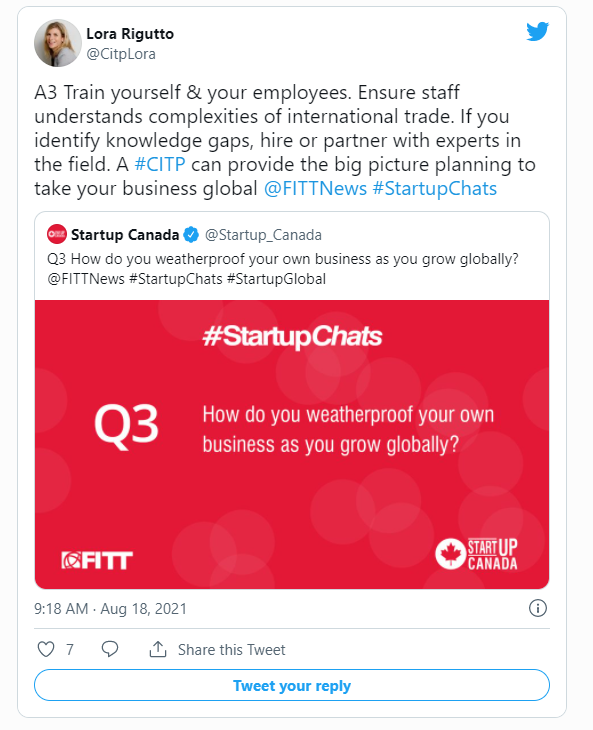 Daniel Lewis, on the other hand, talked about creating multiple contingency plans with an "If this" guide: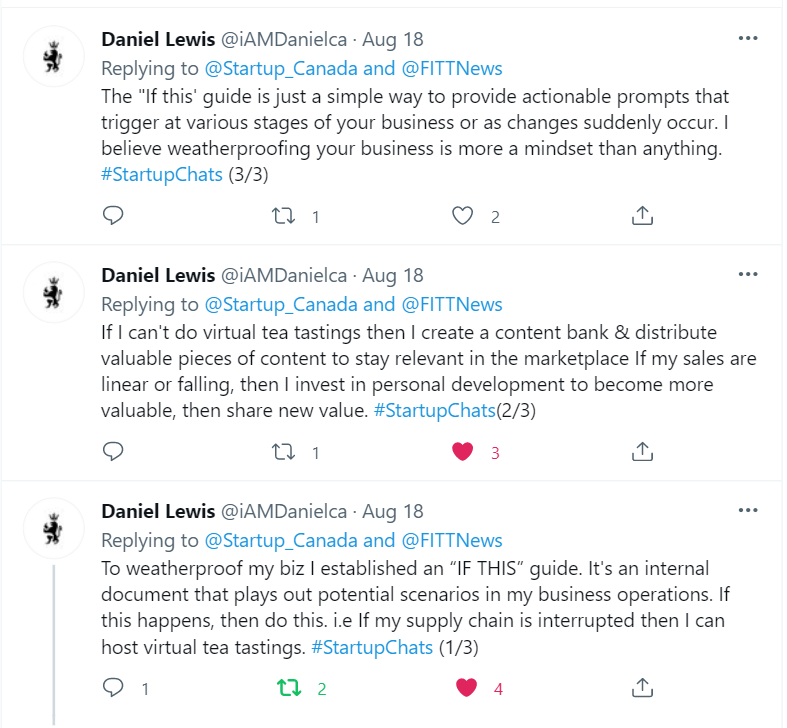 Question 4: Risk and business
Question four addressed an important reality about business: that it always comes with risk.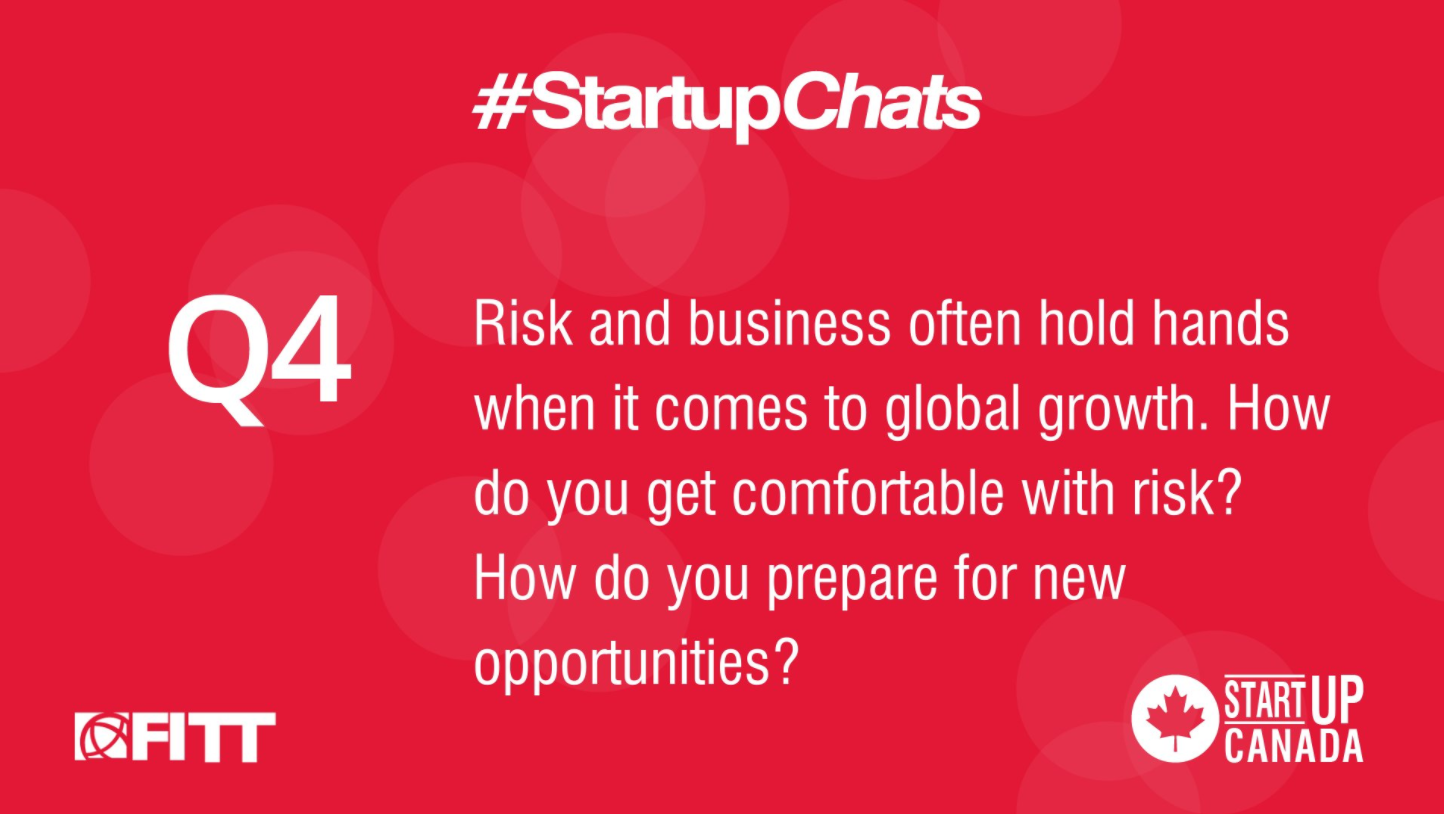 There were multiple answers for this one from panelists and participants alike: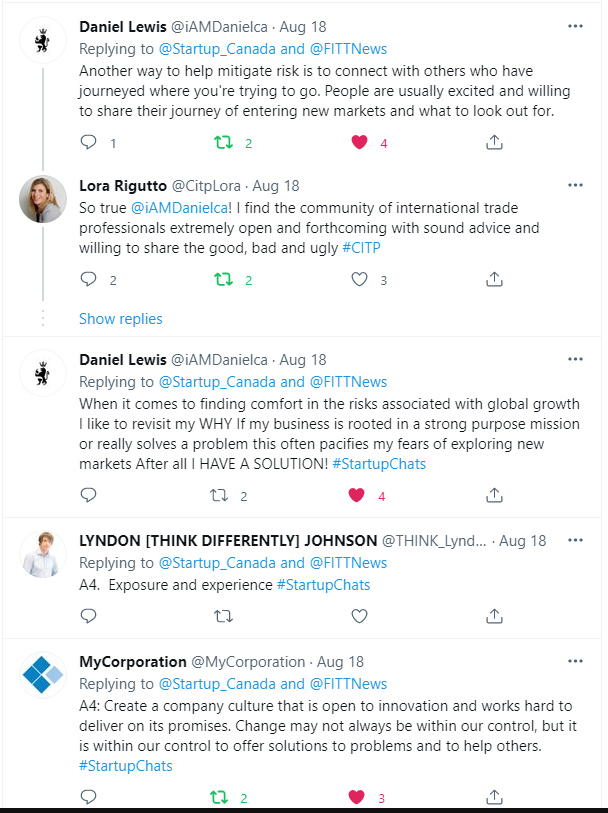 Question 5: How to expand
Question five dove into global expansion, a quintessential topic for SMEs, and it garnered advice that ranged from influencer adoption strategies to joining trade shows and trade missions.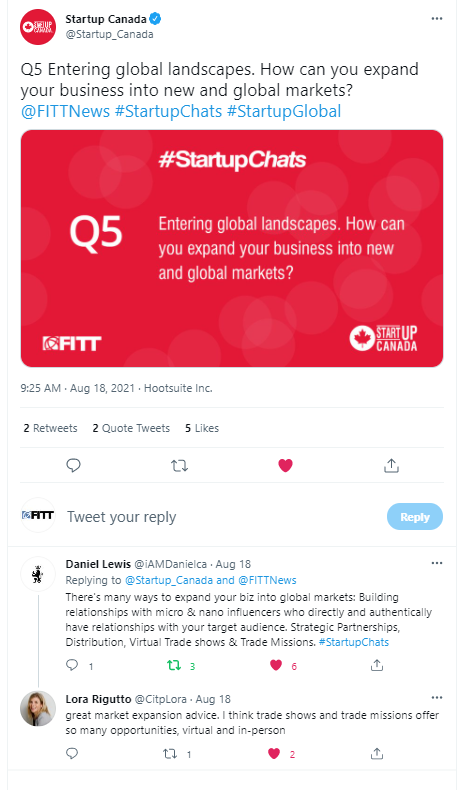 Question 6: When to expand
Knowing exactly when you're ready to expand your business is critical for success, and that's what question six tackled: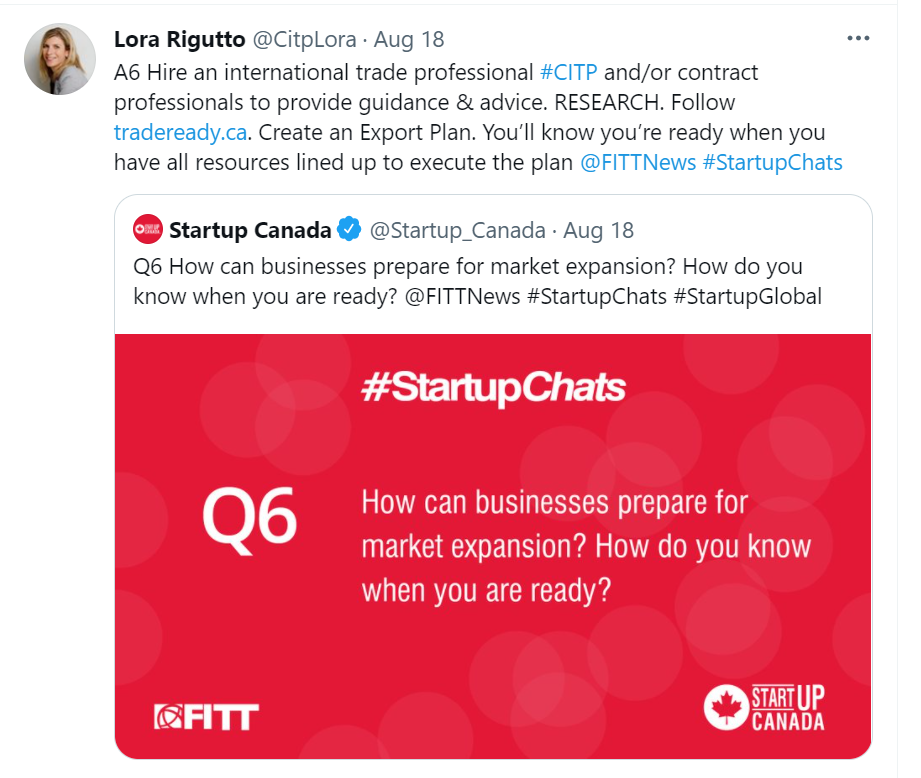 Questions 7 and 8: Economic risk and opportunity
While questions seven and eight talked about economic risk and the opportunities they present. Panelists and participants recounted their experiences during the pandemic and how they used these to create opportunities for themselves: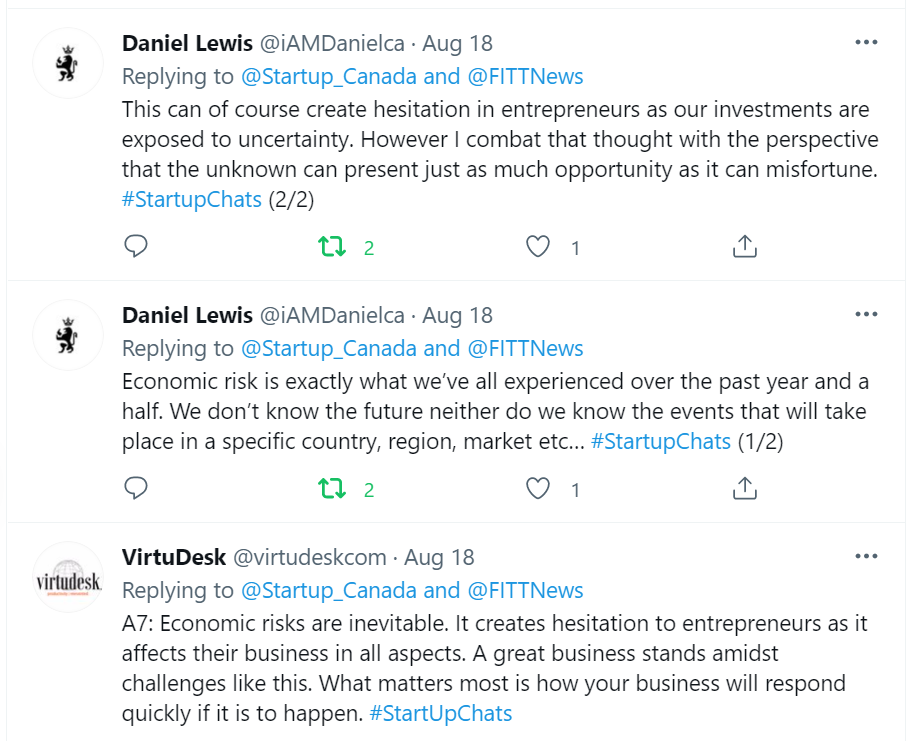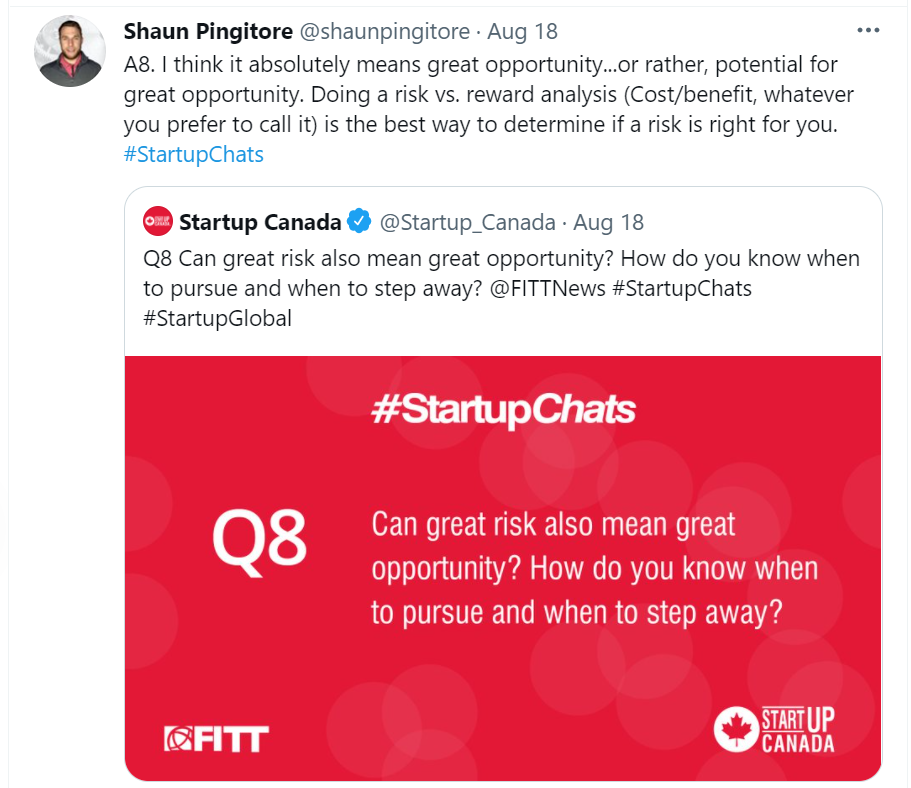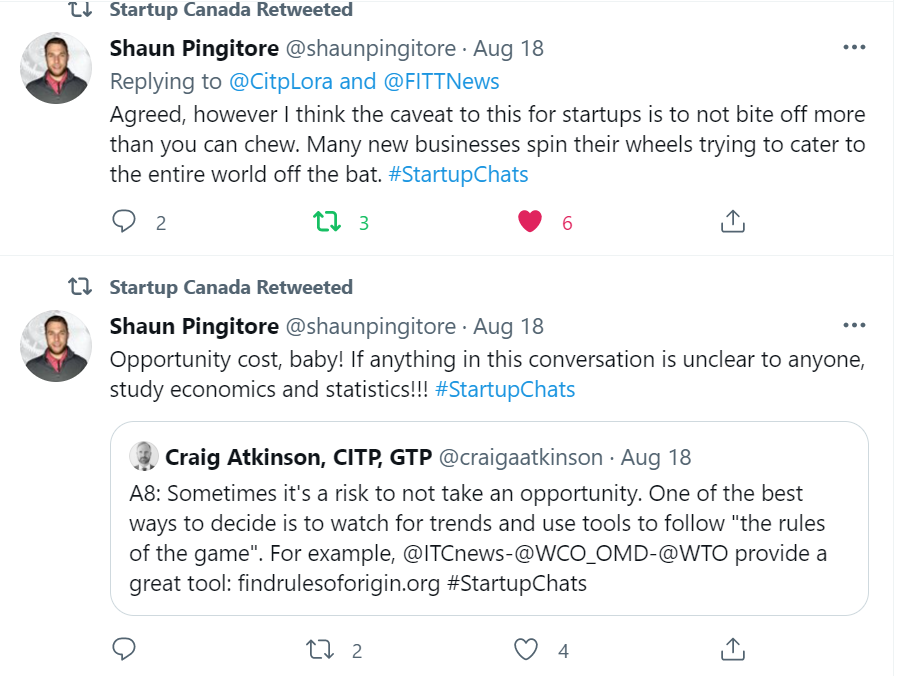 Final Thoughts and Questions
And with that, the official questions were over and the panelists and participants were given an open mic to talk about topics, such as their CITP experiences:
And the single most important thing they did to weather-proof their business over the past year:

A fantastic gathering of great business minds, the Startup Chat gave emerging entrepreneurs and SMEs a lot to think about, in addition to access to Startup Canada and Startup Global's plethora of resources, contests, and funding opportunities too.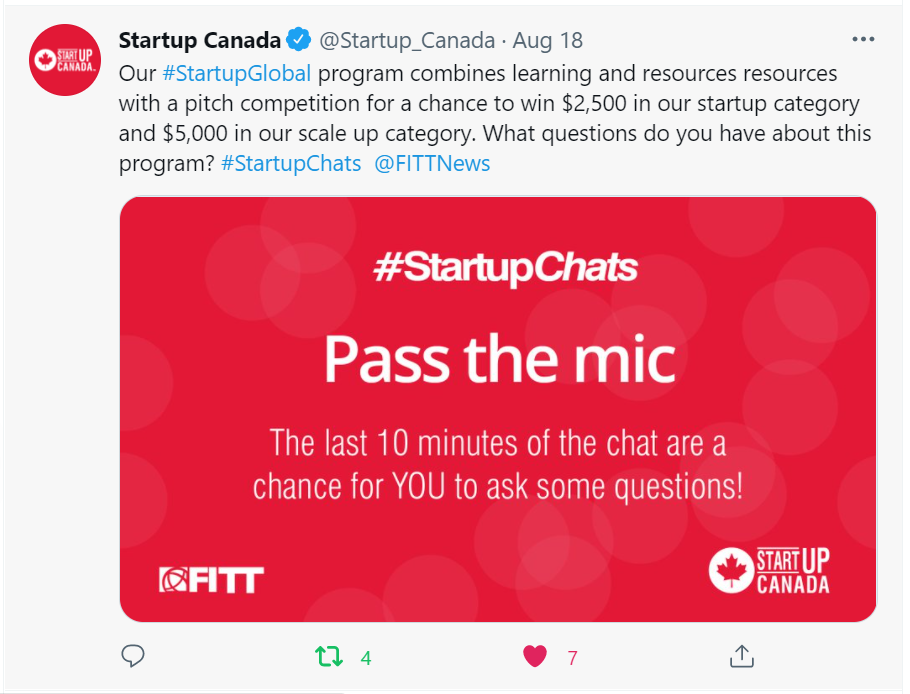 Learn more about Startup Canada's Startup Global Portal here: http://ow.ly/OBns50FXewH
Don't forget, once you register, you can access several FITT presentations, workshops, videos, and even a discount on FITTskills training.