Geopolitical shifting and COVID-19 have reshaped and changed global markets. Looking forward, companies will need to adapt to these changes and resulting new norms by embracing technology and information to more effectively and efficiently enter and develop new overseas markets. They'll need creative ideas and bold, new pragmatic approaches to differentiate, create customer value and capitalize on available and emerging opportunities.
From my more than 20 years in Asia Pacific experience, I believe the 3 key parts of an effective ASEAN entry strategy are as follows:
1) Strategic planning
2) A sales and marketing strategy
3) A channel design process.
1. Strategic planning
Strategic planning is about identifying and deciding where and how to compete and, more importantly, determining how to win based on keen analytics, facts and logical thought processes. We want to minimize assumptions and biases as best we can to reduce risk exposure.
This all starts with marketplace research and analytics derived from both secondary and primary data. This needs to go well beyond basic and generalized economic data such as GDP. The GDP formulation is simply Consumption + Investment + Government Spending + Net Exports. It doesn't peel back the onion layers of a market, nor does it tell us where we fit in the GDP formulation.
Companies should include a comprehensive macro-analysis, including social, legal, economic, political and technological factors (known in the marketing world as the SLEPT factors).
In brief summary
Social and cultural factors shape consumer and customer behaviours.
Legal encompasses compliance and IP related issues—obviously, we need to make sure we meet product compliance standards and properly register our trademarks and copyrights.
Politics drive Economic as well as trade and investment policies (which should influence business decisions).
Technology refers to market sophistication, technology adoption and the competitive landscape.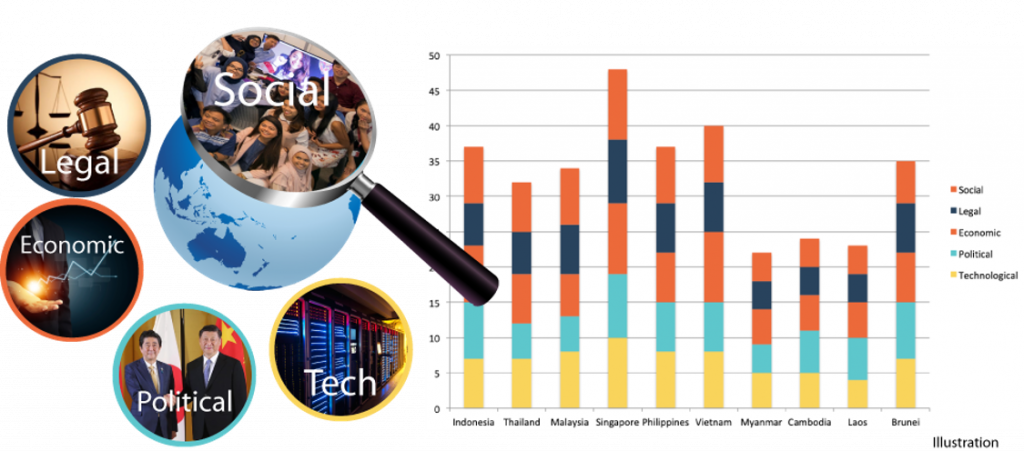 The strategic planning process must also include micro-analysis to help select the best markets based on economic opportunity, the probability of success and ease of entry. Things to consider are market size and addressable market (your target customers), segments, key competitors and potential customers.
I cannot emphasize strongly enough how important it is to vet the SLEPT factors. For example, Singapore and Malaysia are bordering nations and members of ASEAN, but they're very different in the context of SLEPT factors. What works in Singapore might not work in Malaysia.
Secondary data sources
Regarding secondary data sources, there's lots of free stuff available online, but paid subscriptions are better. In any event, companies need to review samples and select the best resources for their unique purpose and business needs. Personally, I use multiple sources and cross-reference them to ensure accuracy. Moreover, we need to be able to convert raw data into meaningful information—otherwise, it's just useless data without direction.
Primary data sources
With regards to primary data sources, at some point, you need to validate secondary data via a reconnaissance mission. You need to be in the marketplace to feel the pulse and vibe of the people you want to sell to.
Trade shows rule in Asia and are restarting. But rather than participating in a mega Asia-Pacific tradeshow in Singapore, consider participating in a country and industry-specific trade show.
For example, if your target country is Vietnam, and you're selling building materials and supplies, participate in a Hanoi or Ho Chi Minh City construction trade show. The reason being that 100% of the participants will be from the market you want to develop. Plus, intraregional travel to attend trade shows will be somewhat hampered due to the COVID-19 situation.
As I mentioned, trade shows in Asia are restarting and I'm sure trade show costs will be favourable, as will travel expenses as the markets restart and recover later in the year.
Participating in the right tradeshow leads to channel partnerships and accesses potential customers. I would suggest you stay a week after the trade show to follow up on gleaned opportunities, and take the time to visit potential and competing distributors.
Survey the voice of potential customers (VOPC) and determine whether there is there a gap in the market and a market in the gap.  This is a crucial step to aligning product mix, positioning, pricing and your sales and marketing strategy.
After completing your analysis, you may very well decide to enter one or two markets to start with—but that's okay. It's important not to overextend by allowing your ambitions to exceed your capabilities.
Ultimately, you need to define your differentiated and unique value proposition and execute your strategic plan through an effective sales and marketing strategy.
I recently wrote a Forum for International Trade Training (FITT) article about selling in the ASEAN region. I felt that there were lots of international trade, strategy and marketing articles on how to successfully enter and develop new markets. But there were very few about B2B selling. I think we need to realize that eventually someone, somewhere in a faraway land actually needs to sell something to make it all happen. So selling is important.
Selling in an international marketplace is very different and involves cross-cultural or multicultural selling. What works in a domestic home market is usually very difficult to replicate in an international setting. A marketplace like the ASEAN region is highly fragmented, hyper-competitive and contains many multinationals and a myriad of local producers all competing at varying levels of quality and price points. Companies need to establish themselves as a partner of value and rise above the crowd of competition.
As such, companies should not underestimate the importance of high-calibre salespeople and should invest in the right people, the right selling methodology and process, and also the supporting Customer Relationship Management or CRM technologies. The article I referenced earlier can explain different selling methodologies that you may want to consider. But, speaking from experience, how your salespeople—agents and intermediaries— sell will make the difference between exceptional or mediocre results. Some of the things to keep in mind include the following:
The ASEAN marketplace is not just about products and price points, it's about buyers and relationships founded on symbiotic trust, confidence and collaborative partnerships.
As an example, in the West, salespeople can build relationships as they're selling. In Asia, relationships come first and usually before the business. Establishing trust, confidence and credibility is important.
Companies should not take a blanket approach to a trade region like the ASEAN. Each one of the ten countries has its own unique nuances and cultural norms, perceptions of value and buying behaviours.
When you set-up a distribution, don't just train them on product knowledge. Support them with training on how to effectively and efficiently sell your products using your sales methodology and process. Then, co-develop the biggest and best customer opportunities.
Selling cycles are usually longer, especially in complex, high-value B2B selling. They generally involve multiple stakeholders, a hierarchical decision-making process, with decisions being reached by consensus and usually approved at a senior level. So

 be patient.
Example of a selling methodology and process
With respect to marketing, it can be challenging for any company to unify marketing and sales teams that are operating in different continents. Companies must clearly define individual and shared responsibilities and accountabilities. Marketing and sales, together, should establish and execute the best practices to reach and connect with target prospects, and sales should qualify and convert these prospects into customers. Companies must avoid siloing and misalignments and establish collaboration to rally around a unified and focused goal—which is to sell and help sell.
Technology is playing a huge role in international sales and marketing. The globalization of technology and the ease of connectivity and accessing information has created a global marketplace of sophisticated, tech-savvy and discerning customers. A marketplace like ASEAN is digitally engaged and technology proficient, so integrating digital marketing into your overall marketing strategy is crucial.
Use social media wisely; it's a valuable tool. But instead of posting a cut and paste product image and call-me-if-you-need-me advert, consider posting a customer experience that mattered and how you made the difference. Then direct that to a landing page featuring the customer gain story, and allow that to evidence how you can help others leading to new conversations.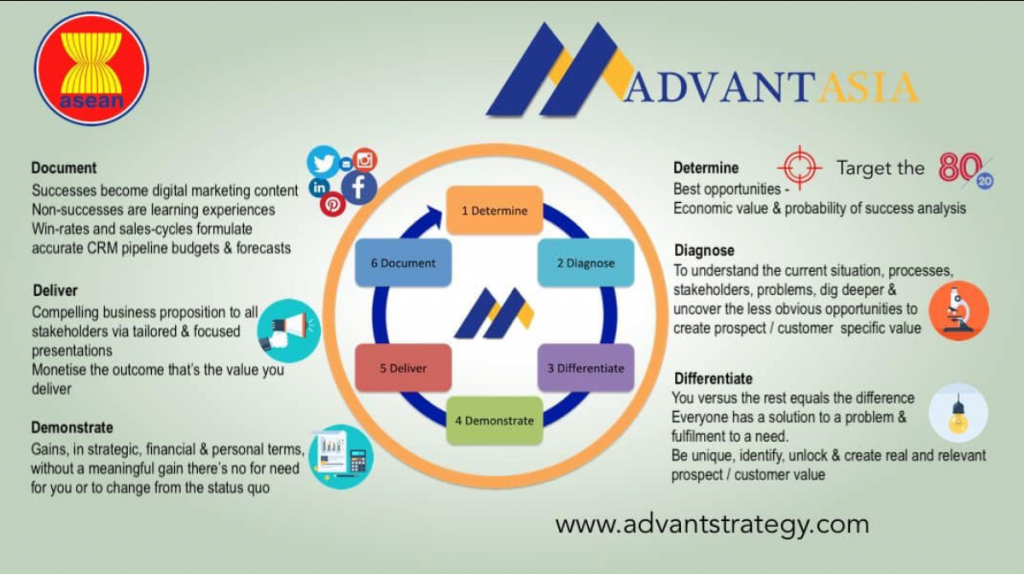 3. Channel design process 
If you're selling B2B internationally, you'll need channel partners to help sell your products. Designing a channel or distribution network is about building an effective integrated multi-channel network that accesses target segments, optimizes customer reach and accelerates market penetration and growth. Channels should be appointed before pursuing customers. It's also important to recognize that channels own the end-customer relationships, and companies need to tap into these established relationships in order to scale.
Your channel partners should be selected based on their ability to access your target segments and customers, their financial resources to support market entry and growth, and their sales and marketing competencies and learnability to proactively sell your products.
Partnering is reciprocal; channel partners seek products that are innovative and saleable and provide an equitable return on effort and investment. Moreover, they seek partners who are willing to participate and adapt to their unique marketplace and support their needs. From a distributor's perspective, they're sharing their treasure trove of customers, and they're very cautious about doing this. So, building trust is crucial—and this can take some time. With careful planning and use of these methodologies, success with them and within the region is certainly attainable—and lucrative.