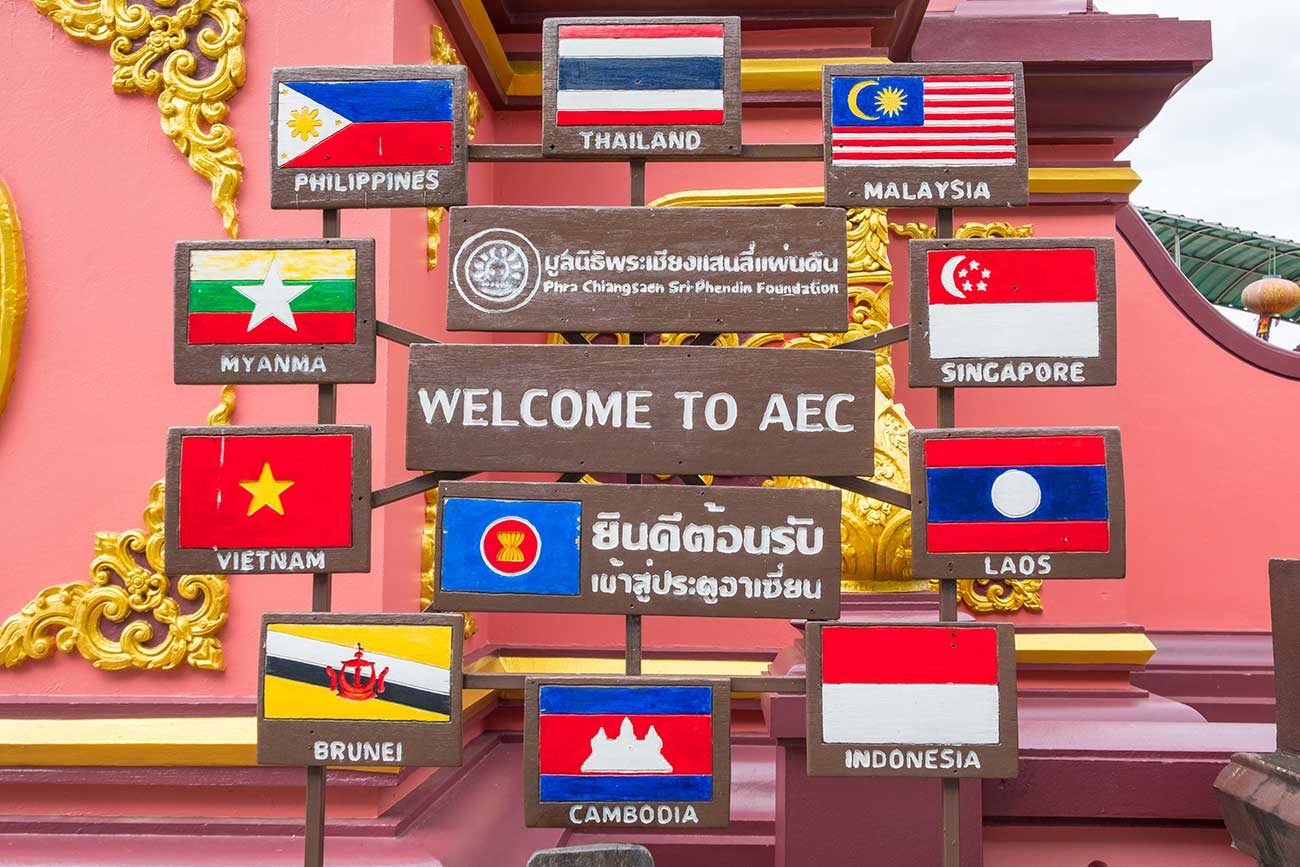 There are many international trade, strategy, and marketing articles on how to successfully enter and develop new markets – but someone, somewhere in a far away land actually needs to sell something to make it happen.
The ASEAN region is the most ethnically, religiously and linguistically diverse region on the planet. Moreover the marketplace is hyper-competitive, containing many multinationals and a myriad of local producers all competing at varying levels of quality and price points. The globalisation of technology, connectivity and ease of accessing information has created a marketplace of less differentiated products and more sophisticated and discerning prospects and customers.
The ASEAN marketplace is not about products and price points, it's about people and relationships founded on symbiotic trust, confidence and collaborative partnerships.
How your salespeople and intermediaries approach selling will make the difference between exceptional or mediocre results.
1) It's a long game. Focus on building on solid bedrock, the numbers will come over time.
Don't expect to conquer the marketplace in a day, plan and budget for a one-year incubation period. Yes, you will achieve wins along the way. But meaningful progress and strong financial results will be achieved over time by executing a well-orchestrated entry and development strategy.
Companies should consider a hierarchical five-year timeline approach to establishing and developing their ASEAN businesses:
The first-stage is to enter the ASEAN marketplace by establishing a regional presence through a representative sales office, launching your export business and developing your channel network and target customers.
The second-stage is to establish a trading company to regionalize inventories to better serve your new channel partners and customers as you scale.
The third-stage is to invest (FDI) in local manufacturing to localize supply chains and maximize profitability. Not many companies will invest without first penetrating the market, gaining channel partners and customers and establishing a sustainable growth trajectory. Hence, a successful first-stage is crucial to setting the foundation of building your profitable, scalable ASEAN business.
2) Recruit the best sales leadership and develop the rest
Sales is the oxygen for every business and it is vitally important during the first-stage that you recruit regionally experienced sales leadership with strong business acumen.
They should be capable of pioneering new markets and recruiting and developing the skills and effectiveness of your direct and distribution salespeople. You will need to build out a remote sales force with strong consultative skills, proficient at qualifying and selecting target customers and unlocking and propositioning meaningful customer specific value. Ironically a recent study conducted by Objective Management Group (OMG) revealed Asia ranks highest in percentage of weak salespeople.
OMG – Where can you find the best salespeople study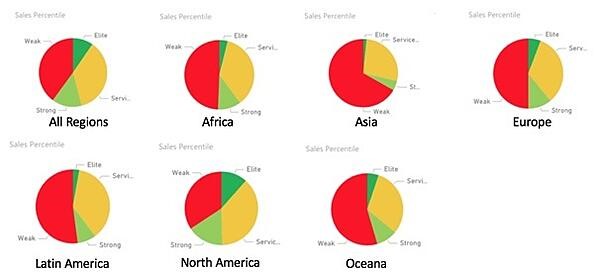 This isn't a slight against Asian salespeople, from my 20 years of experience in Asia, Asian salespeople embrace learning new skills that help them grow and develop into elite salespeople. The situation is more a result of companies relying too heavily on brand equity and overlooking the criticality of the sales role and the opportunity to invest in sales force selection, development and supporting technology.
Traditional sales recruitment practices of contingency or contracted search assignments through local recruitment firms can often prove ineffective. Most adapt generic assessment and evaluation tools to sales roles.
Firstly, recruiting product experts as sales leaders does not generate product enthusiasm or win customers. I've seen situations where product experts actually compete with prospects on "who knows more".
Secondly, hiring sales managers and designating them as sales directors does not create a pathway to accessing the best customer opportunities. And thirdly, poaching salespeople from competitors will not auto-convert customers. Salespeople may persuade a few smaller customers to shift because of their personal relationships. But the larger, critical-to-growth enterprise accounts are loyal to brands and suppliers, and need a compelling reason and material gain to change.
Recruiting salespeople without a sales-centric process is high-risk and a key reason why companies often fail to reach their potential in fast growing markets like the ASEAN. You need a recruitment process that specializes in selecting the best sales talent.
Objective Management Group offers a sales-specific scientific assessment and evaluation service designed to focus on the key characteristics that define successful salespeople. A process that utilizes analytics derived from neary 2-million sales candidate assessments will deliver far better results than traditional recruitment methods.
OMG sales candidate competencies assessment and evaluation tool summary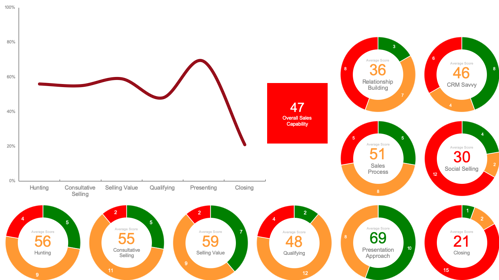 3) Invest in the right selling methodology, process & supporting CRM
My first international sales management assignment was leading and supporting an Asia Pacific sales force. We did a fabulous job of training salespeople on product features, advantages and benefits.
Where we failed was in developing a selling process, training program and coaching mechanism to help our salespeople sell more efficiently and effectively. Our focus shifted to developing our direct and channel partner selling competencies by creating and implementing a 6D selling methodology with ACT CRM. The results were immediate and impactful in turning around a flagging business unit and achieving record operating income for seven consecutive years.
Fast forward to 2020, there are many new sophisticated selling methodologies (the approach), processes (the steps) and CRM SaaS technologies designed to dramatically improve sales effectiveness and performance.
George Brontén has recently authored an informative paper providing an excellent overview and comparative analysis of the Ten Leading Methodologies including Sandler Training, Strategic Selling, Solution Selling, SPIN Selling, ValueSelling, Customer-Centric Selling, RAIN Sales Training, Baseline Selling, Target Account Selling and The Challenger Sale.
My overall opinion on sales methodologies is that most offer a generalized solution to a problem or standardized fulfilment to a need.
To truly differentiate and rise above your competitors, your salespeople need to adopt a step-by-step sequential milestone centric selling methodology that focuses on unlocking customer specific value.
As an example we collaborated with an enterprise Thailand auto-aftermarket OEM wanting to export into the EU with a new product launch but needing an input product to meet compliance standards. Solving the compliance problem and fulfilling the need was easily achievable but at a hefty price premium creating a risk of cost-price vulnerability. Applying a step-by-step milestone-centric selling methodology revealed the hidden value of a significant economic gain by increasing throughput and reducing capex. This is what your salespeople need to do consistently, unlock and monetize the often less obvious customer specific value.
The selling methodology you choose should be based on marketplace adaptability, business suitability and target customer decision making processes.
It should be integrable with a supporting CRM SaaS platform that enables your salespeople to achieve top performance. The selling methodologies I believe to be most effective for the ASEAN region are Baseline Selling because of its simplicity and shallow learning curve, Inflection Point because of the adaptability to a more complex B2B selling environment and outcome centric selling method, and SalesXtra because of its strategic account development approach and online training resources.
As with selling methodologies there are many CRM SaaS platforms to consider, and selecting the right CRM is an important investment that shouldn't be taken lightly. Most CRMs are underutilised because they're perceived as a time wasting and intrusive activity-tracking and data-entry tool designed to placate management reporting with no real benefit to the salesperson.
To solve this problem companies need a CRM that goes beyond traditional functionality and helps your salespeople navigate and optimize your selling process. It should progress opportunities in a timely manner, and more efficiently drive profitable sales growth.
Seek out a Sales Enablement CRM designed to provide your salespeople with an intuitive workflow process that maps out your selling process and guides activities and behaviours that improve selling effectiveness and efficiencies.
A Sales Enablement CRM will identify bottlenecks in your selling process well before they become logjams and spot the areas where salespeople need training and coaching. Moreover a Sales Enablement CRM will calibrate pipelines to achieve sales revenue goals by analyzing trending sales-cycles and win-rates (e.g. salespersons month one target is $100k / .5% win-rate x 2 month sales cycle = $400k minimum pipeline needed to achieve sales revenue goal).
Ex: Membrain Sales Enablement CRM dashboard with Baseline Selling methodology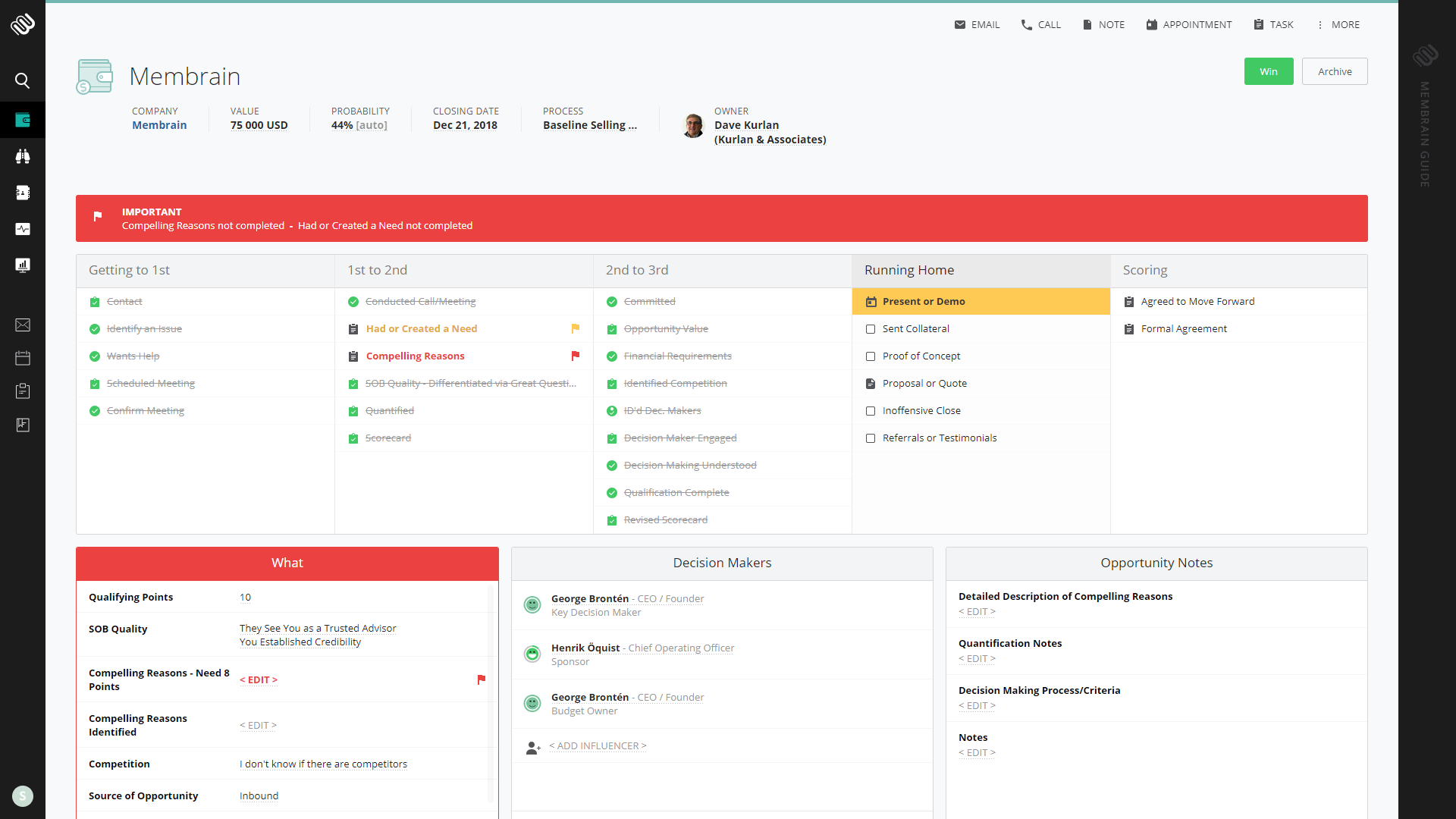 4) Sales and marketing alignment, think of people as having 2 roles to sell and help sell
Unifying sales and marketing teams that are operating in different continents and functioning separately is challenging at best for any company.
To avoid confusion and misalignment companies must clearly define individual and shared responsibilities and accountabilities. Strategic planning determines where and how to compete and how to win. Marketing and sales together establish and execute the best practices to reach and connect with target prospects, and sales qualifies and converts prospects into customers.
Given the fact that value perceptions and decision making processes vary significantly throughout the ASEAN ten-country marketplace, your sales leadership must possess strong business acumen and effective communications skills. This will avoid organizational fragmentation and misalignments, effectively leading to cross-functional and cross-cultural collaboration to rally around a unified and focused goal – to sell and help sell.
5) Screen to Screen (S2S) Virtual Selling, Fab or Fad?
S2S selling is an alternative to connecting and communicating with prospects and customers accentuated by the Covid19 situation. It is not a new breakthrough way of selling.
If it was, there would be no need for overseas sales offices or trade exhibitions. Moreover, it's too early to accurately measure its selling and negotiation effectiveness during the absence of personal engagement. In my view, ASEAN social and cultural factors, urgency, opportunity value, brand equity and relationship, terms and conditions of supply agreements and complexity and timeline of the selling process influences the merit of S2S selling.
Despite the fact that ASEAN is digitally engaged and technology proficient it will be challenging for any salesperson to convert high-value prospects into customers through S2S selling alone. In the West salespeople can sell while building trust, confidence and credibility, in ASEAN it's a precursor to doing business and this takes time and personal engagement.
Although I'm a strong advocate of utilizing social media (with clearly defined and measured objectives) and virtual selling (as part of the selling process), the viability and sustainability of S2S as a primary selling medium post Covid19 environment will be determined by customers.
After all, it's about how your customers want to buy, not how you want to sell, and the jury is still deliberating.