From 2020 reactivity to 2021 adaptability
It's an understatement to say that 2020 was an unpredictable year. But, with it done and businesses around the world adjusting to the new normal, there are many silver linings to be found. Namely, we've seen that with unpredictability, companies have become more resilient and adaptable, pivoting in record-breaking time to ensure their viability from now and into the future. 
Bearing this in mind, our global trade trends for 2021 all focus on the theme of adaptability—each showcasing the innovative solutions that businesses and trade professionals are adopting to innovate with the ever-changing circumstances.
Of course, the pandemic remains a top concern in all regards, but this year is less about reacting to the unexpected and more about coming up with solutions that push us into flexible, future-forward planning.
With that said, here are 10 global trade trends that we'll be keeping our eye on throughout the coming months.
1. Virtual trade missions (VTMs)
Before COVID-19, trade missions saw government officials and businesspeople travel from one country to another to promote trade between the two. A hands-on, in-person social affair, these missions explored a multitude of business and networking opportunities that solidified key contacts, suppliers and government networks.
Of course, with today's travel restrictions, in-person trade missions have mostly been postponed, and virtual trade missions (VTMs) are now taking their place.
What does this mean?
For starters, virtual missions focus on video chat and virtual conference meetings that cover the fundamental topics of interest, such as trade, markets, import and export opportunities, contact introductions, Q & A sessions and more. With zero travel and all networking and mission business occurring in a virtual environment, VTMs provide a practical solution for those seeking to keep their trade missions moving and active.
Bernadette Fernandes, Founder & CEO of The Varanda Network, in FITT's Save Money & Recover Faster webinar saw these VTMs in action, stating:
I'm seeing a lot of virtual trade missions and site visits that we weren't seeing before. And in some cases, when physical site visits are absolutely necessary to visit a supplier or a buyer, I'm seeing a lot of temporary outsourcing. An example of temporary outsourcing, as I call it, would be contracting local boots on the ground to visit and gather the decision-making criteria that you need."—Bernadette Fernandes, Founder & CEO of The Varanda Network
Of course, there are some caveats to VTMs. Elements like meet and greets over meals and general cultural exposure cannot accurately be accomplished through virtual settings—but many businesses are working within the confines of the limits to ensure that the most important details are conveyed through online discussions and presentations. 
As more countries get used to executing VTMs, we expect an onslaught of new formats to evolve—from schedule planning and the order of events all the way to the individual meetings and how they are conducted to maximize time. Specifically, with VTMs, participants will have to be mindful of time zone differences, virtual chat/conferencing fatigue and technical snags.
While most believe VTMs to be an interim solution to the current pandemic restrictions, they do have benefits. Such as lower costs (no hotels, airfare or food expenses) and new approaches to international business in an online setting. 
2. Increased cross-industry collaboration
As experienced in the latter half of 2020, many businesses will branch out to other industries to stay afloat. Dr. Halia M. Valladares, panellist in FITT's TradeElite chat last year said of this trend: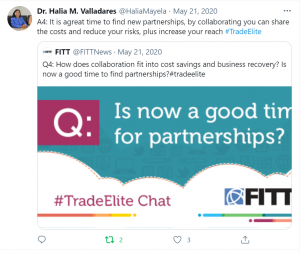 "It is a great time to find new partnerships; by collaborating you can share the costs and reduce your risks, plus increase your reach."—Dr. Halia M. Valladares, CITP and Chair of Internationa Business, Entrepreneurship, NPRO and Aviation
Dr. Valladares's sentiments have been seen in action too. Many innovative cross-industry collaborations and partnerships between companies around the world have made waves over the past few months. A report by Deloitte, for instance, showcased how OpenTable, a restaurant reservation platform, "entered into new partnerships with a variety of supermarket chains and other essential businesses to turn a visit to grocery and other retail stores into a reservable event." 
In other cases, companies pivoted and collaborated across industries to provide essential products to consumers during COVID-19. Cosmetics giant LVMH, for example, switched its perfume manufacturing for Christian Dior, Guerlain and Givenchy to hand sanitizer production. Working with the French health authorities, this sanitizer was offered for free to help prevent the spread of COVID-19. 
Similarly, governments also reached out to other industries to provide support for SMEs. The Government of Canada partnered with Shopify to create Go Digital Canada, a central resource hub for Canadian entrepreneurs to help their businesses get online and grow with Shopify resources and tools.  
How these collaborations will transform in the post-pandemic era remains to be seen, but the same Deloitte survey found that
78% of executives said that they "would retain the new partnerships to some extent after the pandemic—the highest of all business model changes."—Deloitte report,

Fusion: Organizations can better help the people they serve by creating innovative experiences through cross-industry fusions.
3. Localization
Localization was a hot topic in 2020 in response to COVID-19 related travel and trade restrictions. But it was on the rise even prior to the pandemic, with growing nationalism in many countries and grass-roots movements to "buy local" and keep supply chains local.
The trend continues to gain steam in 2021. Supply chains are still feeling the strain of restricted travel, resources and suppliers. However, many see this not as a restriction on using international supply chains, but more of a modification. One that keeps chains open to specific regions that can provide reliable trade support during challenging times.
In an IMD article Carlos Cordon, Professor of Strategy and Supply Chain Management, noted this. Stating that "Global trade is going to become much more regional than before. Companies realized the risk of having either a single supplier or suppliers that are located in the same region or country."
However, some experts, such as Pierre-Olivier Bédard-Maltais, an Economist who contributed to the BDC blog, argue that international business and exporting in particular, will benefit in the long run by keeping their trade relations international: "Businesses that export have higher sales, grow faster and are more resilient in an economic downturn."
Sonia Galat, Co-Founder and Managing Director of Africa Business Venture echoes these sentiments. In our last webinar, she suggested that now is actually a great time for new markets:
"Especially now, this is the period where everybody's at home, everybody's more open to discussion, so this is a very good time for SMEs to position themselves in a market they may have never previously considered."—Sonia Galat, Co-Founder and Managing Director of Africa Business Venture
4. Agility
For many businesses, agility in 2021 will come from becoming virtually nimble. From bringing brick-and-mortar sales online to turning in-house teams into remote teams to transitioning from travel-based events, negotiations and missions to virtual equivalents, companies who are succeeding at being agile will continue to innovate in the online arena. 
Companies will have to look outside their traditional business plans to re-think their customer bases and consumer needs. The pandemic has drastically shifted the commodity demand, whether it be for online learning, masks, sanitizer and beyond.
While some believe in the benefits of localization, others feel market diversification is the best route to success in 2021. According to Beiling Yan, Senior Research Economist at Export Development Canada, "Exporters tend to perform better than non-exporters for several reasons: They specialize their production and enjoy economies of scale; they interact with, and learn from, foreign consumers and suppliers; and they face stronger competitive pressure that prompts them to make investments and improve their business practices."
And while many may instinctively want to reduce their exports in a time of financial duress and travel restrictions, experts are warning that limiting your market to one country or region may reduce your sales, especially if your base market is a small portion of the global market.
"Diversify your markets geographically," advises the Business Development Bank of Canada (BDC) in their blog, "Don't abandon a market in which protectionist sentiment is on the rise if it's still a viable market. On the other hand, it is worthwhile to consider other markets or contemplate expanding into other Canadian provinces."
They also point out that the Canada-European Union Comprehensive Economic and Trade Agreement is creating new opportunities for Canadian exporters who can benefit from the elimination of tariffs.
6. Supply chain as a service (SCaaS) 
Adequately managing and executing all your supply chain tasks in-person, in-house and with only one team isn't easy. Especially in our current times. Many companies are outsourcing these tasks to outside vendors who provide this support as an on-demand service.
Taking a cue from the SaaS acronym, SCaaS, or supply chain as a service, provides supply chain services on-demand. Both through innovative software integrations and external support systems. Some areas where these systems are prominent include logistics, accounting, transportation management and distribution services.
In light of travel restrictions, many are relying on these outsourced services. They ensure that people are on the ground to assist with in-person tasks in place of their own teams. Providing convenience and peace of mind, many believe that even after the pandemic these SCaaS relationships will remain strong. Being that they make managing a supply chain easier overall.
Business supply chains were hit hard by the pandemic in 2020. In our article "How COVID-19 delays could affect your supply chain from contracts to insurance and customs clearance," Rahim Mohtaram, Professor of Business and Supply Chain Management at Saskatchewan Polytechnic, pointed out the many difficulties, such as
– The delay and non-delivery of goods and services
– Factory shutdowns 
– Production with low capacity 
– Governmental prohibitions and restrictions on export and import 
– Drastically increased prices for certain goods 
– Transportation and logistics companies' limitations
– Order cancellations by the customers
In order to mitigate these risks moving forward in 2021, businesses are reassessing their supply chain strategies and developing innovative solutions, such as focusing on only the products that have the highest returns, developing stronger contract stipulations and reaching out to government trade agencies, legal, trade, finance compliance teams, insurance companies, transport and shipping companies, banks and financial institutions to discuss the changes to operations and systems in the current climate. By reaching out to these contacts, companies can better understand where their supply chain deficiencies exist. And furthermore, how they can work with stakeholders to find solutions.
8. Elastic logistics
Much like the name suggests, elastic logistics is all about flexibility. In 2021, some businesses will pivot away from a lean and streamlined approach to logistics that reduces costs and improves profit. They, instead, will diversify their activities and investments so they can compete with a rapidly changing global economy. This could mean the integration of new technology like transportation management systems (TMS) or branching out to international partnerships and outsourced support in other countries. 
The focus here is to have the nimble ability to scale at the drop of a hat. As well as having systems that can assist with tasks that were hampered by travel restrictions, economic downfalls or emergencies. A larger up-front investment might be hard to hand out in these times. Although many argue that the short-term costs provide monumental long-term returns.
Having enhanced technological insights and capabilities, better global partnerships and an expanded reach all make the elastic approach compelling and attractive.
9. Exporting rebound 
EDC's Global Export Forecast-Autumn 2020
predicted a moderate improvement in the overall conditions for 2021. Specifically, they saw exports rising by 9%.
Meanwhile, a more recent BDC blog found that "Canada's 2021 economic outlook is similar to that of other developed countries: After the largest economic contraction since 1945 (a dip we estimate at 5.5% of GDP), the economy should grow sufficiently to largely offset the losses of 2020."
Of course, experts warn that these forecasts are not set in stone and heavily rely on the current pandemic situations. Especially the vaccine roll-outs and case rates.
Luckily, government support initiatives have helped consumers keep spending throughout the pandemic. However, the postponement of business investments across the board by cautious companies means a slow recovery overall.
10. Transparent messaging and sustainability
It's hard to emphasize the importance of your business when the pandemic is really at centre stage. Businesses want to sell their products and services but they don't want to appear insensitive to the real struggles of the public during COVID-19. Unsurprisingly, this awareness has changed the way businesses approach communications in 2021. Not only are companies are making it clear that they are prioritizing health and safety during business operations, but they are being transparent about their business struggles, letting customers know about supply delays, transportation setbacks and product or service delivery modifications.
Businesses are also noting how consumers, who are spending more time outdoors, want more involvement from brands on sustainable initiatives, whether it's through waste reduction or better manufacturing practices.
This sustainability trend was already on the rise before the pandemic, but the focus on outdoor activities has made it a high-profile initiative in 2021.

The changes we see in 2021 will pave the way for new forms of international trade, business and communication. Proving that not only are international businesses resilient in the face of adversity, but they are innovative too. That's one point of consistency that we can always rely on, no matter the global situation.