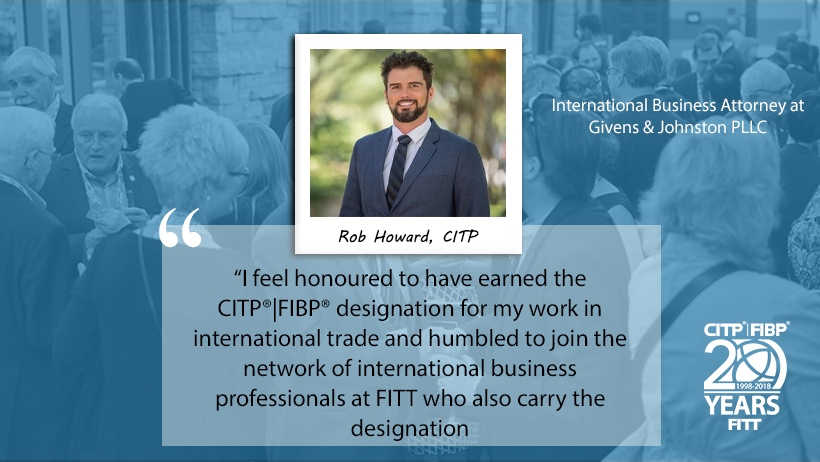 Earned his elite CITP®|FIBP® designation: July 2020
It was while completing his Bachelor of Commerce degree at the University of Calgary that Rob Howard was drawn to international business. Not inclined to go down the conventional path, Rob found himself more interested in the lesser-known opportunities that the university provided, especially those that entailed doing business in developing countries.
With the rise of China in global economics, increased trade in the Americas, the ratification of free trade agreements like NAFTA, and a mounting demand for petroleum products from Alberta in the United States and overseas, Rob envisioned a whole new world of potential for Canadian business professionals.
The highlight of his academic journey was the opportunity to complete five terms abroad (Mainland China, Taiwan, Peru, Spain and the Amazon) prior to earning his degree, funded mostly through university scholarships and government research grants. These experiences further whetted Rob's penchant for International Trade, along with providing him with a cultural understanding of Asia and Latin America -precious insights that were soon to prove invaluable to him.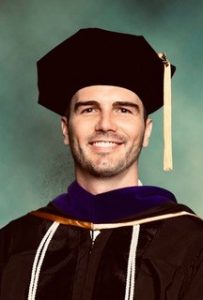 Not long after graduation, during one of his early roles, Rob was assigned a new challenge with the American oilfield services and supply giant National Oilwell Varco (NOV) in their international employee development program. These three-month projects spanned Alberta, Texas, and Beijing, introducing him to the company's operations in China and Houston.
The short-term project then extended to a two-year expatriate assignment in China with NOV, further strengthening his Mandarin communication skills and building on his prior experience from his university days.
Self-initiating an immigration pathway
Having faced more than his fair share of immigration hurdles while applying to live and work in the U.S, Rob decided to leverage his knowledge as a graduate from a Texas law school to interpret the complicated US immigration laws. After figuring out an immigration pathway, he became his own attorney to successfully complete the necessary paperwork to support his application. His efforts bore fruit and he was finally granted the right to live and work in the US when not back home in Canada.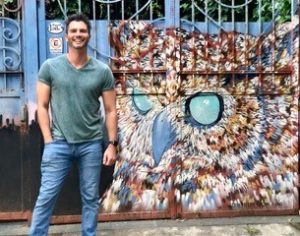 Dealing with the pandemic situation while working in a foreign land
Another favourite career story happened when Rob was working and living in Argentina for a Canadian international business consulting firm and the pandemic hit. It was a unique experience witnessing the country initiate its lockdown, being stranded indefinitely from his family back home, and doing virtual interviews with the local Calgary news stations that he had watched growing up.
"I had four different flights consecutively cancelled before I was eventually able to escape on one that was granted a special flight permission from the Argentinian government."
Rob's proudest professional accomplishments include:
His contributions to his firm's recent work, providing counsel on whether certain goods are eligible for USMA/CUSMA benefits, reorganizing corporate supply chains away from China to avoid section 301 tariffs, and offering a wide range of legal advice regarding US Customs law (including classification, valuation, penalties, and prior disclosures).
Working in China for two years as an expatriate employee of a major American oilfield service company and an entirely Chinese team as a twenty-five-year-old. In that role, he was responsible for negotiating with and supervising the American company's Chinese joint venture partners, conducting sales calls to remote industrial areas of China that had rarely seen foreigners, and aiding in recruitment efforts at Chinese universities in both Mandarin and English.
The importance of finding the right mentor to guide you
According to Rob, the value of good mentors can hardly be overemphasized. He wishes he had understood earlier the crucial role a great mentor can play in shaping a young professional's career trajectory.
"My biggest mentor in international business would definitely be my father. He has been travelling to China on business since the 1980s, convinced me to major in international business in university, was my main influence in studying Mandarin, and is someone that I still work with today."
Rob also feels lucky to have met such a great group of lawyer mentors at the firm Givens & Johnston where he currently works.
"They've known me for years and have coached me since my law school days when I was first clerking with them in international trade law."
Opting for trade training to get equipped with practical skills and knowledge
Rob decided to formalize his knowledge by signing up for FITTskills courses and was happy with the positive experience. The trade education helped him better understand the nuances and rules governing business internationally.
Another advantage the training offered was the convenience of doing the courses remotely, even while travelling for work.
"I took the courses early in my international business career and they provided me with a helpful set of practical skills that I've found useful over the years."
The next logical step for Rob was proceeding to apply for the elite, industry-backed CITP®|FIBP® designation. He had been looking for a professional designation that was specific to international trade. The CITP®|FIBP® matched that requirement perfectly and he earned the prestigious credential in July 2020.
Rob believes that the designation will enhance his credibility in international business and connect him to a network of like-minded international business professionals.
"I felt honoured to have earned the CITP designation for my work in international trade and humbled to join the network of international business professionals at FITT who also carry the designation."
He is especially excited at the prospect of networking with Canadian international business professionals that deal with US Customs and US trade regulations.
Work trends and career goals for the years ahead
Remote work
As does everyone else, Rob envisions remote work as the new professional norm for the foreseeable future.
"Not only has it provided me with more flexibility and a better quality of life, but I think it also makes me a better international business attorney. Now with remote work, theoretically I can be wherever the client needs me to be rather than where the firm happens to pay rent."
Canadian law licensing
Within a year, Rob plans to finalize his law licensing in Canada (in addition to currently being licensed as an attorney in the US). This will be a valuable qualification as it will distinguish him from his professional counterparts.
"Because of how complicated the licensing process is generally, it's very rare for lawyers to be licensed in both countries and to understand the legal systems on both sides of the border."
Working with CITPs
As a new CITP, Rob hopes to develop his network within the FITT community.
"By keeping engaged with other international business professionals, I'm able to better understand the issues that they are facing in international trade and I think it makes me a better attorney."
Rob's expertise, clear vision for the future and single-minded focus are the very qualities that are sure to lead him to accomplish everything he aims for. We wish him a bright and fulfilling career!
Learn more about the CITP®|FIBP® designation
INTERNATIONAL BUSINESS CERTIFICATION—CITP®|FIBP®
Advance your career and build your professional credibility in the field of global business by earning the Certified International Trade Professional (CITP) designation.
Why Earn the Certified International Trade Professional (CITP) Designation?
The Certified International Trade Professional (CITP) designation is the world's leading professional designation for the field of international business. So whether you're new to global trade or have over a decade of direct experience, you'll find the CITP designation can help advance your career and build your professional credibility.
The CITP designation sets you apart in the competitive international business industry because it's proof you possess the competencies global business experts have identified as being essential for a successful career in international trade. It also recognizes your dedication to ethical business practices and ongoing professional development—both of which are desirable traits for today's global business practitioners.